AFS American Filtration and Separations Society Hall 8 / B58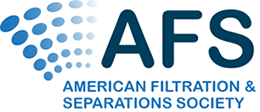 Exhibitor Profile
The American Filtration & Separations Society was formed in 1987 to provide a forum for exchange of information among engineers, scientists and technologists in all areas of filtration, separation and coalescing.
AFS is one of he leading filtration societies in the world and principal educator of the industry. The Society hosts bi-annual conferences in support of industries and infrastructure where filtration, separations, and coalescing are an essential factor in the success of American education and business.
The AFS will host the 13th World Filtration Congress 20-24 September 2021 in San Diego, CA.