AJELIS SAS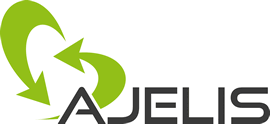 Exhibitor Profile
AJELIS is a French company offering systems and custom development solutions based on nano-microfibers for liquid and gas waste treatment: elimination of toxic compounds, decontamination of radioelements, recycling of precious/strategic metals.
AJELIS provides:
Wounded cartridges and filtration systems for removal of metallic and organic pollutants from water
Filtrating columns for removal of heavy metal traces from process, natural or underground water
Filtration systems for precious and strategic metal recycling (lithium, rare earths, gold, palladium)
Laboratory systems for deionized water production
Aquatextile materials for outdoor use for soil remediation and surface or runoff water treatment
Security napkins for aggressive liquids neutralization and wiping on work tools
Stormwater filtration systems
Main product lines:
METALICAPT® systems operating in filtration columns for removal of heavy metals (copper, nickel, zinc, lead, chrome, cobalt…), toxic organic compounds (pesticides, drugs). Specific fibers for extraction of gold, radionuclides and some strategic metals.
GEOCAPT® fabrics for removal of pollutants (acids, bases, heavy metals, pesticides) from runoff water avoiding their infiltration into the aquifer. Well suited for construction sites and drainage areas, these fabrics are to be installed directly to the ground, in water tank or basement construction. It is a complementary material to oil and fuel adsorbent geotextiles.
Products / Markets
Product Index
Absorptionsfilter
Abwasserfilter
Abwasserfilter
Adsorptionsfilter
Aktivkohle Medien
Filtermedien f. Flüssigkeiten
Filterpatronen
Filtertextilien
Geruchsbeseitigung
Ionenaustauscheranlage
Luftfiltermedien
Mikrofiltration
Nanofiltration
Nanomedien
Patronenfilter
Technische Textilien
Vliesmaterialien
Wasserfilter
Market Scope
Abwasserwirtschaft
Bergbauindustrie
Filtrations- und Separationsindustrie
Metallverarbeitende Industrie
Umweltschutz
Wasserbehandlung, versorgung
Product Index
Absorption Filters
Activated Carbon Media
Adsorption Filters
Air Filter Media
Cartridge Filters
Effluent Filters
Filter Cartridges
Filter Media for Liquids
Filter Textiles
Ion Exchange System
Microfiltration
Nano Media
Nanofiltration
Nonwovens
Odor Removal
Technical Textiles
Waste Water Filters
Water Filters
Market Scope
Environmental Protection
Filtration and Separation Industry
Metal Processing Industry
Mining Industry
Waste Water Treatment
Water Treatment, Supply
Product Index
吸附式过滤器
吸附式过滤器
工业用纺织品
废水过滤器
微孔过滤
无纺布
水过滤器
污水过滤器
活性碳介质
液体过滤器介质
滤筒
滤筒
离子交换系统
空气过滤器介质
纳米介质
纳米过滤
过滤织物
除味
Market Scope
废水处理
水处理、供应
环境保护
过滤与分离工业
采矿业
金属加工业
Product Index
أقمشة تقنية
أنظمة التبادل الشاردي
إزالة الروائح
الفلترة الدقيقة
الفلترة الميكروية
خراطيش فلتر
غير المنسوجات / اللانسيج
فلاتر إمتصاص
فلاتر إمتصاص كيماوي
فلاتر الكارترج / الخراطيش
فلاتر النفايات السائلة
فلاتر ماء
فلاتر ماء التصريف
مواد الكربون المنشط
مواد فلاتر الهواء
مواد فلترة الغازات
مواد في غاية الدقة
نسيج فلاتر
Market Scope
التغذية بالمياه وتصريفها
صناعات الفلترة وفصل المواد
صناعة الألبان
صناعة التعدين
صناعة معالجة المعادن
معالجة مياه الصرف
Product Index
Cartouches de filtres
Cartouches de filtres
Désodorisation.
Filtres pour eau usées
Filtres à absorption
Filtres à adsorption
Filtres à eau
Filtres à effluents
Fluide à charbon actif
Fluides pour filtres à air
Microfiltration
Médias de filtre pour liquides
Nanofiltration
Nanomédias
Non tissés
Système d'échangeur à ions
Textiles pour filtres
Textiles techniques
Market Scope
Industrie de filtration et de séparation
Industrie laitière
Industrie minière
Industrie métallurgique
Traitement des eaux usées
Traitement d'eau, alimentation
Product Index
Cartucce filtri
Filtri acque reflue
Filtri cartuccia
Filtri di assorbimento
Filtri di assorbimento
Filtri per acqua
Filtro per effluente
Mezzi filtranti aria
Mezzi filtranti carbone attivo
Mezzi filtranti per liquidi
Microfiltrazione
Nano media
Nanofiltrazione
Non tessuti
Rimozione odori
Sistema a scambio ionico
Tessuti per filtri
Tessuti tecnici
Market Scope
Protezione ambientale
Settore filtrazione e separazione
Settore lavorazione metallo
Settore minerario
Trattamento acque reflue
Trattamento approvvigionamento acqua
Product Index
Filtry absorbcyjne
Filtry adsorbcyjne
Filtry do wody pitnej
Filtry ściekowe
Filtry ścieków
Materiały nietkane
Media filtrów cieczy
Media filtrów powietrza
Media węgla aktywowanego
Mikrofiltracja
Nanofiltracja
Nanomedia
System wymiany jonowej
Tekstylia techniczne
Tkaniny filtracyjne
Usuwanie zapachów
Wkłady filtra
Wkłady filtracyjne
Market Scope
Filtrowanie i separacja
Obróbka metali
Ochrona środowiska
Oczyszczanie ścieków (waste water)
Przemysł wydobywczy
Uzdatnianie wody i zaopatrzenie w wodę
Product Index
Cartuchos filtrantes
Filtros de absorção
Filtros de adsorção
Filtros de cartuchos
Filtros de efluentes
Filtros de água
Filtros de águas residuais
Meios de carvão activado
Meios de filtragem para líquidos
Meios de filtro do ar
Meios de nanotecnologia
Microfiltração
Nanofiltração
Não-tecidos
Remoção de odores
Sistema de intercâmbio iónico
Têxteis de filtros
Têxteis para usos técnicos
Market Scope
Indústria de filtragem e separação
Indústria de processamento de metal
Indústria leiteira
Indústria mineira
Tratamento de água de despejo
Tratamento de água, abastecimento
Product Index
Абсорбционные фильтры
Абсорбционный фильтр
Водяные фильтры
Ионообменные системы
Материал активированного угля
Микрофильтрование
Нано-вещества
Нанофильтрация
Нетканые материалы
Сливные фильтры
Технический текстиль
Устранение запахов
Фильтровальный текстиль
Фильтрующие патроны
Фильтрующий материал
Фильтрующий материал для жидкостей
Фильтры со сменным фильтрующим элементом
Фильтры сточных вод
Market Scope
Горнодобывающая промышленность
Металлообрабатывающая промышленность
Молочная промышленность
Отрасль фильтрации и сепарирования
Очистка воды, водоснабжение
Очистка сточных вод
Product Index
Cartuchos de filtro
Eliminación de olores
Filtros de absorción
Filtros de absorción
Filtros de agua
Filtros de agua residual
Filtros de cartucho
Filtros de efluente
Medios de carbón activado
Medios de filtros de aire
Medios de filtros para líquidos
Microfiltración
Nanofiltración
Nanomedios
Non-Wowens
Sistema de intercambio de iones
Tejidos de filtros
Tejidos técnicos
Market Scope
Industria de la filtración y la separación
Industria de la minería
Industria de los productos lácteos
Industria de procesamiento de metales
Tratamiento de aguas residuales
Tratamiento, suministro de agua
Product Index
Absorpsiyon Filtreleri
Adsorpsiyon Filtreleri
Aktif Karbon Ortamı
Atıksu Filtreleri
Dokunmamış Mamuller
Filtre Kartuşları
Filtre Tekstilleri
Hava Filtresi Ortamı
Kartuşlu Filtreler
Koku Giderme
Mikrofiltrasyon
Nano Ortam
Nanofiltrasyon
Su Filtreleri
Sıvı Atık Filtreleri
Sıvılar için Filtre Ortamı
Teknik Tekstiller
İyon Değiştirme Sistemleri
Market Scope
Atıksu Arıtma
Filtrasyon ve Ayırma Endüstrisi
Madencilik Endüstrisi
Metal İşleme Endüstrisi
Su Arıtma, Temin
Çevre Koruma
Product Index
공기 여과재
기능성 섬유
나노 매체
나노 여과
냄새 제거
물 필터
부직포
액체용 여과재
오수 필터
이온 교환 시스템
정밀 여과
카트리지 필터
폐수 필터
필터 직물
필터 카트리지
활성탄 매체
흡수 필터
흡수 필터
Market Scope
광업
금속 가공 산업
수질 관리, 수자원 공급
여과 및 분리 산업
폐수 처리
환경 보호
Product Index
イオン交換装置
エアフィルターメディア
カートリッジ・フィルター
テクニカル繊維
ナノメディア
ナノ濾過
フィルターカートリッジ
フィルター繊維
不織布
吸収フィルター
吸収フィルター
廃水フィルター
排水フィルター
水フィルター
活性炭メディア
液体用濾過材
精密濾過
臭気除去
Market Scope
水処理および関連製品
汚水処理
濾過および分離技術工業
環境保護
金属加工業界
鉱業