Asada Mesh co., Ltd. Hall 7 / P10

Exhibitor Profile
Asada Mesh's high quality Stainless Steel weaven mesh products are effective to solve problems in both Sieving and Filtration applications.
Products / Markets
Product Index
Maschengewebe, Metal
Metallgewebe
Market Scope
Abwasserwirtschaft
Automobilindustrie
Druckindustrie
Elektronik-, Mikroelektronikindustrie
Energieerzeugung,-versorgung
Filtrations- und Separationsindustrie
Lebensmittel-,Getränkeindustrie
Luft- und Raumfahrtindustrie
Pharmazeutische Industrie
Umweltschutz
Market Scope
Aerospace Industry
Automotive Industry
Electronic, Microelectronic Industry
Energy, Energy Supply
Environmental Protection
Filtration and Separation Industry
Food, Beverage Industry
Pharmaceutical Industry
Printing Industry
Waste Water Treatment
Market Scope
 汽车工业
制药工业
印刷业
废水处理
环境保护
电子、微电子工业
能源、能源供应
航空航天业
过滤与分离工业
食品、饮料工业
Market Scope
الصناعات الدوائية
الصناعات الغذائية وصناعة المشروبات
الطاقة والإمداد بالطاقة
الطباعة
حماية البيئة
صناعات الفلترة وفصل المواد
صناعة الألبان
صناعة السيارات
صناعة الفضاء
معالجة مياه الصرف
Product Index
Mailles métalliques
Tissus métalliques
Market Scope
Energies et fourniture d'énergies
Industrie automobile
Industrie aérospatiale
Industrie de filtration et de séparation
Industrie laitière
Industrie pharmaceutique
Industrie typographique
Industries alimentaires et des boissons
Protection de l'environnement
Traitement des eaux usées
Product Index
Reti, metallo
Tessuto metallico
Market Scope
Energia, approvvigionamento energetico
Protezione ambientale
Settore aerospaziale
Settore alimenti e bevande
Settore automobilistico
Settore elettronico, microelettronico
Settore filtrazione e separazione
Settore industria stampaggio
Settore parafarmaceutico
Trattamento acque reflue
Product Index
Siatki metalowe
Tkaniny z włókien metalowych
Market Scope
Filtrowanie i separacja
Ochrona środowiska
Oczyszczanie ścieków (waste water)
Przemysł drukarski
Przemysł elektroniczny i mikroelektroniczny
Przemysł energetyczny
Przemysł farmaceutyczny
Przemysł lotniczy
Przemysł samochodowy
Przemysł spożywczy
Product Index
Malhas, metal
Tela de metal
Market Scope
Energia, abastecimento de energia
Indústria aeroespacial
Indústria alimentar, de bebidas
Indústria automóvel
Indústria da impressão
Indústria de filtragem e separação
Indústria farmacêutica
Indústria leiteira
Protecção ambiental
Tratamento de água de despejo
Product Index
Сетки, металлические
Ткань из проволочной сетки
Market Scope
Авиакосмическая промышленность
Автомобильная промышленность
Защита окружающей среды
Молочная промышленность
Отрасль фильтрации и сепарирования
Очистка сточных вод
Полиграфическая промышленность
Производство продуктов питания и напитков
Фармацевтическая промышленность
Энергетика, электроснабжение
Product Index
Mallas, metal
Tela metálica
Market Scope
Energía, suministro de energía
Industria aeroespacial
Industria de la alimentación y las bebidas
Industria de la automoción
Industria de la filtración y la separación
Industria de la impresión
Industria de los productos lácteos
Industria farmacéutica
Protección del medio ambiente
Tratamiento de aguas residuales
Product Index
Elekler, Metal
Metal Kumaş
Market Scope
Atıksu Arıtma
Basın Endüstrisi
Elektronik, Mikroelektronik Endüstrisi
Enerji, Enerji İkmali
Filtrasyon ve Ayırma Endüstrisi
Gıda, İçecek Endüstrisi
Havacılık Endüstrisi
Otomotiv Endüstrisi
Çevre Koruma
İlaç Endüstrisi
Market Scope
식음료 산업
에너지, 에너지 공급
여과 및 분리 산업
인쇄 산업
자동차 산업
전자, 마이크로 전자 산업
제약 산업
폐수 처리
항공우주 산업
환경 보호
Market Scope
エネルギー、エネルギー供給
医薬品業界
印刷業界
汚水処理
濾過および分離技術工業
環境保護
自動車産業
航空宇宙産業
電子、マイクロエレクトロニクス産業
食品、飲料業界
Press release
Finest Mesh in the World
Far from the image of the metal mesh in our daily lives, our stainless steel wire mesh is much finer and the opening size and wire diameter is now less that 30µm.
The very fine mesh that it has a 16µm opening size made of 795 wires per inch, it has been taken over as the world's finest mesh by our new reference of only 13µm opening size made of 977 wires per inch.
Compared with traditional wind classifications or electro-formed sieves, the highest quality metal mesh of Asada Mesh is expected to achieve higher accuracy, longer life, greater size or cost reductions.
One expected application of Fine Metal Mesh: Solder Powder Sieving.
With the downsizing of electronic equipment and components, more than 1000 0603 and 0402 MLCC's (Multilayer Ceramic Capacitors) are currently installed on a single smartphone on average. However, the smaller the components, the smaller the mounting area.
The solder paste particle size is relatively large, about 30µm, but to install 0603 or 0402 parts, it is necessary to use a special solder paste with smaller particles such as Type 5 (ranging 25-15µm) o 6 (ranging 15-5µm). The world's finest metal mesh from Asada Mesh is effective for classifying such small particles.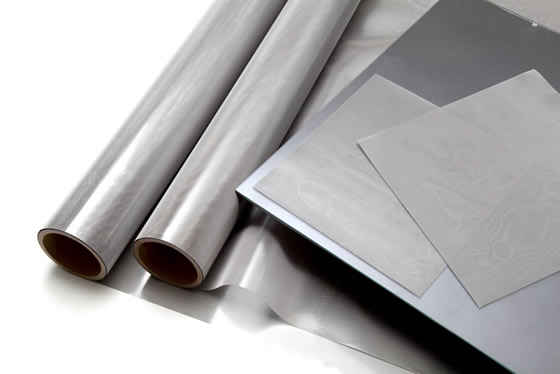 La malla más fina del mundo
Lejos de la imagen común de las mallas metálicas que nos puedan resultar más cotidianas, nuestras mallas se hacen con un hilo de acero inoxidable mucho más fino. El tamaño de las aperturas y el diámetro de los hilos es ahora menor de 30µm.
La malla muy fina que tiene aperturas de 16µm y está hecha con 795 hilos por pulgada, ha sido superada como la malla más fina del mundo por nuestra nueva referencia de sólo 13 µm de apertura que está hecha con 977 hilos por pulgada.
Comparadas con tamices electro-formados, con la superior calidad de las mallas metálicas de Asada Mesh se puede esperar mayor precisión, más larga vida útil, tamaños mayores o reducciones de costes.
Una aplicación esperada para las mallas metálicas finas: Separación de polvo para pastas de soldadura.
Con la continua reducción de tamaño de los equipos electrónicos y sus componentes, en la actualidad podemos encontrar una media de unos 1000 condensadores MLCC (Multilayer Ceramic Capacitors) de tamaños 0603 y 0402 en cualquier modelo de los actuales smartphones. Cuanto más pequeños son los componentes, menor es el área en que se deben montar.
El tamaño de las partículas de la pasta de soldadura tradicional es del orden de 30µm, pero para soldar componentes del tamaño 0603 o 0402, es necesario el uso de pastas de soldadura especiales , con partículas tan pequeñas como las tipo 5 (entre 25 y 15µm) o tipo 6 ( entre 15 y 5 µm) . La malla metálica más fina del mundo es eficiente para tamizar esos pequeños tamaños de partículas.