Dorstener Drahtwerke Hall 8 / E54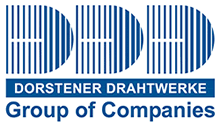 Exhibitor Profile
Flüssigkeiten, Feststoffe und Gas - Filtrieren und Separieren
Die Dorstener Drahtwerke Gruppe bietet innovative Lösungen mit einer großen Bandbreite an Drahtgewebe, geschweißten Gittern, gesinterten Medien und Filtrationsprodukten.
Wir produzieren Filtermedien sowie konfektionierte Filterprodukte aus Metall.
Luftfilter, Tropfenabscheider, Heissgasfiltration, Schmelzefilter, Fest- und Flüssigtrennung, Feucht- und Trockensiebung – wir haben Erfahrungen in allen wichtigen Marktbereichen. Die Entwicklung und Anpassung unserer Produkte für anspruchsvolle Filtrations- und Siebaufgaben ist unsere Stärke.
Liquid, Solids and Gas - Filtration and Separation
The Dorstener Group offers innovative solutions for a wide range of woven wire cloth, welded wire mesh, diffusion bonded media and filtration products.
We produce metal filter media and design filtration products.
Air Filtration, droplet separators, hot gas filter, polymer filter, solid-fluid separation, wet/dry screening – We have experiences in all major markets. Developing solutions for challenging filtration and screening demands is our strong suit.
Products / Markets
Product Index
Additive Fertigung
Belüftungssysteme
Dunstabscheider
Edelstahlfilter
Feinsiebe
Filterelemente
Filtergewebe
Gewebelaminate, Metal
Korbfilter
Luftfilter
Metallgewebe
Poröse Filtermittel
Pulverklassierer
Sandsiebe
Schlammentwässerung
Siebe
Siebmaschinen
Wasserfilter
Market Scope
Abwasserwirtschaft
Bergbauindustrie
Chemische Industrie
Farben-, Pigment-, Beschichtungsindustrie
Filtrations- und Separationsindustrie
Kunststoffverarbeitende Industrie
Lebensmittel-,Getränkeindustrie
Luft- und Raumfahrtindustrie
Mineralöl/Öl/Gasproduktion
Petrochemische Industrie
Product Index
Additive Manufacturing
Aeration Systems
Air Filters
Basket Filters (Strainers)
Filter Elements
Filter Fabrics
Metal Cloth
Mist Collectors
Porous Filter Media
Powder Classifiers
Sand Screens
Screening Machines
Sieves
Sludge Dewatering
Stainless Steel Filters
Strainers
Water Filters
Wire Mesh Laminates, metal
Market Scope
Aerospace Industry
Chemical Industries
Filtration and Separation Industry
Food, Beverage Industry
Mineral / Oil / Gas Production
Mining Industry
Paint, Pigments, Coatings Industry
Petrochemical Industry
Plastic Industry
Waste Water Treatment
Product Index
不锈钢过滤器
多孔过滤器介质
曝气系统
水过滤器
污泥脱水
添加剂制造
滤布
滤芯
砂筛
空气过滤器
筛
筛选机
篮式过滤器
粉末分类器
过滤器
金属线织物
金属网层板
集雾器
Market Scope
化学工业
塑料工业
废水处理
油漆、颜料、涂料工业
石化工业
矿产/石油/天然气业
航空航天业
过滤与分离工业
采矿业
食品、饮料工业
Product Index
آلات فرز
ألواح رملية
أنظمة تهوية
التصنيع المضافة
المصافي
تصنيف البودرة
رقائق الشبك المعدني
سحب المياه من الأوحال
شبك معدني
فلاتر السلة
فلاتر الهواء
فلاتر ماء
فلاتر من معادن مقاومة للصدأ
فلاتر نسيجية
قطع فلاتر
مجمعات الضباب /الرذاذ
مناخل
مواد تثقيب الفلاتر
Market Scope
إنتاج المعادن والزيوت والغاز
الصناعات الغذائية وصناعة المشروبات
الصناعة البتروكيماوية
الصناعة الكيماوية
صناعات الفلترة وفصل المواد
صناعة البلاستيك
صناعة التعدين
صناعة الدهانات والصبغات والتلبيس
صناعة الفضاء
معالجة مياه الصرف
Product Index
Classificateurs de poudres
Collecteurs de buées
Ecrans de sable
Egouttage de boues
Eléments de filtre
Fabrication additive
Filtres en acier inoxydable
Filtres à air
Filtres à bols
Filtres à eau
Laminés en mailles de fil, métalliques
Machines de criblage
Médias de filtres poreux
Systèmes d'aération
Tamis
Tamis
Tissus de filtres
Tissus métalliques
Market Scope
Industrie aérospatiale
Industrie chimique
Industrie de filtration et de séparation
Industrie de peintures, pigments et revêtements
Industrie des matières synthétiques
Industrie minière
Industrie pétrochimique
Industries alimentaires et des boissons
Productions minérales / pétrolière / du gaz
Traitement des eaux usées
Product Index
Classificatori polveri
Disidratazione dei fanghi
Elementi filtranti
Filtri
Filtri a cestello (filtri)
Filtri aria
Filtri in acciaio inossidabile
Filtri per acqua
Laminato a rete, metallo
Macchine per vagliare
Mezzi filtranti porosi
Produzione collanti
Raccoglitori nebbia
Setacci
Setacci sabbia
Sistemi di aerazione
Tessuti filtro
Tessuto metallico
Market Scope
Produzioni minerali / petrolio / gas
Settore aerospaziale
Settore alimenti e bevande
Settore chimico
Settore filtrazione e separazione
Settore minerario
Settore petrolchimico
Settore pitture, pigmenti e rivestimenti
Settore plastica
Trattamento acque reflue
Product Index
Elementy filtra
Filtry do wody pitnej
Filtry koszowe (sitka)
Filtry powietrza
Filtry ze stali nierdzewnej
Klasyfikatory proszków
Kolektory mgły
Media filtrów porowatych
Metalowe połączenia wielowarstwowe siatek drucianych
Odwadnianie osadu
Przesiewacze
Przesiewacze piasku
Sita
Sitka
Systemy napowietrzania
Tkaniny filtracyjne
Tkaniny z włókien metalowych
Wytwarzanie przyrostowe
Market Scope
Filtrowanie i separacja
Oczyszczanie ścieków (waste water)
Produkcja farb i lakierów
Przemysł chemiczny
Przemysł lotniczy
Przemysł petrochemiczny
Przemysł spożywczy
Przemysł tworzyw sztucznych
Przemysł wydobywczy
Wydobycie minerałów, ropy i gazu
Product Index
Classificadores de pós
Colectores de vapores
Crivos
Elementos filtrantes
Filtros de ar
Filtros de aço inoxidável
Filtros de rede
Filtros de água
Laminados de malha metálica
Manufacturing aditivo
Meios de filtragem porosa
Máquinas separadoras (crivos)
Peneiras finas
Secagem de lamas
Sistemas de ventilação
Tecidos filtrantes
Tela de metal
Telas de retenção de areia
Market Scope
Indústria aeroespacial
Indústria alimentar, de bebidas
Indústria de filtragem e separação
Indústria dos plásticos
Indústria mineira
Indústria petroquímica
Indústrias químicas
Pintura, pigmentos, indústria de revestimentos
Produção mineral / óleo / gás
Tratamento de água de despejo
Product Index
Водяные фильтры
Воздушные фильтры
Добавка Производство
Корзинчатые фильтры
Обезвоживание осадка
Пористый фильтрующий материал
Просеивающие машины
Сборник загрязнений во влажном воздухе
Сетчатые ламинаты, металл
Сетчатые фильтры
Сетчатые фильтры
Сетчатый фильтр
Система вентилирования
Ткань из проволочной сетки
Установки для сортировки порошка
Фильтровальные ткани
Фильтрующие элементы
Фильтры из нержавеющей стали
Market Scope
Авиакосмическая промышленность
Горнодобывающая промышленность
Добыча минералов/ нефти/ газа
Лакокрасочная промышленность
Нефтехимическая промышленность
Отрасль фильтрации и сепарирования
Очистка сточных вод
Производство пластмасс
Производство продуктов питания и напитков
Химическая промышленность
Product Index
Clasificadores de polvos
Coladores
Colectores de neblina
Cribas de arena
Deshidratación de lodos
Elementos de filtro
Fabricación aditiva
Filtros de acero inoxidable
Filtros de agua
Filtros de aire
Filtros de cesta
Material laminar de malla de alambre, metal.
Medios de filtros porosos
Máquinas de criba
Sistemas de aireación
Tamices
Tejidos de filtro
Tela metálica
Market Scope
Industria aeroespacial
Industria de la alimentación y las bebidas
Industria de la filtración y la separación
Industria de la minería
Industria de las pinturas, pigmentos, revestimientos
Industria de los plásticos
Industria petroquímica
Industrias químicas
Producción de minerales / petróleo / gas
Tratamiento de aguas residuales
Product Index
Buğu Toplayıcılar
Elek Makineleri
Elekler
Filtre Bezleri
Filtre Elemanları
Gözenekli Filtre Ortamı
Hasır Tel Tabakaları, metal
Hava Filtreleri
Havalandırma Sistemleri
Katkı İmalat
Kum Elekleri
Metal Kumaş
Paslanmaz Çelik Filtreler
Sepet Filtreler
Su Filtreleri
Süzgeçler
Toz Klasifikatörleri
Çamur Susuzlaştırma
Market Scope
Atıksu Arıtma
Boya, Pigment, Kaplama Endüstrisi
Filtrasyon ve Ayırma Endüstrisi
Gıda, İçecek Endüstrisi
Havacılık Endüstrisi
Kimya Endüstrisi
Madencilik Endüstrisi
Mineral / Petrol / Gaz Üretimi
Petrokimya Endüstrisi
Plastik Endüstrisi
Product Index
공기 시스템
공기 필터
금속 철망 라미네이트
다공질 여과재
메탈 클로스
모래막이
물 필터
바스켓 필터(스트레이너)
분말 분급기
분체기
스텐레스 스틸 필터
스트레이너
슬러지 탈수
연무 수집기
첨가제 제조
체
필터 엘리먼트
필터 패브릭
Market Scope
광물 / 석유 / 가스 생산
광업
석유화학 산업
식음료 산업
여과 및 분리 산업
페인트, 안료, 도장 산업
폐수 처리
플라스틱 산업
항공우주 산업
화학 산업
Product Index
ふるい
エアフィルター
サンドスクリーン
スクリーニング機
ステンレス鋼フィルター
ストレーナー
バスケットフィルター(ストレーナー)
フィルターエレメント
フィルター布
ミストコレクター
ワイヤーメッシュラミネート
多孔質フィルターメディア
曝気システム
水フィルター
汚泥脱水
積層造形
粉末分級機
金属布
Market Scope
プラスチック業界
化学工業
塗料、顔料、コーティング産業
汚水処理
濾過および分離技術工業
石油化学工業
航空宇宙産業
鉱業
鉱物・石油・ガス生産
食品、飲料業界