FACET Hall 8 / F18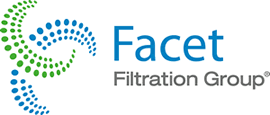 Exhibitor Profile
Facet, the leading company in design, manufacturing and distribution of advanced filtration solutions for the aviation, marine, refined fuels and environmental markets is now a part of Filtration Group.
Today our company is the result of 75 years industry knowledge, engineering forward vision, ongoing research and a vast network of resources that will allow us to continue providing high quality products.
We are aware that the most advanced solutions don't stay for long; for that reason we continually are working toward what's next in an ever-changing industry landscape with the aim of making the world safer, healthier and more productive.
Products / Markets
Product Index
Abscheider
Abscheider - Öl/Wasser
Absorptionsfilter
Abwasserfilter
Adsorptionsfilter
Coalescer
Filtergehäuse
Filterpatronen
Gasfilter
Hydrozyklone
Korbfilter
Kraftstoff-Filter
Patronenfilter
Schmierölfilter
Selbstreinigende Filter
Market Scope
Abwasserwirtschaft
Chemische Industrie
Energieerzeugung,-versorgung
Filtrations- und Separationsindustrie
Luft- und Raumfahrtindustrie
Mineralöl/Öl/Gasproduktion
Petrochemische Industrie
Umweltschutz
Product Index
Absorption Filters
Adsorption Filters
Basket Filters (Strainers)
Cartridge Filters
Coalescers
Filter Cartridges
Filter Housings
Fuel Filters
Gas Filters
Hydrocyclones
Lubrication Oil Filters
Self Cleaning Filters
Separators
Separators - Oil/Water
Waste Water Filters
Market Scope
Aerospace Industry
Chemical Industries
Energy, Energy Supply
Environmental Protection
Filtration and Separation Industry
Mineral / Oil / Gas Production
Petrochemical Industry
Waste Water Treatment
Product Index
分离器
分离器 油/水
吸附式过滤器
吸附式过滤器
废水过滤器
气体过滤器
水力旋流器
润滑油过滤器
滤壳
滤筒
滤筒
燃油过滤器
篮式过滤器
聚结器
自清洁过滤器
Market Scope
化学工业
废水处理
环境保护
石化工业
矿产/石油/天然气业
能源、能源供应
航空航天业
过滤与分离工业
Product Index
تصفية العلب
خراطيش فلتر
سايكلونات / دوامات مائية
فلاتر إمتصاص
فلاتر إمتصاص كيماوي
فلاتر السلة
فلاتر الكارترج / الخراطيش
فلاتر تشحيم وتزييت
فلاتر ذاتية التنظيف
فلاتر غازات
فلاتر ماء التصريف
فواصل
فواصل الزيت والماء
مواد فلاتر المحروقات
وحدات إلتحام
Market Scope
إنتاج المعادن والزيوت والغاز
الصناعة البتروكيماوية
الصناعة الكيماوية
حماية البيئة
صناعات الفلترة وفصل المواد
صناعة الألبان
صناعة الفضاء
معالجة مياه الصرف
Product Index
Cartouches de filtres
Cartouches de filtres
Coalesceurs
Filtres autonettoyants
Filtres pour eau usées
Filtres à absorption
Filtres à adsorption
Filtres à bols
Filtres à carburant
Filtres à gaz
Filtres à huile de lubrifaction
Hydrocyclones
Les boîtiers de filtre
Séparateurs
Séparateurs – huile/eau
Market Scope
Industrie aérospatiale
Industrie chimique
Industrie de filtration et de séparation
Industrie laitière
Industrie pétrochimique
Productions minérales / pétrolière / du gaz
Protection de l'environnement
Traitement des eaux usées
Product Index
Alloggiamenti filtro
Cartucce filtri
Filtri a cestello (filtri)
Filtri acque reflue
Filtri autopulenti
Filtri carburante
Filtri cartuccia
Filtri di assorbimento
Filtri di assorbimento
Filtri gas
Filtri olio lubrificante
Idrociclone
Miscelatori
Separatori
Separatori - olio/acqua
Market Scope
Energia, approvvigionamento energetico
Produzioni minerali / petrolio / gas
Protezione ambientale
Settore aerospaziale
Settore chimico
Settore filtrazione e separazione
Settore petrolchimico
Trattamento acque reflue
Product Index
Filtry absorbcyjne
Filtry adsorbcyjne
Filtry gazu
Filtry koszowe (sitka)
Filtry oleju smarowego
Filtry paliwa
Filtry samooczyszczające
Filtry ścieków
Hydrocyklony
Koagulanty
Obudowy filtrów
Separatory
Separatory - Olej/woda
Wkłady filtra
Wkłady filtracyjne
Market Scope
Filtrowanie i separacja
Ochrona środowiska
Oczyszczanie ścieków (waste water)
Przemysł chemiczny
Przemysł energetyczny
Przemysł lotniczy
Przemysł petrochemiczny
Wydobycie minerałów, ropy i gazu
Product Index
Carcaças de Filtro
Cartuchos filtrantes
Filtros auto-laváveis
Filtros de absorção
Filtros de adsorção
Filtros de cartuchos
Filtros de combustível
Filtros de gases
Filtros de rede
Filtros de águas residuais
Filtros de óleo lubrificante
Hidrociclones
Separadores
Separadores - óleo/água
Separadores de gotas
Market Scope
Indústria aeroespacial
Indústria de filtragem e separação
Indústria leiteira
Indústria petroquímica
Indústrias químicas
Produção mineral / óleo / gás
Protecção ambiental
Tratamento de água de despejo
Product Index
Абсорбционные фильтры
Абсорбционный фильтр
Газовые фильтры
Гидроциклоны
Коагуляторы
Корзинчатые фильтры
Корпуса фильтров
Самоочищающиеся фильтры
Сепараторы
Сепараторы – масло / вода
Топливные фильтры
Фильтрующие патроны
Фильтры смазочного масла
Фильтры со сменным фильтрующим элементом
Фильтры сточных вод
Market Scope
Авиакосмическая промышленность
Добыча минералов/ нефти/ газа
Защита окружающей среды
Молочная промышленность
Нефтехимическая промышленность
Отрасль фильтрации и сепарирования
Очистка сточных вод
Химическая промышленность
Product Index
Cartuchos de filtro
Filtro de Viviendas
Filtros autolimpiables
Filtros de absorción
Filtros de absorción
Filtros de aceite de lubricación
Filtros de agua residual
Filtros de cartucho
Filtros de cesta
Filtros de combustible
Filtros de gas
Hidrociclones
Separadores
Separadores - aceite/agua
Separadores coalescentes
Market Scope
Industria aeroespacial
Industria de la filtración y la separación
Industria de los productos lácteos
Industria petroquímica
Industrias químicas
Producción de minerales / petróleo / gas
Protección del medio ambiente
Tratamiento de aguas residuales
Product Index
Absorpsiyon Filtreleri
Adsorpsiyon Filtreleri
Atıksu Filtreleri
Birleştiriciler
Filtre Gövdeleri
Filtre Kartuşları
Gaz Filtreleri
Hidrosiklonlar
Kartuşlu Filtreler
Kendiliğinden Temizlenen Filtreler
Separatörler
Separatörler - Yağ/Su
Sepet Filtreler
Yakıt Filtreleri
Yağlama Yağı Filtreleri
Market Scope
Atıksu Arıtma
Enerji, Enerji İkmali
Filtrasyon ve Ayırma Endüstrisi
Havacılık Endüstrisi
Kimya Endüstrisi
Mineral / Petrol / Gaz Üretimi
Petrokimya Endüstrisi
Çevre Koruma
Product Index
가스 필터
바스켓 필터(스트레이너)
분리기
분리기 - 오일/물
연료 필터
윤활유 필터
자동 세척 필터
카트리지 필터
코어레서
폐수 필터
필터 카트리지
필터 하우징
하이드로사이클론
흡수 필터
흡수 필터
Market Scope
광물 / 석유 / 가스 생산
석유화학 산업
에너지, 에너지 공급
여과 및 분리 산업
폐수 처리
항공우주 산업
화학 산업
환경 보호
Product Index
カートリッジ・フィルター
ガスフィルター
コアレッサー
セルフクリーニングフィルター
バスケットフィルター(ストレーナー)
フィルターカートリッジ
フィルターハウジング
分離機
分離機 - 油・水
吸収フィルター
吸収フィルター
廃水フィルター
液体サイクロン
潤滑油フィルター
燃料フィルター
Market Scope
エネルギー、エネルギー供給
化学工業
汚水処理
濾過および分離技術工業
環境保護
石油化学工業
航空宇宙産業
鉱物・石油・ガス生産