GKD - Gebr. Kufferath AG Hall 8 / B19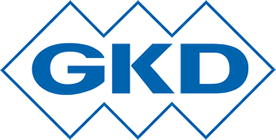 Exhibitor Profile
As a privately owned technical weaving mill, we are the global market leader in woven solutions made of metal and synthetic.
Under the slogan GKD - WORLD WIDE WEAVE, our company groups four independent business divisions: industrial mesh, process belt mesh, architectural mesh and transparent media façades.
In our own R&D department and its laboratory, we not only continuously further develop our own GKD standard range, but also create individual solutions for our customers' processes. At GKD, we are therefore able to create efficient systems, equipment and components integrated perfectly into the processes of our customers across all industry sectors. Our manufacturing expertise enables us to meet our customers' wishes in terms of weave type, selection and combination of materials, as well as further processing. Our customers receive the products either as pre-assembled stock
goods or in application-specific solutions, which are manufactured customized to our customers' processes. The wide range of industrial areas in which GKD products are used emphasizes our experience and expertise in development and manufacturing. The industry mix ranges from the automobile and aerospace industries, medical and environmental technology, raw materials and mining, the chemical, pharmaceutical, foodstuffs and textile industries and the wood and paper processing industries, right through to applications in architecture and design.
Products / Markets
Product Index
Automatische Filter
Bandfilter
Beschichtete Filter,antibakteriell
Filteranlagen
Filterelemente
Filtergewebe
Filtermedien
Filtermedien f. Flüssigkeiten
Filtermedien f. Gase
Filterpatronen
Filterplatten
Filterscheiben
Kerzenfilter
Korbfilter
Kühlmittelfilter
Trommelfilter
Wasserfilter
Zentrifugen
Market Scope
Abwasserwirtschaft
Automobilindustrie
Biotechnologie/Biopharmazie
Chemische Industrie
Elektronik-, Mikroelektronikindustrie
Energieerzeugung,-versorgung
Filtrations- und Separationsindustrie
Luft- und Raumfahrtindustrie
Petrochemische Industrie
Umweltschutz
Product Index
Automatic Filters
Basket Filters (Strainers)
Belt Filters
Candle Filters
Centrifuges
Coated Filters, antibacterical
Coolant Filters
Drum Filters
Filter Cartridges
Filter Discs
Filter Elements
Filter Fabrics
Filter Media
Filter Media for Gases
Filter Media for Liquids
Filter Plates
Filtration Plants
Water Filters
Market Scope
Aerospace Industry
Automotive Industry
Biotechnology/Biopharmac. Industry
Chemical Industries
Electronic, Microelectronic Industry
Energy, Energy Supply
Environmental Protection
Filtration and Separation Industry
Petrochemical Industry
Waste Water Treatment
Product Index
冷却液过滤器
带式过滤器
气体过滤器介质
水过滤器
液体过滤器介质
滤布
滤板
滤片
滤筒
滤芯
烛形过滤器
离心机
篮式过滤器
自动过滤器
过滤介质
过滤设备
镀膜滤色镜,抗菌式
鼓式过滤器
Market Scope
 汽车工业
化学工业
废水处理
环境保护
生物技术/生物制药业
电子、微电子工业
石化工业
能源、能源供应
航空航天业
过滤与分离工业
Product Index
أقراص فلاتر
خراطيش فلتر
صفائح فلترة
فلاتر آلية
فلاتر اسطوانية
فلاتر السلة
فلاتر سائل التبريد
فلاتر شريطية
فلاتر طولانية
فلاتر ماء
فلاتر مغلفة، مضادة للجراثيم
فلاتر نسيجية
قطع فلاتر
مواد فلترة
مواد فلترة السوائل
مواد فلترة الغازات
وحدات الطرد المركزي
وحدات فلترة
Market Scope
الصناعة البتروكيماوية
الصناعة الكيماوية
الطاقة والإمداد بالطاقة
حماية البيئة
صناعات الفلترة وفصل المواد
صناعة الألبان
صناعة التقنية البيولوجية والبيوصيدلية
صناعة السيارات
صناعة الفضاء
معالجة مياه الصرف
Product Index
Cartouches de filtres
Centrifugeuses
Disques de filtres
Eléments de filtre
Filtres automatiques
Filtres de fluide réfrigérant
Filtres en forme de bougie
Filtres à bols
Filtres à eau
Filtres à revêtement, antibactérien
Filtres à sangles
Filtres à tambours
Installation de filtration
Médias de filtre
Médias de filtre pour gaz
Médias de filtre pour liquides
Plaques de filtres
Tissus de filtres
Market Scope
Energies et fourniture d'énergies
Industrie automobile
Industrie aérospatiale
Industrie biotechnologie/biopharmaceutique
Industrie chimique
Industrie de filtration et de séparation
Industrie laitière
Industrie pétrochimique
Protection de l'environnement
Traitement des eaux usées
Product Index
Cartucce filtri
Centrifughe
Dischi filtro
Elementi filtranti
Filtri a cestello (filtri)
Filtri a tamburo
Filtri automatici
Filtri banda
Filtri candele
Filtri per acqua
Filtri refrigeranti
Filtri rivestiti, antibatterici
Impianti di filtraggio
Mezzi filtranti
Mezzi filtranti per gas
Mezzi filtranti per liquidi
Piastre di filtraggio
Tessuti filtro
Market Scope
Biotecnologie/biofarmaceutica
Energia, approvvigionamento energetico
Protezione ambientale
Settore aerospaziale
Settore automobilistico
Settore chimico
Settore elettronico, microelettronico
Settore filtrazione e separazione
Settore petrolchimico
Trattamento acque reflue
Product Index
Dyski filtra
Elementy filtra
Filtry automatyczne
Filtry bębnowe
Filtry chłodziwa
Filtry do wody pitnej
Filtry koszowe (sitka)
Filtry powlekane, antybakteryjne
Filtry taśmowe
Filtry świecowe
Media filtrów
Media filtrów cieczy
Media filtrów gazu
Płytki filtracyjne
Tkaniny filtracyjne
Urządzenia filtracyjne
Wirówki
Wkłady filtra
Market Scope
Biotechnologia/biofarmaceutyka
Filtrowanie i separacja
Ochrona środowiska
Oczyszczanie ścieków (waste water)
Przemysł chemiczny
Przemysł elektroniczny i mikroelektroniczny
Przemysł energetyczny
Przemysł lotniczy
Przemysł petrochemiczny
Przemysł samochodowy
Product Index
Cartuchos filtrantes
Centrifugadores
Discos de filtros
Elementos filtrantes
Filtros automáticos
Filtros de bandas
Filtros de rede
Filtros de tambor
Filtros de velas
Filtros de água
Filtros para líquidos de refrigeração
Filtros revestidos, antibacteriano
Instalações de filtração
Meios de filtragem
Meios de filtragem para gases
Meios de filtragem para líquidos
Placas de filtros
Tecidos filtrantes
Market Scope
Energia, abastecimento de energia
Ind. de biotecnologia/biofarmac.
Indústria aeroespacial
Indústria automóvel
Indústria de filtragem e separação
Indústria leiteira
Indústria petroquímica
Indústrias químicas
Protecção ambiental
Tratamento de água de despejo
Product Index
Автоматические фильтры
Барабанные фильтры
Водяные фильтры
Корзинчатые фильтры
Ленточные фильтры
Охлаждающие фильтры
Свечевые фильтры
Фильтрационные установки
Фильтровальные пластины
Фильтровальные ткани
Фильтрующие диски
Фильтрующие патроны
Фильтрующие элементы
Фильтрующий материал
Фильтрующий материал для газов
Фильтрующий материал для жидкостей
Фильтры с покрытием, антибактериальные
Центрифуги
Market Scope
Авиакосмическая промышленность
Автомобильная промышленность
Биотехнология / Биофармацевтическая промышленность
Защита окружающей среды
Молочная промышленность
Нефтехимическая промышленность
Отрасль фильтрации и сепарирования
Очистка сточных вод
Химическая промышленность
Энергетика, электроснабжение
Product Index
Cartuchos de filtro
Centrífugas
Discos de filtro
Elementos de filtro
Filtros automáticos
Filtros de agua
Filtros de cesta
Filtros de correa
Filtros de refrigerante
Filtros de tambor
Filtros de vela
Filtros revestidos, antibacteriológicos
Medios de filtro
Medios de filtros para gases
Medios de filtros para líquidos
Placas de filtro
Plantas de filtración
Tejidos de filtro
Market Scope
Energía, suministro de energía
Industria aeroespacial
Industria de la automoción
Industria de la biotecnología/biofarmacéutica
Industria de la filtración y la separación
Industria de los productos lácteos
Industria petroquímica
Industrias químicas
Protección del medio ambiente
Tratamiento de aguas residuales
Product Index
Arıtma İstasyonları
Bant Filtreler
Filtre Bezleri
Filtre Diskleri
Filtre Elemanları
Filtre Kartuşları
Filtre Ortamı
Filtre Plakaları
Gazlar için Filtre Ortamı
Kaplı Filtreler, antibakteriyel
Mum Filtreler
Otomatik Filtreler
Santrifüjler
Sepet Filtreler
Soğutucu Filtreler
Su Filtreleri
Sıvılar için Filtre Ortamı
Tambur Filtreler
Market Scope
Atıksu Arıtma
Biyoteknoloji/Biyoeczacılık Endüstrisi
Elektronik, Mikroelektronik Endüstrisi
Enerji, Enerji İkmali
Filtrasyon ve Ayırma Endüstrisi
Havacılık Endüstrisi
Kimya Endüstrisi
Otomotiv Endüstrisi
Petrokimya Endüstrisi
Çevre Koruma
Product Index
가스용 여과재
거름판
냉각수 필터
드럼 필터
물 필터
바스켓 필터(스트레이너)
벨트 필터
분리기
액체용 여과재
여과재
자동 필터
정수 처리장
캔들 필터
코팅 필터, 항균성
필터 디스크
필터 엘리먼트
필터 카트리지
필터 패브릭
Market Scope
생명공학/생물 약제학 산업
석유화학 산업
에너지, 에너지 공급
여과 및 분리 산업
자동차 산업
전자, 마이크로 전자 산업
폐수 처리
항공우주 산업
화학 산업
환경 보호
Product Index
ガス用濾過材
キャンドルフィルター
クーラントフィルター
コーティングフィルター
ドラムフィルター
バスケットフィルター(ストレーナー)
フィルターエレメント
フィルターカートリッジ
フィルターディスク
フィルターメディア
フィルター布
フィルター板
ベルトフィルター
水フィルター
液体用濾過材
濾過設備
自動フィルター
遠心分離機
Market Scope
エネルギー、エネルギー供給
バイオテクノロジー・バイオ医薬品産業
化学工業
汚水処理
濾過および分離技術工業
環境保護
石油化学工業
自動車産業
航空宇宙産業
電子、マイクロエレクトロニクス産業