MANN+HUMMEL GmbH Hall 8 / C11

Exhibitor Profile
MANN+HUMMEL is a global leader in the field of filtration.
The Ludwigsburg-based corporate group develops filtration solutions for the automotive sector, industrial applications, indoor air treatment in industry and public buildings, as well as for sustainable water treatment. In 2019, the company employed more than 22,000 staff members at more than 80 sites around the world and generated sales of EUR 4.2 billion. The company's products include air filters, suction and liquid filter systems, technical plastic parts, filter media, interior and industrial filters as well as membranes and modules for water filtration, waste water processing and process applications.
Products / Markets
Product Index
Aktivkohle Medien
Automobilfilter
Beschichtete Filter,antibakteriell
Beutel-/Taschenfilter
Coalescer Medien
Filterelemente
Filtermedien
Gasadsorption
Glasfasermedien
Hepa-Filter
Hydraulikfilter
Kabinenfilter
Luftfilterprüfung
Maschengewebe, Metal
Paneelfilter-Anlagen
Patronenfilter
Synthetic Maschengewebe, synth.
Zyklone
Market Scope
Abfallwirtschaft
Agrarwirtschaft
Automobilindustrie
Bauindustrie
Chemische Industrie
Farben-, Pigment-, Beschichtungsindustrie
Filtrations- und Separationsindustrie
Metallverarbeitende Industrie
Pharmazeutische Industrie
Umweltschutz
Product Index
Activated Carbon Media
Air Filter Testing
Automotive Filters
Bag Filters
Cabin Air Filters
Cartridge Filters
Coalescer Media
Coated Filters, antibacterical
Cyclones
Filter Elements
Filter Media
Gas Adsorption
Glass Fibre Media
HEPA Filters
Hydraulic Filters
Meshes, Metal
Meshes, Synthetic
Panel Filter Lines
Market Scope
Agriculture
Automotive Industry
Building & Construction Services
Chemical Industries
Environmental Protection
Filtration and Separation Industry
Metal Processing Industry
Paint, Pigments, Coatings Industry
Pharmaceutical Industry
Waste Treatment
Product Index
合成网
旋流器
气体吸附
汽车空调过滤器
汽车过滤器
活性碳介质
液压过滤器
滤筒
滤芯
玻璃纤维介质
空气过滤测试
聚结器介质
袋式过滤器
过滤介质
金属网
镀膜滤色镜,抗菌式
面板式过滤器生产线
高效粒子空气过滤器
Market Scope
 农业
 汽车工业
制药工业
化学工业
废物处理
建筑与施工服务业
油漆、颜料、涂料工业
环境保护
过滤与分离工业
金属加工业
Product Index
"فلاتر هواء عالية الفاعلية ""هـيبا"" HEPA"
أسلاك، معدنية
أسلاك، مواد صناعية
أكياس فلترة
امتصاص كيميائي للغازات
تصفية الهواء اختبار
خطوط فلاتر صفائحية
سايكلونات / وحدة دوامات
فلاتر الرطوبة
فلاتر السيارات
فلاتر الكارترج / الخراطيش
فلاتر المقصورات والحُجرات
فلاتر مغلفة، مضادة للجراثيم
قطع فلاتر
مواد إلتحام
مواد الصوف الزجاجي
مواد الكربون المنشط
مواد فلترة
Market Scope
الصناعات الدوائية
الصناعة الكيماوية
الهندسة المعمارية
خدمات البناء والإنشاء
صناعات الفلترة وفصل المواد
صناعة الألبان
صناعة الدهانات والصبغات والتلبيس
صناعة السيارات
صناعة معالجة المعادن
معالجة النفايات
Product Index
Adsorption de gaz
Cartouches de filtres
Cyclones
Eléments de filtre
Filtres HEPA
Filtres automobiles
Filtres hydrauliques
Filtres à air de cabines
Filtres à revêtement, antibactérien
Filtres à sacs
Fluide à charbon actif
Fluides coalescents
Lignes de panneaux de filtres
Mailles métalliques
Mailles synthétiques
Médias de filtre
Médias en fibres de verre
Test de filtre à air
Market Scope
Agriculture
Industrie automobile
Industrie chimique
Industrie de filtration et de séparation
Industrie de peintures, pigments et revêtements
Industrie du bâtiment et de la construction
Industrie laitière
Industrie métallurgique
Industrie pharmaceutique
Traitement des déchets
Product Index
Assorbimento gas
Cicloni
Elementi filtranti
Filtri a tasche
Filtri aria abitacolo
Filtri cartuccia
Filtri hepa
Filtri idraulici
Filtri rivestiti, antibatterici
Filtri settore automobilistico
Linee filtri a pannello
Mezzi di miscelazione
Mezzi filtranti
Mezzi filtranti carbone attivo
Mezzi in fibra di vetro
Reti, metallo
Reti, sintetico
Verifica filtro aria
Market Scope
Agricoltura
Protezione ambientale
Servizi settore edile
Settore automobilistico
Settore chimico
Settore filtrazione e separazione
Settore lavorazione metallo
Settore parafarmaceutico
Settore pitture, pigmenti e rivestimenti
Trattamento rifiuti
Product Index
Adsorbcja gazu
Elementy filtra
Filtry HEPA
Filtry hydrauliczne
Filtry kasetowe
Filtry powlekane, antybakteryjne
Filtry samochodowe
Filtry workowe
Kabinowe filtry powietrza
Media filtrów
Media koagulantów
Media węgla aktywowanego
Media włókna szklanego
Odpylacze cyklonowe
Siatki metalowe
Siatki syntetyczne
Testowanie filtrów powietrza
Wkłady filtracyjne
Market Scope
Filtrowanie i separacja
Obróbka metali
Ochrona środowiska
Oczyszczanie ścieków
Produkcja farb i lakierów
Przemysł budowlany
Przemysł chemiczny
Przemysł farmaceutyczny
Przemysł samochodowy
Rolnictwo
Product Index
Adsorção de gases
Ciclones
Elementos filtrantes
Filtros absolutos (HEPA)
Filtros de ar para cabines
Filtros de cartuchos
Filtros de saco
Filtros hidráulicos
Filtros para automóveis
Filtros revestidos, antibacteriano
Instalações de filtros de painéis
Malhas, metal
Malhas, sintéticas
Meios de carvão activado
Meios de fibra de vidro
Meios de filtragem
Meios de separação de gotas
Teste de Filtro de ar
Market Scope
Agricultura
Indústria automóvel
Indústria de filtragem e separação
Indústria de processamento de metal
Indústria farmacêutica
Indústria leiteira
Indústrias químicas
Pintura, pigmentos, indústria de revestimentos
Serviços de fabrico & construção
Tratamento de desperdícios
Product Index
Автомеханические фильтры
Адсорбция газа
Воздушный фильтр Тестирование
Гидравлические фильтры
Коалесцирующий материал
Линии по производству фильтровальных панелей
Материал активированного угля
Рабочий элемент стекловолоконного фильтра
Рукавные фильтры
Сетки, металлические
Сетки, синтетические
Фильтрующие элементы
Фильтрующий материал
Фильтры воздуха в кабине
Фильтры с покрытием, антибактериальные
Фильтры со сменным фильтрующим элементом
Фильтры тонкой очистки
Циклоны
Market Scope
Автомобильная промышленность
Лакокрасочная промышленность
Металлообрабатывающая промышленность
Молочная промышленность
Отрасль фильтрации и сепарирования
Переработка отходов
Сельское хозяйство
Строительство жилых и общественных зданий
Фармацевтическая промышленность
Химическая промышленность
Product Index
Absorción de gas
Ciclones
Elementos de filtro
Filtros HEPA
Filtros de aire de cabina
Filtros de automoción
Filtros de bolsa
Filtros de cartucho
Filtros hidráulicos
Filtros revestidos, antibacteriológicos
Líneas de filtros de paneles
Mallas, metal
Mallas, sintéticas
Medios de carbón activado
Medios de fibra de vidrio
Medios de filtro
Medios de separadores coalescentes
Prueba del filtro de aire
Market Scope
Agricultura
Industria de la automoción
Industria de la filtración y la separación
Industria de las pinturas, pigmentos, revestimientos
Industria de los productos lácteos
Industria de procesamiento de metales
Industria farmacéutica
Industrias químicas
Servicios de edificación y construcción
Tratamiento del agua
Product Index
Aktif Karbon Ortamı
Birleştirici Ortamı
Cam Elyaf Ortam
Elekler, Metal
Elekler, Sentetik
Filtre Elemanları
Filtre Ortamı
Gaz Adsorpsiyonu
HEPA Filtreler
Hava Filtresi Test
Hidrolik Filtreler
Kabin Hava Filtreleri
Kaplı Filtreler, antibakteriyel
Kartuşlu Filtreler
Otomobil Filtreleri
Panel Filtre Hatları
Siklonlar
Torba Filtreler
Market Scope
Atık Arıtma
Bina ve İnşaat Hizmetleri
Boya, Pigment, Kaplama Endüstrisi
Filtrasyon ve Ayırma Endüstrisi
Kimya Endüstrisi
Metal İşleme Endüstrisi
Otomotiv Endüstrisi
Tarım
Çevre Koruma
İlaç Endüstrisi
Product Index
HEPA 필터
가스 흡수
공기 필터 테스트
금속망
백 필터
싸이클론
여과재
유리 섬유 매체
유압 필터
자동차 필터
카트리지 필터
캐빈 에어 필터
코어레서 매체
코팅 필터, 항균성
패널 필터 라인
필터 엘리먼트
합성망
활성탄 매체
Market Scope
건축 및 건설 용역
금속 가공 산업
농업
여과 및 분리 산업
자동차 산업
제약 산업
페인트, 안료, 도장 산업
폐기물 처리
화학 산업
환경 보호
Product Index
HEPAフィルター
エアフィルター試験
カートリッジ・フィルター
ガス吸着
ガラス繊維メディア
キャビン用エアフィルター
コアレッサーメディア
コーティングフィルター
サイクロン機
バッグフィルター
パネルフィルターライン
フィルターエレメント
フィルターメディア
油圧フィルター
活性炭メディア
網目
網目
自動車用フィルター
Market Scope
化学工業
医薬品業界
塗料、顔料、コーティング産業
廃棄物処理
建築・建設業
濾過および分離技術工業
環境保護
自動車産業
農業
金属加工業界
Press release
Best oil cleanliness and optimal oil control for eMobility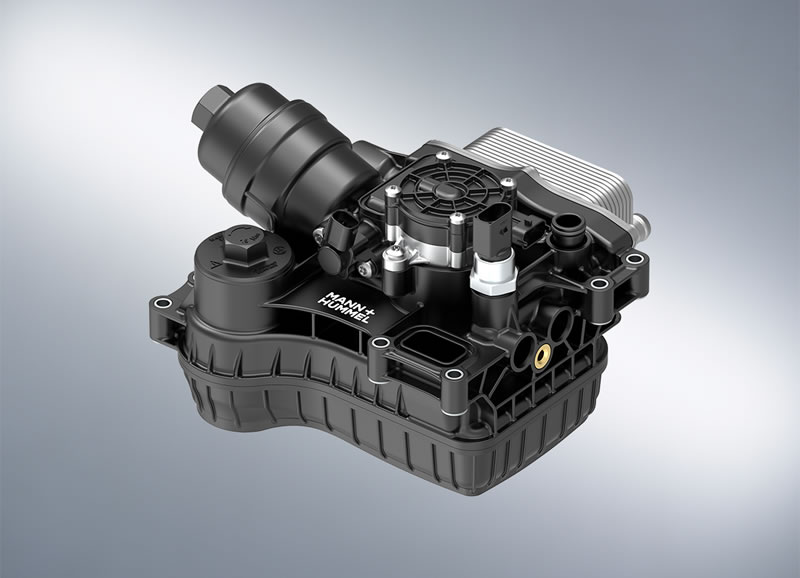 MANN+HUMMEL as a technology leader has transferred its extensive expertise in the area of oil filtration for combustion engines to the modern drivetrains and developed a product which impresses through its compact design while fulfilling manifold functions.
The plastic oil filter system for eAxles and hybrid transmissions includes an oil reservoir and one oil filter element each on the suction and on the pressure side for highest system cleanliness and reliability with smallest energy dissipation.
In addition, the system has moisture, pressure and temperature sensors, a switchable electric pump and an oil cooler with optional thermostat control.
An oil dryer is part of the oil filter system and constantly maintains the oil quality at a high level and efficiently separates any water which has dissolved in the cooling oil. The highly efficient adsorber material of the oil dryer removes even the smallest amount of water from the oil.
Press release
Solutions for virus-free indoor air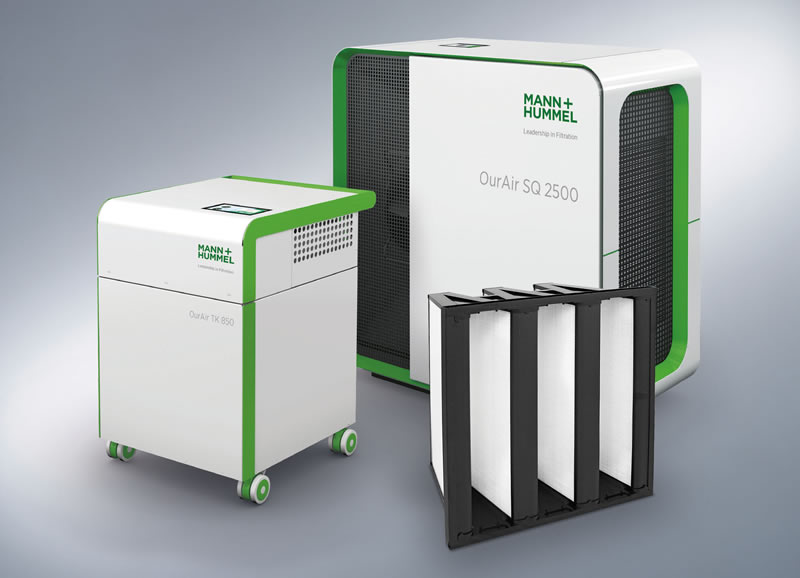 MANN+HUMMEL solutions for air hygiene create almost completely virus-free air indoors. For rooms without central air conditioning, there is the stationary air purifier OurAir SQ 2500 which is suitable for rooms up to approx. 200m² and its mobile pendant, the OurAir TK 850, which filters the air in rooms up to 70m². The heart of the units is its HEPA H14 air filter, which captures more than 99.995% of viruses, bacteria and microorganisms.
The compact filter, Nanoclass Cube Pro Membrane, is designed for HVAC systems working in circulation mode. The H13 filter achieves a separation rate of 99.95%. All air filters are equipped with a new ePTFE media with a 50% lower pressure drop compared to conventional HEPA air filters based on micro glass fiber. This makes the filters particularly energy efficient. The media is fire resistant tested according EN 13501 as class E and with that applicable for all HVAC application in non-residential buildings acc. EN 15423 and VDI 3403-4.
Press release
Wastewater treatment - solution to remove micro pollutants, antibiotic-resistant bacteria/genes and micro plastics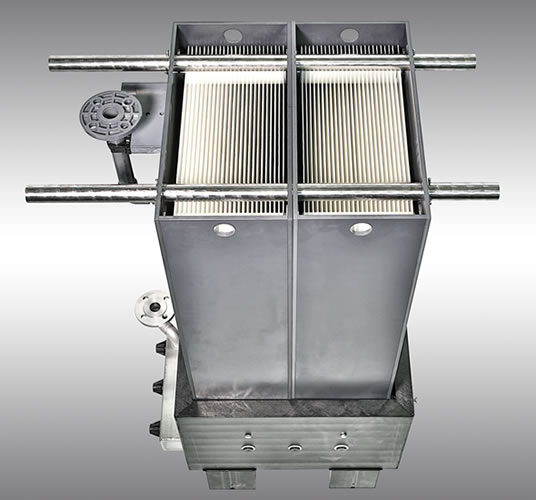 The need to reduce micro pollutants, antibiotic-resistant bacteria/gens and micro plastics significantly from treated wastewater led to a rising demand for additional filtration processes and triggered the development and application of membrane-based filtration processes which provide a physical barrier for harmful substances.
The BIO-CEL® Activated Carbon process, a combination of submerged ultrafiltration (UF) membranes, the dosage of Powdered Activated Carbon (PAC) and precipitants represents an innovative solution to protect the aquatic environment by further purifying treated wastewater.
As an additional treatment step, the process is located downstream the biological treatment in wastewater treatment plants. A simultaneous removal of following substances is achieved by implementing the BIO-CEL® Activated Carbon process:
Micro pollutants (>80% for selected substances)
Nutrients e.g. phosphorus (≤0,1 mg/l total phosphorus in effluent)
Bacteria e.g. E. Coli and Coliform bacteria
Antibiotic-resistant bacteria /genes
Micro plastics
Conference Presentation/s
Conference Session: Opening & Plenary Lecture
Roaring twenties in air filtration - driving for a cleaner world
Dr. Martin Lehmann*, MANN+HUMMEL GmbH, Germany
In medias res: Air filtration is omnipresent for delivering clean air: protecting engine and equipment known as engine filtration, enabling processes and technology known as industrial filtration, providing comfort and indoor air quality known as HVAC filtration. Adding gas adsorption, the domain of cabin air filtration shows up. However, in this talk the focus will be on particle filtration.
Tempora mutantur et nos mutamur in illis. A bit more than twenty years ago, the digital revolution in air filtration started. First realistic simulations of particle collection on single fibers. First time visualization of the 3D microstructure of a fibrous filter. CFD and FEA have become a key tool for designing air intake systems. Nowadays, we are starting to use AI-based simulation tools for designing air filter elements. In addition, in the past twenty years the design of the filter elements changed significantly. There is no longer a set of just rectangular or round filter elements. With evolving production technology, we are now thinking and designing in flexible design shapes with concave curvature, oval shape or variable pleat heights. Customers have become used to filter elements fitting just right into their complex 3D design space.
Quo vadis air filtration? Our decade of the 2020s is a quite prosperous time for air filtration. The production of new internal combustion cars is still growing (until the end of 2020s), the vehicle in operations will further grow, and filtration for heavy duty and industrial equipment will continue to be in demand. But it is also a time to redefine air filtration: New air filtration products will be needed, even for e-mobility. Focusing on reducing emissions adds the need for innovative filtration solutions, such as brake dust filtration, but also demands some kind of an altruistic, community-centered approach: With my frond-end air filter, I contribute to lower fine dust emissions while driving!
The plenary lecture will be a personal collection of examples illustrating the evolution of air filtration in the approximately last twenty years as well as an outlook into the roaring 2020s in air filtration....
Learn More at FILTECH 2021 Conference - Register Now!
Conference Session: F8 - Filter Media Development supported by Simulation Methods II
Simulating the microstructure of nonwovens to predict their elastic-plastic behavior in 3D
K.M. Hoess*, F. Keller, MANN+HUMMEL GmbH; S.Schmauder, University Stuttgart, Germany
The performance level of flat filter media is measured using the three filtration quality parameters: Dust holding capacity, filtration efficiency and pressure drop [1]. They directly correlate to the microstructural properties of the filter media. Hence, new multi-layered filter media with gradual fiber densities across the thickness and increased filtration performances are developed based on filtration simulations and parameter optimizations.
In order to gain the necessary volumetric flow rate, it is often necessary to pleat the filter media to achieve the needed filter media area in the given design space. The highly anisotropic elastic-plastic material behavior of these nonwovens is challenging. At this point of the microstructural design process, the effective mechanical properties of the new filter media are unknown. The ability to predict these anisotropic mechanical properties of a microstructural design is crucial to assess the viability of the new microstructural design for further processing in the manufacturing process. Hence, a virtual lab to test the microstructural designs for tension, compression and shear in all three spatial directions is needed.
In this presentation, a microstructural simulation model to predict the three-dimensional elastic-plastic behavior of nonwovens will be introduced...
Learn More at FILTECH 2021 Conference - Register Now!
Conference Session: G9 - Air Filtration II
Impact of roadside filtration devices on the concentration levels of road traffic pollutants at an urban traffic hotspot
T.K. Müller, T. Warth*, MANN+HUMMEL GmbH, Germany
In recent years, air quality in German cities has improved continuously, but hotspots in several cities still do not comply with the 2008/50/EC immission limit values. Currently, most exceedance events in Germany are related to NO₂ values being too high. In contrast, excessive particulate matter (PM) concentrations pose the greatest challenge from a worldwide perspective. A novel approach to locally improve the contaminant level is to employ outdoor air filtration devices, as e.g. the MANN+HUMMEL Filter Cube.
Stuttgart's 'Am Neckartor' area is the most prominent air quality hotspot in Germany and therefor offers an ideal location for the exemplary investigation into the effectiveness of filtration devices at an urban traffic hotspot. As part of a public-private field testing project, 23 outdoor air filtration devices (MANN+HUMMEL Filter Cube) with a nominal flow rate of 14.500 m³/h per unit were installed in the 'Am Neckartor' area beside federal highway B14. The employed filters were equipped with high capacity activated carbon filter media capable of reducing the local NO2 and PM concentrations. The focus of this publication is set on the proof of concept investigations conducted at the Neckartor site...
Learn More at FILTECH 2021 Conference - Register Now!
Images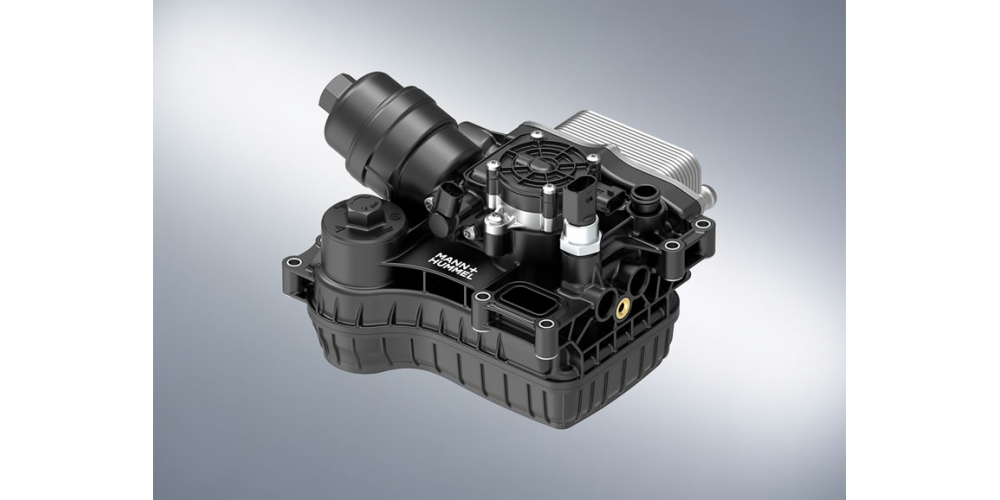 Best oil cleanliness and optimal oil control for eMobility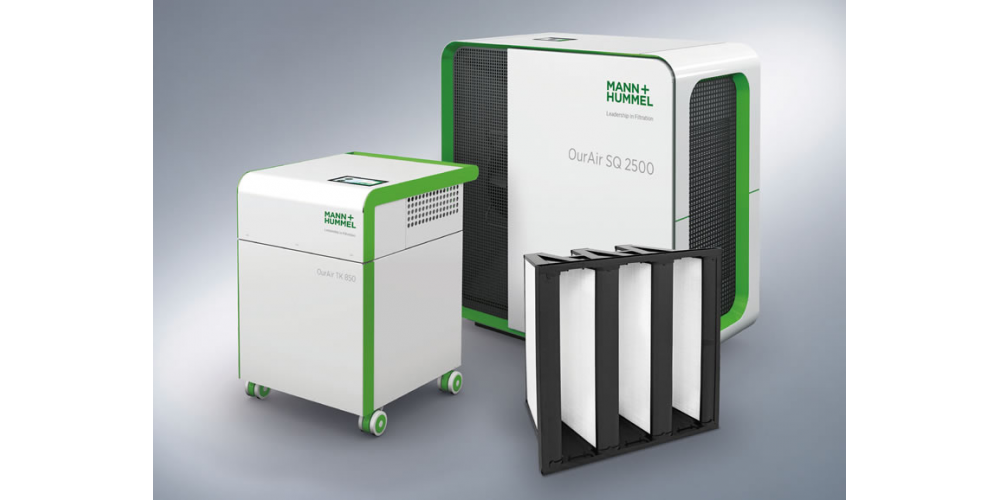 Solutions for virus-free indoor air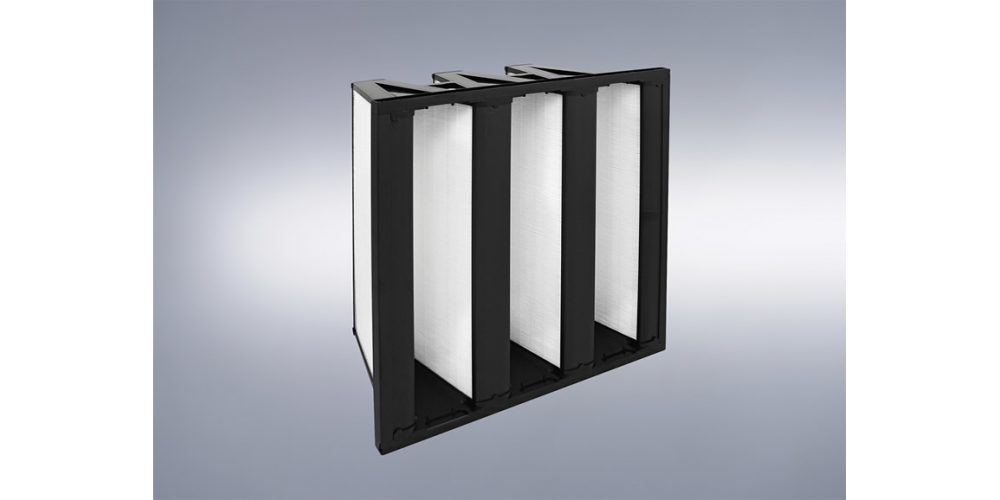 Solutions for virus-free indoor air