STEELBIRD INTERNATIONAL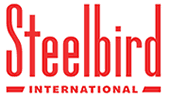 Exhibitor Profile
Steelbird International (More than 5 decades of leadership in the Automotive industry) a leading manufacturer of Filters & Rubber Parts supplying to various OEM's/Tier 1 in India & exporting products across the globe.
Quality Certification:
IATF 16949:2016
OHSAS 18001:2007
ISO 14001:2004
ISO 9001: 2008
Products offering:
Air, Oil & Fuel Filters.
Rubber Gaskets, Rubber to metal Bonded, Suspension Rubber Bushes, Silent Block Bushes, Bumper & Dampers, Rubber Boots & Bellows, O Ring, Oil Seals, Rubber Grommets, Rubber Mountings, Diaphragms, Rubber Mounted Hoses, Rubber Mattings.
List of esteemed Customers:
Royal Enfield
Claas Ltd
UM Lohia Two Wheelers Pvt Ltd
International Tractors Ltd
Tata Ficosa Ltd
Bosch Ltd
Greaves Cotton Ltd
ZF Steering India Ltd
Lucas TVS Ltd
Jost India Auto component Pvt Ltd
Interpump Hydraulic Ltd
Products / Markets
Product Index
Automobilfilter
Beutel-/Taschenfilter
Dichtungen für Filter
Filterelemente
Hydraulikfilter
Kabinenfilter
Kraftstoff-Filter
Luftfilter
Ölfilter
Market Scope
Agrarwirtschaft
Automobilindustrie
Product Index
Air Filters
Automotive Filters
Bag Filters
Cabin Air Filters
Filter Elements
Fuel Filters
Gaskets for Filters
Hydraulic Filters
Oil Filters
Market Scope
Agriculture
Automotive Industry
Product Index
汽车空调过滤器
汽车过滤器
液压过滤器
滤油器
滤芯
燃油过滤器
空气过滤器
袋式过滤器
过滤器垫片
Product Index
أكياس فلترة
فلاتر الرطوبة
فلاتر السيارات
فلاتر المقصورات والحُجرات
فلاتر الهواء
فلاتر زيوت
قطع فلاتر
مانعات تسرب للفلاتر
مواد فلاتر المحروقات
Market Scope
الهندسة المعمارية
صناعة السيارات
Product Index
Eléments de filtre
Filtres automobiles
Filtres hydrauliques
Filtres à air
Filtres à air de cabines
Filtres à carburant
Filtres à huile
Filtres à sacs
Joints pour filtres
Market Scope
Agriculture
Industrie automobile
Product Index
Elementi filtranti
Filtri a tasche
Filtri aria
Filtri aria abitacolo
Filtri carburante
Filtri idraulici
Filtri olio
Filtri settore automobilistico
Guarnizioni per gas
Market Scope
Agricoltura
Settore automobilistico
Product Index
Elementy filtra
Filtry hydrauliczne
Filtry oleju
Filtry paliwa
Filtry powietrza
Filtry samochodowe
Filtry workowe
Kabinowe filtry powietrza
Uszczelki do filtrów
Market Scope
Przemysł samochodowy
Rolnictwo
Product Index
Elementos filtrantes
Filtros de ar
Filtros de ar para cabines
Filtros de combustível
Filtros de saco
Filtros de óleo
Filtros hidráulicos
Filtros para automóveis
Vedações para filtros
Market Scope
Agricultura
Indústria automóvel
Product Index
Автомеханические фильтры
Воздушные фильтры
Гидравлические фильтры
Масляные фильтры
Прокладки фильтров
Рукавные фильтры
Топливные фильтры
Фильтрующие элементы
Фильтры воздуха в кабине
Market Scope
Автомобильная промышленность
Сельское хозяйство
Product Index
Elementos de filtro
Filtros de aceite
Filtros de aire
Filtros de aire de cabina
Filtros de automoción
Filtros de bolsa
Filtros de combustible
Filtros hidráulicos
Juntas para filtros
Market Scope
Agricultura
Industria de la automoción
Product Index
Filtre Contaları
Filtre Elemanları
Hava Filtreleri
Hidrolik Filtreler
Kabin Hava Filtreleri
Otomobil Filtreleri
Torba Filtreler
Yakıt Filtreleri
Yağ Filtreleri
Product Index
공기 필터
백 필터
연료 필터
오일 필터
유압 필터
자동차 필터
캐빈 에어 필터
필터 엘리먼트
필터용 가스켓
Product Index
エアフィルター
オイルフィルター
キャビン用エアフィルター
バッグフィルター
フィルターエレメント
フィルター用ガスケット
油圧フィルター
燃料フィルター
自動車用フィルター