Taiwan Nonwoven Fabrics Industry Association (TNFIA)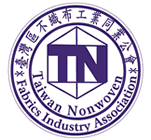 Exhibitor Profile
Taiwan Nonwoven Fabrics Industry Association (TNFIA) is a trade association representing nonwoven interests in Taiwan. Our membership includes manufacturers and converters of nonwovens and suppliers.
TNFIA was founded in 1978 and has 99 member companies now. Including 49 Nonwoven makers, 14 Nonwoven Develop factories, 25 nonwoven machinery factories and 11 nonwoven material suppliers; expect 1 support member. Our membership represents approximately two-thirds of the companies that produce and convert nonwovens in Taiwan.
TNFIA's primary income is membership dues. Because we have a small membership, insufficient revenues have been a major obstacle in furthering our goals for many years. We have a good friendship with overseas nonwoven associations.
Products / Markets
Market Scope
Filtrations- und Separationsindustrie
Market Scope
Filtration and Separation Industry
Market Scope
صناعات الفلترة وفصل المواد
Market Scope
Industrie de filtration et de séparation
Market Scope
Settore filtrazione e separazione
Market Scope
Indústria de filtragem e separação
Market Scope
Отрасль фильтрации и сепарирования
Market Scope
Industria de la filtración y la separación
Market Scope
Filtrasyon ve Ayırma Endüstrisi