vombaur GmbH & Co KG Hall 8 / F47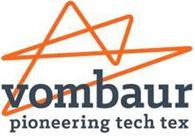 Exhibitor Profile
Wir produzieren gewebte Bänder und nahtlos rundgewebte Schläuche für Filtration, welche Verwendung finden u.a. als Kerzenfilter und Beutelfilter.
Dazu verarbeiten wir alle bekannten verwebbaren Garnmaterialen wie PES, PP, PA über PVDF, PTFE, PPS, PEEK bis zu Glas und Stahl.
Gewebte Bänder bis ca. 350mm Breite.
Nahtlos rundgewebte Schläuche bis ca. 340mm Durchmesser.
Doppelwulstband
Litzen zur Ableitung elektrostatischer Aufladung.
Weitere Konfektionshilfen
Mit Ihnen finden wir die richtige Lösung
We produce woven tapes and seamless woven sleeves for filtration which find their use for instance in candle filter and filter bags.
We work with all modern, manmade materials like PES, PP, PA over PVDF, PTFE, PPS and PEEK up to glass and steel.
Woven tapes up to a width of 350mm
Seamless woven sleeves with a diameter of up to 340mm
Double cord tapes
Steel heddles to prevent electrostatic charging.
Confection aids
Together with you we'll find the right solution.
Products / Markets
Product Index
Abwasserfilter
Abwasserfilter
Beutel-/Taschenfilter
Filterbeutel
Filtergewebe
Filterröhren, Röhrenfilter
Filtertextilien
Filtertücher
Flüssig-Filtermedien
Gewebe
Gewebefilter
Glasfaserfilter
Luftfilter
Patronenfilter
Röhrenfilter
Technische Textilien
Wasserfilter
Ölfilter
Market Scope
Abwasserwirtschaft
Automobilindustrie
Bauindustrie
Bergbauindustrie
Chemische Industrie
Filtrations- und Separationsindustrie
Lebensmittel-,Getränkeindustrie
Luft- und Raumfahrtindustrie
Medizintechnik, Health Care Industrie
Wasserbehandlung, versorgung
Product Index
Air Filters
Bag Filters
Cartridge Filters
Effluent Filters
Filter Bags
Filter Cloth
Filter Fabrics
Filter Textiles
Filter Tubes
Glass Fibre Filter
Liquid Filter Media
Oil Filters
Technical Textiles
Tubular Filters
Waste Water Filters
Water Filters
Wire/Wowens
Wirecloth Filters
Market Scope
Aerospace Industry
Automotive Industry
Building & Construction Services
Chemical Industries
Filtration and Separation Industry
Food, Beverage Industry
Medical, Health Care Industry
Mining Industry
Waste Water Treatment
Water Treatment, Supply
Product Index
工业用纺织品
废水过滤器
水过滤器
污水过滤器
液体过滤滤材
滤布
滤布
滤油器
滤筒
滤管
玻璃纤维过滤器
空气过滤器
管状过滤器
袋式过滤器
过滤织物
过滤袋
金属丝布过滤器
钢丝/绕织
Market Scope
 汽车工业
化学工业
医疗卫生保健业
废水处理
建筑与施工服务业
水处理、供应
航空航天业
过滤与分离工业
采矿业
食品、饮料工业
Product Index
أسلاك / منسوجات
أقمشة تقنية
أقمشة فلاتر
أكياس فلاتر
أكياس فلترة
فلاتر الكارترج / الخراطيش
فلاتر النفايات السائلة
فلاتر الهواء
فلاتر انبوبية
فلاتر انبوبية
فلاتر زيوت
فلاتر شبكية
فلاتر ماء
فلاتر ماء التصريف
فلاتر نسيجية
فلتر صوف زجاجي
مواد فلترة الغازات
نسيج فلاتر
Market Scope
التغذية بالمياه وتصريفها
الصناعات الطبية والعناية الصحية
الصناعات الغذائية وصناعة المشروبات
الصناعة الكيماوية
خدمات البناء والإنشاء
صناعات الفلترة وفصل المواد
صناعة التعدين
صناعة السيارات
صناعة الفضاء
معالجة مياه الصرف
Product Index
Cartouches de filtres
Fils/tissés
Filtres en fibres de verre
Filtres en tissus de fils
Filtres pour eau usées
Filtres tubulaires
Filtres à air
Filtres à eau
Filtres à effluents
Filtres à huile
Filtres à sacs
Médias de filtre pour liquides
Sacs de filtres
Textiles pour filtres
Textiles techniques
Tissus de filtre
Tissus de filtres
Tubes de filtres
Market Scope
Industrie automobile
Industrie aérospatiale
Industrie chimique
Industrie de filtration et de séparation
Industrie du bâtiment et de la construction
Industrie minière
Industrie médicale et de la santé
Industries alimentaires et des boissons
Traitement des eaux usées
Traitement d'eau, alimentation
Product Index
Filtri a tasche
Filtri acque reflue
Filtri aria
Filtri cartuccia
Filtri in tela metallica
Filtri olio
Filtri per acqua
Filtri tubolari
Filtro fibra di vetro
Filtro per effluente
Mezzi filtraggio liquidi
Panno filtrante
Tasche filtri
Tessuti
Tessuti filtro
Tessuti per filtri
Tessuti tecnici
Tubi filtri
Market Scope
Servizi settore edile
Settore aerospaziale
Settore alimenti e bevande
Settore automobilistico
Settore chimico
Settore filtrazione e separazione
Settore medicale e sanità
Settore minerario
Trattamento acque reflue
Trattamento approvvigionamento acqua
Product Index
Filtry do wody pitnej
Filtry oleju
Filtry powietrza
Filtry rurowe
Filtry workowe
Filtry z tkaniny drucianej
Filtry z włókna szklanego
Filtry ściekowe
Filtry ścieków
Media filtrów cieczy
Rury filtracyjne
Tekstylia techniczne
Tkanina filtracyjna
Tkaniny druciane
Tkaniny filtracyjne
Tkaniny filtracyjne
Wkłady filtracyjne
Worki filtracyjne
Market Scope
Filtrowanie i separacja
Ochrona zdrowia
Oczyszczanie ścieków (waste water)
Przemysł budowlany
Przemysł chemiczny
Przemysł lotniczy
Przemysł samochodowy
Przemysł spożywczy
Przemysł wydobywczy
Uzdatnianie wody i zaopatrzenie w wodę
Product Index
Filtro de fibra de vidro
Filtros de ar
Filtros de cartuchos
Filtros de efluentes
Filtros de saco
Filtros de tela
Filtros de água
Filtros de águas residuais
Filtros de óleo
Filtros tubulares
Fio/tecidos
Meios de filtragem para líquidos
Sacos filtrantes
Tecidos filtrantes
Tela filtrante
Tubos de filtros
Têxteis de filtros
Têxteis para usos técnicos
Market Scope
Indústria aeroespacial
Indústria alimentar, de bebidas
Indústria automóvel
Indústria de filtragem e separação
Indústria mineira
Indústria médica, cuidados de saúde
Indústrias químicas
Serviços de fabrico & construção
Tratamento de água de despejo
Tratamento de água, abastecimento
Product Index
Водяные фильтры
Воздушные фильтры
Масляные фильтры
Проволока / ткани
Рукавные фильтры
Сливные фильтры
Стекловолоконный фильтр
Технический текстиль
Трубные фильтры
Трубные фильтры
Фильтровальные мешки
Фильтровальные ткани
Фильтровальный текстиль
Фильтрующая ткань
Фильтрующий материал для жидкостей
Фильтры из металлической сетки
Фильтры со сменным фильтрующим элементом
Фильтры сточных вод
Market Scope
Авиакосмическая промышленность
Автомобильная промышленность
Горнодобывающая промышленность
Медицина, здравоохранение
Отрасль фильтрации и сепарирования
Очистка воды, водоснабжение
Очистка сточных вод
Производство продуктов питания и напитков
Строительство жилых и общественных зданий
Химическая промышленность
Product Index
Alambre/Wowens
Bolsas de filtro
Filtro de fibra de vidrio
Filtros de aceite
Filtros de agua
Filtros de agua residual
Filtros de aire
Filtros de bolsa
Filtros de cartucho
Filtros de efluente
Filtros de tela de alambre
Filtros tubulares
Medios de filtros para líquidos
Tejidos de filtro
Tejidos de filtros
Tejidos técnicos
Tela de filtro
Tubos de filtros
Market Scope
Industria aeroespacial
Industria de la alimentación y las bebidas
Industria de la automoción
Industria de la filtración y la separación
Industria de la minería
Industria médica, de la atención sanitaria
Industrias químicas
Servicios de edificación y construcción
Tratamiento de aguas residuales
Tratamiento, suministro de agua
Product Index
Atıksu Filtreleri
Cam Elyaf Filtre
Filtre Bezleri
Filtre Boruları
Filtre Kumaşı
Filtre Tekstilleri
Filtre Torbaları
Hava Filtreleri
Kartuşlu Filtreler
Silindirik Filtreler
Su Filtreleri
Sıvı Atık Filtreleri
Sıvılar için Filtre Ortamı
Teknik Tekstiller
Tel/Örgülü
Torba Filtreler
Yağ Filtreleri
Örgülü Tel Filtreler
Market Scope
Atıksu Arıtma
Bina ve İnşaat Hizmetleri
Filtrasyon ve Ayırma Endüstrisi
Gıda, İçecek Endüstrisi
Havacılık Endüstrisi
Kimya Endüstrisi
Madencilik Endüstrisi
Otomotiv Endüstrisi
Su Arıtma, Temin
Tıp, Sağlık Sektörü
Product Index
공기 필터
관형 필터
금망 필터
기능성 섬유
물 필터
백 필터
액체 여과재
여과천
오수 필터
오일 필터
우븐 와이어
유리 섬유 필터
카트리지 필터
폐수 필터
필터 백
필터 직물
필터 튜브
필터 패브릭
Market Scope
건축 및 건설 용역
광업
수질 관리, 수자원 공급
식음료 산업
여과 및 분리 산업
의료, 보건 산업
자동차 산업
폐수 처리
항공우주 산업
화학 산업
Product Index
エアフィルター
オイルフィルター
カートリッジ・フィルター
ガラス繊維フィルター
テクニカル繊維
バッグフィルター
フィルターチューブ
フィルターバッグ
フィルター布
フィルター繊維
ワイヤークロスフィルター
ワイヤー・ワウエンス
廃水フィルター
排水フィルター
水フィルター
液体フィルター媒体
濾過布
管状フィルター
Market Scope
化学工業
医療、ヘルスケア業界
建築・建設業
水処理および関連製品
汚水処理
濾過および分離技術工業
自動車産業
航空宇宙産業
鉱業
食品、飲料業界