Wasser 3.0 gGmbH Hall 8 / A24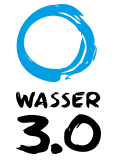 Exhibitor Profile
The newly founded Wasser 3.0 gGmbH pursues the goal of meaningfully counteracting global water pollution by micro pollutants with solution-oriented research and innovation.
With Wasser 3.0 PE-X® we can demonstrate the world's first process that removes microplastics from water sustainably and efficiently: procedurally very simple, cost-effective, and low-maintenance and without negative effects on adjacent ecosystems.
The core of our work are three chemical concepts for zero pollutants in water. Bringing them to their full potentials is the impact we thrive for: Clean and accessible water worldwide.
Products / Markets
Product Index
Abscheider – Fest/Flüssig
Abwasserfilter
Entsalzung
Flockungsmittel
mobile Filtrationseinheit
Market Scope
Abwasserwirtschaft
Chemische Industrie
Filtrations- und Separationsindustrie
Kunststoffverarbeitende Industrie
Lebensmittel-,Getränkeindustrie
Textilindustrie
Umweltschutz
Wasserbehandlung, versorgung
Product Index
Desalination
Flocculants
Mobile Filtration Unit
Separators - Solid/Liquid
Waste Water Filters
Market Scope
Chemical Industries
Environmental Protection
Filtration and Separation Industry
Food, Beverage Industry
Plastic Industry
Textile Industry
Waste Water Treatment
Water Treatment, Supply
Product Index
凝聚剂
分离器 固体/液体
废水过滤器
移动式过滤装置
脱盐
Market Scope
化学工业
塑料工业
废水处理
水处理、供应
环境保护
纺织工业
过滤与分离工业
食品、饮料工业
Product Index
تحلية المياه
فلاتر ماء التصريف
فواصل المواد الصلبة والسوائل
وحدات تلبد
وحدة ترشيح متنقلة
Market Scope
التغذية بالمياه وتصريفها
الصناعات الغذائية وصناعة المشروبات
الصناعة الكيماوية
الصناعة النسيجية
صناعات الفلترة وفصل المواد
صناعة الألبان
صناعة البلاستيك
معالجة مياه الصرف
Product Index
Desalination
Filtres pour eau usées
Floculants
Séparateurs – solides/liquides
Unité de filtration mobile
Market Scope
Industrie chimique
Industrie de filtration et de séparation
Industrie des matières synthétiques
Industrie laitière
Industrie textile
Industries alimentaires et des boissons
Traitement des eaux usées
Traitement d'eau, alimentation
Product Index
Agenti flocculanti
Desalinazione
Filtri acque reflue
Separatori - solido/liquido
Unità di filtrazione mobile
Market Scope
Protezione ambientale
Settore alimenti e bevande
Settore chimico
Settore filtrazione e separazione
Settore industria tessile
Settore plastica
Trattamento acque reflue
Trattamento approvvigionamento acqua
Product Index
Filtry ścieków
Flokulanty
Mobilna jednostka filtracyjna
Odsalanie
Separatory - Ciała stałe/ciecze
Market Scope
Filtrowanie i separacja
Ochrona środowiska
Oczyszczanie ścieków (waste water)
Przemysł chemiczny
Przemysł spożywczy
Przemysł tekstylny
Przemysł tworzyw sztucznych
Uzdatnianie wody i zaopatrzenie w wodę
Product Index
Desalination
Filtros de águas residuais
Floculantes
Separadores - sólidos/líquidos
Unidade de filtração móvel
Market Scope
Indústria alimentar, de bebidas
Indústria de filtragem e separação
Indústria dos plásticos
Indústria leiteira
Indústria têxtil
Indústrias químicas
Tratamento de água de despejo
Tratamento de água, abastecimento
Product Index
Сепараторы – твердые вещества / жидкости
Фильтры сточных вод
Флокулянты
мобильная установка фильтрации
опреснение
Market Scope
Молочная промышленность
Отрасль фильтрации и сепарирования
Очистка воды, водоснабжение
Очистка сточных вод
Производство пластмасс
Производство продуктов питания и напитков
Текстильная промышленность
Химическая промышленность
Product Index
Desalination
Filtros de agua residual
Floculantes
Separadores - sólido/líquido
Unidad de filtración móvil
Market Scope
Industria de la alimentación y las bebidas
Industria de la filtración y la separación
Industria de los plásticos
Industria de los productos lácteos
Industria textil
Industrias químicas
Tratamiento de aguas residuales
Tratamiento, suministro de agua
Product Index
Atıksu Filtreleri
Mobil filtrasyon ünitesi
Separatörler - Katı/Sıvı
Topaklaştırıcılar
Tuz Giderme
Market Scope
Atıksu Arıtma
Filtrasyon ve Ayırma Endüstrisi
Gıda, İçecek Endüstrisi
Kimya Endüstrisi
Plastik Endüstrisi
Su Arıtma, Temin
Tekstil Endüstrisi
Çevre Koruma
Product Index
모바일 여과 장치
분리기 - 고체/액체
응집제
탈염
폐수 필터
Market Scope
섬유 산업
수질 관리, 수자원 공급
식음료 산업
여과 및 분리 산업
폐수 처리
플라스틱 산업
화학 산업
환경 보호
Product Index
凝集剤
分離機 - 固形・液体
廃水フィルター
移動式濾過ユニット
脱塩
Market Scope
プラスチック業界
化学工業
水処理および関連製品
汚水処理
濾過および分離技術工業
環境保護
繊維業界
食品、飲料業界