Aerofil International GmbH Hall 7 / M18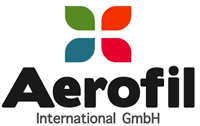 Exhibitor Profile
Aerofil International GmbH is a manufacturer and supplier of various filter media and filters related to HVAC, Gas Turbine and Surface Coating Industry.
We are a one-stop solution for all your filtration needs right from the basic raw materials to the finished products. Our customers enjoy a quick delivery on consolidated lots, thanks to our large stock maintained for all items we deal with. We also operate our partner channels in Europe to ensure meeting customer demands any time.
This FILTECH features the new generation Plastic Framed V Bank HEPA Filters for asbestos removal industry.
Products / Markets
Product Index
Aktivkohle
Ansaugfilter
Beutel-/Taschenfilter
Coalescer Medien
Einwegfilter
Filtergehäuse
Filtermedien
Gasfilter
Glasfaserfilter
Glasfasermedien
Hepa-Filter
Kohlefilter
Lackfilter
Luftfilter
Luftfiltermedien
Patronenfilter
Synthetische Fasermedien
Market Scope
Automobilindustrie
Biotechnologie/Biopharmazie
Farben-, Pigment-, Beschichtungsindustrie
Filtrations- und Separationsindustrie
Luft- und Raumfahrtindustrie
Medizintechnik, Health Care Industrie
Mineralöl/Öl/Gasproduktion
Pharmazeutische Industrie
Umweltschutz
Product Index
Activated Carbon
Air Filter Media
Air Filters
Bag Filters
Carbon Filters
Cartridge Filters
Coalescer Media
Disposable Filters
Filter Housings
Filter Media
Gas Filters
Glass Fibre Filter
Glass Fibre Media
HEPA Filters
Intake Filters
Paint Filters
Synthetic Fibre Media
Market Scope
Aerospace Industry
Automotive Industry
Biotechnology/Biopharmac. Industry
Environmental Protection
Filtration and Separation Industry
Medical, Health Care Industry
Mineral / Oil / Gas Production
Paint, Pigments, Coatings Industry
Pharmaceutical Industry
Product Index
一次性过滤器
入口过滤器
合成纤维媒体
气体过滤器
活性碳
活性碳过滤器
滤壳
滤筒
漆雾过滤器
玻璃纤维介质
玻璃纤维过滤器
空气过滤器
空气过滤器介质
聚结器介质
袋式过滤器
过滤介质
高效粒子空气过滤器
Market Scope
 汽车工业
制药工业
医疗卫生保健业
油漆、颜料、涂料工业
环境保护
生物技术/生物制药业
矿产/石油/天然气业
航空航天业
过滤与分离工业
Product Index
"فلاتر هواء عالية الفاعلية ""هـيبا"" HEPA"
أكياس فلترة
الألياف الاصطناعية وسائل الإعلام عية وسائل الإعلام
تصفية العلب
فلاتر احادية الإستعمال
فلاتر السحب الداخلي
فلاتر الكارترج / الخراطيش
فلاتر الهواء
فلاتر دهانات
فلاتر غازات
فلاتر كربونية
فلتر صوف زجاجي
كربون منشط
مواد إلتحام
مواد الصوف الزجاجي
مواد فلاتر الهواء
مواد فلترة
Market Scope
إنتاج المعادن والزيوت والغاز
الصناعات الدوائية
الصناعات الطبية والعناية الصحية
صناعات الفلترة وفصل المواد
صناعة الألبان
صناعة التقنية البيولوجية والبيوصيدلية
صناعة الدهانات والصبغات والتلبيس
صناعة السيارات
صناعة الفضاء
Product Index
Cartouches de filtres
Charbon actif
Filtres HEPA
Filtres d'admission
Filtres en fibres de verre
Filtres jetables
Filtres à air
Filtres à carbone
Filtres à gaz
Filtres à pentures
Filtres à sacs
Fluides coalescents
Fluides pour filtres à air
Les boîtiers de filtre
Médias de filtre
Médias en fibres de verre
Synthetic Fiber Médias
Market Scope
Industrie automobile
Industrie aérospatiale
Industrie biotechnologie/biopharmaceutique
Industrie de filtration et de séparation
Industrie de peintures, pigments et revêtements
Industrie laitière
Industrie médicale et de la santé
Industrie pharmaceutique
Productions minérales / pétrolière / du gaz
Product Index
Alloggiamenti filtro
Carbone attivo
Filtri a tasche
Filtri aria
Filtri carbone
Filtri cartuccia
Filtri di aspirazione
Filtri gas
Filtri hepa
Filtri monouso
Filtri per pittura
Filtro fibra di vetro
Mezzi di miscelazione
Mezzi filtranti
Mezzi filtranti aria
Mezzi in fibra di vetro
Mezzi per fibre sintetiche
Market Scope
Biotecnologie/biofarmaceutica
Produzioni minerali / petrolio / gas
Protezione ambientale
Settore aerospaziale
Settore automobilistico
Settore filtrazione e separazione
Settore medicale e sanità
Settore parafarmaceutico
Settore pitture, pigmenti e rivestimenti
Product Index
Filtr ssący
Filtry HEPA
Filtry gazu
Filtry jednorazowe
Filtry powietrza
Filtry powlekane
Filtry workowe
Filtry węglowe
Filtry z włókna szklanego
Media filtrów
Media filtrów powietrza
Media koagulantów
Media włókna syntetycznego
Media włókna szklanego
Obudowy filtrów
Wkłady filtracyjne
Węgiel aktywowany
Market Scope
Biotechnologia/biofarmaceutyka
Filtrowanie i separacja
Ochrona zdrowia
Ochrona środowiska
Produkcja farb i lakierów
Przemysł farmaceutyczny
Przemysł lotniczy
Przemysł samochodowy
Wydobycie minerałów, ropy i gazu
Product Index
Carcaças de Filtro
Carvão activado
Filtro de fibra de vidro
Filtros absolutos (HEPA)
Filtros de ar
Filtros de aspiração
Filtros de cartuchos
Filtros de carvão
Filtros de gases
Filtros de saco
Filtros de tinta
Filtros descartáveis
Meios de fibra de vidro
Meios de filtragem
Meios de filtro do ar
Meios de separação de gotas
Synthetic Fiber Mídia
Market Scope
Ind. de biotecnologia/biofarmac.
Indústria aeroespacial
Indústria automóvel
Indústria de filtragem e separação
Indústria farmacêutica
Indústria leiteira
Indústria médica, cuidados de saúde
Pintura, pigmentos, indústria de revestimentos
Produção mineral / óleo / gás
Product Index
Активированный уголь
Воздушные фильтры
Входные фильтры
Газовые фильтры
Коалесцирующий материал
Корпуса фильтров
Одноразовые фильтры
Рабочий элемент стекловолоконного фильтра
Рукавные фильтры
Синтетические волокна Медиа
Стекловолоконный фильтр
Угольные фильтры
Фильтрующий материал
Фильтрующий материал
Фильтры красок
Фильтры со сменным фильтрующим элементом
Фильтры тонкой очистки
Market Scope
Авиакосмическая промышленность
Автомобильная промышленность
Биотехнология / Биофармацевтическая промышленность
Добыча минералов/ нефти/ газа
Лакокрасочная промышленность
Медицина, здравоохранение
Молочная промышленность
Отрасль фильтрации и сепарирования
Фармацевтическая промышленность
Product Index
Carbón activado
Fibra Sintética de Medios
Filtro de Viviendas
Filtro de fibra de vidrio
Filtros HEPA
Filtros de admisión
Filtros de aire
Filtros de bolsa
Filtros de carbón
Filtros de cartucho
Filtros de gas
Filtros de pintura
Filtros desechables
Medios de fibra de vidrio
Medios de filtro
Medios de filtros de aire
Medios de separadores coalescentes
Market Scope
Industria aeroespacial
Industria de la automoción
Industria de la biotecnología/biofarmacéutica
Industria de la filtración y la separación
Industria de las pinturas, pigmentos, revestimientos
Industria de los productos lácteos
Industria farmacéutica
Industria médica, de la atención sanitaria
Producción de minerales / petróleo / gas
Product Index
Aktif Karbon
Birleştirici Ortamı
Boya Filtreleri
Cam Elyaf Filtre
Cam Elyaf Ortam
Filtre Gövdeleri
Filtre Ortamı
Gaz Filtreleri
Giriş Filtreleri
HEPA Filtreler
Hava Filtreleri
Hava Filtresi Ortamı
Karbon Filtreler
Kartuşlu Filtreler
Sentetik Elyaf Medya
Tek Kullanımlık Filtreler
Torba Filtreler
Market Scope
Biyoteknoloji/Biyoeczacılık Endüstrisi
Boya, Pigment, Kaplama Endüstrisi
Filtrasyon ve Ayırma Endüstrisi
Havacılık Endüstrisi
Mineral / Petrol / Gaz Üretimi
Otomotiv Endüstrisi
Tıp, Sağlık Sektörü
Çevre Koruma
İlaç Endüstrisi
Product Index
HEPA 필터
가스 필터
공기 여과재
공기 필터
백 필터
여과재
유리 섬유 매체
유리 섬유 필터
일회용 필터
카트리지 필터
코어레서 매체
탄소 필터
페인트 필터
필터 하우징
합성섬유 매체
활성탄
흡입구 필터
Market Scope
광물 / 석유 / 가스 생산
생명공학/생물 약제학 산업
여과 및 분리 산업
의료, 보건 산업
자동차 산업
제약 산업
페인트, 안료, 도장 산업
항공우주 산업
환경 보호
Product Index
HEPAフィルター
エアフィルター
エアフィルターメディア
カートリッジ・フィルター
ガスフィルター
ガラス繊維フィルター
ガラス繊維メディア
コアレッサーメディア
バッグフィルター
フィルターハウジング
フィルターメディア
ペイントフィルター
使い捨てフィルター
合成繊維媒体
吸気フィルター
活性炭
活性炭フィルター
Market Scope
バイオテクノロジー・バイオ医薬品産業
医療、ヘルスケア業界
医薬品業界
塗料、顔料、コーティング産業
濾過および分離技術工業
環境保護
自動車産業
航空宇宙産業
鉱物・石油・ガス生産