ANDRITZ SEPARATION GmbH Hall 8 / E76

Exhibitor Profile
Jede erdenkliche Lösung auf dem Gebiet der Trenntechnik
Die Filtrationslösungen von ANDRITZ Separation decken eine Reihe von Technologien in der Fest-Flüssig Trennung ab und finden sowohl in der Umwelt-, Lebensmittel- und Chemieindustrie, als auch in der Mineralindustrie und dem Bergbau Anwendung.
ANDRITZ Separation Filtrationslösungen decken eine große Bandbreite an Technologien zur Fest-Flüssigtrennung ab. Im Bereich Filtration bieten wie ein breites Produktportfolio, wie Scheiben- und Trommelfilter, Filterzentrifugen, Filterpressen, Bandpressen und Dekanterzentrifugen. Besonders unsere Krauss-Maffei Zentrifugen, Vakuum- und Trommelfilter und ANDRITZ Brücken- und Seitenholmfilterpressen und Dekanterzentrifugen sind mechanische Trenntechnologien, die auf dem letzten Stand der Technik und sehr etabliert sind. Seit Dekaden setzen unsere Referenzapplikationen Marktstandards. Die einzigartigen Designs sind selbst für schwierigste Trennungsaufgaben geeignet.
Auf der FILTECH 2018 präsentiert ANDRITZ Produktinnovationen, wie den Krauss-Maffei dynamischen Crossflow-Filter. Dieser ist besonders für die Reinigung von Nahrungsergänzungsmitteln und der Konzentrierung von aktiven Pharmazeutika geeignet. Dabei benötigt er kein Verbrauchsmittel. Der Filter erreicht die höchst mögliche Retentatkonzentration, der Ertrag wird optimiert und folglich die Produktionskosten reduziert.
---
Eine weitere Innovation ist das neue "GentleFeeder" Zulaufsystem für Dekanterzentrifugen, das auf Basis von dynamischen multiphasigen CFD Simulationen entwickelt wurde. Das neue Design ist optimiert für schonenden Produktfluss und reduziertem Kornbruch. Testläufe haben erheblich verbesserte fest-flüssig Trennmöglichkeiten mit einer erhöhten Rückgewinnungsrate und einer verringerten Restfeuchte im festen Produkt gezeigt.
Mit dem breitesten Technologie-Portfolio und über 2.000 Spezialisten in 40 Ländern ist ANDRITZ Separation der weltweit führende Trenntechnik-Spezialist.
Wir sind seit nunmehr über 150 Jahren eine treibende Kraft bei der Entwicklung von Trennlösungen und Serviceleistungen für Branchen von Umwelt bis zur Lebensmittel-, Chemie-, Bergbau- und Mineralienindustrie.
Führende Marken und Produkte:
3Sys Technologies, Bird, Delkor Capital Equipment (Pty) Ltd, Escher Wyss, Frautech, Guinard, KHD Humboldt Wedag, Krauss-Maffei centrifuges, dryers, and filters, Lenser, Netzsch Filtration, Rittershaus & Blecher, Royal GMF Gouda, Sprout Bauer, Vandenbroek
Umwelt:
Lösungen für die Entwässerung, Eindickung, Trocknung und Siebung für industrielle und kommunale Abwässer, Futtermittel und Biokraftstoff
Nahrungsmittel:
Von Pressen und Zentrifugen bis hin zu Filtern, Sieben und Trocknungsanlagen für die Nahrungsmittel- und Getränkeproduktion.
Chemie:
Anlagen für hochwertige Feinchemikalien, kosmetische oder pharmazeutische Wirkstoffe sowie petrochemische und agrochemische Produkte oder Bulkware
Mineralindustrie und Bergbau:
Höchst effiziente Trennlösungen für Eisenerz, Kohle, Pottasche, Edelmetalle und mehr.
ANDRITZ SEPARATION is the world's leading separation specialist with the broadest technology portfolio and more than 2,000 specialists in 40 countries.
For more than 150 years we have been a driving force in the evolution of separation solutions and services for industries ranging from environment to food, chemicals and mining & minerals. As the OEM for many of the world's leading brands, we have the solutions and services to transform your business to meet tomorrow's changing demands – wherever you are and whatever your separation challenge.
Leading brands and products:
3Sys Technologies, Bird, Delkor Capital Equipment (Pty) Ltd, Escher Wyss, Frautech, Guinard, KHD Humboldt Wedag, Krauss-Maffei centrifuges, dryers and filters, Lenser, Netzsch Filtration, Rittershaus & Blecher, Royal GMF Gouda, Sprout Bauer, Vandenbroek
Products / Markets
Product Index
Abscheider
Bandfilter
Drucktrommelfilter
Eindicker
Filterpressen
Filtertücher
Filterzentrifugen
Membranfilterpressen
Rotary Membrane Filters
Scheibenfilter
Schneckenpressen
Schubzentrifugen
Schälzentrifugen
Siebzentrifugen
Trockner
Trommelfilter
Vakuumfilter
Zentrifugen
Market Scope
Abwasserwirtschaft
Agrarwirtschaft
Bergbauindustrie
Chemische Industrie
Filtrations- und Separationsindustrie
Kunststoffverarbeitende Industrie
Lebensmittel-,Getränkeindustrie
Petrochemische Industrie
Pharmazeutische Industrie
Umweltschutz
Product Index
Belt Filters
Centrifuges
Disc Filters
Drum Filters
Dryers
Filter Centrifuges
Filter Cloth
Filter Presses
Membrane Presses
Peeler Centrifuges
Pressure Drum Filters
Pusher Centrifuges
Rotary Membrane Filters
Screen Centrifuges
Screw Presses
Separators
Thickeners
Vacuum Filters
Market Scope
Agriculture
Chemical Industries
Environmental Protection
Filtration and Separation Industry
Food, Beverage Industry
Mining Industry
Petrochemical Industry
Pharmaceutical Industry
Plastic Industry
Waste Water Treatment
Product Index
分离器
刮刀离心机
压滤机
增稠剂
带式过滤器
干燥器
推进式离心机
旋转式薄膜过滤器
滤布
盘式过滤器
真空过滤器
离心式过滤器
离心机
筛网离心机
螺旋压榨机
隔膜式压滤机
鼓式压滤器
鼓式过滤器
Market Scope
 农业
制药工业
化学工业
塑料工业
废水处理
环境保护
石化工业
过滤与分离工业
采矿业
食品、饮料工业
Product Index
أجهزة تقشير طاردة مركزية
أقمشة فلاتر
اسطوانات فلترة بالضغط
طاردات مركزية دافعة
طوارد مركزية فارزة
فلاتر اسطوانية
فلاتر دورانية
فلاتر شريطية
فلاتر شفط
فلاتر قرصية
فواصل
قلاتر الطرد المركزي
مجففات
مكابس اسطوانية
مكابس لولبية
مكبس فلاتر صفائحي
مكثفات
وحدات الطرد المركزي
Market Scope
الصناعات الدوائية
الصناعات الغذائية وصناعة المشروبات
الصناعة البتروكيماوية
الصناعة الكيماوية
الهندسة المعمارية
صناعات الفلترة وفصل المواد
صناعة الألبان
صناعة البلاستيك
صناعة التعدين
معالجة مياه الصرف
Product Index
Agents épaississants
Centrifugeuses
Centrifugeuses de déroulage
Centrifugeuses propulsives
Centrifugeuses à filtre
Centrifugeuses à écran
Filtres à disques
Filtres à membrane rotative
Filtres à sangles
Filtres à tambours
Filtres à tambours sous pression
Filtres à vide
Presses de filtres
Presses à membranes
Presses à vis
Sécheurs
Séparateurs
Tissus de filtre
Market Scope
Agriculture
Industrie chimique
Industrie de filtration et de séparation
Industrie des matières synthétiques
Industrie laitière
Industrie minière
Industrie pharmaceutique
Industrie pétrochimique
Industries alimentaires et des boissons
Traitement des eaux usées
Product Index
Addensanti
Centrifughe
Centrifughe a spinta
Centrifughe a vite
Centrifughe filtri
Centrifughe pelatrici
Essiccatori
Filtri a disco
Filtri a membrana rotante
Filtri a tamburo
Filtri a vuoto
Filtri banda
Filtri con tamburo a pressione
Panno filtrante
Presse a vite
Presse filtranti
Presse membrana
Separatori
Market Scope
Agricoltura
Protezione ambientale
Settore alimenti e bevande
Settore chimico
Settore filtrazione e separazione
Settore minerario
Settore parafarmaceutico
Settore petrolchimico
Settore plastica
Trattamento acque reflue
Product Index
Ciśnieniowe filtry bębnowe
Filtry bębnowe
Filtry próżniowe
Filtry tarczowe
Filtry taśmowe
Obrotowe filtry membranowe
Prasy filtracyjne
Prasy membranowe
Prasy śrubowe
Separatory
Suszarki
Tkanina filtracyjna
Wirówki
Wirówki filtracyjne
Wirówki obierające
Wirówki z opcją przesiewania
Wirówki ze śmigłem pchającym
Zagęszczacze
Market Scope
Filtrowanie i separacja
Ochrona środowiska
Oczyszczanie ścieków (waste water)
Przemysł chemiczny
Przemysł farmaceutyczny
Przemysł petrochemiczny
Przemysł spożywczy
Przemysł tworzyw sztucznych
Przemysł wydobywczy
Rolnictwo
Product Index
Centrifugadores
Centrifugadores de areia
Centrifugadores de desenrolamento/descasque
Centrifugadores de filtros
Centrifugadores de impulso
Espessante
Filtros de bandas
Filtros de discos
Filtros de membranas rotativos
Filtros de tambor
Filtros de tambor sob pressão
Filtros de vácuo
Filtros-prensa
Prensas de membranas
Prensas de parafuso
Secadores
Separadores
Tela filtrante
Market Scope
Agricultura
Indústria alimentar, de bebidas
Indústria de filtragem e separação
Indústria dos plásticos
Indústria farmacêutica
Indústria leiteira
Indústria mineira
Indústria petroquímica
Indústrias químicas
Tratamento de água de despejo
Product Index
Барабанные фильтры
Вакуумные фильтры
Винтовые прессы
Дисковые фильтры
Загустители
Ленточные фильтры
Мембранные прессы
Напорные барабанные фильтры
Ротационные мембранные фильтры
Сепараторы
Сушилки
Фильтр-прессы
Фильтрующая ткань
Фильтрующие центрифуги
Центрифуги
Центрифуги с выталкиванием осадка
Центрифуги с ножевым съёмом осадка
Центрифуги с перфорированным ротором
Market Scope
Горнодобывающая промышленность
Молочная промышленность
Нефтехимическая промышленность
Отрасль фильтрации и сепарирования
Очистка сточных вод
Производство пластмасс
Производство продуктов питания и напитков
Сельское хозяйство
Фармацевтическая промышленность
Химическая промышленность
Product Index
"Centrífugas ""peeler"""
Centrífugas
Centrífugas con impulsor
Centrífugas de criba
Centrífugas de filtro
Espesantes
Filtros de correa
Filtros de disco
Filtros de membrana giratorios
Filtros de tambor
Filtros de tambor de presión
Filtros de vacío
Prensas de filtro
Prensas de membrana
Prensas de tornillo
Secadores
Separadores
Tela de filtro
Market Scope
Agricultura
Industria de la alimentación y las bebidas
Industria de la filtración y la separación
Industria de la minería
Industria de los plásticos
Industria de los productos lácteos
Industria farmacéutica
Industria petroquímica
Industrias químicas
Tratamiento de aguas residuales
Product Index
Bant Filtreler
Basınçlı Tambur Filtreler
Disk Filtreler
Döner Membran Filtreler
Elekli Santrifüjleri
Filtre Kumaşı
Filtre Presleri
Filtre Santrifüjleri
Kurutucular
Membran Presleri
Peeler Santrifüjler
Santrifüjler
Separatörler
Tambur Filtreler
Vakum Filtreler
Vidalı Presler
Yoğunlaştırıcılar
İtici Santrifüjler
Market Scope
Atıksu Arıtma
Filtrasyon ve Ayırma Endüstrisi
Gıda, İçecek Endüstrisi
Kimya Endüstrisi
Madencilik Endüstrisi
Petrokimya Endüstrisi
Plastik Endüstrisi
Tarım
Çevre Koruma
İlaç Endüstrisi
Product Index
건조기
농축기
드럼 필터
디스크 필터
벨트 필터
분리기
분리기
분리막 프레스
스크루 프레스
스크린 원심 분리기
압력 드럼 필터
압착식 필터
여과천
진공 필터
푸셔 원심 분리기
필러 원심 분리기
필터 원심분리기
회전 분리막 필터
Market Scope
광업
농업
석유화학 산업
식음료 산업
여과 및 분리 산업
제약 산업
폐수 처리
플라스틱 산업
화학 산업
환경 보호
Product Index
スクリュープレス
スクリーン遠心分離機
ディスクフィルター
ドラムフィルター
ピーラー遠心分離機
フィルタープレス
フィルター遠心機
プッシャー式遠心分離機
ベルトフィルター
ロータリーフィルター
乾燥機
分離機
加圧ドラムフィルター
増粘剤
濾過布
真空フィルター
膜プレス
遠心分離機
Market Scope
プラスチック業界
化学工業
医薬品業界
汚水処理
濾過および分離技術工業
環境保護
石油化学工業
農業
鉱業
食品、飲料業界
Press release
Intelligent Filter Press with IIoT-Features
With decades of experience supplying separation and filtration equipment, the ANDRITZ technology group, headquartered in Austria, has the broadest portfolio of separation technologies and specializes in high-capacity equipment. And the technology has now become even smarter with the Metris addIQ control system for fully automatic operations and continuous online monitoring as well as process optimization. Worth mentioning in this respect is the intelligent filter press from ANDRITZ.
In many processes, the filter cake needs to reach a certain maximum residual moisture content, and this is where the intelligence of the filter press with its Metris addIQ control system comes into play. A sensor that is embedded into the filter plates enables the moisture content in the cake to be measured throughout the filtration cycle. This allows filtration to be stopped when the desired residual moisture level is reached, saving valuable cycle time and thus increasing the production capacity. As a result, the plant is able to provide a more consistent residual moisture content in the filter cake. Sensors connected to the Metris addIQ control system determine, for example, when a cloth washing cycle should be triggered by monitoring the relevant parameters such as the gradient of the pressure rise during the filtration cycle. This combination of sensors and application-specific control algorithms embedded in the PLC logic are the key to reliable and optimized operation of the filter press in demanding applications such as tailings. A sophisticated data analytics tool turns this into information that is relevant during operation. Furthermore, the degree of contamination of the filter press package is also monitored by the Metris addIQ control system. The hydraulic and feed pressure as well as the feed temperature are measured and adjustments are made where needed. Other values measured are provided by Metris addIQ Monitoring. Trends are collected and alerts issued when deviations from the ideal conditions are detected. This keeps the plant operators informed on the status of the filter press and the key performance indicators at all times – 24/7.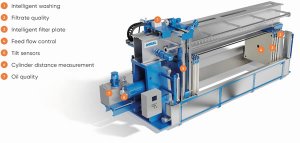 Press release
Vakuumtrommelfilter in korrosionsfestem Design
Der von ANDRITZ weiterentwickelte Krauss-Maffei Vakuumtrommelfilter TSF in korrosionsfestem Design ist – als Verbundkonstruktion – eine bedeutende Neuerung, um der Korrosion eine dauerhaft chemisch beständige Oberfläche entgegen zu setzen. Alle produktberührten Oberflächen des Sandwichfilters sind – anstatt der herkömmlichen Gummierung – komplett mit einem beständigen Kunststoff, wie z.B. PP, PE, PVDF oder E-CTFE, verkleidet. Um neben der Korrosion auch die auftretenden Kräfte und Momente zu beherrschen, wurde das sog. Sandwich-Design entwickelt: Die mechanisch beanspruchten Teile des Filters sind weiterhin aus Stahl gefertigt. Die tragende Struktur des Filters ist allerdings nunmehr aus Glasfaser-verstärkten Kunststoffen gefertigt, in der die Stahlteile eingebaut sind. Der komplette Filter ist zudem mit einem korrosionsbeständigen Kunststoff überzogen und dichtgeschweißt. Keine einzige Schraube kommt somit mit hochkorrosiven Medien in Berührung. Die Art der Konstruktion erlaubt es, alle bisher gängigen Größen (bis zu 120 m² Filterfläche) in diesem Design auszuführen. Die Funktionsweise des Vakuumtrommelfilters ist bei deutlich verbesserter chemischer Beständigkeit unverändert geblieben, was einen langlebigen und servicearmen Betrieb erlaubt.