Chemap-Filter by Infolabel AG Hall 8 / B20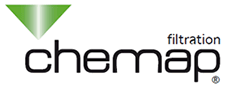 Exhibitor Profile
Infolabel AG ist der Schweizer Hersteller der bewährten Chemap-Filteranlagen und langjähriger Know-how-Träger der sogenannten Funda-Filter-Technologie.
Unsere Filteranlagen eignen sich besonders für anspruchsvolle Filtrationen, in denen Trocknung, Extraktion, Restvolumen-Filtration und Waschung von Bedeutung sind.
Infolabel AG is the Swiss manufacturer of the tried and tested Chemap Filter and a long standing source of know-how concerning the so-called Funda-Filter-Technology.
Our filters are particulary suitable for demanding filtrations, in which drying, extraction, residual volume filtration and washing are of importance.
Products / Markets
Product Index
Abscheider – Fest/Flüssig
Adsorptionsfilter
Aktivkohle
Anschwemmfilter
Automatische Filter
Druckplattenfilter
Druckscheibenfilter
Edelstahlfilter
Filteranlagen
Filterplatten
Filterscheiben
Kieselgur
Laborfilter
Pilotanlagen
Scheibenfilter
Selbstreinigende Filter
Trockner
Market Scope
Abwasserwirtschaft
Bergbauindustrie
Chemische Industrie
Farben-, Pigment-, Beschichtungsindustrie
Filtrations- und Separationsindustrie
Lebensmittel-,Getränkeindustrie
Metallverarbeitende Industrie
Petrochemische Industrie
Pharmazeutische Industrie
Umweltschutz
Product Index
Activated Carbon
Adsorption Filters
Automatic Filters
Diatomite
Disc Filters
Dryers
Filter Discs
Filter Plates
Filtration Plants
Laboratory Filters
Pilot Plants
Precoat Filters
Pressure Disc Filters
Pressure Plate Filters
Self Cleaning Filters
Separators - Solid/Liquid
Stainless Steel Filters
Market Scope
Chemical Industries
Environmental Protection
Filtration and Separation Industry
Food, Beverage Industry
Metal Processing Industry
Mining Industry
Paint, Pigments, Coatings Industry
Petrochemical Industry
Pharmaceutical Industry
Waste Water Treatment
Product Index
不锈钢过滤器
分离器 固体/液体
吸附式过滤器
圆盘式压滤器
实验室过滤器
干燥器
板式压滤器
活性碳
滤板
滤片
盘式过滤器
硅藻土
自动过滤器
自清洁过滤器
试验工厂
过滤设备
预涂过滤器
Market Scope
制药工业
化学工业
废水处理
油漆、颜料、涂料工业
环境保护
石化工业
过滤与分离工业
采矿业
金属加工业
食品、饮料工业
Product Index
أقراص فلاتر
أقراص فلترة بالضغط
الطيار النباتات
دياتوميت
صفائح فلترة
فلاتر آلية
فلاتر أولية
فلاتر إمتصاص كيماوي
فلاتر ذاتية التنظيف
فلاتر صفائحية بالضغط
فلاتر قرصية
فلاتر مخبرية
فلاتر من معادن مقاومة للصدأ
فواصل المواد الصلبة والسوائل
كربون منشط
مجففات
وحدات فلترة
Market Scope
الصناعات الدوائية
الصناعات الغذائية وصناعة المشروبات
الصناعة البتروكيماوية
الصناعة الكيماوية
صناعات الفلترة وفصل المواد
صناعة الألبان
صناعة التعدين
صناعة الدهانات والصبغات والتلبيس
صناعة معالجة المعادن
معالجة مياه الصرف
Product Index
Charbon actif
Diatomite
Disques de filtres
Filtres automatiques
Filtres autonettoyants
Filtres d'apprêts
Filtres de laboratoires
Filtres en acier inoxydable
Filtres à adsorption
Filtres à disques
Filtres à disques sous pression
Filtres à plaques sous pression
Installation de filtration
Installations pilotes
Plaques de filtres
Sécheurs
Séparateurs – solides/liquides
Market Scope
Industrie chimique
Industrie de filtration et de séparation
Industrie de peintures, pigments et revêtements
Industrie laitière
Industrie minière
Industrie métallurgique
Industrie pharmaceutique
Industrie pétrochimique
Industries alimentaires et des boissons
Traitement des eaux usées
Product Index
Carbone attivo
Dischi filtro
Essiccatori
Filtri a disco
Filtri a prerivestimento
Filtri automatici
Filtri autopulenti
Filtri con disco a pressione
Filtri con piastre a pressione
Filtri di assorbimento
Filtri di laboratorio
Filtri in acciaio inossidabile
Impianti di filtraggio
Impianti pilota
Piastre di filtraggio
Polvere diatomeica
Separatori - solido/liquido
Market Scope
Protezione ambientale
Settore alimenti e bevande
Settore chimico
Settore filtrazione e separazione
Settore lavorazione metallo
Settore minerario
Settore parafarmaceutico
Settore petrolchimico
Settore pitture, pigmenti e rivestimenti
Trattamento acque reflue
Product Index
Ciśnieniowe filtry tarczowe
Dyski filtra
Filtry adsorbcyjne
Filtry automatyczne
Filtry laboratoryjne
Filtry samooczyszczające
Filtry tarczowe
Filtry z pomocniczą warstwą filtracyjną
Filtry ze stali nierdzewnej
Instalacje pilotażowe
Płytki filtracyjne
Płytki filtracyjne do filtrowania ciśnieniowego
Separatory - Ciała stałe/ciecze
Suszarki
Urządzenia filtracyjne
Węgiel aktywowany
Ziemia okrzemkowa
Market Scope
Filtrowanie i separacja
Obróbka metali
Ochrona środowiska
Oczyszczanie ścieków (waste water)
Produkcja farb i lakierów
Przemysł chemiczny
Przemysł farmaceutyczny
Przemysł petrochemiczny
Przemysł spożywczy
Przemysł wydobywczy
Product Index
Carvão activado
Diatomito
Discos de filtros
Filtros auto-laváveis
Filtros automáticos
Filtros de adsorção
Filtros de aço inoxidável
Filtros de discos
Filtros de discos sob pressão
Filtros de placas sob pressão
Filtros de pré-revestimento
Filtros para laboratório
Instalações de filtração
Placas de filtros
Plantas Piloto
Secadores
Separadores - sólidos/líquidos
Market Scope
Indústria alimentar, de bebidas
Indústria de filtragem e separação
Indústria de processamento de metal
Indústria farmacêutica
Indústria leiteira
Indústria mineira
Indústria petroquímica
Indústrias químicas
Pintura, pigmentos, indústria de revestimentos
Tratamento de água de despejo
Product Index
Абсорбционные фильтры
Автоматические фильтры
Активированный уголь
Диатомит
Дисковые фильтры
Лабораторные фильтры
Намывные фильтры
Напорные дисковые фильтры
Напорные пластинчатые фильтры
Пилотные установки
Самоочищающиеся фильтры
Сепараторы – твердые вещества / жидкости
Сушилки
Фильтрационные установки
Фильтровальные пластины
Фильтрующие диски
Фильтры из нержавеющей стали
Market Scope
Горнодобывающая промышленность
Лакокрасочная промышленность
Металлообрабатывающая промышленность
Молочная промышленность
Нефтехимическая промышленность
Отрасль фильтрации и сепарирования
Очистка сточных вод
Производство продуктов питания и напитков
Фармацевтическая промышленность
Химическая промышленность
Product Index
Carbón activado
Diatomita
Discos de filtro
Filtros autolimpiables
Filtros automáticos
Filtros de absorción
Filtros de acero inoxidable
Filtros de disco
Filtros de discos de presión
Filtros de laboratorio
Filtros de placas de presión
Filtros de revestimiento previo
Placas de filtro
Plantas Piloto
Plantas de filtración
Secadores
Separadores - sólido/líquido
Market Scope
Industria de la alimentación y las bebidas
Industria de la filtración y la separación
Industria de la minería
Industria de las pinturas, pigmentos, revestimientos
Industria de los productos lácteos
Industria de procesamiento de metales
Industria farmacéutica
Industria petroquímica
Industrias químicas
Tratamiento de aguas residuales
Product Index
Adsorpsiyon Filtreleri
Aktif Karbon
Arıtma İstasyonları
Basınçlı Disk Filtreler
Basınçlı Plakalı Filtreler
Diatomit
Disk Filtreler
Filtre Diskleri
Filtre Plakaları
Kendiliğinden Temizlenen Filtreler
Kurutucular
Laboratuvar Filtreleri
Otomatik Filtreler
Paslanmaz Çelik Filtreler
Pilot Tesisler
Separatörler - Katı/Sıvı
Ön Astarlı Filtreler
Market Scope
Atıksu Arıtma
Boya, Pigment, Kaplama Endüstrisi
Filtrasyon ve Ayırma Endüstrisi
Gıda, İçecek Endüstrisi
Kimya Endüstrisi
Madencilik Endüstrisi
Metal İşleme Endüstrisi
Petrokimya Endüstrisi
Çevre Koruma
İlaç Endüstrisi
Product Index
거름판
건조기
규조토
디스크 필터
분리기 - 고체/액체
스텐레스 스틸 필터
실험실 필터
압력 디스크 필터
압력판 필터
자동 세척 필터
자동 필터
정수 처리장
파일럿 플랜트
프리코트 필터
필터 디스크
활성탄
흡수 필터
Market Scope
광업
금속 가공 산업
석유화학 산업
식음료 산업
여과 및 분리 산업
제약 산업
페인트, 안료, 도장 산업
폐수 처리
화학 산업
환경 보호
Product Index
ステンレス鋼フィルター
セルフクリーニングフィルター
ディスクフィルター
パイロットプラント
フィルターディスク
フィルター板
プレコートフィルター
ラボ用フィルター
乾燥機
分離機 - 固形・液体
加圧ディスクフィルター
加圧リーフフィルター
吸収フィルター
活性炭
濾過設備
珪藻土
自動フィルター
Market Scope
化学工業
医薬品業界
塗料、顔料、コーティング産業
汚水処理
濾過および分離技術工業
環境保護
石油化学工業
金属加工業界
鉱業
食品、飲料業界