CPL Activated Carbons Hall 8 / F43

Exhibitor Profile
Leading international producer and supplier of activated carbon filtration solutions. Spent carbon reactivation capabilities in the UK with separate facilities for 'green list' (potable/food) and 'amber list' (industrial) carbons.
In-house engineering and production of mobile carbon filter vessels, with units available for liquid phase (AquaSorber) and gas phase (VOCSorber) purification applications. Full R&D/QA back-up. ISO9001:2015 (quality) and ISO14001:2015 (environmental) accreditations.
Products / Markets
Product Index
Absorptionsfilter
Abwasserfilter
Abwasserfilter
Aktivkohle
Aktivkohle Filteranlagen
Aktivkohle Medien
Desodorierung
Filtermedien
Filtermedien f. Flüssigkeiten
Filtermedien f. Gase
Gasadsorption
Gasfilter
Gasreinigung
Geruchsbeseitigung
Kohlefilter
Luftfilter
Trinkwasserfilter
Wasserfilter
Market Scope
Abwasserwirtschaft
Chemische Industrie
Druckindustrie
Eisen-, Stahlherstellung
Energieerzeugung,-versorgung
Filtrations- und Separationsindustrie
Lebensmittel-,Getränkeindustrie
Petrochemische Industrie
Umweltschutz
Wasserbehandlung, versorgung
Product Index
Absorption Filters
Activated Carbon
Activated Carbon Media
Activated Carbon Plant
Air Filters
Carbon Filters
Deodorization
Drinking Water Filters
Effluent Filters
Filter Media
Filter Media for Gases
Filter Media for Liquids
Gas Adsorption
Gas Cleaning
Gas Filters
Odor Removal
Waste Water Filters
Water Filters
Market Scope
Chemical Industries
Energy, Energy Supply
Environmental Protection
Filtration and Separation Industry
Food, Beverage Industry
Iron, Steel Manufacturing
Petrochemical Industry
Printing Industry
Waste Water Treatment
Water Treatment, Supply
Product Index
吸附式过滤器
废水过滤器
气体净化
气体吸附
气体过滤器
气体过滤器介质
水过滤器
污水过滤器
活性炭過濾器系統
活性碳
活性碳介质
活性碳过滤器
液体过滤器介质
空气过滤器
过滤介质
除味
除臭
饮用水过滤器
Market Scope
化学工业
印刷业
废水处理
水处理、供应
环境保护
石化工业
能源、能源供应
过滤与分离工业
钢铁制造业
食品、饮料工业
Product Index
إزالة الرائحة
إزالة الروائح
امتصاص كيميائي للغازات
تنظيف الغاز
فلاتر إمتصاص
فلاتر النفايات السائلة
فلاتر الهواء
فلاتر غازات
فلاتر كربونية
فلاتر ماء
فلاتر ماء التصريف
فلاتر ماء الشرب
كربون منشط
مواد الكربون المنشط
مواد فلترة
مواد فلترة السوائل
مواد فلترة الغازات
نظم مرشح الكربون المنشط
Market Scope
التغذية بالمياه وتصريفها
الصناعات الغذائية وصناعة المشروبات
الصناعة البتروكيماوية
الصناعة الكيماوية
الطباعة
حماية البيئة
صناعات الفلترة وفصل المواد
صناعة الألبان
صناعة الحديد والصلب
معالجة مياه الصرف
Product Index
Adsorption de gaz
Charbon actif
Désodorisation
Désodorisation.
Filtres pour eau potable
Filtres pour eau usées
Filtres à absorption
Filtres à air
Filtres à carbone
Filtres à eau
Filtres à effluents
Filtres à gaz
Fluide à charbon actif
Médias de filtre
Médias de filtre pour gaz
Médias de filtre pour liquides
Nettoyage des gaz
Systèmes de filtres à charbon actif
Market Scope
Industrie chimique
Industrie de filtration et de séparation
Industrie laitière
Industrie pétrochimique
Industrie typographique
Industries alimentaires et des boissons
Protection de l'environnement
Sidérurgie
Traitement des eaux usées
Traitement d'eau, alimentation
Product Index
Assorbimento gas
Carbone attivo
Deodorazione
Filtri acqua potabile
Filtri acque reflue
Filtri aria
Filtri carbone
Filtri di assorbimento
Filtri gas
Filtri per acqua
Filtro per effluente
Impianti filtranti carbone attivo
Mezzi filtranti
Mezzi filtranti carbone attivo
Mezzi filtranti per gas
Mezzi filtranti per liquidi
Pulizia gas
Rimozione odori
Market Scope
Energia, approvvigionamento energetico
Produzione ferro e acciaio
Protezione ambientale
Settore alimenti e bevande
Settore chimico
Settore filtrazione e separazione
Settore industria stampaggio
Settore petrolchimico
Trattamento acque reflue
Trattamento approvvigionamento acqua
Product Index
Adsorbcja gazu
Deodoryzacja
Filtry absorbcyjne
Filtry do wody pitnej
Filtry do wody pitnej
Filtry gazu
Filtry powietrza
Filtry węglowe
Filtry ściekowe
Filtry ścieków
Media filtrów
Media filtrów cieczy
Media filtrów gazu
Media węgla aktywowanego
Oczyszczanie gazu
Urządzenia wykorzystujące węgiel aktywowany
Usuwanie zapachów
Węgiel aktywowany
Market Scope
Filtrowanie i separacja
Ochrona środowiska
Oczyszczanie ścieków (waste water)
Przemysł chemiczny
Przemysł drukarski
Przemysł energetyczny
Przemysł hutniczy
Przemysł petrochemiczny
Przemysł spożywczy
Uzdatnianie wody i zaopatrzenie w wodę
Product Index
Adsorção de gases
Carvão activado
Desodorização
Filtros de absorção
Filtros de ar
Filtros de carvão
Filtros de efluentes
Filtros de gases
Filtros de água
Filtros de água potável
Filtros de águas residuais
Meios de carvão activado
Meios de filtragem
Meios de filtragem para gases
Meios de filtragem para líquidos
Purificação de gases
Remoção de odores
Sistemas de filtro de carvão ativado
Market Scope
Fabrico de ferro, aço
Indústria alimentar, de bebidas
Indústria da impressão
Indústria de filtragem e separação
Indústria leiteira
Indústria petroquímica
Indústrias químicas
Protecção ambiental
Tratamento de água de despejo
Tratamento de água, abastecimento
Product Index
Абсорбционный фильтр
Адсорбция газа
Активированные системы Угольный фильтр
Активированный уголь
Водяные фильтры
Воздушные фильтры
Газовые фильтры
Газоочиститель
Дезодорирование
Материал активированного угля
Сливные фильтры
Угольные фильтры
Устранение запахов
Фильтрующий материал
Фильтрующий материал для газов
Фильтрующий материал для жидкостей
Фильтры питьевой воды
Фильтры сточных вод
Market Scope
Защита окружающей среды
Молочная промышленность
Нефтехимическая промышленность
Отрасль фильтрации и сепарирования
Очистка воды, водоснабжение
Очистка сточных вод
Полиграфическая промышленность
Производство железа, стали
Производство продуктов питания и напитков
Химическая промышленность
Product Index
Absorción de gas
Carbón activado
Desodorización
Eliminación de olores
Filtros de absorción
Filtros de agua
Filtros de agua potable
Filtros de agua residual
Filtros de aire
Filtros de carbón
Filtros de efluente
Filtros de gas
Limpieza de gas
Medios de carbón activado
Medios de filtro
Medios de filtros para gases
Medios de filtros para líquidos
Sistemas de filtros de carbón activado
Market Scope
Fabricación de hierro, acero
Industria de la alimentación y las bebidas
Industria de la filtración y la separación
Industria de la impresión
Industria de los productos lácteos
Industria petroquímica
Industrias químicas
Protección del medio ambiente
Tratamiento de aguas residuales
Tratamiento, suministro de agua
Product Index
Absorpsiyon Filtreleri
Aktif Karbon
Aktif Karbon Ortamı
Aktif karbon filtre sistemleri
Atıksu Filtreleri
Deodorizasyon
Filtre Ortamı
Gaz Adsorpsiyonu
Gaz Filtreleri
Gaz Temizleme
Gazlar için Filtre Ortamı
Hava Filtreleri
Karbon Filtreler
Koku Giderme
Su Filtreleri
Sıvı Atık Filtreleri
Sıvılar için Filtre Ortamı
İçme Suyu Filtreleri
Market Scope
Atıksu Arıtma
Basın Endüstrisi
Demir, Çelik Üretimi
Enerji, Enerji İkmali
Filtrasyon ve Ayırma Endüstrisi
Gıda, İçecek Endüstrisi
Kimya Endüstrisi
Petrokimya Endüstrisi
Su Arıtma, Temin
Çevre Koruma
Product Index
가스 정화
가스 필터
가스 흡수
가스용 여과재
공기 필터
냄새 제거
물 필터
식수 필터
액체용 여과재
여과재
오수 필터
탄소 필터
탈취
폐수 필터
활성탄
활성탄 공장
활성탄 매체
흡수 필터
Market Scope
석유화학 산업
수질 관리, 수자원 공급
식음료 산업
에너지, 에너지 공급
여과 및 분리 산업
인쇄 산업
철, 철강 제조
폐수 처리
화학 산업
환경 보호
Product Index
エアフィルター
ガスフィルター
ガス吸着
ガス洗浄
ガス用濾過材
フィルターメディア
吸収フィルター
廃水フィルター
排水フィルター
水フィルター
活性炭
活性炭フィルター
活性炭プラント
活性炭メディア
液体用濾過材
脱臭
臭気除去
飲料水用フィルター
Market Scope
エネルギー、エネルギー供給
化学工業
印刷業界
水処理および関連製品
汚水処理
濾過および分離技術工業
環境保護
石油化学工業
製鉄、製鋼業
食品、飲料業界
Press release
Spent Carbon Reactivation
UK-based supplier of activated carbons, mobile carbon filtration systems and spent carbon reactivation services, CPL Activated Carbons, has dramatically increased its capacity for reactivating 'amber list' spent carbons from industrial purification processes, following a major expansion at its Immingham production facility.
Activated carbons are used in a wide range of gas and liquid phase filtration applications, such as air treatment, water purification and numerous other environmental protection applications. When carbons are 'spent' and no longer achieving the required level of filtration, they need to be replaced. In most cases, spent carbons can be regenerated by a process called thermal reactivation, which involves passing the spent media through a high temperature rotary kiln to restore its filtration capability.
Spent activated carbons from the various purification applications are generally categorised into two broad types, which dictates how they are subsequently handled and reprocessed. Spent carbons from industrial applications such as air and biogas filtration, waste water and remediation projects are referred to as 'amber list' materials. Carbons that have been used in drinking water or food grade applications are referred to as 'green list' materials.
CPL's carbon regeneration facility is located at the group's UK manufacturing site in Immingham, Lincs., where it has been successfully reactivating 'amber list' spent carbon filtration media from industrial applications since 2013.
Following a major investment by the parent organisation, CPL Industries, the company dramatically increased its capacity for treating these 'amber list' spent carbons, with the installation of a brand-new, state-of-the-art rotary kiln at the Immingham site in 2018. The kiln, which is the largest 'amber list' regeneration facility in the UK, and one of the largest in Europe, has a sophisticated thermal oxidiser and scrubber system to ensure full environmental protection and compliance.
Commenting in 2018 on the expansion, CPL's Divisional Director Steve Bell commented, "After proving our capability in this sector since we started reactivating carbons back in 2013, it is great to complete this next phase in our growth strategy with the installation of this very impressive new kiln. It has three times the capacity of the previous unit and can regenerate spent granular and pellet carbons with a high loading of contaminants. Its sophisticated scrubbing system ensures it is an environmentally friendly process. 2018 has been an exciting year for CPL Activated Carbons, with the start-up of our 'green list' reactivation kiln earlier in the summer, and the ongoing growth of our mobile carbon filter fleet and engineering capability. The expansion of our amber list carbon regeneration capacity puts us in a very strong position to take the business forwards and benefit from the increasing demand for our environmental purification solutions."
Images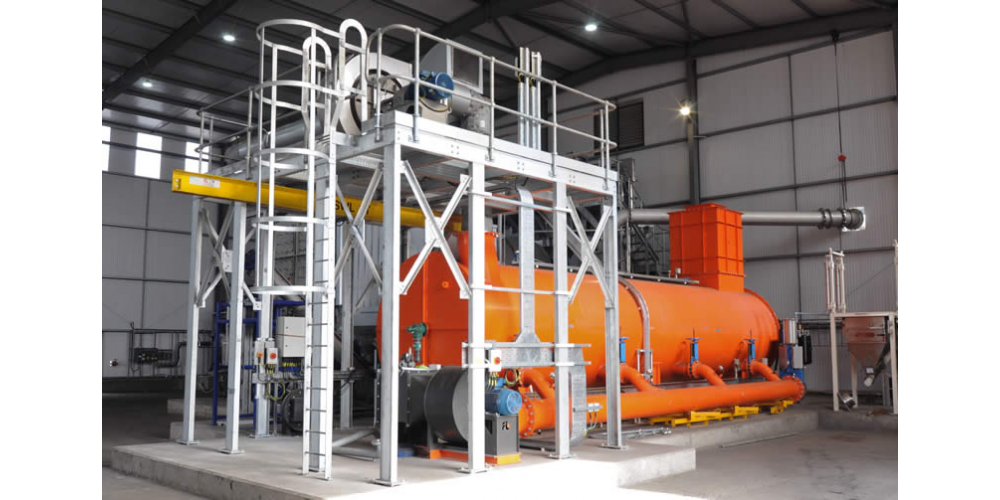 Thermal Oxidiser at CPL's Spent Carbon Reactivation Facilty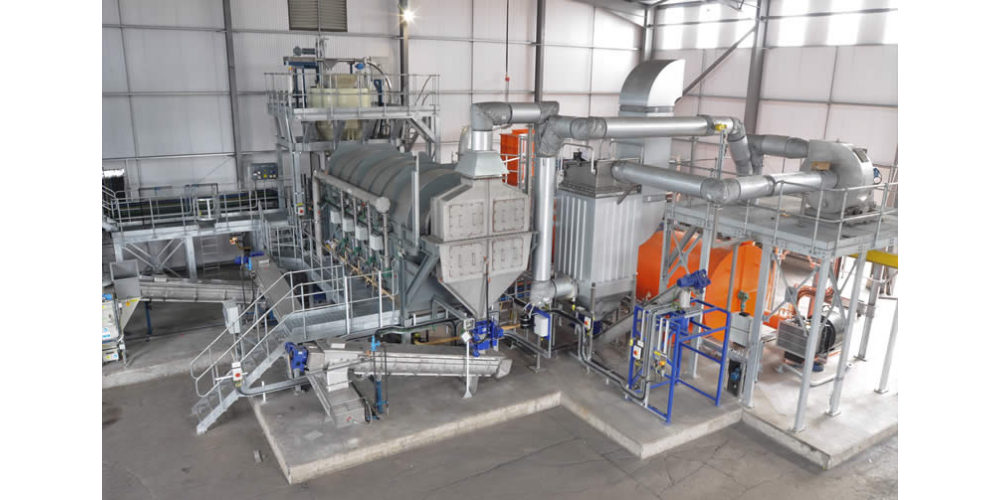 CPL Activated Carbons 'Amber' Reactivation Facility in the UK