Doublewin Co., Ltd Hall 8 / A33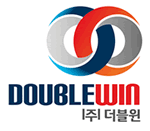 Exhibitor Profile
Doublewin Co., Ltd is a leading manufacturer of various pleating machine & peripherals, occupying overwhelming market position for high technology and best before & after service.
Our main products are as follow:
Pleating Machine
Hepa Pleating Machine
Reciprocate Pleating Machine
Combination Pleating Machine
Rotary Pleating Machine
Cell Pleating Machine
Corrugate Machine
EDM Pleating Machine
Turnkey Solution (Complete Filter Production Line)
AC Filter Automatic Production Line
Combination Automatic Pleating Line
Additional Machine
Side Sealing Machine
Hot Melt Dispenser
Binding Machine
Cutting Machine
Doublewin believes that we could grow up as our customers' business grows. To do so, we take responsibility under this belief, and put our best effort in providing products and service beyond the expectation by foreseeing what our customers need and develop them beforehand. We understand our customers' business, products, and their needs by pouring time and effort to keep the close relations with our customers and provide better-than-expected service. We always put customers first, we will be there even before you need us!
Products / Markets
Product Index
Automatische Filter
Drahtgewebe-Faltmaschinen
Faltmaschinen
Filterröhrenmaschine
Heißleimgeräte
Hepa-/Minipleat Faltmaschine
Kabinenfilter - Produktionsfilter
Klebstoffspender
Längsschneider
Mehrnutzenfaltlinien
Messerfaltmaschinen
Montagemaschinen
Pilotanlagen
Rotationsfaltmaschinen
Schneidesysteme
Schneidesysteme für Faltfilter
Ultraschallschneiden
Market Scope
Automobilindustrie
Biotechnologie/Biopharmazie
Chemische Industrie
Filtrations- und Separationsindustrie
Lebensmittel-,Getränkeindustrie
Luft- und Raumfahrtindustrie
Medizintechnik, Health Care Industrie
Pharmazeutische Industrie
Umweltschutz
Wasserbehandlung, versorgung
Product Index
Adhesive Dispensers
Automatic Filters
Cabin Air Filter Production Line
Cutting Systems
Filter Tube Making Machines
HEPA-/Mini Pleating Machines
Hot-Melt Type Applications
Knife Pleating Machines
Machinery for Assembly
Multiple Web Pleating Lines
Pilot Plants
Pleated Filter Cutting Systems
Pleating Machines
Rotary Pleaters
Slitter
Ultrasonic Slitting/Cutting
Wire Mesh Pleaters
Market Scope
Aerospace Industry
Automotive Industry
Biotechnology/Biopharmac. Industry
Chemical Industries
Environmental Protection
Filtration and Separation Industry
Food, Beverage Industry
Medical, Health Care Industry
Pharmaceutical Industry
Water Treatment, Supply
Product Index
刀片式打褶机
剪切机
复式网状打褶生产线
打褶机
折叠式过滤器切割系统
旋转式打褶机
机舱空气过滤器生产线
滤管机
点胶机
热熔型应用
组装机
自动过滤器
裁切系统
试验工厂
超声波切开/切割
重型金属丝网Pleaters的
高效粒子空气/迷你打褶机
Market Scope
 汽车工业
制药工业
化学工业
医疗卫生保健业
水处理、供应
环境保护
生物技术/生物制药业
航空航天业
过滤与分离工业
食品、饮料工业
Product Index
آلات التجميع
آلات تصنيع فلاتر HEPA بالصفائح الصغيرة
أنظمة القطع تصفية مطوي
الإمداد بالمواد الاصقة
الثقيلة Pleaters شبكة أسلاك
الطيار النباتات
المقصورة خط إنتاج فلتر الهواء
تطبيقات تميع الشريط الحراري
خطوط إنتاج الشبك المضاعف
فلاتر آلية
فلاتر اسطوانية دورانية
قاطعات
قطع بالموجات فوق الصوتية
مكنات تصفيح
مكنات تصنيع الفلاتر الأنبوبية
مكنات طي
وحدات قطع
Market Scope
التغذية بالمياه وتصريفها
الصناعات الدوائية
الصناعات الطبية والعناية الصحية
الصناعات الغذائية وصناعة المشروبات
الصناعة الكيماوية
صناعات الفلترة وفصل المواد
صناعة الألبان
صناعة التقنية البيولوجية والبيوصيدلية
صناعة السيارات
صناعة الفضاء
Product Index
Distributeurs d'adhésif
Filtres automatiques
Installations pilotes
Lignes de plissage à toiles multiples
Machines d'assemblage
Machines de fabrication de tubes de filtres
Machines de plissage à couteaux
Machines à plisser HEPA
Plisseurs treillis métallique
Plisseuses
Plisseuses rotatives
Refendage/découle à ultrasons
Refendeuses
Systèmes de coupe
Systèmes de coupe pour filtre plissé
Systèmes pour application à chaud
production en ligne de filtre à air de cabine
Market Scope
Industrie automobile
Industrie aérospatiale
Industrie biotechnologie/biopharmaceutique
Industrie chimique
Industrie de filtration et de séparation
Industrie laitière
Industrie médicale et de la santé
Industrie pharmaceutique
Industries alimentaires et des boissons
Traitement d'eau, alimentation
Product Index
Aggraffatrici
Aggraffatrici a coltello
Aggraffatrici per rete
Aggraffatrici rotanti
Applicazioni fuse
Erogatori di collanti
Filtri automatici
Impianti pilota
Linee di piegatura multiple
Linee di produzione filtri aria abitacolo
Macchinari di assemblaggio
Macchine per tubi filtro
Mini aggraffatrici Hepa
Sistemi di taglio
Sistemi di taglio filtro piegato
Taglierina
Taglio a ultrasuoni
Market Scope
Biotecnologie/biofarmaceutica
Protezione ambientale
Settore aerospaziale
Settore alimenti e bevande
Settore automobilistico
Settore chimico
Settore filtrazione e separazione
Settore medicale e sanità
Settore parafarmaceutico
Trattamento approvvigionamento acqua
Product Index
Aplikacja kleju topliwego
Dozowniki klejów
Filtry automatyczne
Instalacje pilotażowe
Linie do plisowania filtrów
Linie produkcyjne kabinowych filtrów powietrza
Maszyny do plisowania
Maszyny do plisowania filtrów HEPA/minipleat
Maszyny do produkcji rur filtracyjnych
Nasadki do plisowania filtrów z siatki metalowej
Nóż
Obrotowe urządzenia do plisowania
System cięcia plisowanych filtrów
Systemy tnące
Ultradźwiękowe narzędzia do cięcia
Urządzenia do montażu
Urządzenia do plisowania
Market Scope
Biotechnologia/biofarmaceutyka
Filtrowanie i separacja
Ochrona zdrowia
Ochrona środowiska
Przemysł chemiczny
Przemysł farmaceutyczny
Przemysł lotniczy
Przemysł samochodowy
Przemysł spożywczy
Uzdatnianie wody i zaopatrzenie w wodę
Product Index
Aplicações de cola termofusível
Corte por ultra-sons
Distribuidores de adesivos
Filtros automáticos
Guilhotinas
Linhas de plissagem de membranas múltiplas
Máquinas de montagem
Máquinas de plissar
Máquinas de plissar Mini/HEPA
Máquinas de plissar com lâminas
Máquinas para fabricação de tubos de filtros
Plantas Piloto
Pleaters malha de arame
Plissadores rotativos
Sistemas de corte
linha de produção de de ar de cabine de filtro
sistemas de corte para Filtro de pregas
Market Scope
Ind. de biotecnologia/biofarmac.
Indústria aeroespacial
Indústria alimentar, de bebidas
Indústria automóvel
Indústria de filtragem e separação
Indústria farmacêutica
Indústria leiteira
Indústria médica, cuidados de saúde
Indústrias químicas
Tratamento de água, abastecimento
Product Index
Pleaters Тяжелых условиях сетка
Автоматические фильтры
Воздушный фильтр производственная линия
Гофрировальные станки
Гофрировальные станки для изготовления крупных фильтров
Гофрировальные станки для изготовления фильтров тонкой очистки / малых фильтров
Линии многослойного гофрирования
Машины для изготовления трубных фильтров
Монтажные машины
Область применения плавких клеев
Пилотные установки
Режущая система гофрированный фильтр
Ротационные гофрировальные станки
Системы рубок
Ультразвуковая продольна / поперечная резка
Установка для нанесения клея
Устройство для продольной резки
Market Scope
Авиакосмическая промышленность
Автомобильная промышленность
Биотехнология / Биофармацевтическая промышленность
Медицина, здравоохранение
Молочная промышленность
Отрасль фильтрации и сепарирования
Очистка воды, водоснабжение
Производство продуктов питания и напитков
Фармацевтическая промышленность
Химическая промышленность
Product Index
Aplicaciones de tipo de fusión en caliente
Dispensadores de adhesivo
Filtros automáticos
Líneas de plisar bandas múltiples
Máquinas de la Asamblea
Máquinas de plisar
Máquinas de plisar /HEPA
Máquinas de plisar con cuchilla
Máquinas para la fabricación de tubos de filtros
Plantas Piloto
Plisadoras giratorias
Ranuradora
Rasurado/corte ultrasónico
Sistemas de Corte para filtro plisado
Sistemas de corte
línea de producción para Filtro de aire en cabina
​​Pleaters malla de alambre
Market Scope
Industria aeroespacial
Industria de la alimentación y las bebidas
Industria de la automoción
Industria de la biotecnología/biofarmacéutica
Industria de la filtración y la separación
Industria de los productos lácteos
Industria farmacéutica
Industria médica, de la atención sanitaria
Industrias químicas
Tratamiento, suministro de agua
Product Index
Ağır Hizmet Tipi Çelik Hasır Plise Makineleri
Bıçak Plise Makineleri
Dilme Makinesi
Döner Plise Makineleri
Filtre Borusu Yapma Makineleri
HEPA-/Mini Plise Makineleri
Isı Eritmeli Uygulamalar
Kabin Filtresi Üretim Hattı
Kesme Sistemleri
Meclis Makineleri
Otomatik Filtreler
Pileli Filtre Kesme Sistemleri
Pilot Tesisler
Plise Makineleri
Ultrasonik Dilme/Kesme
Yapıştırıcı Tabancaları
Çoklu Dokuma Plise Makinesi
Market Scope
Biyoteknoloji/Biyoeczacılık Endüstrisi
Filtrasyon ve Ayırma Endüstrisi
Gıda, İçecek Endüstrisi
Havacılık Endüstrisi
Kimya Endüstrisi
Otomotiv Endüstrisi
Su Arıtma, Temin
Tıp, Sağlık Sektörü
Çevre Koruma
İlaç Endüstrisi
Product Index
HEPA-/미니 주름 기계
나이프 주름 기계
다중 망 주름 라인
속건성 도포
슬리터
자동 필터
절단 시스템
접착제 디스펜서
조립용 기계 부품
주름 기계
철망 플리터
초음파 슬리팅/절단
캐빈 에어 필터 생산 라인
파일럿 플랜트
플리티드 필터 절단 시스템
필터 튜브 제조기
회전 플리터
Market Scope
생명공학/생물 약제학 산업
수질 관리, 수자원 공급
식음료 산업
여과 및 분리 산업
의료, 보건 산업
자동차 산업
제약 산업
항공우주 산업
화학 산업
환경 보호
Product Index
HEPA・ミニプリーツマシン
カッティングシステム
キャビン用エアフィルターの生産ライン
スリッター
ナイフプリーツ装置
パイロットプラント
フィルターチューブ製造機
プリーツフィルター切断システム
プリーツマシン
ホットメルトタイプの用途
ロータリープリーター
ワイヤーメッシュプリーター
接着剤ディスペンサー
組立用機械
自動フィルター
複数のウェブプリーティングライン
超音波スリット・切断
Market Scope
バイオテクノロジー・バイオ医薬品産業
化学工業
医療、ヘルスケア業界
医薬品業界
水処理および関連製品
濾過および分離技術工業
環境保護
自動車産業
航空宇宙産業
食品、飲料業界