Filter Concept Private Limited Hall 7 / R2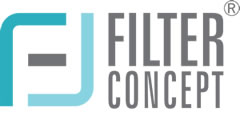 Exhibitor Profile
Established player in global filtration and separation industry for more than two decades. We are an ASME U/R certified manufacturing facility and ISO-9001, 14001 & 45001 certified organization.
We offer solutions in contamination control of Liquid and Air applications.
Key applications:
Turbine Intake air filter .
Dust collector systems.
Gas distribution skids.
Self cleaning basket/ strainers.
Oil filtration systems.
Products / Markets
Product Index
Adsorptionsfilter
Automatische Filter
Coalescer
Drucklufttrockner
Feinsiebe
Filteranlagen
Filterbeutel
Filterelemente
Filtergehäuse
Gasfilter
Hepa-Filter
Korbfilter
Luftfilter
Patronenfilter
Rückspülfilter
Selbstreinigende Filter
Staubabscheider
Ölfilter
Market Scope
Abwasserwirtschaft
Chemische Industrie
Elektronik-, Mikroelektronikindustrie
Farben-, Pigment-, Beschichtungsindustrie
Filtrations- und Separationsindustrie
Lebensmittel-,Getränkeindustrie
Mineralöl/Öl/Gasproduktion
Petrochemische Industrie
Pharmazeutische Industrie
Schwerindustrie
Product Index
Adsorption Filters
Air Filters
Automatic Filters
Back Flush Filters
Basket Filters (Strainers)
Cartridge Filters
Coalescers
Compressed Air Dryers
Dust Collectors
Filter Bags
Filter Elements
Filter Housings
Filtration Plants
Gas Filters
HEPA Filters
Oil Filters
Self Cleaning Filters
Strainers
Market Scope
Chemical Industries
Electronic, Microelectronic Industry
Filtration and Separation Industry
Food, Beverage Industry
Heavy Industry
Mineral / Oil / Gas Production
Paint, Pigments, Coatings Industry
Petrochemical Industry
Pharmaceutical Industry
Waste Water Treatment
Product Index
压缩空气干燥器
吸附式过滤器
气体过滤器
滤壳
滤油器
滤筒
滤芯
空气过滤器
篮式过滤器
聚结器
自动过滤器
自清洁过滤器
袋式平槽过滤器
过滤器
过滤袋
过滤设备
集尘器
高效粒子空气过滤器
Market Scope
制药工业
化学工业
废水处理
油漆、颜料、涂料工业
电子、微电子工业
石化工业
矿产/石油/天然气业
过滤与分离工业
重工业
食品、饮料工业
Product Index
"فلاتر هواء عالية الفاعلية ""هـيبا"" HEPA"
أكياس فلاتر
أكياس فلترة للدفق العالي
المصافي
تصفية العلب
فلاتر آلية
فلاتر إمتصاص كيماوي
فلاتر السلة
فلاتر الكارترج / الخراطيش
فلاتر الهواء
فلاتر ذاتية التنظيف
فلاتر زيوت
فلاتر غازات
قطع فلاتر
مجمعات الغبار
مساعدات التكييف
وحدات إلتحام
وحدات فلترة
Market Scope
إنتاج المعادن والزيوت والغاز
الصناعات الثقيلة
الصناعات الدوائية
الصناعات الغذائية وصناعة المشروبات
الصناعة البتروكيماوية
الصناعة الكيماوية
الطاقة والإمداد بالطاقة
صناعات الفلترة وفصل المواد
صناعة الدهانات والصبغات والتلبيس
معالجة مياه الصرف
Product Index
Cartouches de filtres
Coalesceurs
Collecteurs de poussières
Eléments de filtre
Filtres HEPA
Filtres automatiques
Filtres autonettoyants
Filtres à adsorption
Filtres à air
Filtres à bols
Filtres à gaz
Filtres à huile
Installation de filtration
Les boîtiers de filtre
Sacs de filtres
Sacs de filtres de décolmatage
Sécheurs à air comprimé
Tamis
Market Scope
Energies et fourniture d'énergies
Industrie chimique
Industrie de filtration et de séparation
Industrie de peintures, pigments et revêtements
Industrie lourde
Industrie pharmaceutique
Industrie pétrochimique
Industries alimentaires et des boissons
Productions minérales / pétrolière / du gaz
Traitement des eaux usées
Product Index
Alloggiamenti filtro
Collettori di polvere
Elementi filtranti
Essiccatori ad aria compressa
Filtri
Filtri a cestello (filtri)
Filtri aria
Filtri automatici
Filtri autopulenti
Filtri cartuccia
Filtri di assorbimento
Filtri di risciacquo
Filtri gas
Filtri hepa
Filtri olio
Impianti di filtraggio
Miscelatori
Tasche filtri
Market Scope
Produzioni minerali / petrolio / gas
Settore alimenti e bevande
Settore chimico
Settore elettronico, microelettronico
Settore filtrazione e separazione
Settore industria pesante
Settore parafarmaceutico
Settore petrolchimico
Settore pitture, pigmenti e rivestimenti
Trattamento acque reflue
Product Index
Elementy filtra
Filtry HEPA
Filtry adsorbcyjne
Filtry automatyczne
Filtry ciśnieniowe
Filtry gazu
Filtry koszowe (sitka)
Filtry oleju
Filtry powietrza
Filtry samooczyszczające
Koagulanty
Obudowy filtrów
Odpylacze
Osuszacze sprężonego powietrza
Sitka
Urządzenia filtracyjne
Wkłady filtracyjne
Worki filtracyjne
Market Scope
Filtrowanie i separacja
Oczyszczanie ścieków (waste water)
Produkcja farb i lakierów
Przemysł chemiczny
Przemysł ciężki
Przemysł elektroniczny i mikroelektroniczny
Przemysł farmaceutyczny
Przemysł petrochemiczny
Przemysł spożywczy
Wydobycie minerałów, ropy i gazu
Product Index
Carcaças de Filtro
Colectores de poeiras (aspiradores)
Elementos filtrantes
Filtros absolutos (HEPA)
Filtros auto-laváveis
Filtros automáticos
Filtros de adsorção
Filtros de ar
Filtros de cartuchos
Filtros de gases
Filtros de rede
Filtros de saco de águas residuais
Filtros de óleo
Instalações de filtração
Peneiras finas
Sacos filtrantes
Secadores de ar comprimido
Separadores de gotas
Market Scope
Energia, abastecimento de energia
Indústria alimentar, de bebidas
Indústria de filtragem e separação
Indústria farmacêutica
Indústria pesada
Indústria petroquímica
Indústrias químicas
Pintura, pigmentos, indústria de revestimentos
Produção mineral / óleo / gás
Tratamento de água de despejo
Product Index
Абсорбционные фильтры
Автоматические фильтры
Воздушные фильтры
Газовые фильтры
Коагуляторы
Корзинчатые фильтры
Корпуса фильтров
Масляные фильтры
Пылесборники
Рукавные проточные фильтры
Самоочищающиеся фильтры
Сетчатые фильтры
Сушилка на сжатом воздухе
Фильтрационные установки
Фильтровальные мешки
Фильтрующие элементы
Фильтры со сменным фильтрующим элементом
Фильтры тонкой очистки
Market Scope
Добыча минералов/ нефти/ газа
Лакокрасочная промышленность
Нефтехимическая промышленность
Отрасль фильтрации и сепарирования
Очистка сточных вод
Производство продуктов питания и напитков
Тяжёлая промышленность
Фармацевтическая промышленность
Химическая промышленность
Энергетика, электроснабжение
Product Index
Bolsas de filtro
Coladores
Colectores de polvo
Elementos de filtro
Filtro de Viviendas
Filtros HEPA
Filtros autolimpiables
Filtros automáticos
Filtros de absorción
Filtros de aceite
Filtros de aire
Filtros de cartucho
Filtros de cesta
Filtros de descarga de bolsa
Filtros de gas
Plantas de filtración
Secadores de aire comprimido
Separadores coalescentes
Market Scope
Energía, suministro de energía
Industria de la alimentación y las bebidas
Industria de la filtración y la separación
Industria de las pinturas, pigmentos, revestimientos
Industria farmacéutica
Industria pesada
Industria petroquímica
Industrias químicas
Producción de minerales / petróleo / gas
Tratamiento de aguas residuales
Product Index
Adsorpsiyon Filtreleri
Arıtma İstasyonları
Basınçlı Hava Kurutucular
Birleştiriciler
Filtre Elemanları
Filtre Gövdeleri
Filtre Torbaları
Gaz Filtreleri
HEPA Filtreler
Hava Filtreleri
Kartuşlu Filtreler
Kendiliğinden Temizlenen Filtreler
Otomatik Filtreler
Sepet Filtreler
Süzgeçler
Ters Yıkamalı Filtreler
Toz Toplayıcılar
Yağ Filtreleri
Market Scope
Atıksu Arıtma
Ağır Sanayi
Boya, Pigment, Kaplama Endüstrisi
Elektronik, Mikroelektronik Endüstrisi
Filtrasyon ve Ayırma Endüstrisi
Gıda, İçecek Endüstrisi
Kimya Endüstrisi
Mineral / Petrol / Gaz Üretimi
Petrokimya Endüstrisi
İlaç Endüstrisi
Product Index
HEPA 필터
가스 필터
공기 필터
바스켓 필터(스트레이너)
백 플러시 필터
스트레이너
압축 공기 건조기
오일 필터
자동 세척 필터
자동 필터
정수 처리장
집진기
카트리지 필터
코어레서
필터 백
필터 엘리먼트
필터 하우징
흡수 필터
Market Scope
광물 / 석유 / 가스 생산
석유화학 산업
식음료 산업
여과 및 분리 산업
전자, 마이크로 전자 산업
제약 산업
중공업
페인트, 안료, 도장 산업
폐수 처리
화학 산업
Product Index
HEPAフィルター
エアフィルター
オイルフィルター
カートリッジ・フィルター
ガスフィルター
コアレッサー
ストレーナー
セルフクリーニングフィルター
バスケットフィルター(ストレーナー)
バックフラッシュフィルター
フィルターエレメント
フィルターハウジング
フィルターバッグ
吸収フィルター
圧縮空気式乾燥機
濾過設備
自動フィルター
集塵機
Market Scope
化学工業
医薬品業界
塗料、顔料、コーティング産業
汚水処理
濾過および分離技術工業
石油化学工業
重工業
鉱物・石油・ガス生産
電子、マイクロエレクトロニクス産業
食品、飲料業界