Hengst SE Hall 7 / K13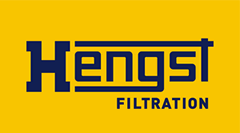 Exhibitor Profile
Von Industrie über Handwerk bis Haushalt – die zuverlässige Luft- und Flüssigkeitsfiltration spielt eine maßgebliche Rolle für die Funktionssicherheit technischer Anlagen und Geräte sowie den Schutz von Gesundheit und Umwelt.
Und weil jede Filtrationsaufgabe ihr eigenes Profil hat, bieten wir keine Standardprodukte, sondern entwickeln individuelle Lösungen, die bis ins Detail präzise auf die jeweiligen Anforderungen und Einsatzbedingungen abgestimmt sind. Ob Luft- oder Flüssigkeitsfiltration, ob einfaches Flachfilterelement oder komplexes Filtermodul – wir sind als erster Ansprechpartner von der Entwicklung hochwertiger Lösungen bis zur kosteneffizienten Serienfertigung für Sie da.
From industry to trade through to private households – dependable air and fluid filtration plays a crucial role in ensuring the functional reliability of technical equipment and devices as well as the protection of health and the environment.
And since every filtration scenario brings its own challenges, our products are never "off the shelf". We develop individual solutions that are precisely tailored to your specific requirements and operating conditions – right down to the last detail. Whether you require air or liquid filtration, require a simple flat filter element or a complex filter module – we are the only contact you will need – from the development of high-quality solutions to the cost-efficient series production.
Products / Markets
Product Index
Abscheider - Öl/Dunst
Adsorptionsfilter
Ansaugfilter
Automobilfilter
Beutel-/Taschenfilter
Einbaufilter
Filterelemente
Filterkissen
Gasfilter
Glasfaserfilter
Hepa-Filter
Luftfilter
Medizinische Filter
Patronenfilter
Schutzmasken
Staub-/Tropfenfilter
Staubabscheider
Trinkwasserfilter
Market Scope
Automobilindustrie
Bauindustrie
Chemische Industrie
Eisen-, Stahlherstellung
Elektronik-, Mikroelektronikindustrie
Energieerzeugung,-versorgung
Filtrations- und Separationsindustrie
Lebensmittel-,Getränkeindustrie
Medizintechnik, Health Care Industrie
Metallverarbeitende Industrie
Product Index
Adsorption Filters
Air Filters
Automotive Filters
Bag Filters
Cartridge Filters
Drinking Water Filters
Dust Collectors
Dust/Mist Filters
Filter Elements
Filter Pads
Gas Filters
Glass Fibre Filter
HEPA Filters
In-Line Filters
Intake Filters
Medical Filters
Protective Masks
Separators - Oil/Mist
Market Scope
Automotive Industry
Building & Construction Services
Chemical Industries
Electronic, Microelectronic Industry
Energy, Energy Supply
Filtration and Separation Industry
Food, Beverage Industry
Iron, Steel Manufacturing
Medical, Health Care Industry
Metal Processing Industry
Product Index
串联过滤器
入口过滤器
分离器 - 油/雾
医用过滤器
吸附式过滤器
尘/雾过滤器
气体过滤器
汽车过滤器
滤板
滤筒
滤芯
玻璃纤维过滤器
空气过滤器
袋式过滤器
防护口罩 Fánghù kǒuzhào
集尘器
饮用水过滤器
高效粒子空气过滤器
Market Scope
 汽车工业
化学工业
医疗卫生保健业
建筑与施工服务业
电子、微电子工业
能源、能源供应
过滤与分离工业
金属加工业
钢铁制造业
食品、饮料工业
Product Index
"فلاتر هواء عالية الفاعلية ""هـيبا"" HEPA"
أقراص فلترة
أقنعة واقية 'aqnieat waqia
أكياس فلترة
فلاتر إمتصاص كيماوي
فلاتر السحب الداخلي
فلاتر السيارات
فلاتر الغبار / الضباب
فلاتر الكارترج / الخراطيش
فلاتر الهواء
فلاتر طبية
فلاتر غازات
فلاتر للأنابيب (على الخط)
فلاتر ماء الشرب
فلتر صوف زجاجي
فواصل الزيت والرذاذ
قطع فلاتر
مجمعات الغبار
Market Scope
الصناعات الطبية والعناية الصحية
الصناعات الغذائية وصناعة المشروبات
الصناعة الكيماوية
الطاقة والإمداد بالطاقة
حماية البيئة
خدمات البناء والإنشاء
صناعات الفلترة وفصل المواد
صناعة الحديد والصلب
صناعة السيارات
صناعة معالجة المعادن
Product Index
Cartouches de filtres
Collecteurs de poussières
Eléments de filtre
Filtres HEPA
Filtres automobiles
Filtres d'admission
Filtres en fibres de verre
Filtres en ligne
Filtres médicaux
Filtres pour eau potable
Filtres à adsorption
Filtres à air
Filtres à gaz
Filtres à poussières/buées
Filtres à sacs
Masques de protection
Patins de filtres
Séparateurs – huile/buées
Market Scope
Energies et fourniture d'énergies
Industrie automobile
Industrie chimique
Industrie de filtration et de séparation
Industrie du bâtiment et de la construction
Industrie médicale et de la santé
Industrie métallurgique
Industries alimentaires et des boissons
Protection de l'environnement
Sidérurgie
Product Index
Collettori di polvere
Cuscinetti per filtri
Elementi filtranti
Filtri a tasche
Filtri acqua potabile
Filtri aria
Filtri cartuccia
Filtri di aspirazione
Filtri di assorbimento
Filtri gas
Filtri hepa
Filtri in linea
Filtri medicali
Filtri polvere/nebbie
Filtri settore automobilistico
Filtro fibra di vetro
Maschere protettive
Separatori - olio/nebbia
Market Scope
Energia, approvvigionamento energetico
Produzione ferro e acciaio
Servizi settore edile
Settore alimenti e bevande
Settore automobilistico
Settore chimico
Settore elettronico, microelettronico
Settore filtrazione e separazione
Settore lavorazione metallo
Settore medicale e sanità
Product Index
Elementy filtra
Filtr ssący
Filtry HEPA
Filtry adsorbcyjne
Filtry do wody pitnej
Filtry do zastosowań medycznych
Filtry gazu
Filtry powietrza
Filtry połączone szeregowo
Filtry przeciwpyłowe/przeciwmgielne
Filtry samochodowe
Filtry workowe
Filtry z włókna szklanego
Maski ochronne
Odpylacze
Podkładki pod filtry
Separatory - Olej/mgła
Wkłady filtracyjne
Market Scope
Filtrowanie i separacja
Obróbka metali
Ochrona zdrowia
Przemysł budowlany
Przemysł chemiczny
Przemysł elektroniczny i mikroelektroniczny
Przemysł energetyczny
Przemysł hutniczy
Przemysł samochodowy
Przemysł spożywczy
Product Index
Colectores de poeiras (aspiradores)
Elementos filtrantes
Filtro de fibra de vidro
Filtros absolutos (HEPA)
Filtros de adsorção
Filtros de ar
Filtros de aspiração
Filtros de cartuchos
Filtros de encaixe
Filtros de gases
Filtros de poeiras/vapores
Filtros de saco
Filtros de água potável
Filtros medicinais
Filtros para automóveis
Máscaras de proteção
Separadores - óleo/vapores
Tampões de filtros
Market Scope
Energia, abastecimento de energia
Fabrico de ferro, aço
Indústria alimentar, de bebidas
Indústria automóvel
Indústria de filtragem e separação
Indústria de processamento de metal
Indústria médica, cuidados de saúde
Indústrias químicas
Protecção ambiental
Serviços de fabrico & construção
Product Index
Абсорбционные фильтры
Автомеханические фильтры
Воздушные фильтры
Входные фильтры
Газовые фильтры
Защитные маски Zashchitnyye maski
Медицинские фильтры
Проточные фильтры
Пылевые / масляные фильтры
Пылесборники
Рукавные фильтры
Сепараторы – масло / туман
Стекловолоконный фильтр
Фильтрующие прокладки
Фильтрующие элементы
Фильтры питьевой воды
Фильтры со сменным фильтрующим элементом
Фильтры тонкой очистки
Market Scope
Автомобильная промышленность
Защита окружающей среды
Медицина, здравоохранение
Металлообрабатывающая промышленность
Отрасль фильтрации и сепарирования
Производство железа, стали
Производство продуктов питания и напитков
Строительство жилых и общественных зданий
Химическая промышленность
Энергетика, электроснабжение
Product Index
Colectores de polvo
Elementos de filtro
Filtro de fibra de vidrio
Filtros HEPA
Filtros de absorción
Filtros de admisión
Filtros de agua potable
Filtros de aire
Filtros de automoción
Filtros de bolsa
Filtros de cartucho
Filtros de gas
Filtros de polvo/neblina
Filtros en línea
Filtros médicos
Mascarillas protectoras
Pastillas de filtro
Separadores - aceite/neblina
Market Scope
Energía, suministro de energía
Fabricación de hierro, acero
Industria de la alimentación y las bebidas
Industria de la automoción
Industria de la filtración y la separación
Industria de procesamiento de metales
Industria médica, de la atención sanitaria
Industrias químicas
Protección del medio ambiente
Servicios de edificación y construcción
Product Index
Adsorpsiyon Filtreleri
Cam Elyaf Filtre
Filtre Elemanları
Filtre Pedi
Gaz Filtreleri
Giriş Filtreleri
HEPA Filtreler
Hava Filtreleri
Kartuşlu Filtreler
Koruyucu maskeler
Otomobil Filtreleri
Separatörler - Yağ/Buğu
Sıralı Filtreler
Torba Filtreler
Toz Toplayıcılar
Toz/Buğu Filtreleri
Tıbbi Filtreler
İçme Suyu Filtreleri
Market Scope
Bina ve İnşaat Hizmetleri
Demir, Çelik Üretimi
Elektronik, Mikroelektronik Endüstrisi
Enerji, Enerji İkmali
Filtrasyon ve Ayırma Endüstrisi
Gıda, İçecek Endüstrisi
Kimya Endüstrisi
Metal İşleme Endüstrisi
Otomotiv Endüstrisi
Tıp, Sağlık Sektörü
Product Index
HEPA 필터
가스 필터
공기 필터
먼지/안개 필터
백 필터
보호 마스크 boho maseukeu
분리기 - 오일/미스트
식수 필터
유리 섬유 필터
의료 필터
인라인 필터
자동차 필터
집진기
카트리지 필터
필터 엘리먼트
필터 패드
흡수 필터
흡입구 필터
Market Scope
건축 및 건설 용역
금속 가공 산업
식음료 산업
에너지, 에너지 공급
여과 및 분리 산업
의료, 보건 산업
자동차 산업
전자, 마이크로 전자 산업
철, 철강 제조
화학 산업
Product Index
HEPAフィルター
インラインフィルタ
エアフィルター
カートリッジ・フィルター
ガスフィルター
ガラス繊維フィルター
ダスト・ミストフィルター
バッグフィルター
フィルターエレメント
フィルターパッド
保護マスク Hogo masuku
分離機 - オイル・ミスト
医療用フィルター
吸収フィルター
吸気フィルター
自動車用フィルター
集塵機
飲料水用フィルター
Market Scope
エネルギー、エネルギー供給
化学工業
医療、ヘルスケア業界
建築・建設業
濾過および分離技術工業
自動車産業
製鉄、製鋼業
金属加工業界
電子、マイクロエレクトロニクス産業
食品、飲料業界
Press release
Hengst Industriefilter erfüllen weltweit höchste Anforderungen
Hengst Filtration bietet seinen Kunden im Industriebereich Filterlösungen, die speziell auf die in den jeweiligen Ländern geltenden Vorschriften abgestimmt sind. Bereits im vergangenen Jahr hat das Unternehmen einen abreinigbaren Industriefilter der höchsten europäischen IFA-Gefahrenklasse H vorgestellt. Jetzt bietet der führende Spezialist für Filtration und Fluidmanagement auch einen Filter für industrielle Nass- und Trockensauger an, der die neuesten Anforderungen der US-amerikanischen Arbeitsschutzbehörde Occupational Safety and Health Administration (OSHA) an HEPA-Filter erfüllt.
Verschärfte Grenzwerte
Seit 2016 gelten in den USA verschärfte Grenzwerte für den Schutz von Personen beim Umgang mit silikathaltigen Stäuben, die von den europäischen Vorgaben gemäß EN 60335-2-69 abweichen. Ausschlaggebend sind hier die Anforderungen, die von der OSHA in den Vorschriften 1910.1053 – Occupational Safety and Health Standards und 1926.1153 – Safety and Health Regulations for Construction vorgegeben werden. Diese schreiben vor, dass die eingesetzten Filter die Anforderungen für HEPA Filter (Abscheideleistung 99,97 % bei 0,3 µm) erfüllen müssen. Darüber hinaus muss der verwendete Sauger über einen Zyklon-Vorabscheider verfügen oder der Filtereinsatz muss abreinigbar sein.
Neue Kombination macht es möglich
Der von Hengst neu entwickelte Filter ist abreinigbar und erreicht bezogen auf eine Partikelgröße von 0,3 µm eine Filtereffizienz von 99,97 % und erfüllt damit alle Anforderungen der OSHA. Bisher waren bei HEPA-Filtern Glasfasermedien Stand der Technik, dies sind jedoch klassische Tiefenfiltermedien. Das bedeutet, dass die Schadstoffe im Inneren des Mediums eingelagert werden, wo sie nicht oder nur sehr bedingt abgereinigt werden können. Bei dem neuen abreinigbaren Filter setzt Hengst daher auf die Kombination einer speziellen PTFE-Membran und eines passenden Trägermaterials. Dabei lagert sich der gefilterte Staub an der Oberfläche des Filtermediums in Form eines Filterkuchens ab und kann z.B. durch einen Druckimpuls leicht entfernt werden.
Filter der Klasse H für Europa
Der im letzten Jahr von Hengst für den europäischen Markt vorgestellte Filter der Klasse H erfüllt auch bei hohen Anströmgeschwindigkeiten die Anforderungen der höchsten IFA-Gefahrenklasse H (nach EN 60335-2-69) und ist dabei abreinigbar.
Filter der Klasse H müssen einen Rückhaltewert von 99,995 % erzielen und sind für die Abscheidung von gesundheitsgefährdenden Stäuben (krebs- und krankheitserregend) mit Arbeitsplatz-Grenzwerten < 0,1 mg/m³ vorgeschrieben. Entsprechende Sauger werden für derartige Stäube eingesetzt, wenn die Reinluft in den Arbeitsraum zurückgeführt werden soll.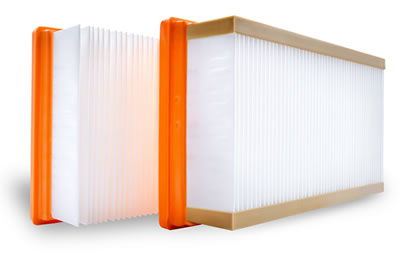 Erfüllen weltweite Standards – der neue HEPA-Filter OSHA (links) und der IFA H-Filter (rechts)
Hengst industrial filters meet the strictest global standards
Hengst Filtration offers their customers industrial filter solutions that are tailored to meet the specific regulations applicable in the respective country of use. Last year, the company already unveiled a cleanable industrial filter that is in compliance with European hazard category H, as established by the Institute for Occupational Safety and Health of the German Social Accident Insurance, or IFA. The leading specialist in filtration and fluid management is now introducing a filter designed for industrial wet and dry vacuums that conforms to the latest requirements imposed on HEPA filters by the Occupational Safety and Health Administration (OSHA) in the United States.
More rigorous limits
The United States in 2016 introduced stricter limits on the protection of persons handling silicate dusts that deviate from the European provisions as set out in standard EN 60335-2-69. OSHA has spelled out the applicable requirements in the stipulations of the 1910.1053 – Occupational Safety and Health Standards and 1926.1153 – Safety and Health Regulations for Construction. These standards mandate that the filters used must satisfy the requirements levied on HEPA filters (separation performance 99.97 % at 0.3 µm). The vacuum used furthermore needs to be equipped with a cyclone pre-separator or a filter insert that is cleanable.
A new combination secures compliance
Newly developed by Hengst, the filter can be cleaned and offers a filtering efficiency of 99.97 % for a particle size of 0.3 µm, thus meeting the requirements established by OSHA. Until now, fiberglass media embodied the state of the art in HEPA filter technology. However, these media are merely designed as classic depth filtration media. This means that the hazardous substances are retained on the interior of the medium, where they cannot be cleaned off at all or only to a limited extent. This is why Hengst has selected a combination of a special PTFE membrane and a matching backing material for their new cleanable filter. Filtration is provided by the filtered dust settling on the surface of the filter medium in the form of a filter cake, which can subsequently be removed easily using, for instance, a pressure pulse.
Category H filters for Europe
Launched last year to cater to the European market, Hengst's category H filter fulfills the strict requirements specified for IFA hazard category H (as per EN 60335-2-69) even when subjected to high inflow velocities and can be cleaned as well.
Filters categorized in class H are required to deliver a retention factor of 99.995 % and have been made mandatory for the expulsion of hazardous dust particles (carcinogenic and pathogenic) in workplace environments with limits < 0.1 mg/m³. Suitable vacuums are used for these types of dust if the purified air is supposed to be channeled back into the workroom.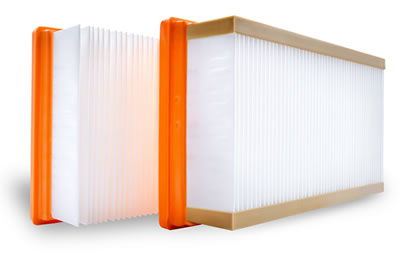 Comply with global standards – the new HEPA filter OSHA (left) and the IFA category H filter (right).
Press release
Hengst-Filtrationskonzept für neuen Miele Akku-Stick Triflex
Akku-Sticks, handgeführte Bodenstaubsauger mit Bodendüse und Akku-System, erfreuen sich zunehmender Beliebtheit. Auf der IFA 2019 hat Miele mit dem Triflex sein erstes Produkt in diesem Bereich vorgestellt. Hengst Filtration hat für den Triflex ein System aus optimal aufeinander abgestimmten Filterstufen entwickelt. Durch eine exzellente Abscheideleistung bei geringem Differenzdruck gewährleistet das System einen hohen Volumenstrom und eine daraus resultierende hohe Saugleistung.
Drei Stufen für reine Luft und Motorschutz
Das dreistufige System, bestehend aus Zentralfilter, Motorschutzfilter und Abluftfilter, ist je nach Kundenwunsch sowohl in einer Basis-Ausführung als auch in einer HEPA-Variante erhältlich. Da Hengst alle drei Stufen liefert, konnten die einzelnen Filterstufen exakt aufeinander abgestimmt und an die Anforderungen des Kunden angepasst werden. Die Filterflächen der beiden Abluftfiltervarianten hat Hengst mit dem Ziel einer bestmöglichen Ausnutzung des vorhandenen Bauraums und einer Minimierung des Differenzdrucks optimiert. Durch die Integration des Motorschutzfilters im Inneren des Zentralfilters hat Hengst den Platzbedarf deutlich reduziert und zusätzlich wurde die Abscheideleistung zwischen Zentral- und Abluftfilter optimal aufeinander abgestimmt. Die Turbine kann aufgrund der hohen Filtereffizienz des Zentralfilters frei von Partikelbelastungen arbeiten. Selbst im Servicefall wird die Turbine durch den ortsfesten Motorschutzfilter wirkungsvoll geschützt.
Komfortables Saugen bei hochwertigem Design
Zusätzlich zu den technischen Features wird ein komfortables Saugen durch die optimierte Handhabung und geringe Lautstärke gewährleistet. Der Zentralfilter verfügt über einen Entnahmegriff, der als Sichtteil mit hoher Oberflächengüte entwickelt wurde. Darüber hinaus wurde eine Akustik-Dämmmatte zur Geräuschminderung in das System integriert, die ebenfalls als Sichtteil dient.
Abreinigbar mit hoher Oberflächenqualität
Als Vorabscheider dient in dem Triflex ein Zentral-Zyklon, in dem der Zentralfilter mit dem integrierten Motorschutzfilter mittig platziert ist. Da der Zentralfilter als "Lifetime-Komponente" ausgelegt werden sollte, hat Miele viel Wert auf die gute Abreinigbarkeit gelegt. Um diese auch bei einem Abscheidegrad von mehr als 99 % zu gewährleisten, wird ein Polyestermedium mit PTFE-Membran auf der Schmutzseite verwendet. So lässt sich der Filter sehr wirkungsvoll mechanisch reinigen. Darüber hinaus genügen die Kunststoffteile des Zentralfilters, die im direkten Sichtbereich des Anwenders liegen (Sichtteil Klasse 1), besonders hohen Qualitätsanforderungen.
Basis- oder HEPA-Variante
Beim Triflex von Miele kann der Kunde je nach Anforderungen zwischen zwei Varianten des Abluftfilters wählen. Während die Basis-Variante aus einem Polyestermedium besteht und durch eine Belegung mit Nanofasern hohe Abscheideleistungen bei gleichzeitig niedrigen Differenzdrücken erzielt, eignet sich die HEPA-Variante insbesondere für Allergiker. Diese Variante verwendet ein speziell entwickeltes Filtermedium unter Verwendung einer PTFE-Membran. Hierdurch erreicht sie im Vergleich zu klassischen Glasfasermedien deutliche Differenzdruckvorteile, ohne Einbußen beim Abscheidegrad. Beide Varianten erzielen aufgrund einer optimierten Verarbeitung bzw. durch ihren Medienaufbau exzellente Standzeiten, die auf dem Niveau von Glasfasermedien liegen.
Hengst filtration concept for Miele's new cordless vacuum Triflex
Cordless sticks, i.e. hand-operated canister vacuums with a floor nozzle and battery system, are becoming increasingly more popular. This year's IFA 2019 will witness Miele's unveiling of the Triflex, the company's first product in this segment. Hengst Filtration has developed a system composed of filter stages that have been optimized to match the Triflex perfectly. Offering excellent separation performance at low differential pressure, the system guarantees a high volume flow and a high suction capacity to go with it.

Three stages for clean air and engine protection
Customers can opt for a base model or a HEPA version of the three-stage filter, which is composed of a central filter, a motor protective filter and an exhaust filter. Since supplying all three stages, Hengst was able to match the individual filter stages perfectly with one another and adapt them to the requirements of the customer.
Hengst optimized the filter surfaces of the two exhaust filters in an effort to utilize the available installation to the maximum, while minimizing the differential pressure. The integration of the motor protective filter into the central filter allowed Hengst to dramatically reduce the required space and made it possible to balance the separation performance between central filter and exhaust filter perfectly. The turbine can operate without being hampered by particle loads thanks to the exceptional filtering efficiency of the central filter. Even if requiring service, the turbine is effectively protected by the stationary motor protective filter.
Comfortable vacuuming with a premium design
Aside from a score of technical features, the system allows for comfortable vacuuming thanks to its optimized handling and low noise output. The central filter comes with a removal handle, which was engineered as a visible part with a premium surface finish. Also incorporated into the system is an acoustic insulation mat, which is designed to minimize noise and serve as a visible part.
Cleanable with a surface of supreme quality
The Triflex uses a central cyclone as a pre-separator. Positioned in the center of this central cyclone is the central filter with the integrated motor protective filter. Since Miele's specifications called for a "lifetime component", Hengst did their utmost to ensure that the central filter is exceedingly easy to clean. To ensure exceptional cleanability even with a separation efficiency north of 99 %, Hengst has resorted to a polyester medium with a PTFE membrane on the dirty side. This allows for very effective mechanical cleaning of the filter. What is more, the plastic components of the central filter which are immediately visible to the user (visible part class 1) satisfy the most stringent quality standards.
Base model or HEPA version
Miele makes the Triflex available with two exhaust filter versions to accommodate the different requirements of their customers. While the base model is composed of a polyester medium and achieves high separation performance rates at low differential pressure levels thanks the applied nanofibers, the HEPA version is particularly well suited for allergy sufferers. This version uses a specially engineered filter medium in conjunction with a PTFE membrane. This mix yields significant differential pressure benefits compared to classic fiberglass media without affecting separation efficiency. Both versions deliver excellent service life that tallies with that of fiberglass media thanks to optimized workmanship and the structure of their media.
Press release
Virenreduzierte Raumluft in Corona-Zeiten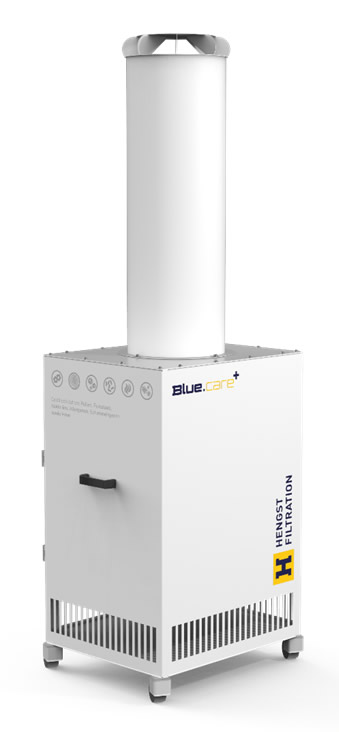 Hochwirksamer Schutz vor Viren in geschlossenen Räumen durch antivirales Luftreinigungssystem Blue.care+ von Hengst Filtration
Der Raumluftreiniger Blue.care+ von Hengst verfügt über eine Filterkombination aus einem Vorfilter der Klasse F7 und einem HEPA-Schwebstofffilter der Klasse H14 mit einer Filtrationsleistung von ≥ 99,995 %. Feinstaub, Allergene, Bakterien und vor allem auch kleinste Aerosoltröpfchen und Viren im kritischen Größenbereich um 0,1 Mikrometer werden somit zuverlässig aus der Raumluft gefiltert. Durch die hochwirksamen HEPA-Filter ist keine UV-C-Bestrahlung notwendig um die Viren abzutöten, dadurch entstehen keine unerwünschten Schadstoffe wie beispielweise Ozon.
Der Hengst Blue.care+ ist zudem leise im Betrieb und hocheffizient: Der Flüster-Ventilator erreicht eine Luftleistung von bis zu 1.800 m³ pro Stunde. Bei einem 6-fachen Luftwechsel im Raum reduziert Blue.care+ die Virenlast nach 10 Minuten Betrieb um mehr als 50 %. Im Gegensatz zu den erhältlichen Klein- bzw. Bodengeräten wird dabei durch den strömungsoptimierten Aufbau mit Power Diffusor Technologie eine bestmögliche Luftumwälzung für den gesamten Raum ohne Zugeffekte erreicht.
Reduction of indoor airborne viruses during Corona pandemic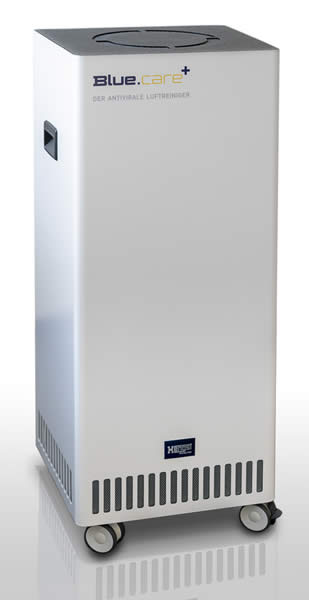 Highly effective protection against viruses in closed rooms with antiviral air filtration system Blue.care+ from Hengst Filtration
The indoor air purifier Blue.care+ from Hengst combines a Class F7 prefilter with a Class H14 high-efficiency particulate air (HEPA) filter featuring a filter capacity of ≥ 99.995 %. The system effectively filters indoor air to remove particulate matter, allergens, bacteria and especially minuscule aerosol droplets and viruses in the critical size range of 0.1 microns. The highly effective HEPA filter eliminates the need for UV-C radiation to kill viruses, preventing the release of toxic substances such as ozone.
>Hengst Blue.care+ is also very quiet and highly efficient: The whisper fan achieves an air exchange rate of up to 1,800 m³ per hour. With six-fold air exchange Blue.care+ reduces the virus load by more than 50 % after 10 minutes of operation. As opposed to the small and portable units available, the flow-optimized design with Power Diffusor technology achieves optimal air circulation throughout the entire room with no drafts.
Press release
Innovative 2-stage Water Filter
"Water is life!" this simple sentence shows how important clean drinking water becomes, even in industrial countries. Due to this, the company Grünbeck, as a leader in water treatment solution and the company Hengst, known for leading filtration solutions in industrial and automotive applications, joined to start a cooperation to develop an innovative filter solution for hygienic water treatment applications.
The result of this development is a mobile filtration solution for leisure vehicles, which can adapt to nearly all drinking water tanks to provide hygienic and pure water.
The two-stage filter system - with a minimum amount of auxiliary materials - is reliable for nearly all drinking water standards.
The filter element consists of two innovative filter stages with active carbon as, for example, an agent for the removal of chlorine and an additional material for the removing of pathogens and colloids.
Due to the use of the Hengst Energetic concept and ultra-sonic welding processes it is possible to produce a filter element that only consist of the filter materials and plastic components (end cap and inner tube), without any kind of glue or further materials.
Conference Presentation/s
Innovative two stage water filter
J. Roßbauer*, Grünbeck Wasseraufbereitung GmbH; M. Wilkens*, Hengst SE, Germany
Learn more at FILTECH 2022 Conference
"Water is life!" this simple sentence shows how important clean drinking water becomes, even in industrial countries. Due to this, the company Grünbeck, as a leader in water treatment solution and the company Hengst, known for leading filtration solutions in industrial and automotive applications, joined to start a cooperation to develop an innovative filter solution for hygienic water treatment applications.
The main target of the development is to find a mobile filtration solution for leisure vehicles, which can adapt to nearly all drinking water tanks to provide hygienic and pure water.
To ensure a filtration system which is reliable for nearly all drinking water standards a two-stage filter system with a minimum amount of auxiliary materials – for example without any kind of glue within the filter element – has been developed.
The filter element consists of two innovative filter stages with active carbon as, for example, an agent for the removal of chlorine and an additional material for the removing of pathogens and colloids.
Due to the use of the Hengst Energetic concept and ultra-sonic welding processes it is possible to produce a filter element that only consist of the filter materials and plastic components (end cap and inner tube), without any kind of glue or further materials.
The filter element is evaluated by several parameters, especially by retention of chlorine, turbidity and germ reduction...