HJS Emission Technology GmbH & Co. KG Hall 8 / D22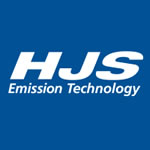 Exhibitor Profile
HJS Emission Technology GmbH & Co. KG is a medium-sized company founded in 1976 and based in Menden in central Germany.
HJS has many years of experience and expertise in the field of exhaust-gas aftertreatment.
Some 450 employees are engaged in the development, production and marketing of modular systems for reducing pollutant emissions. These innovative environmental protection technologies can be used either as original equipment or for retrofitting in passenger cars, commercial vehicles as well as in a wide range of non-road mobile machinery and stationary applications. In addition to systems for spark-ignition engines, HJS today focuses on solutions for diesel engines – especially solutions for reducing the emissions of soot particles (particulate matter, PM) and nitrogen oxides (NOx). With its extensive portfolio of patents and cooperation with Germany's TÜV certification agency as well, HJS sets benchmarks internationally. The company's latest development is the patent-pending NOx system SCRT®TM with active thermal management.
Products / Markets
Product Index
Dieselrußfilter
Filterelemente
Selbstreinigende Filter
Market Scope
Automobilindustrie
Umweltschutz
Product Index
Filter Elements
Particle Filters for Diesel Engines
Self Cleaning Filters
Market Scope
Automotive Industry
Environmental Protection
Product Index
فلاتر الجسيمات للديزلمحركات
فلاتر ذاتية التنظيف
قطع فلاتر
Market Scope
صناعة الألبان
صناعة السيارات
Product Index
Eléments de filtre
Filtres autonettoyants
Filtres à particules pour moteurs diesel
Market Scope
Industrie automobile
Industrie laitière
Product Index
Elementi filtranti
Filtri autopulenti
Filtri particelle per motori diesel
Market Scope
Protezione ambientale
Settore automobilistico
Product Index
Elementy filtra
Filtry cząsteczek do silników Diesla
Filtry samooczyszczające
Market Scope
Ochrona środowiska
Przemysł samochodowy
Product Index
Elementos filtrantes
Filtros auto-laváveis
Filtros de partículas para motores diesel
Market Scope
Indústria automóvel
Indústria leiteira
Product Index
Самоочищающиеся фильтры
Фильтр грубой очистки для дизельных двигателей
Фильтрующие элементы
Market Scope
Автомобильная промышленность
Молочная промышленность
Product Index
Elementos de filtro
Filtros autolimpiables
Filtros de partículas para motores diesel
Market Scope
Industria de la automoción
Industria de los productos lácteos
Product Index
Dizel Motorlar için Partikül Filtreleri
Filtre Elemanları
Kendiliğinden Temizlenen Filtreler
Market Scope
Otomotiv Endüstrisi
Çevre Koruma
Product Index
디젤 엔진용 미립자 필터
자동 세척 필터
필터 엘리먼트
Product Index
セルフクリーニングフィルター
ディーゼルエンジン用粒子フィルター
フィルターエレメント
Conference Presentation/s
SMF® - Innovative thin metallic filter media for industrial filtration applications
S. Steigert, K. Schrewe*, HJS Emission Technology GmbH & Co. KG, Germany
Learn more at FILTECH 2022 Conference
More than 2 million m² of HJS Sintered Metal Filter (SMF®) material have been produced within the last 15 years, with a peak production of 300.000 m² p.a.. The SMF® material is a thin (< 0.5 mm) porous sintered metal in which a precisely defined stainless steel powder is sintered with an expanded metal carrier. This results in a thin, mechanically and thermally very stable filter medium, which can be treated in further processing similar to sheet metal. The SMF® basis material is industrially manufactured as quasi endless sheet with a width of 125 to 130 mm. Approved for hot gas and exhaust filtration, the material is further processed into filter modules that are designed for the named applications.
These SMF® modules are proven for a very large number of exhaust gas filtration applications used by vehicle manufacturers for applications that are subject to the current European emission legislation and thus strict requirements for particle number reduction. Furthermore, there are first applications in the industrial filtration of gases. In addition to the thermal robustness of the filter material, the high retention capacity and good cleanability of inert filtrate is also a key factor.
The aim is to use the known advantages of the thin foldable SMF® material, such as sharp separation efficiency or good cleanability, for new industrial filtration applications...