IT for Engineering (it4e) GmbH Hall 8 / C14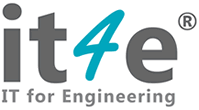 Exhibitor Profile
As spin-off of the University of Kaiserslautern, our objective is to implement up-to-date software solutions and complementary hardware in the course of industry 4.0 and digitization.
In our interdisciplinary team we focus our competences in the fields of mechanical and process engineering, mathematics, computer science and economic sciences to develop soft- and hardware solutions which are adjusted precisely to your production and development processes.
Our specialties are the development of web applications with server backend as well as desktop applications including parallelization and visualization. Of course we also advise and train you in using open source or other commercial software. Here the focus is on calculation and simulation tools for technical applications.
Products / Markets
Product Index
Filtermedienprüfung
Prüfdienstleistungen
Simulation
Market Scope
Automobilindustrie
Biotechnologie/Biopharmazie
Chemische Industrie
Filtrations- und Separationsindustrie
Lebensmittel-,Getränkeindustrie
Medizintechnik, Health Care Industrie
Pharmazeutische Industrie
Textilindustrie
Umweltschutz
Zellstoff-, Papierindustrie
Product Index
Filter Media Testing
Simulation
Testing Services
Market Scope
Automotive Industry
Biotechnology/Biopharmac. Industry
Chemical Industries
Environmental Protection
Filtration and Separation Industry
Food, Beverage Industry
Medical, Health Care Industry
Pharmaceutical Industry
Pulp, Paper Industry
Textile Industry
Market Scope
 汽车工业
制药工业
化学工业
医疗卫生保健业
环境保护
生物技术/生物制药业
纸浆、造纸工业
纺织工业
过滤与分离工业
食品、饮料工业
Product Index
اختبار تصفية وسائل الاعلام
خدمات الاختبار
محاكاة
Market Scope
الصناعات الدوائية
الصناعات الطبية والعناية الصحية
الصناعات الغذائية وصناعة المشروبات
الصناعة الكيماوية
الصناعة النسيجية
الصناعة الورقية
صناعات الفلترة وفصل المواد
صناعة الألبان
صناعة التقنية البيولوجية والبيوصيدلية
صناعة السيارات
Product Index
Services de contrôle
Simulation
Test de médias filtrants
Market Scope
Industrie automobile
Industrie biotechnologie/biopharmaceutique
Industrie chimique
Industrie de filtration et de séparation
Industrie de la pâte de cellulose et du papier
Industrie laitière
Industrie médicale et de la santé
Industrie pharmaceutique
Industrie textile
Industries alimentaires et des boissons
Product Index
Servizi di verifica
Simulazione
Verifica mezzi filtranti
Market Scope
Biotecnologie/biofarmaceutica
Protezione ambientale
Settore alimenti e bevande
Settore automobilistico
Settore chimico
Settore filtrazione e separazione
Settore industria dell carta e della cellulosa
Settore industria tessile
Settore medicale e sanità
Settore parafarmaceutico
Product Index
Symulacja
Testowanie mediów filtrów
Usługi testowania
Market Scope
Biotechnologia/biofarmaceutyka
Filtrowanie i separacja
Ochrona zdrowia
Ochrona środowiska
Przemysł celulozowo-papierniczy
Przemysł chemiczny
Przemysł farmaceutyczny
Przemysł samochodowy
Przemysł spożywczy
Przemysł tekstylny
Product Index
Serviços de teste
Simulação
Testes de meios filtrantes
Market Scope
Ind. de biotecnologia/biofarmac.
Indústria alimentar, de bebidas
Indústria automóvel
Indústria de filtragem e separação
Indústria farmacêutica
Indústria leiteira
Indústria médica, cuidados de saúde
Indústria têxtil
Indústrias químicas
Pasta, indústria do papel
Product Index
Имитация
Обслуживание Тестирования
Тестирование Фильтрующие материалы
Market Scope
Автомобильная промышленность
Биотехнология / Биофармацевтическая промышленность
Бумажная промышленность
Медицина, здравоохранение
Молочная промышленность
Отрасль фильтрации и сепарирования
Производство продуктов питания и напитков
Текстильная промышленность
Фармацевтическая промышленность
Химическая промышленность
Product Index
Pruebas de medios filtrantes
Servicios de Pruebas
Simulación
Market Scope
Industria de la alimentación y las bebidas
Industria de la automoción
Industria de la biotecnología/biofarmacéutica
Industria de la filtración y la separación
Industria de la pasta de madera, el papel
Industria de los productos lácteos
Industria farmacéutica
Industria médica, de la atención sanitaria
Industria textil
Industrias químicas
Product Index
Filtre ortamı test
Simülasyon
test Hizmetleri
Market Scope
Biyoteknoloji/Biyoeczacılık Endüstrisi
Filtrasyon ve Ayırma Endüstrisi
Gıda, İçecek Endüstrisi
Kimya Endüstrisi
Otomotiv Endüstrisi
Selüloz, Kağıt Endüstrisi
Tekstil Endüstrisi
Tıp, Sağlık Sektörü
Çevre Koruma
İlaç Endüstrisi
Market Scope
생명공학/생물 약제학 산업
섬유 산업
식음료 산업
여과 및 분리 산업
의료, 보건 산업
자동차 산업
제약 산업
제지, 종이 산업
화학 산업
환경 보호
Market Scope
バイオテクノロジー・バイオ医薬品産業
パルプ、製紙業界
化学工業
医療、ヘルスケア業界
医薬品業界
濾過および分離技術工業
環境保護
繊維業界
自動車産業
食品、飲料業界
Conference Presentation/s
1½-Way CFD-DEM coupling with DNSlab: The optimal compromise between modeling depth and computer resources demand for the 3D simulation of microscale fluid-particle-processes
K. Schmidt*, IT for Engineering (it4e) GmbH; V. Puderbach, S. Antonyuk, Technische Universität Kaiserslautern, Germany
Learn more at FILTECH 2022 Conference
Microscale fluid-particle processes, especially such as filtration of solid particles from liquid by porous media, involve the effect of the fluid flow on the particles as well as the effect of the particles on the fluid flow. For the simulation of such processes, where the CFD method is used to model the fluid flow and the DEM method to model particle-particle and particle-structure interactions, several approaches of coupling these two methods can be applied with different modelling depths and demands regarding computer resources. Using the it4e simulation software DNSlab, different variants of coupling the CFD and the DEM method have been implemented and evaluated regarding their suitability especially for microscale fluid-particle processes...