LOW & BONAR Hall 7 / R10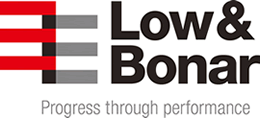 Exhibitor Profile
Colback nonwovens and Enka 3D entangled mats excel in high performing component solutions for the filtration and separation markets for many end-uses, e.g. cabin air filtration, home air purifiers, industrial air filters, liquid filters, odor control and (waste) water treatment solutions.
Our Colback technology is renowned among leading producers of filter media and filter products by significantly increasing the end performance of their products. Enka 3D mats consist of entangled polymer filaments, for high compression and chemical resistance, revolutionizing bio-treatment systems around the world. Flexible and effective, our technologies incorporated intelligently into useful products speed up production and ensure reproducible, high-quality finished products. Customers are supported with sales offices and production in Europe, North America and China. Our promise is to provide the highest performing solutions and industry leading technical expertise through long-lasting relationships and value-added improvements with ongoing research and development in Arnhem (The Netherlands) and Asheville (NC, United States).
Low & Bonar is a global leader in performance materials selling in over 60 countries. We design and manufacture components which add value and improve the performance of our customers' products.
Products / Markets
Product Index
Abscheider
Aktivkohle Medien
Coalescer Medien
Filterbeutel
Filtergewebe
Filtermedien
Filtertextilien
Flüssig-Filtermedien
Gasfilter
Geruchsbeseitigung
Gewebe
Kabinenfilter
Kraftstoff-Filtermedien
Luftfiltermedien
Synthetische Fasermedien
Vliesmaterialien
Vliesmaterialien, Spunbonded
Ölfiltermedien
Market Scope
Abwasserwirtschaft
Agrarwirtschaft
Automobilindustrie
Bauindustrie
Filtrations- und Separationsindustrie
Kunststoffverarbeitende Industrie
Lebensmittel-,Getränkeindustrie
Mineralöl/Öl/Gasproduktion
Textilindustrie
Wasserbehandlung, versorgung
Product Index
Activated Carbon Media
Air Filter Media
Cabin Air Filters
Coalescer Media
Filter Bags
Filter Fabrics
Filter Media
Filter Textiles
Fuel Filter Media
Gas Filters
Liquid Filter Media
Nonwovens
Nonwovens, Spunbonded
Odor Removal
Oil Filter Media
Separators
Synthetic Fibre Media
Wire/Wowens
Market Scope
Agriculture
Automotive Industry
Building & Construction Services
Filtration and Separation Industry
Food, Beverage Industry
Mineral / Oil / Gas Production
Plastic Industry
Textile Industry
Waste Water Treatment
Water Treatment, Supply
Product Index
分离器
合成纤维媒体
无纺布
气体过滤器
汽车空调过滤器
活性碳介质
液体过滤滤材
滤布
滤油器介质
燃油过滤器介质
空气过滤器介质
纺粘型无纺布
聚结器介质
过滤介质
过滤织物
过滤袋
钢丝/绕织
除味
Market Scope
 农业
 汽车工业
塑料工业
废水处理
建筑与施工服务业
水处理、供应
矿产/石油/天然气业
纺织工业
过滤与分离工业
食品、饮料工业
Product Index
أسلاك / منسوجات
أكياس فلاتر
إزالة الروائح
الألياف الاصطناعية وسائل الإعلام عية وسائل الإعلام
اللانسيج، غزل ولصق
غير المنسوجات / اللانسيج
فلاتر المحروقات
فلاتر المقصورات والحُجرات
فلاتر غازات
فلاتر نسيجية
فواصل
مواد إلتحام
مواد الكربون المنشط
مواد فلاتر الزيوت
مواد فلاتر الهواء
مواد فلترة
مواد فلترة الغازات
نسيج فلاتر
Market Scope
إنتاج المعادن والزيوت والغاز
التغذية بالمياه وتصريفها
الصناعات الغذائية وصناعة المشروبات
الصناعة النسيجية
الهندسة المعمارية
خدمات البناء والإنشاء
صناعات الفلترة وفصل المواد
صناعة البلاستيك
صناعة السيارات
معالجة مياه الصرف
Product Index
Désodorisation.
Fils/tissés
Filtres à air de cabines
Filtres à gaz
Fluide à charbon actif
Fluides coalescents
Fluides pour filtres à air
Médias de filtre
Médias de filtre pour liquides
Médias de filtres à carburant
Médias pour filtres à huile
Non tissés
Non tissés, feutres
Sacs de filtres
Synthetic Fiber Médias
Séparateurs
Textiles pour filtres
Tissus de filtres
Market Scope
Agriculture
Industrie automobile
Industrie de filtration et de séparation
Industrie des matières synthétiques
Industrie du bâtiment et de la construction
Industrie textile
Industries alimentaires et des boissons
Productions minérales / pétrolière / du gaz
Traitement des eaux usées
Traitement d'eau, alimentation
Product Index
Filtri aria abitacolo
Filtri gas
Mezzi di miscelazione
Mezzi filtraggio liquidi
Mezzi filtranti
Mezzi filtranti aria
Mezzi filtranti carbone attivo
Mezzi filtranti carburante
Mezzi filtro olio
Mezzi per fibre sintetiche
Non tessuti
Non tessuti, spunbonded
Rimozione odori
Separatori
Tasche filtri
Tessuti
Tessuti filtro
Tessuti per filtri
Market Scope
Agricoltura
Produzioni minerali / petrolio / gas
Servizi settore edile
Settore alimenti e bevande
Settore automobilistico
Settore filtrazione e separazione
Settore industria tessile
Settore plastica
Trattamento acque reflue
Trattamento approvvigionamento acqua
Product Index
Filtry gazu
Kabinowe filtry powietrza
Materiały nietkane
Materiały nietkane, formowane
Media filtrów
Media filtrów cieczy
Media filtrów oleju
Media filtrów paliwa
Media filtrów powietrza
Media koagulantów
Media węgla aktywowanego
Media włókna syntetycznego
Separatory
Tkaniny druciane
Tkaniny filtracyjne
Tkaniny filtracyjne
Usuwanie zapachów
Worki filtracyjne
Market Scope
Filtrowanie i separacja
Oczyszczanie ścieków (waste water)
Przemysł budowlany
Przemysł samochodowy
Przemysł spożywczy
Przemysł tekstylny
Przemysł tworzyw sztucznych
Rolnictwo
Uzdatnianie wody i zaopatrzenie w wodę
Wydobycie minerałów, ropy i gazu
Product Index
Filtros de ar para cabines
Filtros de gases
Fio/tecidos
Meios de carvão activado
Meios de filtragem
Meios de filtragem de combustível
Meios de filtragem de óleo
Meios de filtragem para líquidos
Meios de filtro do ar
Meios de separação de gotas
Não-tecidos
Não-tecidos, em forma enrolada
Remoção de odores
Sacos filtrantes
Separadores
Synthetic Fiber Mídia
Tecidos filtrantes
Têxteis de filtros
Market Scope
Agricultura
Indústria alimentar, de bebidas
Indústria automóvel
Indústria de filtragem e separação
Indústria dos plásticos
Indústria têxtil
Produção mineral / óleo / gás
Serviços de fabrico & construção
Tratamento de água de despejo
Tratamento de água, abastecimento
Product Index
Газовые фильтры
Коалесцирующий материал
Материал активированного угля
Нетканые материалы
Нетканые материалы, формование
Проволока / ткани
Сепараторы
Синтетические волокна Медиа
Устранение запахов
Фильтровальные мешки
Фильтровальные ткани
Фильтровальный текстиль
Фильтрующий материал
Фильтрующий материал
Фильтрующий материал для жидкостей
Фильтрующий элемент масляного фильтра
Фильтрующий элемент топливного фильтра
Фильтры воздуха в кабине
Market Scope
Автомобильная промышленность
Добыча минералов/ нефти/ газа
Отрасль фильтрации и сепарирования
Очистка воды, водоснабжение
Очистка сточных вод
Производство пластмасс
Производство продуктов питания и напитков
Сельское хозяйство
Строительство жилых и общественных зданий
Текстильная промышленность
Product Index
Alambre/Wowens
Bolsas de filtro
Eliminación de olores
Fibra Sintética de Medios
Filtros de aire de cabina
Filtros de gas
Medios de carbón activado
Medios de filtro
Medios de filtros de aceite
Medios de filtros de aire
Medios de filtros de combustible
Medios de filtros para líquidos
Medios de separadores coalescentes
Non-Wowens
Non-Wowens, Spunbonded
Separadores
Tejidos de filtro
Tejidos de filtros
Market Scope
Agricultura
Industria de la alimentación y las bebidas
Industria de la automoción
Industria de la filtración y la separación
Industria de los plásticos
Industria textil
Producción de minerales / petróleo / gas
Servicios de edificación y construcción
Tratamiento de aguas residuales
Tratamiento, suministro de agua
Product Index
Aktif Karbon Ortamı
Birleştirici Ortamı
Dokunmamış Mamuller
Dokunmamış Mamuller, Spunbond
Filtre Bezleri
Filtre Ortamı
Filtre Tekstilleri
Filtre Torbaları
Gaz Filtreleri
Hava Filtresi Ortamı
Kabin Hava Filtreleri
Koku Giderme
Sentetik Elyaf Medya
Separatörler
Sıvılar için Filtre Ortamı
Tel/Örgülü
Yakıt Filtresi Ortamı
Yağ Filtresi Ortamı
Market Scope
Atıksu Arıtma
Bina ve İnşaat Hizmetleri
Filtrasyon ve Ayırma Endüstrisi
Gıda, İçecek Endüstrisi
Mineral / Petrol / Gaz Üretimi
Otomotiv Endüstrisi
Plastik Endüstrisi
Su Arıtma, Temin
Tarım
Tekstil Endüstrisi
Product Index
가스 필터
공기 여과재
냄새 제거
부직포
분리기
스펀본드 부직포
액체 여과재
여과재
연료 여과재
오일 여과재
우븐 와이어
캐빈 에어 필터
코어레서 매체
필터 백
필터 직물
필터 패브릭
합성섬유 매체
활성탄 매체
Market Scope
건축 및 건설 용역
광물 / 석유 / 가스 생산
농업
섬유 산업
수질 관리, 수자원 공급
식음료 산업
여과 및 분리 산업
자동차 산업
폐수 처리
플라스틱 산업
Product Index
エアフィルターメディア
オイルフィルターメディア
ガスフィルター
キャビン用エアフィルター
コアレッサーメディア
フィルターバッグ
フィルターメディア
フィルター布
フィルター繊維
ワイヤー・ワウエンス
不織布
不織布, Spunbonded
分離機
合成繊維媒体
活性炭メディア
液体フィルター媒体
燃料フィルター媒体
臭気除去
Market Scope
プラスチック業界
建築・建設業
水処理および関連製品
汚水処理
濾過および分離技術工業
繊維業界
自動車産業
農業
鉱物・石油・ガス生産
食品、飲料業界
Press release
Colback® Plus: a new single layer for support and filtration
Low & Bonar proudly presents its latest innovation Colback Plus: a pleatable support medium with built-in filtration capability. The combination of functionalities into one product reduces the number of layers that would normally be needed in a filter system. Thanks to its unique fine fiber technology Colback Plus is free of glue.
Colback as a support medium is recognized in the filtration market for its high stiffness, high air permeability and high thermal stability. Now engineers at Low & Bonar have extended the capabilities of Colback by adding a mechanically bonded micro fiber layer, delivering a highly permeable support and filter layer 'in one'. The bonding technology reduces inefficiencies caused by the use of glue or point bonding, like VOC's or reduced pressure drop. The new product demonstrates amazingly high and stable filtration efficiency levels combined with high dust loading capacity. The micro fiber layer is very uniform predicting constant properties across the web. The stiff Colback allows for fast pleating and the formation of sharp and stable pleats for each single filter.
Colback Plus is especially suitable for cabin air, room air and HVAC filters, low to medium efficiency levels.