Lydall Hall 7 / R39

Exhibitor Profile
Lydall delivers global solutions in filtration and engineered materials through its business segments, Lydall Performance Materials and Lydall Technical Nonwovens.
Lydall Performance Materials is a leader in delivering innovative filtration solutions for demanding applications to enable a cleaner, safer and quieter world. With production facilities and sales offices around the world, Lydall Performance Materials serves customers worldwide through three commercial segments: Filtration, Advanced Solutions and Sealing.
Lydall Technical Nonwovens is a leading global manufacturer of technical nonwovens and engineered needlefelts for a multitude of industries and applications including industrial filtration - air and liquid. Products are manufactured and sold globally under the leading brands of Gutsche, Texel, Southern Felt and Lydall Industrial Filtration.
Products / Markets
Product Index
Aktivkohle Medien
Batterieseparatoren
Coalescer Medien
Filtermedien
Filtermedien f. Flüssigkeiten
Filtermedien f. Gase
Glasfasermedien
Hydraulikmedien
Kraftstoff-Filtermedien
Luftfiltermedien
Membranen
Membranherstellung
Nanomedien
Poröse Filtermittel
Vliesmaterialien
Vliesmaterialien, Meltblown
Ölfiltermedien
Market Scope
Agrarwirtschaft
Automobilindustrie
Biotechnologie/Biopharmazie
Chemische Industrie
Elektronik-, Mikroelektronikindustrie
Energieerzeugung,-versorgung
Filtrations- und Separationsindustrie
Lebensmittel-,Getränkeindustrie
Luft- und Raumfahrtindustrie
Medizintechnik, Health Care Industrie
Product Index
Activated Carbon Media
Air Filter Media
Battery Separators
Coalescer Media
Filter Media
Filter Media for Gases
Filter Media for Liquids
Fuel Filter Media
Glass Fibre Media
Hydraulic Media
Membrane Manufacturing
Membranes
Nano Media
Nonwovens
Nonwovens, Meltblown
Oil Filter Media
Porous Filter Media
Market Scope
Aerospace Industry
Agriculture
Automotive Industry
Biotechnology/Biopharmac. Industry
Chemical Industries
Electronic, Microelectronic Industry
Energy, Energy Supply
Filtration and Separation Industry
Food, Beverage Industry
Medical, Health Care Industry
Product Index
多孔过滤器介质
无纺布
气体过滤器介质
活性碳介质
液体过滤器介质
液压介质
滤油器介质
熔喷无纺布
燃油过滤器介质
玻璃纤维介质
空气过滤器介质
纳米介质
聚结器介质
蓄电池隔板
薄膜制作
过滤介质
隔膜
Market Scope
 农业
 汽车工业
化学工业
医疗卫生保健业
生物技术/生物制药业
电子、微电子工业
能源、能源供应
航空航天业
过滤与分离工业
食品、饮料工业
Product Index
اسطوانات
اللانسيج، تذويب وتنفيش
تصنيع الاسطوانات
خرطوشات فلترة
غير المنسوجات / اللانسيج
فلاتر المحروقات
مواد إلتحام
مواد الصوف الزجاجي
مواد الكربون المنشط
مواد تثقيب الفلاتر
مواد ترطيب
مواد فلاتر الزيوت
مواد فلاتر الهواء
مواد فلترة
مواد فلترة السوائل
مواد فلترة الغازات
مواد في غاية الدقة
Market Scope
الصناعات الطبية والعناية الصحية
الصناعات الغذائية وصناعة المشروبات
الصناعة الكيماوية
الطاقة والإمداد بالطاقة
الهندسة المعمارية
حماية البيئة
صناعات الفلترة وفصل المواد
صناعة التقنية البيولوجية والبيوصيدلية
صناعة السيارات
صناعة الفضاء
Product Index
Fabrication de membranes
Fluide à charbon actif
Fluides coalescents
Fluides hydrauliques
Fluides pour filtres à air
Membranes
Médias de filtre
Médias de filtre pour gaz
Médias de filtre pour liquides
Médias de filtres poreux
Médias de filtres à carburant
Médias en fibres de verre
Médias pour filtres à huile
Nanomédias
Non tissés
Non tissés, toiles soufflées à chaud
Séparateurs de batterie
Market Scope
Agriculture
Energies et fourniture d'énergies
Industrie automobile
Industrie aérospatiale
Industrie biotechnologie/biopharmaceutique
Industrie chimique
Industrie de filtration et de séparation
Industrie médicale et de la santé
Industries alimentaires et des boissons
Protection de l'environnement
Product Index
Membrane
Mezzi di miscelazione
Mezzi filtranti
Mezzi filtranti aria
Mezzi filtranti carbone attivo
Mezzi filtranti carburante
Mezzi filtranti per gas
Mezzi filtranti per liquidi
Mezzi filtranti porosi
Mezzi filtro olio
Mezzi idraulici
Mezzi in fibra di vetro
Nano media
Non tessuti
Non tessuti, meltblown
Produzione membrana
Separatori di batterie
Market Scope
Agricoltura
Biotecnologie/biofarmaceutica
Energia, approvvigionamento energetico
Settore aerospaziale
Settore alimenti e bevande
Settore automobilistico
Settore chimico
Settore elettronico, microelettronico
Settore filtrazione e separazione
Settore medicale e sanità
Product Index
Materiały nietkane
Materiały nietkane, zgrzewalne
Media filtrów
Media filtrów cieczy
Media filtrów gazu
Media filtrów oleju
Media filtrów paliwa
Media filtrów porowatych
Media filtrów powietrza
Media hydrauliczne
Media koagulantów
Media węgla aktywowanego
Media włókna szklanego
Membrany
Nanomedia
Produkcja membran
Separatory baterii
Market Scope
Biotechnologia/biofarmaceutyka
Filtrowanie i separacja
Ochrona zdrowia
Przemysł chemiczny
Przemysł elektroniczny i mikroelektroniczny
Przemysł energetyczny
Przemysł lotniczy
Przemysł samochodowy
Przemysł spożywczy
Rolnictwo
Product Index
Meios de carvão activado
Meios de fibra de vidro
Meios de filtragem
Meios de filtragem de combustível
Meios de filtragem de óleo
Meios de filtragem para gases
Meios de filtragem para líquidos
Meios de filtragem porosa
Meios de filtro do ar
Meios de nanotecnologia
Meios de separação de gotas
Meios hidráulicos
Membranas
Não-tecidos
Não-tecidos, fusão
Produção de membranas
Separadores de baterias
Market Scope
Agricultura
Energia, abastecimento de energia
Ind. de biotecnologia/biofarmac.
Indústria aeroespacial
Indústria alimentar, de bebidas
Indústria automóvel
Indústria de filtragem e separação
Indústria médica, cuidados de saúde
Indústrias químicas
Protecção ambiental
Product Index
Гидравлическая жидкость
Изготовление мембран
Коалесцирующий материал
Материал активированного угля
Мембраны
Нано-вещества
Нетканые материалы
Нетканые материалы, плавление
Пористый фильтрующий материал
Рабочий элемент стекловолоконного фильтра
Разделитель аккумуляторной батареи
Фильтрующий материал
Фильтрующий материал
Фильтрующий материал для газов
Фильтрующий материал для жидкостей
Фильтрующий элемент масляного фильтра
Фильтрующий элемент топливного фильтра
Market Scope
Авиакосмическая промышленность
Автомобильная промышленность
Биотехнология / Биофармацевтическая промышленность
Защита окружающей среды
Медицина, здравоохранение
Отрасль фильтрации и сепарирования
Производство продуктов питания и напитков
Сельское хозяйство
Химическая промышленность
Энергетика, электроснабжение
Product Index
Fabricación de membranas
Medios de carbón activado
Medios de fibra de vidrio
Medios de filtro
Medios de filtros de aceite
Medios de filtros de aire
Medios de filtros de combustible
Medios de filtros para gases
Medios de filtros para líquidos
Medios de filtros porosos
Medios de separadores coalescentes
Medios hidráulicos
Membranas
Nanomedios
Non-Wowens
Non-Wowens, Meltblown
Separadores de batería
Market Scope
Agricultura
Energía, suministro de energía
Industria aeroespacial
Industria de la alimentación y las bebidas
Industria de la automoción
Industria de la biotecnología/biofarmacéutica
Industria de la filtración y la separación
Industria médica, de la atención sanitaria
Industrias químicas
Protección del medio ambiente
Product Index
Aktif Karbon Ortamı
Batarya Separatörleri
Birleştirici Ortamı
Cam Elyaf Ortam
Dokunmamış Mamuller
Dokunmamış Mamuller, Meltblown
Filtre Ortamı
Gazlar için Filtre Ortamı
Gözenekli Filtre Ortamı
Hava Filtresi Ortamı
Hidrolik Ortam
Membran Üretimi
Membranlar
Nano Ortam
Sıvılar için Filtre Ortamı
Yakıt Filtresi Ortamı
Yağ Filtresi Ortamı
Market Scope
Biyoteknoloji/Biyoeczacılık Endüstrisi
Elektronik, Mikroelektronik Endüstrisi
Enerji, Enerji İkmali
Filtrasyon ve Ayırma Endüstrisi
Gıda, İçecek Endüstrisi
Havacılık Endüstrisi
Kimya Endüstrisi
Otomotiv Endüstrisi
Tarım
Tıp, Sağlık Sektörü
Product Index
가스용 여과재
공기 여과재
나노 매체
다공질 여과재
멜트블로운 부직포
배터리 분리기
부직포
분리막
분리막 제조
액체용 여과재
여과재
연료 여과재
오일 여과재
유리 섬유 매체
유압 매체
코어레서 매체
활성탄 매체
Market Scope
농업
생명공학/생물 약제학 산업
식음료 산업
에너지, 에너지 공급
여과 및 분리 산업
의료, 보건 산업
자동차 산업
전자, 마이크로 전자 산업
항공우주 산업
화학 산업
Product Index
エアフィルターメディア
オイルフィルターメディア
ガス用濾過材
ガラス繊維メディア
コアレッサーメディア
ナノメディア
フィルターメディア
不織布
不織布, Meltblown
多孔質フィルターメディア
油圧メディア
活性炭メディア
液体用濾過材
燃料フィルター媒体
膜
膜製造
電池セパレーター
Market Scope
エネルギー、エネルギー供給
バイオテクノロジー・バイオ医薬品産業
化学工業
医療、ヘルスケア業界
濾過および分離技術工業
自動車産業
航空宇宙産業
農業
電子、マイクロエレクトロニクス産業
食品、飲料業界
Press release
Lydall's Filtration Center of Excellence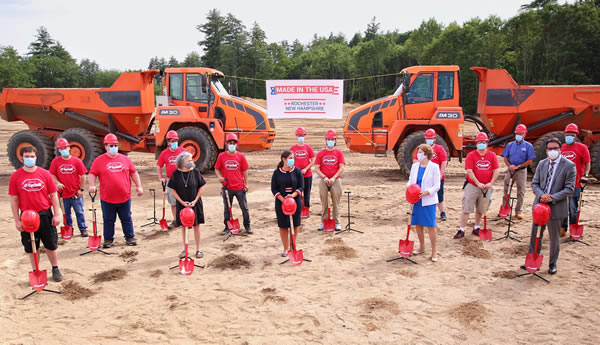 In June 2021, Lydall will open the doors to its new Filtration Center of Excellence in the United States in Rochester, New Hampshire. This state-of-the-art facility has been under construction since July 2020, and it will be solely dedicated to advancing filtration science and media innovation for products that make the world cleaner, safer and quieter.
The Lydall Filtration Center of Excellence will focus on the technologies and innovation needed to rapidly bring world-class products to market in the focused areas of personal protective equipment (PPE), indoor air quality (IAQ), liquid filtration, and coalescing. Lydall will also engage in forward-thinking joint development programs in partnership with its customers. Additionally, Lydall will increase capabilities in materials testing, rapid prototyping, application testing, science and engineering talent, and global market understanding.
The new facility is also home to two new fine fiber meltblown productions lines – making this site the largest for meltblown filtration media production site in the United States.