Math2Market GmbH Hall 7 / K1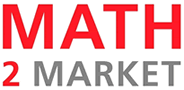 Exhibitor Profile
Math2Market develops the simulation software GeoDict to design better performing filter media, pleated elements, and complete filters with housing.
GeoDict models complete filters, filter elements, and filter media starting from 3D image data of filter media (µCT, FIB/SEM), CAD models of filter elements, or user-defined media parameters. Models (nonwoven, woven, ceramic, foams, cellulose, glass- and steel-fiber, metal wire mesh, membranes, catalyst honeycombs...) are geometrically analyzed and filtration properties are simulated in many fluids (air, oil, water, fuel, blood...). GeoDict characterizes pore size distribution, bubble point, maximum through pore, fluid flow, particle movement and deposition, MPPS, clogging, and cake formation. GeoDict calculates pressure drop, filter efficiency, and filter capacity.
With GeoDict®,
resolve complicated filtration issues
interactively modify the filter models to optimize the filtration process
optimize the location of air purifiers in offices and classrooms
automate complex parameter studies
drastically reduce prototyping and cut time and R&D cost
substantially accelerate the design and production of innovative filters and media
Math2Market's GeoDict is the leader in filtration simulation and efficient computer-aided filter media design.
Products / Markets
Market Scope
Abwasserwirtschaft
Automobilindustrie
Chemische Industrie
Filtrations- und Separationsindustrie
Keramik-, Glasindustrie
Kunststoffverarbeitende Industrie
Luft- und Raumfahrtindustrie
Mineralöl/Öl/Gasproduktion
Textilindustrie
Zellstoff-, Papierindustrie
Market Scope
Aerospace Industry
Automotive Industry
Ceramic, Glass Industry
Chemical Industries
Filtration and Separation Industry
Mineral / Oil / Gas Production
Plastic Industry
Pulp, Paper Industry
Textile Industry
Waste Water Treatment
Market Scope
 汽车工业
化学工业
塑料工业
废水处理
矿产/石油/天然气业
纸浆、造纸工业
纺织工业
航空航天业
过滤与分离工业
陶瓷、玻璃工业
Market Scope
إنتاج المعادن والزيوت والغاز
الصناعة الكيماوية
الصناعة النسيجية
الصناعة الورقية
صناعات الفلترة وفصل المواد
صناعة البلاستيك
صناعة الزجاج والفخار / السيراميك
صناعة السيارات
صناعة الفضاء
معالجة مياه الصرف
Market Scope
Industrie automobile
Industrie aérospatiale
Industrie chimique
Industrie de filtration et de séparation
Industrie de la céramique et du verre
Industrie de la pâte de cellulose et du papier
Industrie des matières synthétiques
Industrie textile
Productions minérales / pétrolière / du gaz
Traitement des eaux usées
Market Scope
Produzioni minerali / petrolio / gas
Settore aerospaziale
Settore automobilistico
Settore ceramica e vetro
Settore chimico
Settore filtrazione e separazione
Settore industria dell carta e della cellulosa
Settore industria tessile
Settore plastica
Trattamento acque reflue
Market Scope
Filtrowanie i separacja
Oczyszczanie ścieków (waste water)
Produkcja szkła i ceramiki
Przemysł celulozowo-papierniczy
Przemysł chemiczny
Przemysł lotniczy
Przemysł samochodowy
Przemysł tekstylny
Przemysł tworzyw sztucznych
Wydobycie minerałów, ropy i gazu
Market Scope
Cerâmica, indústria vidreira
Indústria aeroespacial
Indústria automóvel
Indústria de filtragem e separação
Indústria dos plásticos
Indústria têxtil
Indústrias químicas
Pasta, indústria do papel
Produção mineral / óleo / gás
Tratamento de água de despejo
Market Scope
Авиакосмическая промышленность
Автомобильная промышленность
Бумажная промышленность
Добыча минералов/ нефти/ газа
Керамическая, стекольная промышленность
Отрасль фильтрации и сепарирования
Очистка сточных вод
Производство пластмасс
Текстильная промышленность
Химическая промышленность
Market Scope
Industria aeroespacial
Industria de la automoción
Industria de la cerámica y el cristal
Industria de la filtración y la separación
Industria de la pasta de madera, el papel
Industria de los plásticos
Industria textil
Industrias químicas
Producción de minerales / petróleo / gas
Tratamiento de aguas residuales
Market Scope
Atıksu Arıtma
Filtrasyon ve Ayırma Endüstrisi
Havacılık Endüstrisi
Kimya Endüstrisi
Mineral / Petrol / Gaz Üretimi
Otomotiv Endüstrisi
Plastik Endüstrisi
Selüloz, Kağıt Endüstrisi
Seramik, Cam Endüstrisi
Tekstil Endüstrisi
Market Scope
광물 / 석유 / 가스 생산
섬유 산업
세라믹, 유리 산업
여과 및 분리 산업
자동차 산업
제지, 종이 산업
폐수 처리
플라스틱 산업
항공우주 산업
화학 산업
Market Scope
セラミック、ガラス産業
パルプ、製紙業界
プラスチック業界
化学工業
汚水処理
濾過および分離技術工業
繊維業界
自動車産業
航空宇宙産業
鉱物・石油・ガス生産
Press release
The GeoDict simulation software of Math2Market is part of the ASTM E2814-18 international standard
MATH2MARKET GmbH is a leader in providing software and consulting solutions for the design of innovative filter media, and for the improvement of filtration processes from its location in Kaiserslautern, Germany, near Frankfurt. Math2Market's team, with an extensive research background, develops and supplies the GeoDict® software for R&D in numerous industries. For the filtration industry, Math2Market supports pioneering digital filter development and design to improve pressure drop, efficiency, and lifetime of filters, while at the same time greatly reducing, or even eliminating, expensive and time-consuming experimental testing.
Math2Market's software GeoDict® only needs user-defined specifications, micro-CT and FIB/SEM images of filter media, or CAD models of filter elements to produce structural models of filter elements, pleats, and media (nonwoven, woven, metal and plastic meshes, synthetic media and papers, ceramics, open-cell foams, membranes, gradient materials…). Then, it analyzes pore size distribution, bubble point, fluid flow, pressure drop, particle capture, MPPS, depth filtration, clogging, dust holding capacity, and cake formation in the digital models. Gas filtration (air: DPF, HVAC) or liquid filtration (oil filter, hydraulic filters, sludge filtration, water, blood…) processes are simulated taking into account fluid density and viscosity, Brownian motion, inertial impaction, electrostatic forces, adhesion forces, and particle size and mass distribution. The possibilities of digital non-destructive testing are virtually boundless.
Math2Market software products are a worthwhile new technological strategy, used by internationally renowned manufacturers in the filtration industry to optimize processes, to cut prototyping and R&D costs, to accelerate the design of filters and filter media greatly, and to boost their competitive edge.
Conference Presentation/s
Images