Monforts Textilmaschinen GmbH & Co. KG Hall 8 / C47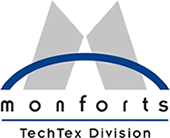 Exhibitor Profile
Monforts is a global leader among the manufacturers of textile machines since 1884.
Innumerable patents and pioneering achievements in textile finishing have marked our way to today's leading position in the world market.
Our long time experience from finishing of textiles along with our distinct research and development spirit have let us to new fields of application from classical textiles to all kind of substrates like technical textiles, nonwovens, paper, membranes and foils. We are continuously working on new developments and are optimizing processes. At our advanced technology center ATC at Mönchengladbach with 1,200 sqms we benefit from a wide range of machines for dyeing, finishing and coating of all kinds of substrates. Customers are always welcome to run trials with their own products to find the best solution for treatment.
Our pioneering spirit is challenged and respected by industry leaders in textile finishing and production of technical textile for more quality in fabric treatment, more energy efficiency in production, uncomplicated service and more environmental compatibility in exhaust air treatment. With our spirit of German Engineering, we will continue to provide the basis for sustained success for our costumers' work.
Products / Markets
Product Index
Filtertextilien
Gewebe
Pilotanlagen
Spezialmaschinen Filtrationsindustrie
Spezialmaschinen Textilindustrie
Technische Textilien
Trockner
Vliesmaterialien
Market Scope
Automobilindustrie
Filtrations- und Separationsindustrie
Textilindustrie
Product Index
Dryers
Filter Textiles
Nonwovens
Pilot Plants
Special Machinery Filtration Industry
Special Machinery Textile Industry
Technical Textiles
Wire/Wowens
Market Scope
Automotive Industry
Filtration and Separation Industry
Textile Industry
Product Index
工业用纺织品
干燥器
无纺布
特种工程机 械工业过滤
纺织工业专用机器
试验工厂
过滤织物
钢丝/绕织
Product Index
أسلاك / منسوجات
أقمشة تقنية
الطيار النباتات
خاصة صناعة الآلات الترشيح
صناعة نسيجية خاصة
غير المنسوجات / اللانسيج
مجففات
نسيج فلاتر
Market Scope
الصناعة النسيجية
صناعات الفلترة وفصل المواد
صناعة السيارات
Product Index
Fils/tissés
Installations pilotes
Machines spéciales pour l'industrie filtration
Machines spéciales pour l'industrie textile
Non tissés
Sécheurs
Textiles pour filtres
Textiles techniques
Market Scope
Industrie automobile
Industrie de filtration et de séparation
Industrie textile
Product Index
Essiccatori
Impianti pilota
Macchinari speciali Industria filtrazione
Macchinari speciali Industria tessile
Non tessuti
Tessuti
Tessuti per filtri
Tessuti tecnici
Market Scope
Settore automobilistico
Settore filtrazione e separazione
Settore industria tessile
Product Index
Instalacje pilotażowe
Materiały nietkane
Specjalny sprzęt Przemysł tekstylny
Specjalny sprzęt Systemy filtracyjne
Suszarki
Tekstylia techniczne
Tkaniny druciane
Tkaniny filtracyjne
Market Scope
Filtrowanie i separacja
Przemysł samochodowy
Przemysł tekstylny
Product Index
Fio/tecidos
Máquinas especiais para a indústria filtração
Máquinas especiais para a indústria têxtil
Não-tecidos
Plantas Piloto
Secadores
Têxteis de filtros
Têxteis para usos técnicos
Market Scope
Indústria automóvel
Indústria de filtragem e separação
Indústria têxtil
Product Index
Нетканые материалы
Пилотные установки
Проволока / ткани
Специальное оборудование – Отрасль фильтрации и сепарирования
Специальное оборудование – Текстильная промышленность
Сушилки
Технический текстиль
Фильтровальный текстиль
Market Scope
Автомобильная промышленность
Отрасль фильтрации и сепарирования
Текстильная промышленность
Product Index
Alambre/Wowens
Maquinaria especial industr. filtración
Maquinaria especial industr. textil
Non-Wowens
Plantas Piloto
Secadores
Tejidos de filtros
Tejidos técnicos
Market Scope
Industria de la automoción
Industria de la filtración y la separación
Industria textil
Product Index
Dokunmamış Mamuller
Filtre Tekstilleri
Kurutucular
Pilot Tesisler
Teknik Tekstiller
Tel/Örgülü
Özel Makineler Filtrasyon Endüstrisi
Özel Makineler Tekstil Endüstrisi
Market Scope
Filtrasyon ve Ayırma Endüstrisi
Otomotiv Endüstrisi
Tekstil Endüstrisi
Product Index
건조기
기능성 섬유
부직포
우븐 와이어
특수 기계 섬유 산업
특수 기계 여과 산업
파일럿 플랜트
필터 직물
Product Index
テクニカル繊維
パイロットプラント
フィルター繊維
ワイヤー・ワウエンス
不織布
乾燥機
特殊機械 濾過産業
特殊機械 繊維産業
Press release
Monforts - Global leader among the manufacturers of finishing and coating equipment
Monforts will once again be the only manufacturer of finishing and coating equipment.
As it goes from strength to strength, the FILTECH show has this year attracted many new exhibitor companies, including some of the industry's biggest players such as Mann+Hummel, Pall Corporation and Porvair for the first time.
Also making its debut at Filtech 2018 is Monforts customer BWF, a leading provider of filter media for industrial filtration and solid/liquid separation, with manufacturing sites throughout the world.
BWF produces over nine million ready-to-install filter media annually under the brand names needlona and PM-Tec. Some of the chief areas where its nonwoven media are employed are in biomass or coal-fired power stations, in the chemical and pharmaceutical industry and in asphalt, steel and cement plants.
Of specific interest to BWF when selecting the latest Montex 8500TT stenter was its ability to thermally set PTFE fabrics without oil greasing in the stenter chain and in the width adjustment.
"This protects workers and the environment from harmful oil vapours and keeps the filter material clean," explains Jürgen Hanel, Head of Technical Textiles at Monforts. "The guarantee of reaching 320°C with a very low temperature tolerance and with an excellent housing insulation is a major advantage, so that an outside temperature over 60°C is never reached at any position."
Jürgen Hanel and his colleagues will be on hand at the Monforts booth, T8 in Hall 11.1, to provide information and advice on the wide range of production machines for filter materials made by the company – all of which are developed and manufactured in Europe.
A Montex 8500TT stenter in special execution is ideal for the preparation of filter materials for the drying and finishing of both wovens and nonwovens. It is characterised by high stretching devices in both length and width of up to 10,000N, and can accommodate operating temperatures of up to 320°C.
In addition, the company offers coating and printing heads for the application of chemical compounds together with padders and foam-padders for foam and liquor applications. Calenders for the flattening and compaction of the filter materials can be added for lines with working widths from 80cm up to seven metres. Explosion-proof dryers are also available for the risk-free application of solvents.
According to the latest analysis from BCC Research, the market for global nonwoven filter media was worth $4.3 billion in 2017.