POROMETER is part of APTCO GROUP Hall 8 / B17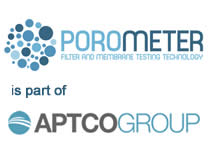 Exhibitor Profile
POROTEC GmbH ist ein Vertrieb für Geräte zur Charakterisierung poröser und partikulärer Materialien wie z.B. Filter:
Porometer, Quecksilberporosimeter, Heliumpyknometer, Gas- und Dampfsorption, Chemisorption, TPDRO, Partikelgröße und Formanalyse, Zetapotenzial, Auftragslabor. Typische Messergebnisse sind: Bubblepoint, Porengrößenverteilung, spezifische Oberfläche, Dichte, Wasserdampf- und Lösemittelaufnahme, Partikelgröße und Form, Oberflächenenergie, Zetapotential.
POROMETER is a Belgian-German membrane and filter characterization equipment manufacturer with more than 30 years of experience in capillary flow porometry.
Our POROLUX™ porometers are widely used to measure:
first bubble point
mean flow pore size
minimum pore size
pore size distribution
in (technical) textiles, nonwovens, membranes, papers, filter media, hollow fibres and ceramics.
POROMETER features the widest available line of through pore size instruments, such as the gas-liquid displacement series – the POROLUX™ line (POROLUX™ 1000 series, POROLUX™ 500, and POROLUX™ 100 series). Our highly specialised group of experts offers solutions for any institute, university, or industrial partner seeking to better understand the pore size and permeability characteristics of advanced materials.
Products / Markets
Market Scope
Automobilindustrie
Energieerzeugung,-versorgung
Filtrations- und Separationsindustrie
Medizintechnik, Health Care Industrie
Pharmazeutische Industrie
Textilindustrie
Wasserbehandlung, versorgung
Zellstoff-, Papierindustrie
Market Scope
Automotive Industry
Energy, Energy Supply
Filtration and Separation Industry
Medical, Health Care Industry
Pharmaceutical Industry
Pulp, Paper Industry
Textile Industry
Water Treatment, Supply
Market Scope
 汽车工业
制药工业
医疗卫生保健业
水处理、供应
纸浆、造纸工业
纺织工业
能源、能源供应
过滤与分离工业
Market Scope
التغذية بالمياه وتصريفها
الصناعات الدوائية
الصناعات الطبية والعناية الصحية
الصناعة النسيجية
الصناعة الورقية
حماية البيئة
صناعات الفلترة وفصل المواد
صناعة السيارات
Product Index
Analyseur de taille des pores
Market Scope
Industrie automobile
Industrie de filtration et de séparation
Industrie de la pâte de cellulose et du papier
Industrie médicale et de la santé
Industrie pharmaceutique
Industrie textile
Protection de l'environnement
Traitement d'eau, alimentation
Product Index
Misuratore dimensioni pori
Market Scope
Energia, approvvigionamento energetico
Settore automobilistico
Settore filtrazione e separazione
Settore industria dell carta e della cellulosa
Settore industria tessile
Settore medicale e sanità
Settore parafarmaceutico
Trattamento approvvigionamento acqua
Market Scope
Filtrowanie i separacja
Ochrona zdrowia
Przemysł celulozowo-papierniczy
Przemysł energetyczny
Przemysł farmaceutyczny
Przemysł samochodowy
Przemysł tekstylny
Uzdatnianie wody i zaopatrzenie w wodę
Product Index
Analisador de tamanho de poros
Market Scope
Indústria automóvel
Indústria de filtragem e separação
Indústria farmacêutica
Indústria médica, cuidados de saúde
Indústria têxtil
Pasta, indústria do papel
Protecção ambiental
Tratamento de água, abastecimento
Product Index
Пор по размерам анализатора
Market Scope
Автомобильная промышленность
Бумажная промышленность
Защита окружающей среды
Медицина, здравоохранение
Отрасль фильтрации и сепарирования
Очистка воды, водоснабжение
Текстильная промышленность
Фармацевтическая промышленность
Product Index
Analizador de tamaño de poro
Market Scope
Industria de la automoción
Industria de la filtración y la separación
Industria de la pasta de madera, el papel
Industria farmacéutica
Industria médica, de la atención sanitaria
Industria textil
Protección del medio ambiente
Tratamiento, suministro de agua
Product Index
Gözenek Boyutu Ölçüm Cihazı
Market Scope
Enerji, Enerji İkmali
Filtrasyon ve Ayırma Endüstrisi
Otomotiv Endüstrisi
Selüloz, Kağıt Endüstrisi
Su Arıtma, Temin
Tekstil Endüstrisi
Tıp, Sağlık Sektörü
İlaç Endüstrisi
Market Scope
섬유 산업
수질 관리, 수자원 공급
에너지, 에너지 공급
여과 및 분리 산업
의료, 보건 산업
자동차 산업
제약 산업
제지, 종이 산업
Market Scope
エネルギー、エネルギー供給
パルプ、製紙業界
医療、ヘルスケア業界
医薬品業界
水処理および関連製品
濾過および分離技術工業
繊維業界
自動車産業
Conference Presentation/s
Determination of the first bubble point by capillary flow porometry
D. Dutczak*, K. Chojnacka-Gorka, I. Struzynska-Piron, POROMETER NV; E. Pattyn, D. Pattyn, APTCO Technologies, Belgium; K. van der Kamp, IB-FT GmbH, Germany
Learn more at FILTECH 2022 Conference
The largest pore size often called the first bubble point (FBP) is one of the most critical properties of a porous material. It determines the barrier properties of the membrane and affects the flux of permeating species across the membrane. The first bubble point test is used to confirm the pore-size rating, which is among others the key selection criterion for membrane filters. This is especially important in water filtration applications and in the pharmaceutical and medical industries as it indicates the extent of particle size that can effectively be retained.
The ASTM F-316-03 defines the first bubble point at the pressure at which the first continuous gas bubbles are detected. The "bubble point" method as described in ASTM F-316 is based on a visual determination, and thus it is influenced by the subjectivity and precision of the operator.
In this work, we present the determination of the largest pore size in different filtration media by using an automated first bubble point tester POROLUX™50 and a capillary flow porometer POROLUX™1000...
Images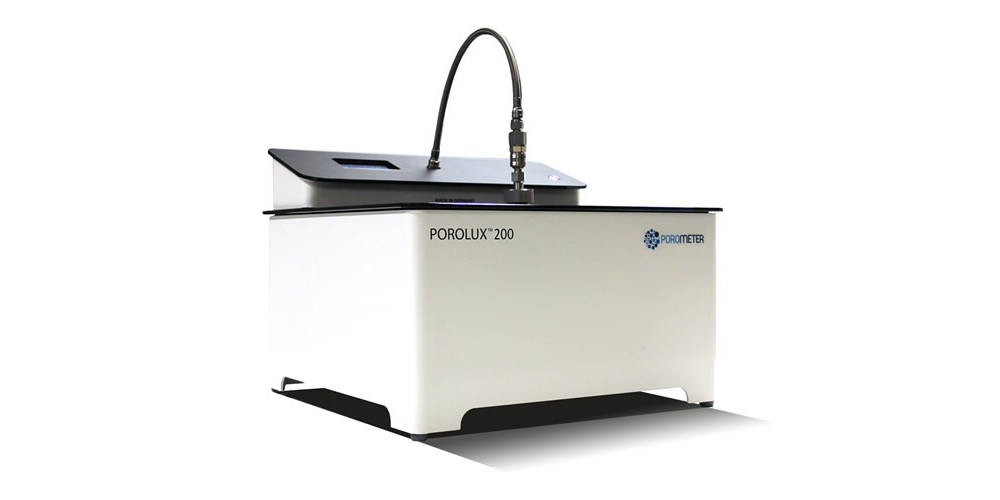 Porolux 200a