Schwarzwälder Textil-Werke Heinrich Kautzmann GmbH Hall 8 / F42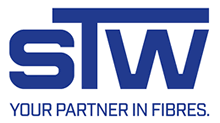 Exhibitor Profile
Das Familienunternehmen Schwarzwälder Textil-Werke Heinrich Kautzmann GmbH (STW) entwickelt und produziert mit mehr als 90 Mitarbeitern hochwertigste Fasern für Ihre Branche und Anwendungen.
Als führender Spezialist für Faserfüllstoffe, Faserkurzschnitte, Fibride & Pulp sowie Sonderlösungen bearbeiten wir alle Fasermaterialien, die Sie benötigen - von Naturfasern und mineralischen Fasern über synthetische Fasern bis hin zu Hightech-Fasern. Dank unserer jahrzehntelangen Erfahrung, kontinuierlichen Forschung, modernsten Laborausstattung und Produktionsanlagen verfügen wir bereits heute über ein breit gefächertes Produktprogramm für Filtrationsanwendungen. Als Ihr Partner für Fasern reagieren wir flexibel mit kundenspezifischen Entwicklungen auf neue Anforderungen und Ihre Produktideen.
The family business Schwarzwälder Textil-Werke Heinrich Kautzmann GmbH (STW) with over 90 employees, develops and produces high-quality fibres for your industry and applications.
As leading specialists in fibre fillers, short cut fibres, fibrids & pulp, as well as customised solutions, we also process all the fibre materials you need; from natural fibres to synthetic fibres through to high-tech fibres. Thanks to decades of experience, continuous research, state-of-the-art laboratory equipment and production facilities, we already have a broad product range for filtration applications.
Products / Markets
Market Scope
Automobilindustrie
Bauindustrie
Farben-, Pigment-, Beschichtungsindustrie
Filtrations- und Separationsindustrie
Kunststoffverarbeitende Industrie
Lebensmittel-,Getränkeindustrie
Luft- und Raumfahrtindustrie
Medizintechnik, Health Care Industrie
Zellstoff-, Papierindustrie
Market Scope
Aerospace Industry
Automotive Industry
Building & Construction Services
Filtration and Separation Industry
Food, Beverage Industry
Medical, Health Care Industry
Paint, Pigments, Coatings Industry
Plastic Industry
Pulp, Paper Industry
Market Scope
 汽车工业
医疗卫生保健业
塑料工业
建筑与施工服务业
油漆、颜料、涂料工业
纸浆、造纸工业
航空航天业
过滤与分离工业
食品、饮料工业
Product Index
الألياف الاصطناعية وسائل الإعلام
Market Scope
الصناعات الطبية والعناية الصحية
الصناعات الغذائية وصناعة المشروبات
الصناعة الورقية
خدمات البناء والإنشاء
صناعات الفلترة وفصل المواد
صناعة البلاستيك
صناعة الدهانات والصبغات والتلبيس
صناعة السيارات
صناعة الفضاء
Market Scope
Industrie automobile
Industrie aérospatiale
Industrie de filtration et de séparation
Industrie de la pâte de cellulose et du papier
Industrie de peintures, pigments et revêtements
Industrie des matières synthétiques
Industrie du bâtiment et de la construction
Industrie médicale et de la santé
Industries alimentaires et des boissons
Market Scope
Servizi settore edile
Settore aerospaziale
Settore alimenti e bevande
Settore automobilistico
Settore filtrazione e separazione
Settore industria dell carta e della cellulosa
Settore medicale e sanità
Settore pitture, pigmenti e rivestimenti
Settore plastica
Market Scope
Filtrowanie i separacja
Ochrona zdrowia
Produkcja farb i lakierów
Przemysł budowlany
Przemysł celulozowo-papierniczy
Przemysł lotniczy
Przemysł samochodowy
Przemysł spożywczy
Przemysł tworzyw sztucznych
Market Scope
Indústria aeroespacial
Indústria alimentar, de bebidas
Indústria automóvel
Indústria de filtragem e separação
Indústria dos plásticos
Indústria médica, cuidados de saúde
Pasta, indústria do papel
Pintura, pigmentos, indústria de revestimentos
Serviços de fabrico & construção
Market Scope
Авиакосмическая промышленность
Автомобильная промышленность
Бумажная промышленность
Лакокрасочная промышленность
Медицина, здравоохранение
Отрасль фильтрации и сепарирования
Производство пластмасс
Производство продуктов питания и напитков
Строительство жилых и общественных зданий
Market Scope
Industria aeroespacial
Industria de la alimentación y las bebidas
Industria de la automoción
Industria de la filtración y la separación
Industria de la pasta de madera, el papel
Industria de las pinturas, pigmentos, revestimientos
Industria de los plásticos
Industria médica, de la atención sanitaria
Servicios de edificación y construcción
Market Scope
Bina ve İnşaat Hizmetleri
Boya, Pigment, Kaplama Endüstrisi
Filtrasyon ve Ayırma Endüstrisi
Gıda, İçecek Endüstrisi
Havacılık Endüstrisi
Otomotiv Endüstrisi
Plastik Endüstrisi
Selüloz, Kağıt Endüstrisi
Tıp, Sağlık Sektörü
Market Scope
건축 및 건설 용역
식음료 산업
여과 및 분리 산업
의료, 보건 산업
자동차 산업
제지, 종이 산업
페인트, 안료, 도장 산업
플라스틱 산업
항공우주 산업
Market Scope
パルプ、製紙業界
プラスチック業界
医療、ヘルスケア業界
塗料、顔料、コーティング産業
建築・建設業
濾過および分離技術工業
自動車産業
航空宇宙産業
食品、飲料業界
Press release
STW introduces DIMAXA® Series
With the DIMAXA® series we are pleased to have created a unique combination of high fibrillation and extreme temperature stability in a fibre pulp.
STW as own developer, attach great importance to the individualisation of our products, which is why the DIMAXA® series can also be defined in fibre length and degree of fibrillation. This not only enables the use in many different application areas, but also leaves room for individual customer adaptations.