Sun Holy Wind Air Cleaning Products Hall 8 / B29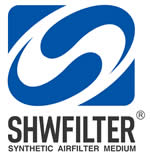 Exhibitor Profile
Since established in 1995, Guangzhou Sun Holy Wind Air Cleaning Products Co. Ltd has been trying to create a complete industrial system, meet the needs of the community and strive to be in industry leading. We have successively produced "SPORT", "JEBA", "3A" series of products; nano-photocatalyst synthetic fiber; coarse, medium and high efficiency viscosity filter media, filter mesh, paint stop(floor filter) for spray booth and painting line; kinds of coarse, medium and high efficiency plank, pocket, frame and mini-pleat filters; high-temperature resistance filter; activated carbon filter; mask cloth; protective non-woven; grinding fibrous materials; flame-retardant and anti-bacterial hot melt spinning cotton and fiber felt etc. They have been widely used in ventilation and HVAC system of automobile manufacturing and maintenance industry, furniture manufacturing, industrial painting equipment, Hi-tech electronics, aerospace, turbine nuclear power, metallurgy, petrochemical industry, cement factories, thermal power, bio-pharmacy, food sanitation and building construction. Completely replacing the imported, our products have been exported to about 60 countries & regions. Having passed various international certifications, we get the praise of domestic and foreign customers!
It is our wish to dedicate high-grade products and earnest service to your promising career.
We have got through the certificates of ISO 9001:2008 and CE.
Products / Markets
Product Index
Aktivkohle Medien
Ansaugfilter
Beutel-/Taschenfilter
Filterbeutel
Filtermedien
Glasfaserfilter
Glasfasermedien
Glasfaserschläuche
Hepa-Filter
Laborfilter
Lackfilter
Luftfilter
Luftfiltermedien
Synthetische Fasermedien
Vliesmaterialien
Wiederverwendbare Filtermedien
Market Scope
Automobilindustrie
Biotechnologie/Biopharmazie
Farben-, Pigment-, Beschichtungsindustrie
Filtrations- und Separationsindustrie
Halbleiterindustrie
Lebensmittel-,Getränkeindustrie
Medizintechnik, Health Care Industrie
Pharmazeutische Industrie
Schwerindustrie
Umweltschutz
Product Index
Activated Carbon Media
Air Filter Media
Air Filters
Bag Filters
Filter Bags
Filter Media
Glass Fibre Filter
Glass Fibre Media
Glass Filter Bags
HEPA Filters
Intake Filters
Laboratory Filters
Nonwovens
Paint Filters
Reusable Filter Media
Synthetic Fibre Media
Market Scope
Automotive Industry
Biotechnology/Biopharmac. Industry
Environmental Protection
Filtration and Separation Industry
Food, Beverage Industry
Heavy Industry
Medical, Health Care Industry
Paint, Pigments, Coatings Industry
Pharmaceutical Industry
Semiconductor Industry
Product Index
入口过滤器
可再用过滤器介质
合成纤维媒体
实验室过滤器
无纺布
活性碳介质
漆雾过滤器
玻璃纤维介质
玻璃纤维过滤器
玻璃过滤袋
空气过滤器
空气过滤器介质
袋式过滤器
过滤介质
过滤袋
高效粒子空气过滤器
Market Scope
 汽车工业
制药工业
医疗卫生保健业
半导体工业
油漆、颜料、涂料工业
环境保护
生物技术/生物制药业
过滤与分离工业
重工业
食品、饮料工业
Product Index
"فلاتر هواء عالية الفاعلية ""هـيبا"" HEPA"
أكياس زجاج تصفية
أكياس فلاتر
أكياس فلترة
الألياف الاصطناعية وسائل الإعلام عية وسائل الإعلام
غير المنسوجات / اللانسيج
فلاتر الإستخدام المتكرر
فلاتر السحب الداخلي
فلاتر الهواء
فلاتر دهانات
فلاتر مخبرية
فلتر صوف زجاجي
مواد الصوف الزجاجي
مواد الكربون المنشط
مواد فلاتر الهواء
مواد فلترة
Market Scope
الصناعات الثقيلة
الصناعات الدوائية
الصناعات الطبية والعناية الصحية
الصناعات الغذائية وصناعة المشروبات
صناعات الفلترة وفصل المواد
صناعة أنصاف النواقل
صناعة الألبان
صناعة التقنية البيولوجية والبيوصيدلية
صناعة الدهانات والصبغات والتلبيس
صناعة السيارات
Product Index
Filtres HEPA
Filtres de laboratoires
Filtres d'admission
Filtres en fibres de verre
Filtres à air
Filtres à pentures
Filtres à sacs
Fluide à charbon actif
Fluides pour filtres à air
Médias de filtration réutilisables
Médias de filtre
Médias en fibres de verre
Non tissés
Sacs de filtre en verre
Sacs de filtres
Synthetic Fiber Médias
Market Scope
Industrie automobile
Industrie biotechnologie/biopharmaceutique
Industrie de filtration et de séparation
Industrie de peintures, pigments et revêtements
Industrie des semi-conducteurs
Industrie laitière
Industrie lourde
Industrie médicale et de la santé
Industrie pharmaceutique
Industries alimentaires et des boissons
Product Index
Filtri a tasche
Filtri aria
Filtri di aspirazione
Filtri di laboratorio
Filtri hepa
Filtri per pittura
Filtro fibra di vetro
Mezzi filtranti
Mezzi filtranti aria
Mezzi filtranti carbone attivo
Mezzi filtranti riutilizzabili
Mezzi in fibra di vetro
Mezzi per fibre sintetiche
Non tessuti
Tasche filtri
Tasche in fibra di vetro
Market Scope
Biotecnologie/biofarmaceutica
Protezione ambientale
Settore alimenti e bevande
Settore automobilistico
Settore filtrazione e separazione
Settore industria dei semiconduttori
Settore industria pesante
Settore medicale e sanità
Settore parafarmaceutico
Settore pitture, pigmenti e rivestimenti
Product Index
Filtr ssący
Filtry HEPA
Filtry laboratoryjne
Filtry powietrza
Filtry powlekane
Filtry workowe
Filtry workowe z włókna szklanego
Filtry z włókna szklanego
Materiały nietkane
Media filtrów
Media filtrów powietrza
Media filtrów wielorazowego użytku
Media węgla aktywowanego
Media włókna syntetycznego
Media włókna szklanego
Worki filtracyjne
Market Scope
Biotechnologia/biofarmaceutyka
Filtrowanie i separacja
Ochrona zdrowia
Ochrona środowiska
Produkcja farb i lakierów
Produkcja półprzewodników
Przemysł ciężki
Przemysł farmaceutyczny
Przemysł samochodowy
Przemysł spożywczy
Product Index
Filtro de fibra de vidro
Filtros absolutos (HEPA)
Filtros de ar
Filtros de aspiração
Filtros de saco
Filtros de saco de vidro
Filtros de tinta
Filtros para laboratório
Meios de carvão activado
Meios de fibra de vidro
Meios de filtragem
Meios de filtragem reutilizáveis
Meios de filtro do ar
Não-tecidos
Sacos filtrantes
Synthetic Fiber Mídia
Market Scope
Ind. de biotecnologia/biofarmac.
Indústria alimentar, de bebidas
Indústria automóvel
Indústria de filtragem e separação
Indústria de semicondutores
Indústria farmacêutica
Indústria leiteira
Indústria médica, cuidados de saúde
Indústria pesada
Pintura, pigmentos, indústria de revestimentos
Product Index
Воздушные фильтры
Входные фильтры
Лабораторные фильтры
Материал активированного угля
Нетканые материалы
Рабочий элемент стекловолоконного фильтра
Рукавные фильтры
Синтетические волокна Медиа
Стекловолоконный фильтр
Сумки стеклянный фильтр
Фильтровальные мешки
Фильтрующий материал
Фильтрующий материал
Фильтрующий материал многократного использования
Фильтры красок
Фильтры тонкой очистки
Market Scope
Автомобильная промышленность
Биотехнология / Биофармацевтическая промышленность
Лакокрасочная промышленность
Медицина, здравоохранение
Молочная промышленность
Отрасль фильтрации и сепарирования
Полупроводниковая промышленность
Производство продуктов питания и напитков
Тяжёлая промышленность
Фармацевтическая промышленность
Product Index
Bolsas de filtro
Fibra Sintética de Medios
Filtro de fibra de vidrio
Filtro de vidrio Bolsas
Filtros HEPA
Filtros de admisión
Filtros de aire
Filtros de bolsa
Filtros de laboratorio
Filtros de pintura
Medios de carbón activado
Medios de fibra de vidrio
Medios de filtro
Medios de filtros de aire
Medios filtrantes reutilizables
Non-Wowens
Market Scope
Industria de la alimentación y las bebidas
Industria de la automoción
Industria de la biotecnología/biofarmacéutica
Industria de la filtración y la separación
Industria de las pinturas, pigmentos, revestimientos
Industria de los productos lácteos
Industria de los semiconductores
Industria farmacéutica
Industria médica, de la atención sanitaria
Industria pesada
Product Index
Aktif Karbon Ortamı
Boya Filtreleri
Cam Elyaf Filtre
Cam Elyaf Ortam
Cam Elyaf Torbalar
Dokunmamış Mamuller
Filtre Ortamı
Filtre Torbaları
Giriş Filtreleri
HEPA Filtreler
Hava Filtreleri
Hava Filtresi Ortamı
Laboratuvar Filtreleri
Sentetik Elyaf Medya
Tekrar Kullanılabilir Filtre Ortamı
Torba Filtreler
Market Scope
Ağır Sanayi
Biyoteknoloji/Biyoeczacılık Endüstrisi
Boya, Pigment, Kaplama Endüstrisi
Filtrasyon ve Ayırma Endüstrisi
Gıda, İçecek Endüstrisi
Otomotiv Endüstrisi
Tıp, Sağlık Sektörü
Yarıiletken Endüstrisi
Çevre Koruma
İlaç Endüstrisi
Product Index
HEPA 필터
공기 여과재
공기 필터
백 필터
부직포
실험실 필터
여과재
유리 섬유 매체
유리 섬유 필터
유리 필터 백
재사용 가능한 여과재
페인트 필터
필터 백
합성섬유 매체
활성탄 매체
흡입구 필터
Market Scope
반도체 산업
생명공학/생물 약제학 산업
식음료 산업
여과 및 분리 산업
의료, 보건 산업
자동차 산업
제약 산업
중공업
페인트, 안료, 도장 산업
환경 보호
Product Index
HEPAフィルター
エアフィルター
エアフィルターメディア
ガラス繊維フィルター
ガラス繊維フィルターバッグ
ガラス繊維メディア
バッグフィルター
フィルターバッグ
フィルターメディア
ペイントフィルター
ラボ用フィルター
不織布
再利用可能なフィルター媒体
合成繊維媒体
吸気フィルター
活性炭メディア
Market Scope
バイオテクノロジー・バイオ医薬品産業
医療、ヘルスケア業界
医薬品業界
半導体業界
塗料、顔料、コーティング産業
濾過および分離技術工業
環境保護
自動車産業
重工業
食品、飲料業界