TEDA Filters Co., Ltd. Hall 7 / R37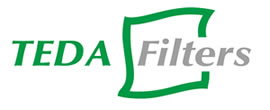 Exhibitor Profile
Tianjin TEDA Filters Co. Ltd is a leading manufacturer of the Meltblown Nonwoven in China.
With over 20 years of experience, we can provide a broad range of filtration media, such as HVAC pocket filter media and pleatable filter media from Coarse to HEPA , liquid filter media made from PP or PBT,thermal and acoustic insulation . All of these material can be used as the key function layers for a complete filtration application : including air filters, air cleaners , Hepa filters and liquid filter cartridges, and fuel filter and oil separators. Now new generation MB Filter media Coded TDLR series are developed, with higher efficiency and lower resistance , it is most suitable for face mask and respirator and air cleaners with higher performance.
Besides, we have bi-component(side by side) meltblown capacity, it is unique technique. Bico PP/PE meltblown has a soft hand and a certain elasticity with better air permeability than traditional PP Meltblown.
Our platform are open for any potential application and customized filter media. Looking forward to your inquiry and orders.
Products / Markets
Product Index
Beutel-/Taschenfilter
Dieselrußfilter
Einwegfilter
Filterbeutel
Filtergewebe
Filtermedien
Filtermedien f. Flüssigkeiten
Filtermedien f. Gase
Filtertücher
Flüssig-Filtermedien
Kabinenfilter
Kraftstoff-Filtermedien
Luftfiltermedien
Poröse Filtermittel
Schutzmasken
Synthetische Fasermedien
Vliesmaterialien, Meltblown
Ölfiltermedien
Market Scope
Automobilindustrie
Elektronik-, Mikroelektronikindustrie
Filtrations- und Separationsindustrie
Halbleiterindustrie
Lebensmittel-,Getränkeindustrie
Medizintechnik, Health Care Industrie
Petrochemische Industrie
Textilindustrie
Umweltschutz
Wasserbehandlung, versorgung
Product Index
Air Filter Media
Bag Filters
Cabin Air Filters
Disposable Filters
Filter Bags
Filter Cloth
Filter Fabrics
Filter Media
Filter Media for Gases
Filter Media for Liquids
Fuel Filter Media
Liquid Filter Media
Nonwovens, Meltblown
Oil Filter Media
Particle Filters for Diesel Engines
Porous Filter Media
Protective Masks
Synthetic Fibre Media
Market Scope
Automotive Industry
Electronic, Microelectronic Industry
Environmental Protection
Filtration and Separation Industry
Food, Beverage Industry
Medical, Health Care Industry
Petrochemical Industry
Semiconductor Industry
Textile Industry
Water Treatment, Supply
Product Index
一次性过滤器
合成纤维媒体
多孔过滤器介质
柴油机颗粒过滤器
气体过滤器介质
汽车空调过滤器
液体过滤器介质
液体过滤滤材
滤布
滤布
滤油器介质
熔喷无纺布
燃油过滤器介质
空气过滤器介质
袋式过滤器
过滤介质
过滤袋
防护口罩 Fánghù kǒuzhào
Market Scope
 汽车工业
医疗卫生保健业
半导体工业
水处理、供应
环境保护
电子、微电子工业
石化工业
纺织工业
过滤与分离工业
食品、饮料工业
Product Index
أقمشة فلاتر
أقنعة واقية 'aqnieat waqia
أكياس فلاتر
أكياس فلترة
الألياف الاصطناعية وسائل الإعلام عية وسائل الإعلام
اللانسيج، تذويب وتنفيش
فلاتر احادية الإستعمال
فلاتر الجسيمات للديزلمحركات
فلاتر المحروقات
فلاتر المقصورات والحُجرات
فلاتر نسيجية
مواد تثقيب الفلاتر
مواد فلاتر الزيوت
مواد فلاتر الهواء
مواد فلترة
مواد فلترة السوائل
مواد فلترة الغازات
مواد فلترة الغازات
Market Scope
التغذية بالمياه وتصريفها
الصناعات الطبية والعناية الصحية
الصناعات الغذائية وصناعة المشروبات
الصناعة البتروكيماوية
الصناعة النسيجية
الطاقة والإمداد بالطاقة
صناعات الفلترة وفصل المواد
صناعة أنصاف النواقل
صناعة الألبان
صناعة السيارات
Product Index
Filtres jetables
Filtres à air de cabines
Filtres à particules pour moteurs diesel
Filtres à sacs
Fluides pour filtres à air
Masques de protection
Médias de filtre
Médias de filtre pour gaz
Médias de filtre pour liquides
Médias de filtre pour liquides
Médias de filtres poreux
Médias de filtres à carburant
Médias pour filtres à huile
Non tissés, toiles soufflées à chaud
Sacs de filtres
Synthetic Fiber Médias
Tissus de filtre
Tissus de filtres
Market Scope
Energies et fourniture d'énergies
Industrie automobile
Industrie de filtration et de séparation
Industrie des semi-conducteurs
Industrie laitière
Industrie médicale et de la santé
Industrie pétrochimique
Industrie textile
Industries alimentaires et des boissons
Traitement d'eau, alimentation
Product Index
Filtri a tasche
Filtri aria abitacolo
Filtri monouso
Filtri particelle per motori diesel
Maschere protettive
Mezzi filtraggio liquidi
Mezzi filtranti
Mezzi filtranti aria
Mezzi filtranti carburante
Mezzi filtranti per gas
Mezzi filtranti per liquidi
Mezzi filtranti porosi
Mezzi filtro olio
Mezzi per fibre sintetiche
Non tessuti, meltblown
Panno filtrante
Tasche filtri
Tessuti filtro
Market Scope
Protezione ambientale
Settore alimenti e bevande
Settore automobilistico
Settore elettronico, microelettronico
Settore filtrazione e separazione
Settore industria dei semiconduttori
Settore industria tessile
Settore medicale e sanità
Settore petrolchimico
Trattamento approvvigionamento acqua
Product Index
Filtry cząsteczek do silników Diesla
Filtry jednorazowe
Filtry workowe
Kabinowe filtry powietrza
Maski ochronne
Materiały nietkane, zgrzewalne
Media filtrów
Media filtrów cieczy
Media filtrów cieczy
Media filtrów gazu
Media filtrów oleju
Media filtrów paliwa
Media filtrów porowatych
Media filtrów powietrza
Media włókna syntetycznego
Tkanina filtracyjna
Tkaniny filtracyjne
Worki filtracyjne
Market Scope
Filtrowanie i separacja
Ochrona zdrowia
Ochrona środowiska
Produkcja półprzewodników
Przemysł elektroniczny i mikroelektroniczny
Przemysł petrochemiczny
Przemysł samochodowy
Przemysł spożywczy
Przemysł tekstylny
Uzdatnianie wody i zaopatrzenie w wodę
Product Index
Filtros de ar para cabines
Filtros de partículas para motores diesel
Filtros de saco
Filtros descartáveis
Meios de filtragem
Meios de filtragem de combustível
Meios de filtragem de óleo
Meios de filtragem para gases
Meios de filtragem para líquidos
Meios de filtragem para líquidos
Meios de filtragem porosa
Meios de filtro do ar
Máscaras de proteção
Não-tecidos, fusão
Sacos filtrantes
Synthetic Fiber Mídia
Tecidos filtrantes
Tela filtrante
Market Scope
Energia, abastecimento de energia
Indústria alimentar, de bebidas
Indústria automóvel
Indústria de filtragem e separação
Indústria de semicondutores
Indústria leiteira
Indústria médica, cuidados de saúde
Indústria petroquímica
Indústria têxtil
Tratamento de água, abastecimento
Product Index
Защитные маски Zashchitnyye maski
Нетканые материалы, плавление
Одноразовые фильтры
Пористый фильтрующий материал
Рукавные фильтры
Синтетические волокна Медиа
Фильтр грубой очистки для дизельных двигателей
Фильтровальные мешки
Фильтровальные ткани
Фильтрующая ткань
Фильтрующий материал
Фильтрующий материал
Фильтрующий материал для газов
Фильтрующий материал для жидкостей
Фильтрующий материал для жидкостей
Фильтрующий элемент масляного фильтра
Фильтрующий элемент топливного фильтра
Фильтры воздуха в кабине
Market Scope
Автомобильная промышленность
Медицина, здравоохранение
Молочная промышленность
Нефтехимическая промышленность
Отрасль фильтрации и сепарирования
Очистка воды, водоснабжение
Полупроводниковая промышленность
Производство продуктов питания и напитков
Текстильная промышленность
Энергетика, электроснабжение
Product Index
Bolsas de filtro
Fibra Sintética de Medios
Filtros de aire de cabina
Filtros de bolsa
Filtros de partículas para motores diesel
Filtros desechables
Mascarillas protectoras
Medios de filtro
Medios de filtros de aceite
Medios de filtros de aire
Medios de filtros de combustible
Medios de filtros para gases
Medios de filtros para líquidos
Medios de filtros para líquidos
Medios de filtros porosos
Non-Wowens, Meltblown
Tejidos de filtro
Tela de filtro
Market Scope
Energía, suministro de energía
Industria de la alimentación y las bebidas
Industria de la automoción
Industria de la filtración y la separación
Industria de los productos lácteos
Industria de los semiconductores
Industria médica, de la atención sanitaria
Industria petroquímica
Industria textil
Tratamiento, suministro de agua
Product Index
Dizel Motorlar için Partikül Filtreleri
Dokunmamış Mamuller, Meltblown
Filtre Bezleri
Filtre Kumaşı
Filtre Ortamı
Filtre Torbaları
Gazlar için Filtre Ortamı
Gözenekli Filtre Ortamı
Hava Filtresi Ortamı
Kabin Hava Filtreleri
Koruyucu maskeler
Sentetik Elyaf Medya
Sıvılar için Filtre Ortamı
Sıvılar için Filtre Ortamı
Tek Kullanımlık Filtreler
Torba Filtreler
Yakıt Filtresi Ortamı
Yağ Filtresi Ortamı
Market Scope
Elektronik, Mikroelektronik Endüstrisi
Filtrasyon ve Ayırma Endüstrisi
Gıda, İçecek Endüstrisi
Otomotiv Endüstrisi
Petrokimya Endüstrisi
Su Arıtma, Temin
Tekstil Endüstrisi
Tıp, Sağlık Sektörü
Yarıiletken Endüstrisi
Çevre Koruma
Product Index
가스용 여과재
공기 여과재
다공질 여과재
디젤 엔진용 미립자 필터
멜트블로운 부직포
백 필터
보호 마스크 boho maseukeu
액체 여과재
액체용 여과재
여과재
여과천
연료 여과재
오일 여과재
일회용 필터
캐빈 에어 필터
필터 백
필터 패브릭
합성섬유 매체
Market Scope
반도체 산업
석유화학 산업
섬유 산업
수질 관리, 수자원 공급
식음료 산업
여과 및 분리 산업
의료, 보건 산업
자동차 산업
전자, 마이크로 전자 산업
환경 보호
Product Index
エアフィルターメディア
オイルフィルターメディア
ガス用濾過材
キャビン用エアフィルター
ディーゼルエンジン用粒子フィルター
バッグフィルター
フィルターバッグ
フィルターメディア
フィルター布
不織布, Meltblown
使い捨てフィルター
保護マスク Hogo masuku
合成繊維媒体
多孔質フィルターメディア
液体フィルター媒体
液体用濾過材
濾過布
燃料フィルター媒体
Market Scope
医療、ヘルスケア業界
半導体業界
水処理および関連製品
濾過および分離技術工業
環境保護
石油化学工業
繊維業界
自動車産業
電子、マイクロエレクトロニクス産業
食品、飲料業界