TSK - Tsukishima Kikai Co., Ltd Hall 8 / B52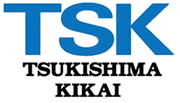 Exhibitor Profile
Tsukishima Kikai Co., Ltd. hat eine über 100 jährige Erfahrung in der Entwicklung, Herstellung und Lieferung von Komponenten und kompletten Anlagen für Kunden in der ganzen Welt.
TSK wurde 1905 als Hersteller von Maschinen und Anlagenkomponenten für die Zuckerindustrie gegründet und liefert heute komplette Anlagen für Kunden in der Lebensmittel-, Düngemittel-, Chemie- und Petrochemieindustrie. Vor kurzem ist es TSK gelungen, die Technologie für die Materialien von Sekundärbatterien bereitzustellen.
"Es ist unser Anliegen, mit unserem Know-how und unseren Technologien zum Schutz der Umwelt und zu einer nachhaltigen Entwicklung von Industrie und Gesellschaft beizutragen". TSK verpflichtet sich uneingeschränkt, zur Realisierung dieser Ziele einen wichtigen Beitrag zu leisten.
Tsukishima Kikai Co., Ltd. has over more than a century developed the specialized technology in areas of equipment design, manufacturing, and the integrated plants worldwide.
In 1905, TSK was founded as a manufacturer of machinery and equipment to the sugar refinery and expanded its business field into food plants, fertilizer plants, chemical and petrochemical plants. Recently, TSK was able to provide the technology for the materials of secondary battery.
"To protect our precious planet and contribute the development of industry for society", TSK has been fully committed to achieve these two major objectives.
Products / Markets
Product Index
Aktivkohle
Anschwemmfilter
Druckfiltration/Entwässerung
Entwässerungsanlagen
Filteranlagen
Pilotanlagen
Poröse Kunststoffe
Poröse Metalle
Trockner
Vakuumfilter
Market Scope
Bergbauindustrie
Chemische Industrie
Farben-, Pigment-, Beschichtungsindustrie
Filtrations- und Separationsindustrie
Keramik-, Glasindustrie
Kunststoffverarbeitende Industrie
Metallverarbeitende Industrie
Petrochemische Industrie
Pharmazeutische Industrie
Umweltschutz
Product Index
Activated Carbon
Dewatering Equipment
Dryers
Filtration Plants
Pilot Plants
Porous Metals
Porous Plastics
Precoat Filters
Pressure Filtration/Dewatering
Vacuum Filters
Market Scope
Ceramic, Glass Industry
Chemical Industries
Environmental Protection
Filtration and Separation Industry
Metal Processing Industry
Mining Industry
Paint, Pigments, Coatings Industry
Petrochemical Industry
Pharmaceutical Industry
Plastic Industry
Product Index
压滤/脱水
多孔塑料
多孔金属
干燥器
活性碳
真空过滤器
试验工厂
过滤设备
除水设备
预涂过滤器
Market Scope
制药工业
化学工业
塑料工业
油漆、颜料、涂料工业
环境保护
石化工业
过滤与分离工业
采矿业
金属加工业
陶瓷、玻璃工业
Product Index
الطيار النباتات
تثقيب البلاستيك
تثقيب المعادن
فلاتر أولية
فلاتر شفط
فلترة بالضغط / نزح المياه
كربون منشط
مجففات
معدات ترشيح
وحدات فلترة
Market Scope
الصناعات الدوائية
الصناعة البتروكيماوية
الصناعة الكيماوية
صناعات الفلترة وفصل المواد
صناعة الألبان
صناعة البلاستيك
صناعة التعدين
صناعة الدهانات والصبغات والتلبيس
صناعة الزجاج والفخار / السيراميك
صناعة معالجة المعادن
Product Index
Charbon actif
Equipements d'égouttage
Filtration sous pression/égouttage
Filtres d'apprêts
Filtres à vide
Installation de filtration
Installations pilotes
Matières synthétiques poreuses
Métaux poreux
Sécheurs
Market Scope
Industrie chimique
Industrie de filtration et de séparation
Industrie de la céramique et du verre
Industrie de peintures, pigments et revêtements
Industrie des matières synthétiques
Industrie laitière
Industrie minière
Industrie métallurgique
Industrie pharmaceutique
Industrie pétrochimique
Product Index
Carbone attivo
Dispositivi di disidratazione
Essiccatori
Filtrazione/disidratazione a pressione
Filtri a prerivestimento
Filtri a vuoto
Impianti di filtraggio
Impianti pilota
Metalli porosi
Plastiche porose
Market Scope
Protezione ambientale
Settore ceramica e vetro
Settore chimico
Settore filtrazione e separazione
Settore lavorazione metallo
Settore minerario
Settore parafarmaceutico
Settore petrolchimico
Settore pitture, pigmenti e rivestimenti
Settore plastica
Product Index
Filtracja ciśnieniowa/ odwadnianie
Filtry próżniowe
Filtry z pomocniczą warstwą filtracyjną
Instalacje pilotażowe
Metale porowate
Plastik porowaty
Suszarki
Urządzenia do odwadniania
Urządzenia filtracyjne
Węgiel aktywowany
Market Scope
Filtrowanie i separacja
Obróbka metali
Ochrona środowiska
Produkcja farb i lakierów
Produkcja szkła i ceramiki
Przemysł chemiczny
Przemysł farmaceutyczny
Przemysł petrochemiczny
Przemysł tworzyw sztucznych
Przemysł wydobywczy
Product Index
Carvão activado
Drenagem/filtração sob pressão
Equipamento de drenagem
Filtros de pré-revestimento
Filtros de vácuo
Instalações de filtração
Metais porosos
Plantas Piloto
Plásticos porosos
Secadores
Market Scope
Cerâmica, indústria vidreira
Indústria de filtragem e separação
Indústria de processamento de metal
Indústria dos plásticos
Indústria farmacêutica
Indústria leiteira
Indústria mineira
Indústria petroquímica
Indústrias químicas
Pintura, pigmentos, indústria de revestimentos
Product Index
Активированный уголь
Вакуумные фильтры
Дренажное оборудование
Намывные фильтры
Пилотные установки
Пористые металлы
Пористые пластики
Сушилки
Фильтрационные установки
Фильтрация давлением / обезвоживание
Market Scope
Горнодобывающая промышленность
Керамическая, стекольная промышленность
Лакокрасочная промышленность
Металлообрабатывающая промышленность
Молочная промышленность
Нефтехимическая промышленность
Отрасль фильтрации и сепарирования
Производство пластмасс
Фармацевтическая промышленность
Химическая промышленность
Product Index
Carbón activado
Equipo de extracción de agua
Filtración/extracción de agua a presión
Filtros de revestimiento previo
Filtros de vacío
Metales porosos
Plantas Piloto
Plantas de filtración
Plásticos porosos
Secadores
Market Scope
Industria de la cerámica y el cristal
Industria de la filtración y la separación
Industria de la minería
Industria de las pinturas, pigmentos, revestimientos
Industria de los plásticos
Industria de los productos lácteos
Industria de procesamiento de metales
Industria farmacéutica
Industria petroquímica
Industrias químicas
Product Index
Aktif Karbon
Arıtma İstasyonları
Basınçlı Filtrasyon/Susuzlaştırma
Gözenekli Metaller
Gözenekli Plastikler
Kurutucular
Pilot Tesisler
Susuzlaştırma Ekipmanları
Vakum Filtreler
Ön Astarlı Filtreler
Market Scope
Boya, Pigment, Kaplama Endüstrisi
Filtrasyon ve Ayırma Endüstrisi
Kimya Endüstrisi
Madencilik Endüstrisi
Metal İşleme Endüstrisi
Petrokimya Endüstrisi
Plastik Endüstrisi
Seramik, Cam Endüstrisi
Çevre Koruma
İlaç Endüstrisi
Product Index
건조기
다공질 금속
다공질 플라스틱
압력 여과/탈수
정수 처리장
진공 필터
탈수기
파일럿 플랜트
프리코트 필터
활성탄
Market Scope
광업
금속 가공 산업
석유화학 산업
세라믹, 유리 산업
여과 및 분리 산업
제약 산업
페인트, 안료, 도장 산업
플라스틱 산업
화학 산업
환경 보호
Product Index
パイロットプラント
プレコートフィルター
乾燥機
圧力濾過・脱水
多孔質プラスチック
多孔質メタル
活性炭
濾過設備
真空フィルター
脱水装置
Market Scope
セラミック、ガラス産業
プラスチック業界
化学工業
医薬品業界
塗料、顔料、コーティング産業
濾過および分離技術工業
環境保護
石油化学工業
金属加工業界
鉱業