ULPADUST ENDÜSTRİYEL TOZ TOP. SİS. SAN. VE TİC. A.Ş. Hall 8 / A8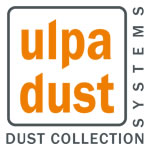 Exhibitor Profile
Ulpadust produces industrial filtration solutions for dusts, fumes, and oil mists to protect workers and environment while supplying safer and productive workspace.
Our main factory located in Istanbul. Ulpadust with its group companies has more than 45 years' experience in industrial ventilation sector. Ulpadust is not only focused on equipment sales and at the same time gives installation and commissioning works together with itself and representatives.
Istanbul manufacturing facility has ISO 9001 Quality Management System together with Directive 2014/34/ EU and has certification from Europe's best independent certification bodies.
Products / Markets
Product Index
Abscheidereinheit, Staub
Entstaubungsanlagen
Gasadsorption
Gasfilter
Gasreinigung
Patronenfilter
Staub-/Tropfenfilter
Staubabscheider
Test Stäube
Market Scope
Automobilindustrie
Bauindustrie
Bergbauindustrie
Biotechnologie/Biopharmazie
Chemische Industrie
Kunststoffverarbeitende Industrie
Lebensmittel-,Getränkeindustrie
Luft- und Raumfahrtindustrie
Pharmazeutische Industrie
Zellstoff-, Papierindustrie
Product Index
Cartridge Filters
Dedusters
Dust Collectors
Dust/Mist Filters
Gas Adsorption
Gas Cleaning
Gas Filters
Test Dust
Unit Collectors, Dust
Market Scope
Aerospace Industry
Automotive Industry
Biotechnology/Biopharmac. Industry
Building & Construction Services
Chemical Industries
Food, Beverage Industry
Mining Industry
Pharmaceutical Industry
Plastic Industry
Pulp, Paper Industry
Product Index
Test Dust
尘/雾过滤器
气体净化
气体吸附
气体过滤器
滤筒
除尘器
集尘器
集尘器
Market Scope
 汽车工业
制药工业
化学工业
塑料工业
建筑与施工服务业
生物技术/生物制药业
纸浆、造纸工业
航空航天业
采矿业
食品、饮料工业
Product Index
Test Dust
امتصاص كيميائي للغازات
تنظيف الغاز
فلاتر الغبار / الضباب
فلاتر الكارترج / الخراطيش
فلاتر غازات
مجمعات الغبار
مجمعات غبار
مصافي الغبار
Market Scope
الصناعات الدوائية
الصناعات الغذائية وصناعة المشروبات
الصناعة الكيماوية
الصناعة الورقية
خدمات البناء والإنشاء
صناعة البلاستيك
صناعة التعدين
صناعة التقنية البيولوجية والبيوصيدلية
صناعة السيارات
صناعة الفضاء
Product Index
Adsorption de gaz
Cartouches de filtres
Collecteurs de poussières
Collecteurs d'unités, poussières
Dispositifs antipoussières
Filtres à gaz
Filtres à poussières/buées
Nettoyage des gaz
Test Dust
Market Scope
Industrie automobile
Industrie aérospatiale
Industrie biotechnologie/biopharmaceutique
Industrie chimique
Industrie de la pâte de cellulose et du papier
Industrie des matières synthétiques
Industrie du bâtiment et de la construction
Industrie minière
Industrie pharmaceutique
Industries alimentaires et des boissons
Product Index
Abbattitori
Assorbimento gas
Collettori di polvere
Filtri cartuccia
Filtri gas
Filtri polvere/nebbie
Pulizia gas
Test Dust
Unità collettrice, polvere
Market Scope
Biotecnologie/biofarmaceutica
Servizi settore edile
Settore aerospaziale
Settore alimenti e bevande
Settore automobilistico
Settore chimico
Settore industria dell carta e della cellulosa
Settore minerario
Settore parafarmaceutico
Settore plastica
Product Index
Adsorbcja gazu
Filtry gazu
Filtry przeciwpyłowe/przeciwmgielne
Modułowe kolektory pyłu
Oczyszczanie gazu
Odpylacze
Odpylacze
Test Dust
Wkłady filtracyjne
Market Scope
Biotechnologia/biofarmaceutyka
Przemysł budowlany
Przemysł celulozowo-papierniczy
Przemysł chemiczny
Przemysł farmaceutyczny
Przemysł lotniczy
Przemysł samochodowy
Przemysł spożywczy
Przemysł tworzyw sztucznych
Przemysł wydobywczy
Product Index
Adsorção de gases
Colectores de poeiras (aspiradores)
Despoeiradores
Filtros de cartuchos
Filtros de gases
Filtros de poeiras/vapores
Purificação de gases
Test Dust
Unidade de colectores, poeiras
Market Scope
Ind. de biotecnologia/biofarmac.
Indústria aeroespacial
Indústria alimentar, de bebidas
Indústria automóvel
Indústria dos plásticos
Indústria farmacêutica
Indústria mineira
Indústrias químicas
Pasta, indústria do papel
Serviços de fabrico & construção
Product Index
Test Dust
Адсорбция газа
Газовые фильтры
Газоочиститель
Пылевые / масляные фильтры
Пылеотделители
Пылесборники
Собирающие модули, пыль
Фильтры со сменным фильтрующим элементом
Market Scope
Авиакосмическая промышленность
Автомобильная промышленность
Биотехнология / Биофармацевтическая промышленность
Бумажная промышленность
Горнодобывающая промышленность
Производство пластмасс
Производство продуктов питания и напитков
Строительство жилых и общественных зданий
Фармацевтическая промышленность
Химическая промышленность
Product Index
Absorción de gas
Aspiradores de polvo
Colectores de polvo
Colectores de unidades, polvo
Filtros de cartucho
Filtros de gas
Filtros de polvo/neblina
Limpieza de gas
Test Dust
Market Scope
Industria aeroespacial
Industria de la alimentación y las bebidas
Industria de la automoción
Industria de la biotecnología/biofarmacéutica
Industria de la minería
Industria de la pasta de madera, el papel
Industria de los plásticos
Industria farmacéutica
Industrias químicas
Servicios de edificación y construcción
Product Index
Gaz Adsorpsiyonu
Gaz Filtreleri
Gaz Temizleme
Kartuşlu Filtreler
Test Dust
Toz Gidericiler
Toz Toplayıcılar
Toz/Buğu Filtreleri
Ünite Kollektörleri, Toz
Market Scope
Bina ve İnşaat Hizmetleri
Biyoteknoloji/Biyoeczacılık Endüstrisi
Gıda, İçecek Endüstrisi
Havacılık Endüstrisi
Kimya Endüstrisi
Madencilik Endüstrisi
Otomotiv Endüstrisi
Plastik Endüstrisi
Selüloz, Kağıt Endüstrisi
İlaç Endüstrisi
Product Index
가스 정화
가스 필터
가스 흡수
단위 수집기, 먼지
먼지/안개 필터
분진제거기
시험용 분진
집진기
카트리지 필터
Market Scope
건축 및 건설 용역
광업
생명공학/생물 약제학 산업
식음료 산업
자동차 산업
제약 산업
제지, 종이 산업
플라스틱 산업
항공우주 산업
화학 산업
Product Index
カートリッジ・フィルター
ガスフィルター
ガス吸着
ガス洗浄
ダスト・ミストフィルター
ユニットコレクター
試験塵
除塵機
集塵機
Market Scope
バイオテクノロジー・バイオ医薬品産業
パルプ、製紙業界
プラスチック業界
化学工業
医薬品業界
建築・建設業
自動車産業
航空宇宙産業
鉱業
食品、飲料業界