AAF International Hall 7 / K3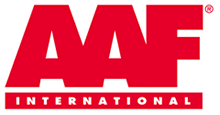 Exhibitor Profile
AAF International offers comprehensive air filtration solutions designed to remove and control airborne particulates and gaseous contaminants in residential, commercial, industrial, cleanroom, transportation, and nuclear power applications.
Products / Markets
Product Index
Beutel-/Taschenfilter
Filterbeutel
Filterelemente
Geruchsbeseitigung
Hepa-Filter
Kabinenfilter
Kohlefilter
Luftfilter
Partikelanalysemethoden
Patronenfilter
Staub-/Tropfenfilter
Market Scope
Automobilindustrie
Bauindustrie
Bergbauindustrie
Chemische Industrie
Elektronik-, Mikroelektronikindustrie
Filtrations- und Separationsindustrie
Lebensmittel-,Getränkeindustrie
Metallverarbeitende Industrie
Pharmazeutische Industrie
Umweltschutz
Product Index
Air Filters
Bag Filters
Cabin Air Filters
Carbon Filters
Cartridge Filters
Dust/Mist Filters
Filter Bags
Filter Elements
HEPA Filters
Odor Removal
Particle Measuring Methods
Market Scope
Automotive Industry
Building & Construction Services
Chemical Industries
Electronic, Microelectronic Industry
Environmental Protection
Filtration and Separation Industry
Food, Beverage Industry
Metal Processing Industry
Mining Industry
Pharmaceutical Industry
Product Index
尘/雾过滤器
汽车空调过滤器
活性碳过滤器
滤筒
滤芯
空气过滤器
袋式过滤器
过滤袋
除味
颗粒测量方法
高效粒子空气过滤器
Market Scope
 汽车工业
制药工业
化学工业
建筑与施工服务业
环境保护
电子、微电子工业
过滤与分离工业
采矿业
金属加工业
食品、饮料工业
Product Index
"فلاتر هواء عالية الفاعلية ""هـيبا"" HEPA"
أكياس فلاتر
أكياس فلترة
إزالة الروائح
طرق قياس الجسيمات
فلاتر الغبار / الضباب
فلاتر الكارترج / الخراطيش
فلاتر المقصورات والحُجرات
فلاتر الهواء
فلاتر كربونية
قطع فلاتر
Market Scope
الصناعات الدوائية
الصناعات الغذائية وصناعة المشروبات
الصناعة الكيماوية
الطاقة والإمداد بالطاقة
خدمات البناء والإنشاء
صناعات الفلترة وفصل المواد
صناعة الألبان
صناعة التعدين
صناعة السيارات
صناعة معالجة المعادن
Product Index
Cartouches de filtres
Désodorisation.
Eléments de filtre
Filtres HEPA
Filtres à air
Filtres à air de cabines
Filtres à carbone
Filtres à poussières/buées
Filtres à sacs
Méthodes de mesures de particules
Sacs de filtres
Market Scope
Energies et fourniture d'énergies
Industrie automobile
Industrie chimique
Industrie de filtration et de séparation
Industrie du bâtiment et de la construction
Industrie laitière
Industrie minière
Industrie métallurgique
Industrie pharmaceutique
Industries alimentaires et des boissons
Product Index
Elementi filtranti
Filtri a tasche
Filtri aria
Filtri aria abitacolo
Filtri carbone
Filtri cartuccia
Filtri hepa
Filtri polvere/nebbie
Metodi di misurazione particelle
Rimozione odori
Tasche filtri
Market Scope
Protezione ambientale
Servizi settore edile
Settore alimenti e bevande
Settore automobilistico
Settore chimico
Settore elettronico, microelettronico
Settore filtrazione e separazione
Settore lavorazione metallo
Settore minerario
Settore parafarmaceutico
Product Index
Elementy filtra
Filtry HEPA
Filtry powietrza
Filtry przeciwpyłowe/przeciwmgielne
Filtry workowe
Filtry węglowe
Kabinowe filtry powietrza
Metody pomiaru cząsteczek
Usuwanie zapachów
Wkłady filtracyjne
Worki filtracyjne
Market Scope
Filtrowanie i separacja
Obróbka metali
Ochrona środowiska
Przemysł budowlany
Przemysł chemiczny
Przemysł elektroniczny i mikroelektroniczny
Przemysł farmaceutyczny
Przemysł samochodowy
Przemysł spożywczy
Przemysł wydobywczy
Product Index
Elementos filtrantes
Filtros absolutos (HEPA)
Filtros de ar
Filtros de ar para cabines
Filtros de cartuchos
Filtros de carvão
Filtros de poeiras/vapores
Filtros de saco
Métodos de medição de partículas
Remoção de odores
Sacos filtrantes
Market Scope
Energia, abastecimento de energia
Indústria alimentar, de bebidas
Indústria automóvel
Indústria de filtragem e separação
Indústria de processamento de metal
Indústria farmacêutica
Indústria leiteira
Indústria mineira
Indústrias químicas
Serviços de fabrico & construção
Product Index
Воздушные фильтры
Пылевые / масляные фильтры
Рукавные фильтры
Способы измерения частиц
Угольные фильтры
Устранение запахов
Фильтровальные мешки
Фильтрующие элементы
Фильтры воздуха в кабине
Фильтры со сменным фильтрующим элементом
Фильтры тонкой очистки
Market Scope
Автомобильная промышленность
Горнодобывающая промышленность
Металлообрабатывающая промышленность
Молочная промышленность
Отрасль фильтрации и сепарирования
Производство продуктов питания и напитков
Строительство жилых и общественных зданий
Фармацевтическая промышленность
Химическая промышленность
Энергетика, электроснабжение
Product Index
Bolsas de filtro
Elementos de filtro
Eliminación de olores
Filtros HEPA
Filtros de aire
Filtros de aire de cabina
Filtros de bolsa
Filtros de carbón
Filtros de cartucho
Filtros de polvo/neblina
Métodos de medición de partículas
Market Scope
Energía, suministro de energía
Industria de la alimentación y las bebidas
Industria de la automoción
Industria de la filtración y la separación
Industria de la minería
Industria de los productos lácteos
Industria de procesamiento de metales
Industria farmacéutica
Industrias químicas
Servicios de edificación y construcción
Product Index
Filtre Elemanları
Filtre Torbaları
HEPA Filtreler
Hava Filtreleri
Kabin Hava Filtreleri
Karbon Filtreler
Kartuşlu Filtreler
Koku Giderme
Partikül Ölçüm Yöntemleri
Torba Filtreler
Toz/Buğu Filtreleri
Market Scope
Bina ve İnşaat Hizmetleri
Elektronik, Mikroelektronik Endüstrisi
Filtrasyon ve Ayırma Endüstrisi
Gıda, İçecek Endüstrisi
Kimya Endüstrisi
Madencilik Endüstrisi
Metal İşleme Endüstrisi
Otomotiv Endüstrisi
Çevre Koruma
İlaç Endüstrisi
Product Index
HEPA 필터
공기 필터
냄새 제거
먼지/안개 필터
백 필터
입자 측정 방법
카트리지 필터
캐빈 에어 필터
탄소 필터
필터 백
필터 엘리먼트
Market Scope
건축 및 건설 용역
광업
금속 가공 산업
식음료 산업
여과 및 분리 산업
자동차 산업
전자, 마이크로 전자 산업
제약 산업
화학 산업
환경 보호
Product Index
HEPAフィルター
エアフィルター
カートリッジ・フィルター
キャビン用エアフィルター
ダスト・ミストフィルター
バッグフィルター
フィルターエレメント
フィルターバッグ
活性炭フィルター
粒子測定方法
臭気除去
Market Scope
化学工業
医薬品業界
建築・建設業
濾過および分離技術工業
環境保護
自動車産業
金属加工業界
鉱業
電子、マイクロエレクトロニクス産業
食品、飲料業界
Conference Presentation/s
Coronavirus, filtration efficiency and the advancement of industry testing
N. Sasher*, AAF Flanders, USA
Presentation at FILTECH 2022 Conference
Air quality has profound health implications in all indoor environments where the world's population normally spends most of their time. The quality of indoor air is therefore a prominent public health concern that requires a clear understanding of the transmission processes for the development and implementation of targeted infection prevention and control measures. World-wide outbreaks of severe acute respiratory syndrome (SARS) and other viral agents have caused a substantial health impact to the population and have increased public concerns for the spread of viral disease. The global pandemic caused by the novel coronavirus SARS-CoV-2, which causes the disease known as COVID-19, has changed the world in ways no one could have imagined. There is much more to learn about this ever-changing global threat, however, there are some aspects of the virus that are known such as its main route of transmission being that of an airborne nature and therefore, there is a strong desire to mitigate risk to the general population through the use of engineering controls such as filtration. Utilizing a test method developed and adopted at AAF International in collaboration with the University of Minnesota in 2018, a test for virus removal efficiency of air filters based on ASHRAE 52.2 methodology and transport particle capture was implemented as a first in the air filtration industry. At the beginning of the pandemic, AAF's Biological Research Department launched a study utilizing a safe surrogate for the SARS-CoV-2 virus in order to evaluate the virus removal efficiency of several filters ranging in efficiency ratings of MERV 14-16. Air samples containing surrogate virus were collected upstream and downstream from the filters using aerosol test equipment such as Anderson Cascade Impactors and optical particle counters to be able to separate particles by size (approximately 0.3 to 10 microns). Then the samples were tested by quantitative reverse transcription polymerase chain reaction (RT-PCR) and a fluorometer to estimate mass. For each particle size, the particle size removal efficiency was calculated. The results showed that under the conditions of the study, filter efficiency for SARS-CoV-2 surrogate virus was comparable to filter efficiency using KCl particles (ASHRAE 52.2 standards). In addition, the efficiency of particle removal...