Apro Technologie GmbH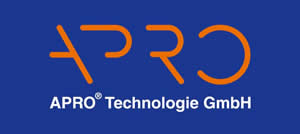 Exhibitor Profile
APRO® ist seit 30 Jahren Hersteller von Heißleimauftragsanlagen "Made in Germany".
Seit 2017 entwickelt sich APRO® weiter zu einem vollständigen Maschinenbaubetrieb, der individuelle Produktionslinien für Kunden entwirft und realisiert. Zu unseren Produkten gehören Faßschmelzer, Schmelztanks, Pumpenstationen, Auftragsköpfe für unterschiedlichste Auftragsverfahren, Extrusionsköpfe, Siebdruckwerke und Kaschieranlagen für Textile, Schaumstoffe, unterschiedlichste Papiere und Folien, Nonwoven und seit kurzem Dosiergut wie z.B. Aktivkohle, Ionentauscher und andere Granulate. Alles aus einer Hand ist unsere Devise, dem Kunden eine vollständige und einsatzbereite Fertigungslinie zu liefern. Wir haben uns immer dadurch hervorgehoben, das kleine bisschen mehr für unsere Kunden zu tun und tun zu dürfen.
Typische Anwendungsbereiche:
Filtration (Aktivkohle- und Ionentauscherverklebung)
Textil (Gewebe-, Membran- und Schaumstoffverklebung)
Bauindustrie (Dachunterspannbahn- und EPS-Verklebung)
Automobil (Dachhimmelverklebung)
Pharmazeutische Industrie (Papier-, Folien- und Gewebebeschichtung)
APRO® has been a manufacturer of hotmelt adhesive application systems "Made in Germany" for 30 years.
Since 2017, APRO® has continuously developed into a complete mechanical engineering company that designs and implements individual production lines for customers.Our product line includes drum melters, melting tanks, pump stations, applicator heads for a wide variety of application techniques, extrusion heads, screen printing units and laminating lines for textiles, foams, a large range of papers and films, nonwovens and, more recently, dosing materials such as activated carbon, ion exchangers and other granulates. Everything from a single source is our philosophy, i.e. supplying the customer with a complete and ready-to-use production line. We have always distinguished ourselves by doing and being allowed to do that little bit more for our customers.
Products / Markets
Product Index
Aktivkohle Filteranlagen
Filterverklebung
Heißleimgeräte
Klebstoffauftragsysteme
Klebstoffspender
Market Scope
Bauindustrie
Druckindustrie
Filtrations- und Separationsindustrie
Pharmazeutische Industrie
Textilindustrie
Product Index
Activated Carbon Plant
Adhesive Application Systems
Adhesive Application for Filters
Adhesive Dispensers
Hot-Melt Type Applications
Market Scope
Building & Construction Services
Filtration and Separation Industry
Pharmaceutical Industry
Printing Industry
Textile Industry
Product Index
活性炭過濾器系統
点胶机
热熔型应用
粘合应用系统
过滤器粘合应用
Market Scope
制药工业
印刷业
建筑与施工服务业
纺织工业
过滤与分离工业
Product Index
أنظمة تطبيقية للمواد الاصقة
الإمداد بالمواد الاصقة
تطبيقات تميع الشريط الحراري
تطبيقات مواد لاصقة خاصة بالفلاتر
نظم مرشح الكربون المنشط
Market Scope
الصناعات الدوائية
الصناعة النسيجية
الطباعة
خدمات البناء والإنشاء
صناعات الفلترة وفصل المواد
Product Index
Application d'adhésifs pour filtres
Distributeurs d'adhésif
Systèmes de filtres à charbon actif
Systèmes d'application d'adhésifs
Systèmes pour application à chaud
Market Scope
Industrie de filtration et de séparation
Industrie du bâtiment et de la construction
Industrie pharmaceutique
Industrie textile
Industrie typographique
Product Index
Applicazione collanti per filtri
Applicazioni fuse
Erogatori di collanti
Impianti filtranti carbone attivo
Sistemi di applicazione collanti
Market Scope
Servizi settore edile
Settore filtrazione e separazione
Settore industria stampaggio
Settore industria tessile
Settore parafarmaceutico
Product Index
Aplikacja kleju topliwego
Aplikacja klejów do filtrów
Dozowniki klejów
Systemy aplikacji klejów
Urządzenia wykorzystujące węgiel aktywowany
Market Scope
Filtrowanie i separacja
Przemysł budowlany
Przemysł drukarski
Przemysł farmaceutyczny
Przemysł tekstylny
Product Index
Aplicação de adesivos para filtros
Aplicações de cola termofusível
Distribuidores de adesivos
Sistemas de aplicação de adesivos
Sistemas de filtro de carvão ativado
Market Scope
Indústria da impressão
Indústria de filtragem e separação
Indústria farmacêutica
Indústria têxtil
Serviços de fabrico & construção
Product Index
Активированные системы Угольный фильтр
Нанесение клеящего состава для фильтров
Область применения плавких клеев
Системы нанесения клеящего состава
Установка для нанесения клея
Market Scope
Отрасль фильтрации и сепарирования
Полиграфическая промышленность
Строительство жилых и общественных зданий
Текстильная промышленность
Фармацевтическая промышленность
Product Index
Aplicaciones de tipo de fusión en caliente
Aplicación adhesiva para filtros
Dispensadores de adhesivo
Sistemas de aplicación de adhesivos
Sistemas de filtros de carbón activado
Market Scope
Industria de la filtración y la separación
Industria de la impresión
Industria farmacéutica
Industria textil
Servicios de edificación y construcción
Product Index
Aktif karbon filtre sistemleri
Filtrelerde Yapıştırıcı Uygulama
Isı Eritmeli Uygulamalar
Yapıştırıcı Tabancaları
Yapıştırıcı Uygulama Sistemleri
Market Scope
Basın Endüstrisi
Bina ve İnşaat Hizmetleri
Filtrasyon ve Ayırma Endüstrisi
Tekstil Endüstrisi
İlaç Endüstrisi
Product Index
속건성 도포
접착제 도포 시스템
접착제 디스펜서
필터에 접착제 도포
활성탄 공장
Market Scope
건축 및 건설 용역
섬유 산업
여과 및 분리 산업
인쇄 산업
제약 산업
Product Index
フィルター用接着剤塗布
ホットメルトタイプの用途
接着剤ディスペンサー
接着剤塗布システム
活性炭プラント
Market Scope
医薬品業界
印刷業界
建築・建設業
濾過および分離技術工業
繊維業界
Press release
Integrative Belegungsanlage für staubige (Aktivkohle) bis rollende (Ionentauscher) Substrate mit vielen neuen Innovationen
Bauform
Durch den integrativen Ansatz ist eine erheblich platzsparendere Bauweise als bisher möglich: die Anlage ist für Räume unter 3m Höhe geeignet und ohne ein separates Kransystem bedienbar. Zusätzlich ermöglicht die modulare Bauweise eine spätere Erweiterung ohne Einschränkungen.
Sauberkeit
Der saubere Belegungsprozess wird erzielt durch die Integration von Granulatvorentstaubung, Entstaubung der Bahnware und kontrollierter Prozessabluft während der Produktion.
Klebetechnik
Die verbesserte Sprühtechnik für reaktive und auch thermoplastische Klebstoffe im Zusammenspiel mit automatisch verfahrbaren Auftragsköpfen und optimierten Reinigungssequenzen reduziert Stillstandzeiten und den Materialverbrauch im Vergleich zum Markstandard.
Flexibilität
Der neue Ansatz in der Förder- und Dosiertechnik ermöglicht einen uneingeschränkten und schnellen Substratwechsel. Die Rüst- und Stillstandzeiten werden erheblich reduziert und somit auch Kleinserien wirtschaftlich.
Know-How
30 Jahre Erfahrung formen eine einzigartige Anlage, wobei die Kompetenz des Dosierens und des Fixierens kombiniert wird mit der Kompetenz der Entstaubung und der Prozessabluft.
Integrated coating line for dusty (carbon) to rolling (ion exchanger) substrates with many of new innovations and improvements
Design
Using integrative projection we have designed a very compact line compared to other machines available on the market. The line is designed for rooms with heights less than 3m and no hoist installation is required. The modular design allows for future modifications and upgrades without limitation.
Cleanliness
A clean coating process is obtained by integrating pre-dust removal of the granulate before entering the dosing unit, dust removal from the web surface after application and a fully controlled process of the air exhaust system.
Adhesive technology
Improved spray technology for reactive and also thermoplastic adhesives in conjunction with automated retractable applicators and optimised cleaning procedures reduce downtime and material consumption compared with current industry standards.
Flexibility
A new approach in material handling and dosing technology allows quick substrate changeover at any time. The setup- and down-time can be reduced considerably and small batches become profitable.
Know-How
Over 30 years of experience and development have been brought together to design and develop our unique line, along with our extensive knowledge of dosing and adhesive processing, combined with the advanced technology of dust removal and exhaust, makes us an ideal fit for your manufacturing and processing requirements.
Images