ATI - Air Techniques International Hall 8 / F52

Exhibitor Profile
Air Techniques International (ATI) is the industry leader in HEPA filter efficiency test and filter leak test equipment used to test flat sheet media, respiratory PPE for occupational health and safety standards, and filter assemblies for nuclear, life sciences, pharmaceutical manufacturing, and military applications.
ATI's products are relied on by thousands of customers spanning more than 100 countries. With dozens of dedicated sales and service partners, ATI products can be found making a difference in the lives of military service members, cleanroom certifiers, first responders, and production engineers. In pursuit of our mission, ATI continues to drive the development of innovative products to ensure the highest levels of technology are available to fulfill our mission to protect people, products, and critical infrastructure.
Products / Markets
Product Index
Aerosolgeneratoren
Bakterienfilter
Durchflußanzeiger
Filtermedien
Filtermedienprüfung
HEPA & ULPA Filterprüfung
Hepa-Filter
Luftfilter
Luftfiltermedien
Medizinische Filter
Messinstrumente
Partikelanalysemethoden
Partikelgrößenanalyse
Partikelzähler
Prüfdienstleistungen
Vliesmaterialien
Wiederverwendbare Filtermedien
Market Scope
Biotechnologie/Biopharmazie
Chemische Industrie
Filtrations- und Separationsindustrie
Medizintechnik, Health Care Industrie
Pharmazeutische Industrie
Product Index
Aerosol Generators
Air Filter Media
Air Filters
Bacteriological Filters
Filter Media
Filter Media Testing
Flow Indicators
HEPA & ULPA Filter Testing
HEPA Filters
Measurement Instruments
Medical Filters
Nonwovens
Particle Counters
Particle Measuring Methods
Particle Size Analysis
Reusable Filter Media
Testing Services
Market Scope
Biotechnology/Biopharmac. Industry
Chemical Industries
Filtration and Separation Industry
Medical, Health Care Industry
Pharmaceutical Industry
Product Index
测量仪器
医用过滤器
可再用过滤器介质
无纺布
无菌无尘空气过滤器测试
曝气发生器
流量指示器
测试服务
滤菌器
空气过滤器
空气过滤器介质
过滤介质
过滤媒介测试
颗粒大小分析
颗粒测量方法
颗粒计数器
高效粒子空气过滤器
Market Scope
制药工业
化学工业
医疗卫生保健业
生物技术/生物制药业
过滤与分离工业
Product Index
"فلاتر هواء عالية الفاعلية ""هـيبا"" HEPA"
HEPA ULPA اختبار
أدوات القياس
اختبار تصفية وسائل الاعلام
تحليل الجسيمات الصفائحية
خدمات الاختبار
طرق قياس الجسيمات
عدادات الجسيمات
غير المنسوجات / اللانسيج
فلاتر الإستخدام المتكرر
فلاتر الهواء
فلاتر طبية
فلاتر ميكروبيولوجية
مؤشرات تدفق
مواد فلاتر الهواء
مواد فلترة
مولدات الهباء الجوي
Market Scope
الصناعات الدوائية
الصناعات الطبية والعناية الصحية
الصناعة الكيماوية
صناعات الفلترة وفصل المواد
صناعة التقنية البيولوجية والبيوصيدلية
Product Index
Analyse de tailles de particules
Compteur de particules
Filtres HEPA
Filtres bactériologiques
Filtres médicaux
Filtres à air
Fluides pour filtres à air
Générateurs d'aérosols
Indicateurs de flux
Instruments de mesure
Médias de filtration réutilisables
Médias de filtre
Méthodes de mesures de particules
Non tissés
Services de contrôle
Test de médias filtrants
Test des filtres HEPA et ULPA
Market Scope
Industrie biotechnologie/biopharmaceutique
Industrie chimique
Industrie de filtration et de séparation
Industrie médicale et de la santé
Industrie pharmaceutique
Product Index
Analisi dimensione particelle
Contatori particelle
Filtri aria
Filtri batteriologici
Filtri hepa
Filtri medicali
Generatore aerosol
Indicatori di flusso
Metodi di misurazione particelle
Mezzi filtranti
Mezzi filtranti aria
Mezzi filtranti riutilizzabili
Non tessuti
Servizi di verifica
Strumenti di misura
Test di filtraggio HEPA&ULPA
Verifica mezzi filtranti
Market Scope
Biotecnologie/biofarmaceutica
Settore chimico
Settore filtrazione e separazione
Settore medicale e sanità
Settore parafarmaceutico
Product Index
Analiza rozmiaru cząsteczek
Filtry HEPA
Filtry bakteriologiczne
Filtry do zastosowań medycznych
Filtry powietrza
Generatory aerozolu
Liczniki cząsteczek
Materiały nietkane
Media filtrów
Media filtrów powietrza
Media filtrów wielorazowego użytku
Metody pomiaru cząsteczek
Przyrządy pomiarowe
Testowanie filtrów HEPA & ULPA
Testowanie mediów filtrów
Usługi testowania
Wskaźniki przepływu
Market Scope
Biotechnologia/biofarmaceutyka
Filtrowanie i separacja
Ochrona zdrowia
Przemysł chemiczny
Przemysł farmaceutyczny
Product Index
Análise da dimensão das partículas
Contadores de partículas
Filtros absolutos (HEPA)
Filtros bacteriológicos
Filtros de ar
Filtros medicinais
Geradores de aerossóis
Indicadores de fluxo
Instrumentos de Medição
Meios de filtragem
Meios de filtragem reutilizáveis
Meios de filtro do ar
Métodos de medição de partículas
Não-tecidos
Serviços de teste
Teste de filtro HEPA e ULPA
Testes de meios filtrantes
Market Scope
Ind. de biotecnologia/biofarmac.
Indústria de filtragem e separação
Indústria farmacêutica
Indústria médica, cuidados de saúde
Indústrias químicas
Product Index
HEPA и ULPA фильтр тестирования
Аэрозольный генератор
Бактериальные фильтры
Воздушные фильтры
Индикаторы расхода
Инструменты для измерения
Медицинские фильтры
Нетканые материалы
Обслуживание Тестирования
Размер частиц Анализ
Способы измерения частиц
Счётчик частиц
Тестирование Фильтрующие материалы
Фильтрующий материал
Фильтрующий материал
Фильтрующий материал многократного использования
Фильтры тонкой очистки
Market Scope
Биотехнология / Биофармацевтическая промышленность
Медицина, здравоохранение
Отрасль фильтрации и сепарирования
Фармацевтическая промышленность
Химическая промышленность
Product Index
Análisis de formas de particulas.
Contadores de partículas
Filtros HEPA
Filtros bacteriológicos
Filtros de aire
Filtros médicos
Generadores de aerosol
HEPA y ULPA pruebas de filtros
Indicadores de flujo
Instrumentos de medida
Medios de filtro
Medios de filtros de aire
Medios filtrantes reutilizables
Métodos de medición de partículas
Non-Wowens
Pruebas de medios filtrantes
Servicios de Pruebas
Market Scope
Industria de la biotecnología/biofarmacéutica
Industria de la filtración y la separación
Industria farmacéutica
Industria médica, de la atención sanitaria
Industrias químicas
Product Index
Ölçü Aletleri
Aerosol Jeneratörleri
Akış Göstergeleri
Bakteriyolojik Filtreler
Dokunmamış Mamuller
Filtre Ortamı
Filtre ortamı test
HEPA Filtreler
HEPA ve ULPA filtre testi
Hava Filtreleri
Hava Filtresi Ortamı
Partikül Boyutu Analizi
Partikül Sayaçları
Partikül Ölçüm Yöntemleri
Tekrar Kullanılabilir Filtre Ortamı
Tıbbi Filtreler
test Hizmetleri
Market Scope
Biyoteknoloji/Biyoeczacılık Endüstrisi
Filtrasyon ve Ayırma Endüstrisi
Kimya Endüstrisi
Tıp, Sağlık Sektörü
İlaç Endüstrisi
Product Index
HEPA & ULPA 필터 테스트
HEPA 필터
공기 여과재
공기 필터
부직포
세균 필터
에어러졸 발생기
여과재
여과재 테스트
유량 지시계
의료 필터
입자 측정 방법
입자 카운터
입자 크기 분석
재사용 가능한 여과재
측정 기기
테스트 서비스
Market Scope
생명공학/생물 약제학 산업
여과 및 분리 산업
의료, 보건 산업
제약 산업
화학 산업
Product Index
HEPAおよびULPAフィルターテスト
HEPAフィルター
エアフィルター
エアフィルターメディア
エアロゾル発生装置
フィルターメディア
フローインジケーター
不織布
再利用可能なフィルター媒体
医療用フィルター
測定器
濾過材試験
粒子カウンター
粒子径分析
粒子測定方法
細菌フィルター
試験サービス
Market Scope
バイオテクノロジー・バイオ医薬品産業
化学工業
医療、ヘルスケア業界
医薬品業界
濾過および分離技術工業
Press release
100X Automated Filter Tester Validates Filter Efficiency of Respirator Masks
Air Techniques International (ATI) has been a global leader in the design and manufacture of specialized test equipment for HEPA filters, media, filter cartridges, respirators, and protective masks since 1961.
The 100X Automated Filter Tester combines ATI's core technologies into a single, compact test unit to test and validate filter media, cartridges, and masks in production, quality control, and R&D applications.
Its innovative design allows it to meet a wide range of global industry standards including EN 13274-7:2019, NIOSH 42 CFR Part 84, GB 2626, and more. During the COVID-19 pandemic the 100X has been widely used to validate the filtration efficiency of N95, FFP2/3, and KN95 style facemasks. Filter media and mask manufacturers worldwide depend on the accuracy and efficiency of the 100X.
Images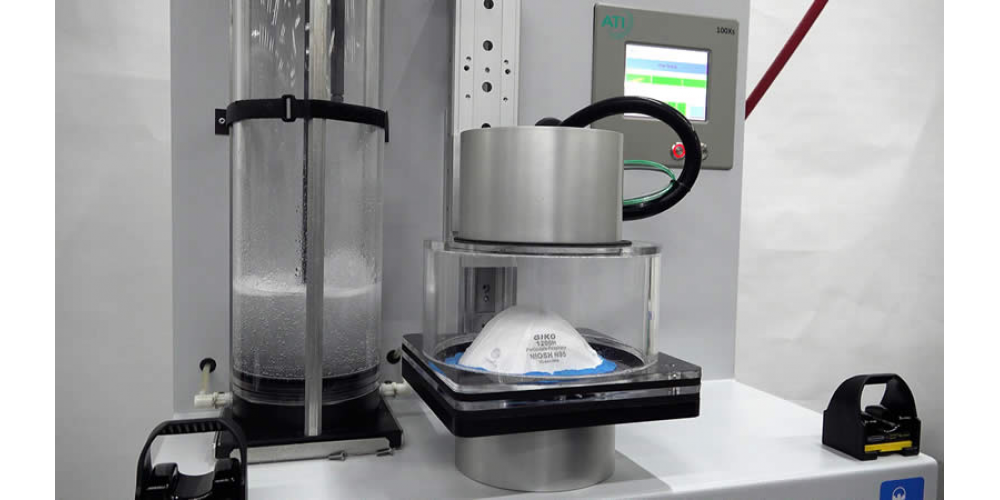 100X Automated Filter Tester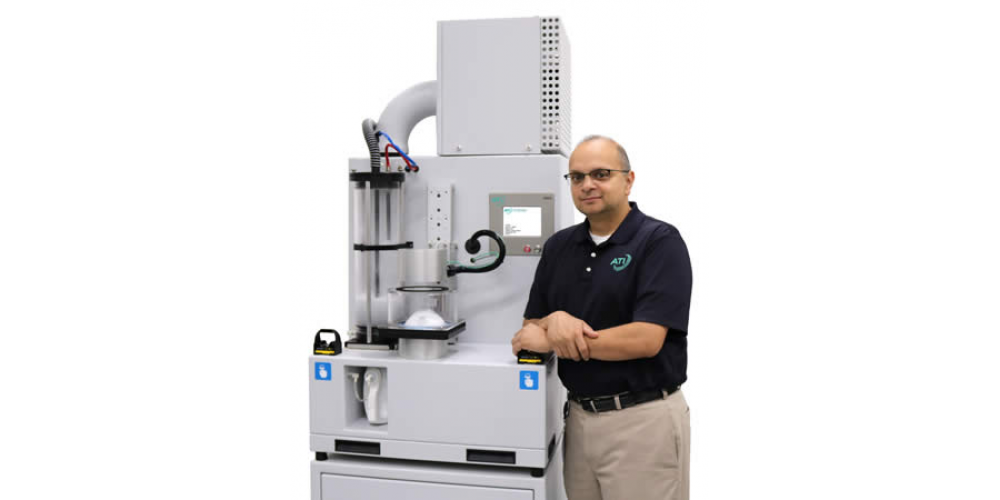 100X Automated Filter Tester and Gautam Patel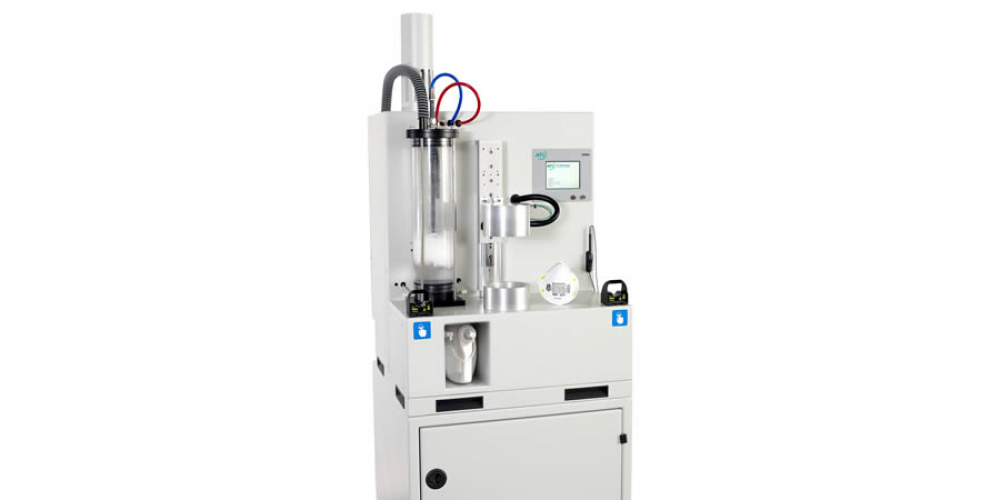 100X Automated Filter Tester