Bioconservacion S.A. Hall 8 / B35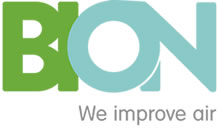 Exhibitor Profile
BION is the European Leader in molecular filtration.
Founded in 1996, we manufacture in-house a full range of engineered media, customized molecular filter solutions and equipment for corrosion control, indoor air quality and odor elimination.
With BION Media Inside as the heart of the solution, we customize full projects considering critical operating parameters such as energy efficiency, carbon footprint, ease of maintenance and long-term durability.
Solution-based for Operational Optimization
Best in class Molecular Media stage
Personalized and Quick Technical Support
State of the art Laboratory specialized in gas phase
Transit anywhere in Europe in less than one week
Products / Markets
Product Index
Absorptionsfilter
Adsorptionsfilter
Aktivkohle
Aktivkohle Medien
Desodorierung
Filtergehäuse
Filtermedien f. Gase
Gasadsorption
Gasfilter
Geruchsbeseitigung
Kabinenfilter
Kohlefilter
Luftfilter
Luftfiltermedien
Market Scope
Abwasserwirtschaft
Agrarwirtschaft
Bergbauindustrie
Chemische Industrie
Eisen-, Stahlherstellung
Filtrations- und Separationsindustrie
Halbleiterindustrie
Petrochemische Industrie
Zellstoff-, Papierindustrie
Product Index
Absorption Filters
Activated Carbon
Activated Carbon Media
Adsorption Filters
Air Filter Media
Air Filters
Cabin Air Filters
Carbon Filters
Deodorization
Filter Housings
Filter Media for Gases
Gas Adsorption
Gas Filters
Odor Removal
Market Scope
Agriculture
Chemical Industries
Filtration and Separation Industry
Iron, Steel Manufacturing
Mining Industry
Petrochemical Industry
Pulp, Paper Industry
Semiconductor Industry
Waste Water Treatment
Product Index
吸附式过滤器
吸附式过滤器
气体吸附
气体过滤器
气体过滤器介质
汽车空调过滤器
活性碳
活性碳介质
活性碳过滤器
滤壳
空气过滤器
空气过滤器介质
除味
除臭
Market Scope
 农业
化学工业
半导体工业
废水处理
石化工业
纸浆、造纸工业
过滤与分离工业
采矿业
钢铁制造业
Product Index
إزالة الرائحة
إزالة الروائح
امتصاص كيميائي للغازات
تصفية العلب
فلاتر إمتصاص
فلاتر إمتصاص كيماوي
فلاتر المقصورات والحُجرات
فلاتر الهواء
فلاتر غازات
فلاتر كربونية
كربون منشط
مواد الكربون المنشط
مواد فلاتر الهواء
مواد فلترة السوائل
Market Scope
الصناعة البتروكيماوية
الصناعة الكيماوية
الصناعة الورقية
الهندسة المعمارية
صناعات الفلترة وفصل المواد
صناعة أنصاف النواقل
صناعة التعدين
صناعة الحديد والصلب
معالجة مياه الصرف
Product Index
Adsorption de gaz
Charbon actif
Désodorisation
Désodorisation.
Filtres à absorption
Filtres à adsorption
Filtres à air
Filtres à air de cabines
Filtres à carbone
Filtres à gaz
Fluide à charbon actif
Fluides pour filtres à air
Les boîtiers de filtre
Médias de filtre pour gaz
Market Scope
Agriculture
Industrie chimique
Industrie de filtration et de séparation
Industrie de la pâte de cellulose et du papier
Industrie des semi-conducteurs
Industrie minière
Industrie pétrochimique
Sidérurgie
Traitement des eaux usées
Product Index
Alloggiamenti filtro
Assorbimento gas
Carbone attivo
Deodorazione
Filtri aria
Filtri aria abitacolo
Filtri carbone
Filtri di assorbimento
Filtri di assorbimento
Filtri gas
Mezzi filtranti aria
Mezzi filtranti carbone attivo
Mezzi filtranti per gas
Rimozione odori
Market Scope
Agricoltura
Produzione ferro e acciaio
Settore chimico
Settore filtrazione e separazione
Settore industria dei semiconduttori
Settore industria dell carta e della cellulosa
Settore minerario
Settore petrolchimico
Trattamento acque reflue
Product Index
Adsorbcja gazu
Deodoryzacja
Filtry absorbcyjne
Filtry adsorbcyjne
Filtry gazu
Filtry powietrza
Filtry węglowe
Kabinowe filtry powietrza
Media filtrów gazu
Media filtrów powietrza
Media węgla aktywowanego
Obudowy filtrów
Usuwanie zapachów
Węgiel aktywowany
Market Scope
Filtrowanie i separacja
Oczyszczanie ścieków (waste water)
Produkcja półprzewodników
Przemysł celulozowo-papierniczy
Przemysł chemiczny
Przemysł hutniczy
Przemysł petrochemiczny
Przemysł wydobywczy
Rolnictwo
Product Index
Adsorção de gases
Carcaças de Filtro
Carvão activado
Desodorização
Filtros de absorção
Filtros de adsorção
Filtros de ar
Filtros de ar para cabines
Filtros de carvão
Filtros de gases
Meios de carvão activado
Meios de filtragem para gases
Meios de filtro do ar
Remoção de odores
Market Scope
Agricultura
Fabrico de ferro, aço
Indústria de filtragem e separação
Indústria de semicondutores
Indústria mineira
Indústria petroquímica
Indústrias químicas
Pasta, indústria do papel
Tratamento de água de despejo
Product Index
Абсорбционные фильтры
Абсорбционный фильтр
Адсорбция газа
Активированный уголь
Воздушные фильтры
Газовые фильтры
Дезодорирование
Корпуса фильтров
Материал активированного угля
Угольные фильтры
Устранение запахов
Фильтрующий материал
Фильтрующий материал для газов
Фильтры воздуха в кабине
Market Scope
Бумажная промышленность
Горнодобывающая промышленность
Нефтехимическая промышленность
Отрасль фильтрации и сепарирования
Очистка сточных вод
Полупроводниковая промышленность
Производство железа, стали
Сельское хозяйство
Химическая промышленность
Product Index
Absorción de gas
Carbón activado
Desodorización
Eliminación de olores
Filtro de Viviendas
Filtros de absorción
Filtros de absorción
Filtros de aire
Filtros de aire de cabina
Filtros de carbón
Filtros de gas
Medios de carbón activado
Medios de filtros de aire
Medios de filtros para gases
Market Scope
Agricultura
Fabricación de hierro, acero
Industria de la filtración y la separación
Industria de la minería
Industria de la pasta de madera, el papel
Industria de los semiconductores
Industria petroquímica
Industrias químicas
Tratamiento de aguas residuales
Product Index
Absorpsiyon Filtreleri
Adsorpsiyon Filtreleri
Aktif Karbon
Aktif Karbon Ortamı
Deodorizasyon
Filtre Gövdeleri
Gaz Adsorpsiyonu
Gaz Filtreleri
Gazlar için Filtre Ortamı
Hava Filtreleri
Hava Filtresi Ortamı
Kabin Hava Filtreleri
Karbon Filtreler
Koku Giderme
Market Scope
Atıksu Arıtma
Demir, Çelik Üretimi
Filtrasyon ve Ayırma Endüstrisi
Kimya Endüstrisi
Madencilik Endüstrisi
Petrokimya Endüstrisi
Selüloz, Kağıt Endüstrisi
Tarım
Yarıiletken Endüstrisi
Product Index
가스 필터
가스 흡수
가스용 여과재
공기 여과재
공기 필터
냄새 제거
캐빈 에어 필터
탄소 필터
탈취
필터 하우징
활성탄
활성탄 매체
흡수 필터
흡수 필터
Market Scope
광업
농업
반도체 산업
석유화학 산업
여과 및 분리 산업
제지, 종이 산업
철, 철강 제조
폐수 처리
화학 산업
Product Index
エアフィルター
エアフィルターメディア
ガスフィルター
ガス吸着
ガス用濾過材
キャビン用エアフィルター
フィルターハウジング
吸収フィルター
吸収フィルター
活性炭
活性炭フィルター
活性炭メディア
脱臭
臭気除去
Market Scope
パルプ、製紙業界
化学工業
半導体業界
汚水処理
濾過および分離技術工業
石油化学工業
製鉄、製鋼業
農業
鉱業
Conference Presentation/s
Improvement of mechanical properties maintaining adsorption capacity of permanganate-based media for the removal of indoor air pollutants
I. Merino, S. Palekar*, A. Doche, A. Puig, E. Sunye, Bioconservacion, S.A., Spain
Conference Session: G06 - Adsorption - 2023-02-15 - 09:00
Several health effects are associated with the air quality and the presence of indoor generated pollutants, including NOx, volatile organic compounds (VOCs), formaldehyde, gases generated from cleaning products, etc. Considering that the world´s population generally spends 90% of their time indoors, it is highly important to eliminate indoor pollutants and particles. For this reason, the addition of gas filtration media in indoor purifiers is considerably increasing. All these pollutants can be removed with a media blend consisting of activated carbon and permanganate-based media.
The minimization of dust release from pellets is especially necessary for indoor air quality equipment in order to reduce the blockage rate of particle filters and increase the frequency of change of these particle filters. This implies a decrease in cost due to maintenance or replacement of particle filters. Higher dust generation will also increase the pressure drop, increasing the energy consumption and the operation cost. The minimization of the dust generated from the pellets is a must. The hardness is another important factor to consider for the assembly process of the filters containing the media, especially for automatic filling systems, since low hardness can cause issues and dust generation during the filling process of the filters.
The increase in hardness, decrease in dust and improvement of other mechanical parameters need to be adjusted to obtain a filtration product that complies with the operation conditions without clogging the particle filters. The most important development challenge of such robust product relies on the adsorption capacity, which is often significantly sacrificed to obtain better mechanical properties. Most of the already commercialized permanganate-based spheres, which show strong mechanical properties, present a sharp decrease in capacity of up to 70% compared to standard permanganate spheres with average mechanical properties and dust release.
This work presents the development of a novel formula with both strong mechanical properties, low dust generation and high adsorption capacity. Several laboratory and industrial tests have been done to demonstrate...
Learn More at FILTECH 2023 Conference - Register Now!