BOKELA GmbH Hall 8 / A45

Exhibitor Profile
BOKELA zählt im Bereich der Prozessfiltration weltweit zu den führenden Lieferanten von Filtrationsanlagen für die chemische und pharmazeutische Industrie, Lebensmittelindustrie und für die Aufbereitung von Erzen und Mineralien:
Vakuumdrehfilter – BoVac Disc, BoVac Drum und BoVac Pan Filter
kontinuierliche Druck- und Dampfdruckfiltration mit BoHiBar Disc und BoHiBar Drum Filter
Dynamische Crossflow Filtration mit BoCross Dynamic and BoCross MicroScreen Filter
Filter Revamping – Modernisierung und Leistungssteigerung von Filteranlagen
Transportable Labortestgeräte BoFilTest und BoCrossTest.
BOKELA ist Mitglied der TSUKISHIMA KIKAI CO. LTD (TSK) Gruppe.
BOKELA is a high performing, medium-sized enterprise that ranks as one of the worldwide leading suppliers of modern filtration plants for process filtration.
BOKELA's innovative, high performance filtration technologies offer clients in the chemical, petrochemical, pharmaceutical, food and raw materials industry economic and sustainable solutions:
Rotary Vacuum Filters - BoVac Disc, BoVac Drum and BoVac Pan Filter
Continuous pressure and steam pressure filtration with BoHiBar Disc and Drum Filter
Dynamic crossflow filtratio with nBoCross Dynamic and BoCross MicroScreen Filter
Filter Revamping – modernization and improvement of filter plants
Transportable laboratory equipment.BoFilTest and BoCrossTest.
BOKELA is member of the TSUKISHIMA KIKAI CO. LTD (TSK) group
Products / Markets
Product Index
Drehfilter
Druckfiltration/Entwässerung
Drucktrommelfilter
Filteranlagen
Filtrierbarkeitstester
Laborfilter
Mikrofiltration
Planfilter
Rotary Membrane Filters
Scheibenfilter
Siebmaschinen
Trommelfilter
Ultrafiltration
Vakuumdrehfilter
Vakuumfilter
Vakuumscheibenfilter
Vakuumtrommelfilter
Market Scope
Bergbauindustrie
Biotechnologie/Biopharmazie
Chemische Industrie
Farben-, Pigment-, Beschichtungsindustrie
Lebensmittel-,Getränkeindustrie
Mineralöl/Öl/Gasproduktion
Petrochemische Industrie
Pharmazeutische Industrie
Product Index
Disc Filters
Drum Filters
Filterability Tester
Filtration Plants
Laboratory Filters
Microfiltration
Pressure Drum Filters
Pressure Filtration/Dewatering
Rotary Filters
Rotary Membrane Filters
Rotary Vacuum Filters
Screening Machines
Table Filters
Ultrafiltration
Vacuum Disc Filters
Vacuum Drum Filters
Vacuum Filters
Market Scope
Biotechnology/Biopharmac. Industry
Chemical Industries
Food, Beverage Industry
Mineral / Oil / Gas Production
Mining Industry
Paint, Pigments, Coatings Industry
Petrochemical Industry
Pharmaceutical Industry
Product Index
压滤/脱水
实验室过滤器
平面过滤机
微孔过滤
旋转式真空过滤器
旋转式薄膜过滤器
旋转过滤器
盘式过滤器
真空圆盘过滤器
真空过滤器
真空鼓式过滤器
筛选机
超过滤
过滤性测试仪
过滤设备
鼓式压滤器
鼓式过滤器
Market Scope
制药工业
化学工业
油漆、颜料、涂料工业
生物技术/生物制药业
石化工业
矿产/石油/天然气业
采矿业
食品、饮料工业
Product Index
آلات فرز
أقراص فلاتر شفط
إختبار صلاحية الفلاتر
اسطوانات فلاتر شفط
اسطوانات فلترة بالضغط
الفلترة المضاعفة
الفلترة الميكروية
صفائح دورانية
فلاتر اسطوانية
فلاتر ترتيب
فلاتر دورانية
فلاتر سحب دورانية
فلاتر شفط
فلاتر قرصية
فلاتر مخبرية
فلترة بالضغط / نزح المياه
وحدات فلترة
Market Scope
إنتاج المعادن والزيوت والغاز
الصناعات الدوائية
الصناعات الغذائية وصناعة المشروبات
الصناعة البتروكيماوية
الصناعة الكيماوية
صناعة التعدين
صناعة التقنية البيولوجية والبيوصيدلية
صناعة الدهانات والصبغات والتلبيس
Product Index
Filtration sous pression/égouttage
Filtre à tables
Filtres de laboratoires
Filtres rotatifs
Filtres à disques
Filtres à disques à vide
Filtres à membrane rotative
Filtres à tambours
Filtres à tambours sous pression
Filtres à tambours à vide
Filtres à vide
Filtres à vide rotatifs
Installation de filtration
Machines de criblage
Microfiltration
Testeur de filtrabilité
Ultrafiltration
Market Scope
Industrie biotechnologie/biopharmaceutique
Industrie chimique
Industrie de peintures, pigments et revêtements
Industrie minière
Industrie pharmaceutique
Industrie pétrochimique
Industries alimentaires et des boissons
Productions minérales / pétrolière / du gaz
Product Index
Filtrazione/disidratazione a pressione
Filtri a disco
Filtri a membrana rotante
Filtri a tamburo
Filtri a vuoto
Filtri a vuoto rotanti
Filtri con tamburo a pressione
Filtri di laboratorio
Filtri dischi a vuoto
Filtri piani
Filtri rotanti
Filtri tamburi a vuoto
Impianti di filtraggio
Macchine per vagliare
Microfiltrazione
Tester filtrabilità
Ultrafiltrazione
Market Scope
Biotecnologie/biofarmaceutica
Produzioni minerali / petrolio / gas
Settore alimenti e bevande
Settore chimico
Settore minerario
Settore parafarmaceutico
Settore petrolchimico
Settore pitture, pigmenti e rivestimenti
Product Index
Ciśnieniowe filtry bębnowe
Filtracja ciśnieniowa/ odwadnianie
Filtry bębnowe
Filtry laboratoryjne
Filtry obrotowe
Filtry próżniowe
Filtry stolikowe
Filtry tarczowe
Mikrofiltracja
Obrotowe filtry membranowe
Obrotowy filtr próżniowy
Przesiewacze
Próżniowe filtry bębnowe
Próżniowe filtry tarczowe
Tester filtracyjności
Ultrafiltracja
Urządzenia filtracyjne
Market Scope
Biotechnologia/biofarmaceutyka
Produkcja farb i lakierów
Przemysł chemiczny
Przemysł farmaceutyczny
Przemysł petrochemiczny
Przemysł spożywczy
Przemysł wydobywczy
Wydobycie minerałów, ropy i gazu
Product Index
Dispositivo de teste de filtrabilidade
Drenagem/filtração sob pressão
Filtros de discos
Filtros de discos de vácuo
Filtros de membranas rotativos
Filtros de tambor
Filtros de tambor de vácuo
Filtros de tambor sob pressão
Filtros de vácuo
Filtros de vácuo rotativos
Filtros para laboratório
Filtros planos
Filtros rotativos
Instalações de filtração
Microfiltração
Máquinas separadoras (crivos)
Ultrafiltração
Market Scope
Ind. de biotecnologia/biofarmac.
Indústria alimentar, de bebidas
Indústria farmacêutica
Indústria mineira
Indústria petroquímica
Indústrias químicas
Pintura, pigmentos, indústria de revestimentos
Produção mineral / óleo / gás
Product Index
Барабанные фильтры
Вакуумные барабанные фильтры
Вакуумные дисковые фильтры
Вакуумные фильтры
Дисковые фильтры
Лабораторные фильтры
Микрофильтрование
Напорные барабанные фильтры
Прибор для измерения степени фильтрования
Просеивающие машины
Рамные фильтры
Ротационные вакуумные фильтры
Ротационные мембранные фильтры
Ротационные фильтры
Ультрафильтрация
Фильтрационные установки
Фильтрация давлением / обезвоживание
Market Scope
Биотехнология / Биофармацевтическая промышленность
Горнодобывающая промышленность
Добыча минералов/ нефти/ газа
Лакокрасочная промышленность
Нефтехимическая промышленность
Производство продуктов питания и напитков
Фармацевтическая промышленность
Химическая промышленность
Product Index
Comprobador de filtrabilidad
Filtración/extracción de agua a presión
Filtros de disco
Filtros de disco de vacío
Filtros de laboratorio
Filtros de membrana giratorios
Filtros de mesa
Filtros de tambor
Filtros de tambor de presión
Filtros de tambor de vacío
Filtros de vacío
Filtros de vacío giratorios
Filtros giratorios
Microfiltración
Máquinas de criba
Plantas de filtración
Ultrafiltración
Market Scope
Industria de la alimentación y las bebidas
Industria de la biotecnología/biofarmacéutica
Industria de la minería
Industria de las pinturas, pigmentos, revestimientos
Industria farmacéutica
Industria petroquímica
Industrias químicas
Producción de minerales / petróleo / gas
Product Index
Arıtma İstasyonları
Basınçlı Filtrasyon/Susuzlaştırma
Basınçlı Tambur Filtreler
Disk Filtreler
Döner Filtreler
Döner Membran Filtreler
Döner Vakum Filtreler
Elek Makineleri
Filtrelenebilirlik Testi Cihazı
Laboratuvar Filtreleri
Mikrofiltrasyon
Tabla Filtre
Tambur Filtreler
Ultrafiltrasyon
Vakum Disk Filtreler
Vakum Filtreler
Vakum Tambur Filtreler
Market Scope
Biyoteknoloji/Biyoeczacılık Endüstrisi
Boya, Pigment, Kaplama Endüstrisi
Gıda, İçecek Endüstrisi
Kimya Endüstrisi
Madencilik Endüstrisi
Mineral / Petrol / Gaz Üretimi
Petrokimya Endüstrisi
İlaç Endüstrisi
Product Index
드럼 필터
디스크 필터
분체기
실험실 필터
압력 드럼 필터
압력 여과/탈수
정밀 여과
정수 처리장
진공 드럼 필터
진공 디스크 필터
진공 필터
테이블 필터
필터 성능 테스터
한외 여과
회전 분리막 필터
회전 진공 필터
회전 필터
Market Scope
광물 / 석유 / 가스 생산
광업
생명공학/생물 약제학 산업
석유화학 산업
식음료 산업
제약 산업
페인트, 안료, 도장 산업
화학 산업
Product Index
スクリーニング機
テーブルフィルター
ディスクフィルター
ドラムフィルター
ラボ用フィルター
ロータリーフィルター
ロータリーフィルター
加圧ドラムフィルター
回転式真空フィルター
圧力濾過・脱水
濾過性試験器
濾過設備
真空ディスクフィルター
真空ドラムフィルター
真空フィルター
精密濾過
限外濾過
Market Scope
バイオテクノロジー・バイオ医薬品産業
化学工業
医薬品業界
塗料、顔料、コーティング産業
石油化学工業
鉱業
鉱物・石油・ガス生産
食品、飲料業界
Press release
Laboratory Filters
BoFilTest is a compact, portable laboratory filter apparatus which enables an easy and fast determination of filtration data and product parameters with a small product sample.
BoCrossTest enables the analysis and scaling up of cross flow filtration processes with small product samples.
Press release
BoHiBar Drum Filter
Intensive filter cake wash. Low residual moisture. Gas-tight and completely leakproof operation. Complex process conditions. Minimal footprint. The continuous BoHiBar drum filters master these challenges with flying colours. Particularly dry solids are achieved with BoHiBar steam pressure filtration.
BoHiBar Drum filters deliver unique results in the filtration, washing and demoisturing of fine-grained or difficult-to-filter products, especially in demanding product and process conditions such as in the production of plastic intermediates, pigments, fillers and dyes or when it comes to the filtration of crystallization and precipitation suspensions.
For particularly low residual moisture, steam pressure filtration can be performed on BoHiBar Drum filters. This innovative hybrid process produces particularly dry solids
Press release
BoCross MicroScreen Filter - New Process Solutions by the Use of Metallic Filter Media in Dynamic Crossflow Filtration
The use of metallic filter media in dynamic crossflow filtration with BoCross filters enables versatile and completely new process solutions for tasks such as classifying, clarifying liquids and concentrating solids.
For such tasks the use of metallic filter media offers solutions tailored to the product and objective when state-of-the-art technologies such as wedge wire screen, candle filters, backflush filters, vibration screens, centrifuges or membrane filters reach their limits. Innovative processes such as dynamic sieve filtration and dynamic precoat filtration can be realised. Dynamic sieve filtration allows to continuously sieve out disruptive coarse particles from highly concentrated or highly viscous suspensions with a sharp separation cut. Dynamic precoat filtration allows to completely separate solids and thus produce absolutely clear filtrates. Thereby, the ground layer is created by particles of the suspension - without addition of other substances. Also microfine suspensions can be concentrated when the use of microporous membranes (polymeric or ceramic) is not possible. The modular design of the BoCross filter – i.e. the series arrangement of the filter elements – is a great advantage in this regard. Adaptation to the different separation tasks is done by varying various parameters.
Press release
BOKELA Filter Revamping Programme
The modification and modernization of filter plants by filter revamping is a very economical and quickly feasible method to improve the performance and profitability of running filters.
BOKELA is the No. 1 in filter revamping bringing competitive filter technologies to the most modern BOKELA design standard.
Press release
Neuer BoVac Scheibenfilter mit verdoppelter Filterfläche
Der Bokela BoVac Scheibenfilter ist ein Hochleistungs-Vakuum-Scheibenfilter mit modernem Design, der eine hohe Durchsatz- und Entwässerungsleistung, hervorragende Betriebssicherheit auch bei wechselnden Zulaufbedingungen bietet und dabei einen sehr geringen Wartungsaufwand benötigt. Darüber hinaus sind Vakuum-Scheibenfilter die kompakteste Bauart unter den kontinuierlichen Drehfiltertypen. Sie haben mit Abstand den kleinsten Platzbedarf, bieten auf kleinster Stellfläche deshalb die größte Filterfläche und ermöglichen entsprechend kleinere Filtergebäude und niedrigsten CAPEX.
Jetzt hat Bokela die enorme hydraulische Kapazität der BoVac-Scheibenfiltertechnologie genutzt, um die Filterfläche pro Filtereinheit zu erweitern und einen neuen Scheibenfilter mit einer vergrößerten Filterfläche von 350 m² zu entwickeln. Dieser neue BoVac-Scheibenfilter XL350 ist speziell für Anwendungen in der Erz- und Mineralienaufbereitung geeignet, insbesondere für Anwendungen zur Tailingsfiltration, wo typischerweise hohe Feststoffdurchsätze, aber geringe Filtrat- und Luftströme zu verarbeiten sind. Basierend auf theoretischen Erkenntnissen und eigener praktischer Erfahrung wurde die Filterfläche vergrößert, indem der Scheibendurchmesser vergrößert, die Anzahl der Filterscheiben aber nur um zwei erhöht wurde. Das Ergebnis ist der erste Vakuum-Scheibenfilter, der 350 m² Filterfläche bietet, aber nicht mehr als 6 Filterscheiben hat. Die hohe Durchsatzleistung dieses neuen Filters und der geringe Platzbedarf, der nur 20-25 % des Platzbedarfs einer Filterpresse gleicher Kapazität ausmacht, ermöglichen es, die Anzahl der Filtereinheiten für die Konzentrat- oder Tailingsfiltration und damit auch die Größe des Filtergebäudes sowie CAPEX- und OPEX zu minimieren.
BoVac Vacuum Disc Filters Go Beyond
The Bokela BoVac Disc Filter is a high performance vacuum disc filter of modern design which ensures high throughput and dewatering performance, excellent operational reliability even in case of varying feed conditions, very little maintenance and last but not least, vacuum disc filters are the most compact rotary filter type. They have by far the smallest footprint, smallest filter building and thus lowest CAPEX.
Now, Bokela have used the enormous hydraulic capacity of the BoVac Disc Filter technology to expand the unit's filtration area and develop a new disc filter with increased filtration area of 350 m². This new BoVac Disc Filter XL350 is specifically suited to applications in the minerals industry, particularly tailings applications which typically process high solids throughputs but low filtrate and air flows. Based on theoretical knowledge and own practical experience the filter area was enlarged by increasing the disc diameter and adding only two more filter discs. The result is the first vacuum disc filter that offers 350 m² of filtration area, but has no more than 6 filter discs. The high throughput capacity of this new filter and the small footprint, which is only 20-25% of the footprint of a filter press of the same capacity, allows to minimize the number of filter units for concentrate or tailings dewatering and thus to minimize the size of the filter building as well as CAPEX and OPEX.
Press release
BoVac Pan Tellerfilter
Die BoVac Pan Tellerfilter definieren einen neuen Standard für diese Drehfilterbauart. Viele Besonderheiten und Innovationen machen die BoVac Pan Filterbaureihe einzigartig wie z. B. das "Forced Feeding" System zur gleichmäßigen Suspensionsverteilung oder das "Quick Drainage Cell" Design für eine besonders scharfe Trennung der Filtratströme. Das innovative Design ist die Ursache für das hohe Leistungsvermögen, den zuverlässigen Betrieb und die einfache Wartung. BoVac Pan Filter sparen bis zu 25 % Waschwasser ein. Anwendungsbereiche umfassen Industrien wie Aluminiumraffinerien, Aufbereitung von Eisenerz­konzentraten, Entwässerung von Quarzsand, Düngemittelproduktion usw.
BoVac Pan Filter
The BoVac Pan filters define a new standard for this rotary filter type. Many special features and innovations make our filter series unique, such as the "Forced Feeding" system for even slurry distribution or the "Quick Drainage Cell" design for a particularly sharp separation of the filtrate streams. The innovative design is the reason for the high performance, the reliable operation and the easy maintenance. BoVac Pan filters save up to 25 % of wash water. Application areas cover industries such alumina refineries, iron ore concentrates, quartz sands, fertilizer etc.
Press release
BoHiBar Disc Filter
High solids throughputs. Low residual moisture. Continuous operation. Minimal footprint. These are the strengths of the BoHiBar Disc Filter. Particularly dry solids are achieved with BoHiBar steam pressure filtration. So dry that some residues even become recyclables.
Wherever difficult to filter products or large amounts of suspension are to be filtered – such as concentrates from ore, coal and mineral processing or tailings – BoHiBar Disc Filters offer outstanding solutions.
Press release
BoCross MicroScreen Filter
The BoCross MicroScreen enables continuous removal of low concentrated, disturbing coarse grain from viscous suspensions like in the production of polymeric foams.
Dynamic precoat filtration is the latest process innovation with the BoCross MicroScreen Filter. This new process combines cake forming filtration and crossflow filtration and is applied to completely recover solids from a suspension and to produce a particle-free filtrate. Dynamic precoat filtration offers process solutions for difficult separation tasks e.g. with hot suspensions, suspensions containing solvents and/or fine particles where state-of-the-art technologies like membrane filters or centrifuges fail.
Press release
BOKELA Drum Filters
BOKELA drum filters enable economic and sustainable solutions when it comes to filtration, washing and dewatering of a wide range of products in the minerals, salt, chemical, pharmaceutical and food industry.
BOKELA drum filters provide superior process results in many applications with products such as crystallisation and precipitation products, pigments, food products, residues, coarse, fine and ultrafine particles.
The innovative BOKELA single cell design takes advantage of individual filter elements as known from rotary disc filters. The filter cloth is made as bag and re-clothing can be performed 1 hour by exchanging of pre-clothed cells.
Conference Presentation/s
Dynamic cross flow filtration with metallic filter media - Versatile, new process solutions: classification, clarification, concentration
E. Ehrfeld*, BOKELA GmbH, Germany
Conference Session: L10 - Advanced Filter Technology for Process Optimization - 2023-02-15 - 16:45
In contrast to classic crossflow filtration, in dynamic crossflow filtration with the BoCross filters (formerly Dyno Filter), the typical tangential overflow of the filter surface is not generated by the geometric flow control in the apparatus, but by rotors. This principle offers decisive process advantages. There are almost ideal physical conditions for the separation process. The throughput is therefore up to 10 times greater than with classic crossflow filtration. Furthermore, it is also possible to process suspensions with high concentrations or viscosities, because there are no narrow spaces and gaps.
In particular, the use of metallic filter media in dynamic crossflow filtration with the BoCross filters enables versatile and completely new process solutions. For tasks such as classifying, clarifying liquids and concentrating solids, these new processes offer powerful solutions where state-of-the-art technologies such as wedge wire screen, candle filters, backflush filters, vibration screens, centrifuges or membrane filters reach their limits.
Depending on the task, the BoCross filter technology can be used to implement various procedures tailored to the product and objective when using metallic filter media. For example, a particle "ground" layer on the filter medium can be reliably prevented or specifically generated. In this way, innovative processes such as for example, dynamic sieve filtration and dynamic precoat filtration can be implemented. With the dynamic sieve filtration, disruptive coarse particles can be continuously screened out suspensions with a sharp separation cut, even of highly concentrated or highly viscous suspensions. Dynamic precoat filtration, on the other hand, makes it possible to completely separate solids and thus produce absolutely clear filtrates. The ground layer in this precoat filtration is usually...
Images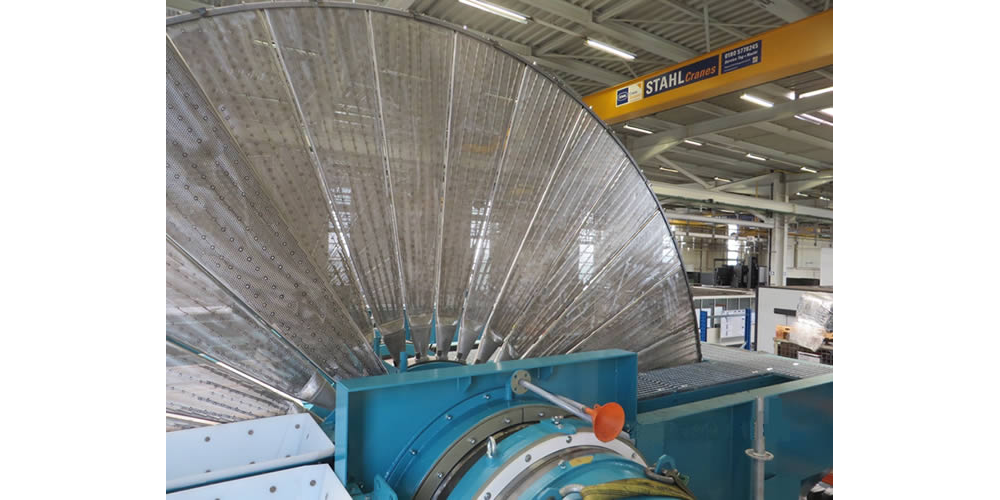 BoVac Disc filter XL350 with 350 m² filtration area / BoVac Disc Filter XL350 mit 350 m² Filtrationsfläche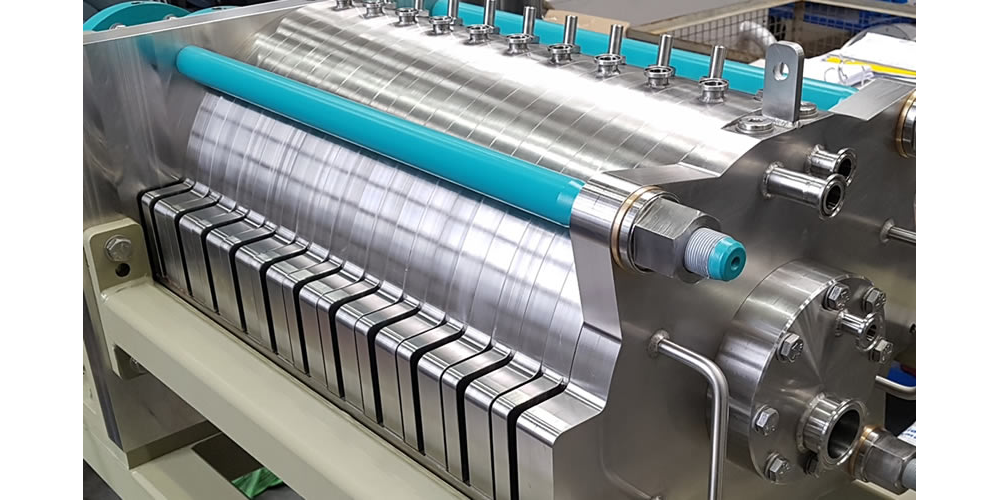 BOKELA BoCross M2 Dynamic Crossflow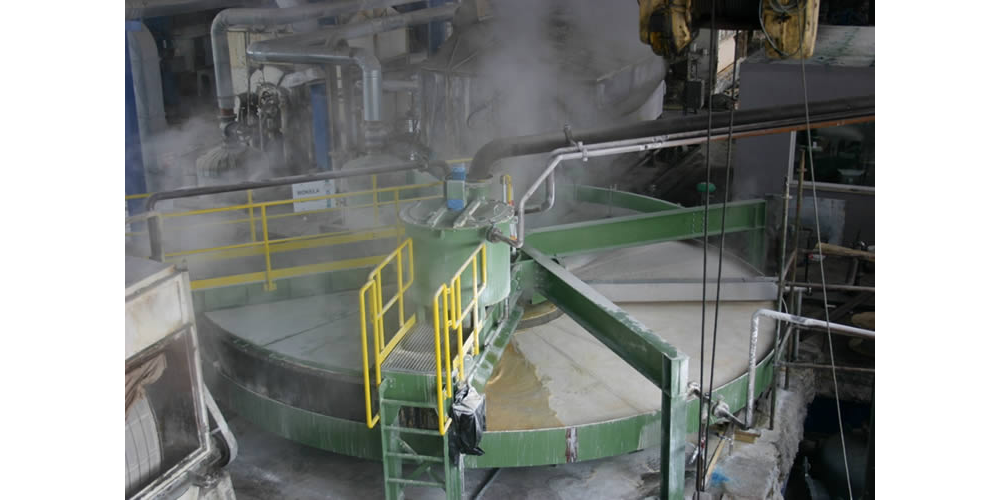 BoVac Pan Filter / BoVac Pan Tellerfilter