Cambustion Hall 8 / D12

Exhibitor Profile
The Aerodynamic Aerosol Classifier has been adopted globally for its unique ability to classify aerosol particles by aerodynamic diameter.
Selecting truly monodisperse aerosol over the unprecedented size range of 25nm – 5µm, the AAC is ideal for penetration studies and aerodynamic size distribution measurement. With no need to charge the particles, AAC output is free from multiple charging artefacts, which affect DMAs. Software upgrades in 2019 allow continuous (vs step) scans, for shorter scan times with significantly higher spectral resolution. [Session G17 - Monitoring & Control Thurs 24th October 14:45 – 16:00 Room 4A]
The DMS500 provides the fastest real-time electrical mobility size/number distributions available (from 200ms T10-90% at 10Hz); measuring from 5nm – 2.5μm, with unrivalled time response, sensitivity and sizing accuracy across the entire size range, with a single measurement technique. Applications include ambient monitoring, combustion aerosol and workplace measurements. A new catalytic stripper option (removal of volatiles) further enhances the DMS500's integrated sampling and conditioning options, enabling both ambient measurements and direct sampling of rapidly-changing, high concentration aerosol sources.
Cambustion have launched the Dual Diluter system allowing automated upstream / downstream measurements of particle concentration for filter efficiency testing.
Products / Markets
Product Index
Analytische Messtechnik
Durchflussmesser
Gasanalysegerät
Klassierer
Messinstrumente
Nanopartikelanalyse
Nanopartikelmessung
Online Particle Analysis
Partikelanalysemethoden
Partikelformanalyse
Partikelgrößenanalyse
Partikelgrößenverteilungsanalyse
elektrostatische Abscheider
Market Scope
Automobilindustrie
Biotechnologie/Biopharmazie
Filtrations- und Separationsindustrie
Medizintechnik, Health Care Industrie
Pharmazeutische Industrie
Umweltschutz
Product Index
Analytical Instruments
Classifiers
Electrostatic Precipitators
Flow Meters
Gas Analysis Devices
Measurement Instruments
Nanoparticle Analysis
Nanoparticle Measurement
Online Particle Analysis
Particle Measuring Methods
Particle Shape Analysis
Particle Size Analysis
Particle Size Distribution Analysis
Market Scope
Automotive Industry
Biotechnology/Biopharmac. Industry
Environmental Protection
Filtration and Separation Industry
Medical, Health Care Industry
Pharmaceutical Industry
Product Index
测量仪器
分析仪器
分类器
在线颗粒分析
气体分析设备
流量计
纳米颗粒分析
纳米颗粒测量
静电沉淀器
颗粒大小分布分析
颗粒大小分析
颗粒形状分析
颗粒测量方法
Market Scope
 汽车工业
制药工业
医疗卫生保健业
环境保护
生物技术/生物制药业
过滤与分离工业
Product Index
أجهزة تحليل الغازات
أدوات القياس
التحاليل
تحاليل الأجسام الدقيقة
تحاليل على الأنبوب (على الخط)
تحليل الجسيمات الصفائحية
تحليل الجسيمات الصفائحية
طرق قياس الجسيمات
قياس الأجسام الدقيقة
مرسبات كهرساكنة
مقاييس تدفق
موزع أحجام الجسيماتالتحاليل
وحدات تصنيف
Market Scope
الصناعات الدوائية
الصناعات الطبية والعناية الصحية
صناعات الفلترة وفصل المواد
صناعة الألبان
صناعة التقنية البيولوجية والبيوصيدلية
صناعة السيارات
Product Index
Analyse de distribution de tailles de particules
Analyse de forme de particules
Analyse de nanoparticules
Analyse de particules en ligne
Analyse de tailles de particules
Classificateurs
Dispositifs d'analyse de gaz
Débitmètres
Instruments analytiques
Instruments de mesure
Mesures de nanoparticules
Méthodes de mesures de particules
Précipitant électrostatique
Market Scope
Industrie automobile
Industrie biotechnologie/biopharmaceutique
Industrie de filtration et de séparation
Industrie laitière
Industrie médicale et de la santé
Industrie pharmaceutique
Product Index
Analisi dimensione particelle
Analisi distribuzione dimensione particelle
Analisi forma particelle
Analisi nanoparticelle
Analisi particelle online
Apparecchi di analisi del gas
Classificatori
Flussometri
Metodi di misurazione particelle
Misurazione nanoparticelle
Precipitatori elettrostatici
Strumenti analitici
Strumenti di misura
Market Scope
Biotecnologie/biofarmaceutica
Protezione ambientale
Settore automobilistico
Settore filtrazione e separazione
Settore medicale e sanità
Settore parafarmaceutico
Product Index
Analiza cząsteczek online
Analiza kształtu cząsteczek
Analiza nanocząsteczek
Analiza rozkładu wielkości cząsteczek
Analiza rozmiaru cząsteczek
Klasyfikatory
Metody pomiaru cząsteczek
Narzędzia analityczne
Odpylacze elektrostatyczne
Pomiar nanocząsteczek
Przepływomierze
Przyrządy pomiarowe
Urządzenia do analizy gazu
Market Scope
Biotechnologia/biofarmaceutyka
Filtrowanie i separacja
Ochrona zdrowia
Ochrona środowiska
Przemysł farmaceutyczny
Przemysł samochodowy
Product Index
Análise da dimensão das partículas
Análise da distribuição da dimensão das partículas
Análise da forma das partículas
Análise de nanopartículas
Análise de partículas online
Classificadores
Dispositivos de análise de gases
Fluxómetros
Instrumentos analíticos
Instrumentos de Medição
Medição de nanopartículas
Métodos de medição de partículas
Precipitadores electrostáticos
Market Scope
Ind. de biotecnologia/biofarmac.
Indústria automóvel
Indústria de filtragem e separação
Indústria farmacêutica
Indústria leiteira
Indústria médica, cuidados de saúde
Product Index
Анализ наночастиц
Анализ потока частиц
Анализ размеров частиц
Анализ формы частицы
Аналитические инструменты
Газоанализаторы
Измерение наночастиц
Инструменты для измерения
Размер частиц Анализ
Расходомеры
Сортировочные аппараты
Способы измерения частиц
Электростатические фильтры
Market Scope
Автомобильная промышленность
Биотехнология / Биофармацевтическая промышленность
Медицина, здравоохранение
Молочная промышленность
Отрасль фильтрации и сепарирования
Фармацевтическая промышленность
Product Index
Análisis de distribución de formas de partículas
Análisis de formas de particulas.
Análisis de formas de partículas
Análisis de nanopartículas
Análisis de partículas en línea
Caudalímetros
Clasificadores
Dispositivos de análisis de gas
Instrumentos analíticos
Instrumentos de medida
Medición de nanopartículas
Métodos de medición de partículas
Precipitadotes electrostáticos
Market Scope
Industria de la automoción
Industria de la biotecnología/biofarmacéutica
Industria de la filtración y la separación
Industria de los productos lácteos
Industria farmacéutica
Industria médica, de la atención sanitaria
Product Index
Ölçü Aletleri
Analitik Cihazlar
Debimetreler
Elektrostatik Çöktürücüler
Gaz Analiz Cihazları
Klasifikatörler
Nanopartikül Analizi
Nanopartikül Ölçümü
Partikül Boyut Dağılımı Analizi
Partikül Boyutu Analizi
Partikül Ölçüm Yöntemleri
Partikül Şekli Analizi
Çevrimiçi Partikül Analizi
Market Scope
Biyoteknoloji/Biyoeczacılık Endüstrisi
Filtrasyon ve Ayırma Endüstrisi
Otomotiv Endüstrisi
Tıp, Sağlık Sektörü
Çevre Koruma
İlaç Endüstrisi
Product Index
가스 분석 장치
나노 입자 분석
나노 입자 측정
분급기
분석 장치
온라인 입자 분석
유량 측정기
입자 측정 방법
입자 크기 분석
입자 크기 분포 분석
입자 형태 분석
정전식 집진기
측정 기기
Market Scope
생명공학/생물 약제학 산업
여과 및 분리 산업
의료, 보건 산업
자동차 산업
제약 산업
환경 보호
Product Index
オンライン粒子分析
ガス分析装置
ナノ粒子分析
ナノ粒子測定
分析機器
分級機
流量計
測定器
粒子形状分析
粒子径分析
粒子測定方法
粒度分布分析
静電集塵器
Market Scope
バイオテクノロジー・バイオ医薬品産業
医療、ヘルスケア業界
医薬品業界
濾過および分離技術工業
環境保護
自動車産業
Press release
Cambustion AF10 Aerosol Flowmeter – The new flowmeter designed to measure gas flows containing aerosol particles
This new flowmeter is designed to measure gas flow rates, even when the gas contains (solid, liquid or mixed) aerosol particles. Unlike other popular flowmeters, the AF10 is not damaged by aerosol particles and does not modify the properties of the aerosol. The wide range of measurable flows – spanning two orders of magnitude, from 0.1 to 10 lpm – makes the AF10 well-suited for monitoring challenge aerosols used in filtration studies. Compatibility with a number of common carrier gases further increases its versatility.
Measurements rely on the well-established principle of pressure drop across an orifice, with fully automatic correction for temperature and pressure. An integrated cleaning brush actuated by a solenoid ensures that measurement accuracy is maintained even during prolonged experiments by removing accumulated material in less than 1 second. The straight-through tube design minimises particle losses, while the user-changeable orifices allow the pressure drop to be adjusted for minimally invasive measurements.
As a plug & play instrument, the AF10 is an invaluable tool which can be easily integrated (via USB and Ethernet interfaces) into numerous experimental setups, including filtration experiments. The large touchscreen display further contributes to the intuitive usability.
A traceable calibration certificate guarantees the accuracy
Conference Presentation/s
Evaluation of various face covering filter materials using particles classified by aerodynamic diameter up to 5 µm
S. Payne*, J. Symonds, Cambustion Ltd., UK
Presentation at FILTECH 2022 Conference
During the COVID-19 pandemic, face coverings have been widely worn in public spaces to capture respiratory particles produced by the wearer and reduce spread of infection. These commonly consist of layers of woven fabric. Surgical masks are intended for health care staff to protect patients during surgical procedures and in other medical settings. Respiratory filtering half masks are intended to protect the wearer and are regulated as personal protective equipment (PPE) for inhaled air only.
Numerous recent studies have emphasised the possibility of airborne coronavirus transmission. While the World Health Organisation (WHO) defines droplets as ≥5-10 μm diameter and aerosols as <5 μm, both can be generated as a continuum of particle sizes during various respiratory activities including coughing, talking and singing.
In this study the filtration properties of various face mask materials were investigated across a broad range of particle sizes. The interception mechanism is important for large particle capture, for which aerodynamic diameter is the most useful measure of size. A suitable instrument for achieving this is the Aerodynamic Aerosol Classifier (AAC), which can select particle sizes between 25 nm and >5 μm by using a rotating cylinder to balance opposing centrifugal and drag forces for the desired aerodynamic diameter, so that particles move across a sheath flow to the outlet. This principle of aerosol selection is independent of the charge state and produces a truly monodisperse aerosol with a high transmission efficiency limited only by diffusion and impaction losses.
This study uses an AAC to select monodisperse test particles by aerodynamic diameter in order to assess the filtration performance of various face covering materials, in both flow directions and at filter face velocities representative of inhalation and exhalation flow rates...
Images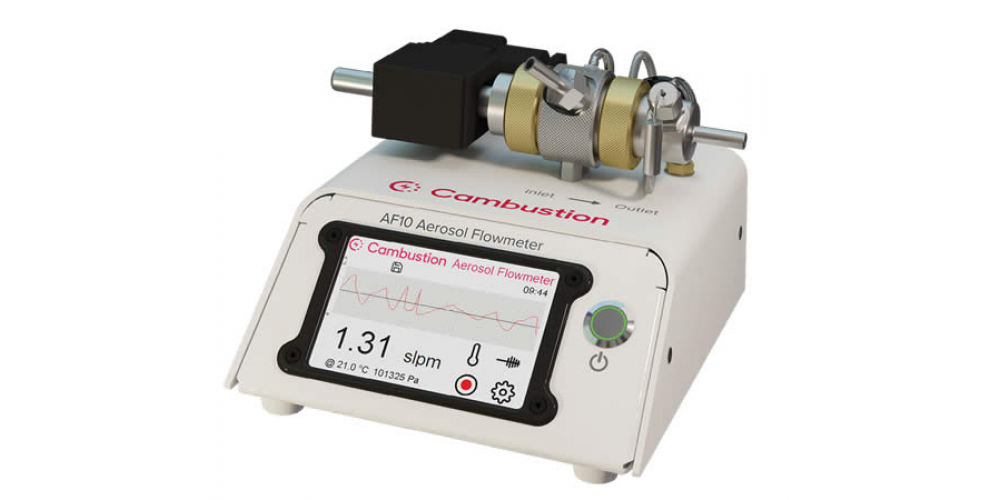 Cambustion AF10 Aerosol Flowmeter