Entec International B.V.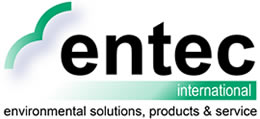 Exhibitor Profile
Entec International B.V. | The environmental engineers
Environment and purification have gone hand-in-hand at Entec International for many years. As specialist in the field of Environmental Technology, we are your partner for products such as: odour filters and odour filter media, UV and ionisation, hyperboloid- / dynamic mixers, static mixers, submersible mixers, aeration, recirculation and pumps.
Our own R&D department and almost 50 years of in-field experience ensures the highest quality in all our product ranges. From standard to customer specific and customization; Entec International is the solution.
Entec International will introduce the High-end filtermedia: PAARS® Excellent at the FILTECH 2019, hall 11.2, stand No. S35
Products / Markets
Product Index
Absorptionsfilter
Adsorptionsfilter
Aktivkohle
Aktivkohle Medien
Belüftungssysteme
Einbaufilter
Filtermedien
Luftfilter
Luftfiltermedien
Market Scope
Abfallwirtschaft
Abwasserwirtschaft
Farben-, Pigment-, Beschichtungsindustrie
Lebensmittel-,Getränkeindustrie
Milchindustrie / Molkerei
Umweltschutz
Wasserbehandlung, versorgung
Zellstoff-, Papierindustrie
Product Index
Absorption Filters
Activated Carbon
Activated Carbon Media
Adsorption Filters
Aeration Systems
Air Filter Media
Air Filters
Filter Media
In-Line Filters
Market Scope
Dairy Industry
Environmental Protection
Food, Beverage Industry
Paint, Pigments, Coatings Industry
Pulp, Paper Industry
Waste Treatment
Waste Water Treatment
Water Treatment, Supply
Product Index
串联过滤器
吸附式过滤器
吸附式过滤器
曝气系统
活性碳
活性碳介质
空气过滤器
空气过滤器介质
过滤介质
Market Scope
乳品加工业
废水处理
废物处理
水处理、供应
油漆、颜料、涂料工业
环境保护
纸浆、造纸工业
食品、饮料工业
Product Index
أنظمة تهوية
فلاتر إمتصاص
فلاتر إمتصاص كيماوي
فلاتر الهواء
فلاتر للأنابيب (على الخط)
كربون منشط
مواد الكربون المنشط
مواد فلاتر الهواء
مواد فلترة
Market Scope
التغذية بالمياه وتصريفها
الصناعات الغذائية وصناعة المشروبات
الصناعة الإلكترونية والإلكترونيات الدقيقة
الصناعة الورقية
صناعة الألبان
صناعة الدهانات والصبغات والتلبيس
معالجة النفايات
معالجة مياه الصرف
Product Index
Charbon actif
Filtres en ligne
Filtres à absorption
Filtres à adsorption
Filtres à air
Fluide à charbon actif
Fluides pour filtres à air
Médias de filtre
Systèmes d'aération
Market Scope
Industrie de la pâte de cellulose et du papier
Industrie de peintures, pigments et revêtements
Industrie laitière
Industrie électronique et microélectrique
Industries alimentaires et des boissons
Traitement des déchets
Traitement des eaux usées
Traitement d'eau, alimentation
Product Index
Carbone attivo
Filtri aria
Filtri di assorbimento
Filtri di assorbimento
Filtri in linea
Mezzi filtranti
Mezzi filtranti aria
Mezzi filtranti carbone attivo
Sistemi di aerazione
Market Scope
Protezione ambientale
Settore alimenti e bevande
Settore caseario
Settore industria dell carta e della cellulosa
Settore pitture, pigmenti e rivestimenti
Trattamento acque reflue
Trattamento approvvigionamento acqua
Trattamento rifiuti
Product Index
Filtry absorbcyjne
Filtry adsorbcyjne
Filtry powietrza
Filtry połączone szeregowo
Media filtrów
Media filtrów powietrza
Media węgla aktywowanego
Systemy napowietrzania
Węgiel aktywowany
Market Scope
Ochrona środowiska
Oczyszczanie ścieków
Oczyszczanie ścieków (waste water)
Produkcja farb i lakierów
Przemysł celulozowo-papierniczy
Przemysł mleczarski
Przemysł spożywczy
Uzdatnianie wody i zaopatrzenie w wodę
Product Index
Carvão activado
Filtros de absorção
Filtros de adsorção
Filtros de ar
Filtros de encaixe
Meios de carvão activado
Meios de filtragem
Meios de filtro do ar
Sistemas de ventilação
Market Scope
Electrónica, indústria microelectrónica
Indústria alimentar, de bebidas
Indústria leiteira
Pasta, indústria do papel
Pintura, pigmentos, indústria de revestimentos
Tratamento de desperdícios
Tratamento de água de despejo
Tratamento de água, abastecimento
Product Index
Абсорбционные фильтры
Абсорбционный фильтр
Активированный уголь
Воздушные фильтры
Материал активированного угля
Проточные фильтры
Система вентилирования
Фильтрующий материал
Фильтрующий материал
Market Scope
Бумажная промышленность
Лакокрасочная промышленность
Молочная промышленность
Очистка воды, водоснабжение
Очистка сточных вод
Переработка отходов
Производство продуктов питания и напитков
Электроника, микроэлектроника
Product Index
Carbón activado
Filtros de absorción
Filtros de absorción
Filtros de aire
Filtros en línea
Medios de carbón activado
Medios de filtro
Medios de filtros de aire
Sistemas de aireación
Market Scope
Industria de la alimentación y las bebidas
Industria de la electrónica, microelectrónica
Industria de la pasta de madera, el papel
Industria de las pinturas, pigmentos, revestimientos
Industria de los productos lácteos
Tratamiento de aguas residuales
Tratamiento del agua
Tratamiento, suministro de agua
Product Index
Absorpsiyon Filtreleri
Adsorpsiyon Filtreleri
Aktif Karbon
Aktif Karbon Ortamı
Filtre Ortamı
Hava Filtreleri
Hava Filtresi Ortamı
Havalandırma Sistemleri
Sıralı Filtreler
Market Scope
Atık Arıtma
Atıksu Arıtma
Boya, Pigment, Kaplama Endüstrisi
Gıda, İçecek Endüstrisi
Selüloz, Kağıt Endüstrisi
Su Arıtma, Temin
Süt Endüstrisi
Çevre Koruma
Product Index
공기 시스템
공기 여과재
공기 필터
여과재
인라인 필터
활성탄
활성탄 매체
흡수 필터
흡수 필터
Market Scope
수질 관리, 수자원 공급
식음료 산업
유제품 산업
제지, 종이 산업
페인트, 안료, 도장 산업
폐기물 처리
폐수 처리
환경 보호
Product Index
インラインフィルタ
エアフィルター
エアフィルターメディア
フィルターメディア
吸収フィルター
吸収フィルター
曝気システム
活性炭
活性炭メディア
Market Scope
パルプ、製紙業界
塗料、顔料、コーティング産業
廃棄物処理
水処理および関連製品
汚水処理
環境保護
酪農産業
食品、飲料業界