EPCOTEC GmbH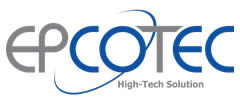 Exhibitor Profile
Epcotec GmbH was founded in 2017 as an engineering and project management company with a team of highly qualified specialists to provide professional support for procurement and development laboratory, R&D and QC projects.
After initially focusing on laboratory solutions, the spectrum of our services are expanded to include machines and systems on an industrial scale and even large turnkey projects in High-tech technology like Plasma and Nano fiber.
New Solutions with Nano Fibers
EPCOTEC GmbH actives in various areas of Nano-fibers over than 15 years and plans further developing this technology not only for academic research purposes, but also to improve real commercial applications for mass production.
Currently, several industries around the world have already applied this technique to the development of new product innovations, particularly in the areas of tissue development, medical applications, encapsulation of food, insulation materials, energy conversion and storage, air and water filtration, among others.
Products / Markets
Product Index
Anschwemmfilter
Automobilfilter
Batterieseparatoren
Beschichtete Filter,antibakteriell
Garne / Technische Garne
Laboranlagen
Medizinische Filter
Messinstrumente
Nanofiltration
Ozonanlagen
Pilotanlagen
Plasma Behandlung
Probenahme
Prüfdienstleistungen
Spezialmaschinen Filtrationsindustrie
Technische Textilien
Wasserfilter
Ölfilter
Market Scope
Abwasserwirtschaft
Automobilindustrie
Chemische Industrie
Energieerzeugung,-versorgung
Filtrations- und Separationsindustrie
Kunststoffverarbeitende Industrie
Medizintechnik, Health Care Industrie
Petrochemische Industrie
Pharmazeutische Industrie
Textilindustrie
Product Index
Automotive Filters
Battery Separators
Coated Filters, antibacterical
Laboratory Plants
Measurement Instruments
Medical Filters
Nanofiltration
Oil Filters
Ozone Equipment
Pilot Plants
Plasma Treatment
Precoat Filters
Sampling Equipment
Special Machinery Filtration Industry
Technical Textiles
Testing Services
Water Filters
Yarns / Technical Yarns
Market Scope
Automotive Industry
Chemical Industries
Energy, Energy Supply
Filtration and Separation Industry
Medical, Health Care Industry
Petrochemical Industry
Pharmaceutical Industry
Plastic Industry
Textile Industry
Waste Water Treatment
Product Index
测量仪器
医用过滤器
取样设备
实验室的植物
工业用纺织品
工業絲
水过滤器
汽车过滤器
测试服务
滤油器
特种工程机 械工业过滤
等离子体处理
纳米过滤
臭氧装置
蓄电池隔板
试验工厂
镀膜滤色镜,抗菌式
预涂过滤器
Market Scope
 汽车工业
制药工业
化学工业
医疗卫生保健业
塑料工业
废水处理
石化工业
纺织工业
能源、能源供应
过滤与分离工业
Product Index
أجهزة الأوزون
أدوات القياس
أقمشة تقنية
البلازما المعاملة
الطيار النباتات
الفلترة الدقيقة
خاصة صناعة الآلات الترشيح
خدمات الاختبار
خرطوشات فلترة
خيوط التقنية
فلاتر أولية
فلاتر السيارات
فلاتر زيوت
فلاتر طبية
فلاتر ماء
فلاتر مغلفة، مضادة للجراثيم
مختبر النباتات
معدات سحب العينات
Market Scope
الصناعات الدوائية
الصناعات الطبية والعناية الصحية
الصناعة البتروكيماوية
الصناعة الكيماوية
الصناعة النسيجية
حماية البيئة
صناعات الفلترة وفصل المواد
صناعة البلاستيك
صناعة السيارات
معالجة مياه الصرف
Product Index
Equipements de collecte d'échantillons
Equipements à ozone
Filtres automobiles
Filtres d'apprêts
Filtres médicaux
Filtres à eau
Filtres à huile
Filtres à revêtement, antibactérien
Installations pilotes
Instruments de mesure
Machines spéciales pour l'industrie filtration
Nanofiltration
Plantes de laboratoire
Services de contrôle
Séparateurs de batterie
Textiles techniques
Traitement plasma
Yarns Techniques
Market Scope
Industrie automobile
Industrie chimique
Industrie de filtration et de séparation
Industrie des matières synthétiques
Industrie médicale et de la santé
Industrie pharmaceutique
Industrie pétrochimique
Industrie textile
Protection de l'environnement
Traitement des eaux usées
Product Index
Apparecchi per ozono
Attrezzatura di campionatura
Filati tecnici
Filtri a prerivestimento
Filtri medicali
Filtri olio
Filtri per acqua
Filtri rivestiti, antibatterici
Filtri settore automobilistico
Impianti di laboratorio
Impianti pilota
Macchinari speciali Industria filtrazione
Nanofiltrazione
Separatori di batterie
Servizi di verifica
Strumenti di misura
Tessuti tecnici
Trattamento plasma
Market Scope
Energia, approvvigionamento energetico
Settore automobilistico
Settore chimico
Settore filtrazione e separazione
Settore industria tessile
Settore medicale e sanità
Settore parafarmaceutico
Settore petrolchimico
Settore plastica
Trattamento acque reflue
Product Index
Filtry do wody pitnej
Filtry do zastosowań medycznych
Filtry oleju
Filtry powlekane, antybakteryjne
Filtry samochodowe
Filtry z pomocniczą warstwą filtracyjną
Instalacje pilotażowe
Nanofiltracja
Obróbka plazmowa
Przyrządy pomiarowe
Przędze techniczne
Separatory baterii
Specjalny sprzęt Systemy filtracyjne
Tekstylia techniczne
Urządzenia do pobierania próbek
Urządzenia laboratoryjne
Urządzenia wytwarzające ozon
Usługi testowania
Market Scope
Filtrowanie i separacja
Ochrona zdrowia
Oczyszczanie ścieków (waste water)
Przemysł chemiczny
Przemysł energetyczny
Przemysł farmaceutyczny
Przemysł petrochemiczny
Przemysł samochodowy
Przemysł tekstylny
Przemysł tworzyw sztucznych
Product Index
Equipamento de amostragem
Equipamento de ozono
Filtros de pré-revestimento
Filtros de água
Filtros de óleo
Filtros medicinais
Filtros para automóveis
Filtros revestidos, antibacteriano
Fios Técnicos
Instrumentos de Medição
Laboratório de Plantas
Máquinas especiais para a indústria filtração
Nanofiltração
Plantas Piloto
Plasma Tratamento
Separadores de baterias
Serviços de teste
Têxteis para usos técnicos
Market Scope
Indústria automóvel
Indústria de filtragem e separação
Indústria dos plásticos
Indústria farmacêutica
Indústria médica, cuidados de saúde
Indústria petroquímica
Indústria têxtil
Indústrias químicas
Protecção ambiental
Tratamento de água de despejo
Product Index
Автомеханические фильтры
Водяные фильтры
Инструменты для измерения
Лаборатория растения
Масляные фильтры
Медицинские фильтры
Намывные фильтры
Нанофильтрация
Оборудование для отбора проб
Оборудование озонирования
Обслуживание Тестирования
Пилотные установки
Плазменной обработки
Разделитель аккумуляторной батареи
Специальное оборудование – Отрасль фильтрации и сепарирования
Технический текстиль
Фильтры с покрытием, антибактериальные
пряжи / Технические пряжи
Market Scope
Автомобильная промышленность
Защита окружающей среды
Медицина, здравоохранение
Нефтехимическая промышленность
Отрасль фильтрации и сепарирования
Очистка сточных вод
Производство пластмасс
Текстильная промышленность
Фармацевтическая промышленность
Химическая промышленность
Product Index
El tratamiento de plasma
Equipo de muestreo
Equipo de ozono
Filtros de aceite
Filtros de agua
Filtros de automoción
Filtros de revestimiento previo
Filtros médicos
Filtros revestidos, antibacteriológicos
Hilos Técnicos
Instrumentos de medida
Laboratorio de Plantas
Maquinaria especial industr. filtración
Nanofiltración
Plantas Piloto
Separadores de batería
Servicios de Pruebas
Tejidos técnicos
Market Scope
Industria de la automoción
Industria de la filtración y la separación
Industria de los plásticos
Industria farmacéutica
Industria médica, de la atención sanitaria
Industria petroquímica
Industria textil
Industrias químicas
Protección del medio ambiente
Tratamiento de aguas residuales
Product Index
Ölçü Aletleri
Batarya Separatörleri
Kaplı Filtreler, antibakteriyel
Laboratuvar Donanımları
Nanofiltrasyon
Numune Alma Ekipmanları
Otomobil Filtreleri
Ozon Ekipmanları
Pilot Tesisler
Plazma İşlemi
Su Filtreleri
Teknik Tekstiller
Tıbbi Filtreler
Yağ Filtreleri
test Hizmetleri
Ön Astarlı Filtreler
Özel Makineler Filtrasyon Endüstrisi
İplikler / Teknik İplikler
Market Scope
Atıksu Arıtma
Enerji, Enerji İkmali
Filtrasyon ve Ayırma Endüstrisi
Kimya Endüstrisi
Otomotiv Endüstrisi
Petrokimya Endüstrisi
Plastik Endüstrisi
Tekstil Endüstrisi
Tıp, Sağlık Sektörü
İlaç Endüstrisi
Product Index
기능성 섬유
기능성 실
나노 여과
물 필터
배터리 분리기
샘플링 장비
실험실 식물
오일 필터
오존 장비
의료 필터
자동차 필터
측정 기기
코팅 필터, 항균성
테스트 서비스
특수 기계 여과 산업
파일럿 플랜트
프리코트 필터
플라즈마 처리
Market Scope
석유화학 산업
섬유 산업
에너지, 에너지 공급
여과 및 분리 산업
의료, 보건 산업
자동차 산업
제약 산업
폐수 처리
플라스틱 산업
화학 산업
Product Index
オイルフィルター
オゾン装置
コーティングフィルター
サンプリング装置
テクニカル糸
テクニカル繊維
ナノ濾過
パイロットプラント
プラズマ処理
プレコートフィルター
医療用フィルター
水フィルター
測定器
特殊機械 濾過産業
研究用プラント
自動車用フィルター
試験サービス
電池セパレーター
Market Scope
エネルギー、エネルギー供給
プラスチック業界
化学工業
医療、ヘルスケア業界
医薬品業界
汚水処理
濾過および分離技術工業
石油化学工業
繊維業界
自動車産業