FDC - Filter Design Company Ltd.

Exhibitor Profile
The Filter Design Company specialise in filter design and manufacturing for filter lines.
Although Respiratory Protection is The Filter Design Company's largest market, the business has provided manufacturing, automation and consultancy for the following sectors:
Beverage
Energy Generation
Medical
Military and Civil Defence
Oil Coalescing
Pharmaceutical
Transport
Water
However, the company's personnel have a combined total of over 150 years' worth of experience within the filtration industry, and truly bespoke filtration solutions can be provided no matter your sector.
The Filter Design Company's client base also spans international boundaries, with previous or current customers based in Africa, Asia, Australasia, Europe, North America, South America and locally in the UK.
Products / Markets
Product Index
Absorptionsfilter
Consulting
Einbaufilter
Gasfilter
HEPA & ULPA Filterprüfung
Hepa-Filter
Kabinenfilter
Kraftstoff-Filter
Laborfilter
Luftfilter
Medizinische Filter
Mehrfachfiltersysteme
Montagemaschinen
Staub-/Tropfenfilter
Testeinrichtung
Vakuumfilter
Wasserfilter
Ölfilter
Market Scope
Automobilindustrie
Bergbauindustrie
Chemische Industrie
Eisen-, Stahlherstellung
Energieerzeugung,-versorgung
Filtrations- und Separationsindustrie
Luft- und Raumfahrtindustrie
Medizintechnik, Health Care Industrie
Pharmazeutische Industrie
Wasserbehandlung, versorgung
Product Index
Absorption Filters
Air Filters
Cabin Air Filters
Consulting
Dust/Mist Filters
Fuel Filters
Gas Filters
HEPA & ULPA Filter Testing
HEPA Filters
In-Line Filters
Laboratory Filters
Machinery for Assembly
Medical Filters
Multiple Filter Systems
Oil Filters
Test Rigs
Vacuum Filters
Water Filters
Market Scope
Aerospace Industry
Automotive Industry
Chemical Industries
Energy, Energy Supply
Filtration and Separation Industry
Iron, Steel Manufacturing
Medical, Health Care Industry
Mining Industry
Pharmaceutical Industry
Water Treatment, Supply
Product Index
串联过滤器
医用过滤器
吸附式过滤器
咨询
复式过滤器系统
实验台
实验室过滤器
尘/雾过滤器
无菌无尘空气过滤器测试
气体过滤器
水过滤器
汽车空调过滤器
滤油器
燃油过滤器
真空过滤器
空气过滤器
组装机
高效粒子空气过滤器
Market Scope
 汽车工业
制药工业
化学工业
医疗卫生保健业
水处理、供应
能源、能源供应
航空航天业
过滤与分离工业
采矿业
钢铁制造业
Product Index
"فلاتر هواء عالية الفاعلية ""هـيبا"" HEPA"
HEPA ULPA اختبار
آلات التجميع
أجهزة إختبار
أنظمة فلترة مضاعفة
فلاتر إمتصاص
فلاتر الغبار / الضباب
فلاتر المقصورات والحُجرات
فلاتر الهواء
فلاتر زيوت
فلاتر شفط
فلاتر طبية
فلاتر غازات
فلاتر للأنابيب (على الخط)
فلاتر ماء
فلاتر مخبرية
مستشار
مواد فلاتر المحروقات
Market Scope
التغذية بالمياه وتصريفها
الصناعات الدوائية
الصناعات الطبية والعناية الصحية
الصناعة الكيماوية
حماية البيئة
صناعات الفلترة وفصل المواد
صناعة التعدين
صناعة الحديد والصلب
صناعة السيارات
صناعة الفضاء
Product Index
Consultant
Equipements d'essai
Filtres HEPA
Filtres de laboratoires
Filtres en ligne
Filtres médicaux
Filtres à absorption
Filtres à air
Filtres à air de cabines
Filtres à carburant
Filtres à eau
Filtres à gaz
Filtres à huile
Filtres à poussières/buées
Filtres à vide
Machines d'assemblage
Systèmes à filtres multiples
Test des filtres HEPA et ULPA
Market Scope
Industrie automobile
Industrie aérospatiale
Industrie chimique
Industrie de filtration et de séparation
Industrie minière
Industrie médicale et de la santé
Industrie pharmaceutique
Protection de l'environnement
Sidérurgie
Traitement d'eau, alimentation
Product Index
Banchi di prova
Consulenza
Filtri a vuoto
Filtri aria
Filtri aria abitacolo
Filtri carburante
Filtri di assorbimento
Filtri di laboratorio
Filtri gas
Filtri hepa
Filtri in linea
Filtri medicali
Filtri olio
Filtri per acqua
Filtri polvere/nebbie
Macchinari di assemblaggio
Sistemi a filtraggio multiplo
Test di filtraggio HEPA&ULPA
Market Scope
Energia, approvvigionamento energetico
Produzione ferro e acciaio
Settore aerospaziale
Settore automobilistico
Settore chimico
Settore filtrazione e separazione
Settore medicale e sanità
Settore minerario
Settore parafarmaceutico
Trattamento approvvigionamento acqua
Product Index
Filtry HEPA
Filtry absorbcyjne
Filtry do wody pitnej
Filtry do zastosowań medycznych
Filtry gazu
Filtry laboratoryjne
Filtry oleju
Filtry paliwa
Filtry powietrza
Filtry połączone szeregowo
Filtry przeciwpyłowe/przeciwmgielne
Filtry próżniowe
Kabinowe filtry powietrza
Ordynacyjny
Stanowiska do testowania
Systemy wielostopniowej filtracji
Testowanie filtrów HEPA & ULPA
Urządzenia do montażu
Market Scope
Filtrowanie i separacja
Ochrona zdrowia
Przemysł chemiczny
Przemysł energetyczny
Przemysł farmaceutyczny
Przemysł hutniczy
Przemysł lotniczy
Przemysł samochodowy
Przemysł wydobywczy
Uzdatnianie wody i zaopatrzenie w wodę
Product Index
Banco de ensaios
Consultando
Filtros absolutos (HEPA)
Filtros de absorção
Filtros de ar
Filtros de ar para cabines
Filtros de combustível
Filtros de encaixe
Filtros de gases
Filtros de poeiras/vapores
Filtros de vácuo
Filtros de água
Filtros de óleo
Filtros medicinais
Filtros para laboratório
Máquinas de montagem
Sistemas de filtros múltiplos
Teste de filtro HEPA e ULPA
Market Scope
Fabrico de ferro, aço
Indústria aeroespacial
Indústria automóvel
Indústria de filtragem e separação
Indústria farmacêutica
Indústria mineira
Indústria médica, cuidados de saúde
Indústrias químicas
Protecção ambiental
Tratamento de água, abastecimento
Product Index
HEPA и ULPA фильтр тестирования
Абсорбционный фильтр
Вакуумные фильтры
Водяные фильтры
Воздушные фильтры
Газовые фильтры
Испытательная аппаратура
Лабораторные фильтры
Масляные фильтры
Медицинские фильтры
Многоступенчатые фильтрующие системы
Монтажные машины
Проточные фильтры
Пылевые / масляные фильтры
Топливные фильтры
Фильтры воздуха в кабине
Фильтры тонкой очистки
консалтинг
Market Scope
Авиакосмическая промышленность
Автомобильная промышленность
Горнодобывающая промышленность
Защита окружающей среды
Медицина, здравоохранение
Отрасль фильтрации и сепарирования
Очистка воды, водоснабжение
Производство железа, стали
Фармацевтическая промышленность
Химическая промышленность
Product Index
Consultante
Dispositivos para pruebas
Filtros HEPA
Filtros de absorción
Filtros de aceite
Filtros de agua
Filtros de aire
Filtros de aire de cabina
Filtros de combustible
Filtros de gas
Filtros de laboratorio
Filtros de polvo/neblina
Filtros de vacío
Filtros en línea
Filtros médicos
HEPA y ULPA pruebas de filtros
Máquinas de la Asamblea
Sistemas de filtros múltiples
Market Scope
Fabricación de hierro, acero
Industria aeroespacial
Industria de la automoción
Industria de la filtración y la separación
Industria de la minería
Industria farmacéutica
Industria médica, de la atención sanitaria
Industrias químicas
Protección del medio ambiente
Tratamiento, suministro de agua
Product Index
Absorpsiyon Filtreleri
Danışmanlık
Gaz Filtreleri
HEPA Filtreler
HEPA ve ULPA filtre testi
Hava Filtreleri
Kabin Hava Filtreleri
Laboratuvar Filtreleri
Meclis Makineleri
Su Filtreleri
Sıralı Filtreler
Test Donanımları
Toz/Buğu Filtreleri
Tıbbi Filtreler
Vakum Filtreler
Yakıt Filtreleri
Yağ Filtreleri
Çoklu Filtre Sistemleri
Market Scope
Demir, Çelik Üretimi
Enerji, Enerji İkmali
Filtrasyon ve Ayırma Endüstrisi
Havacılık Endüstrisi
Kimya Endüstrisi
Madencilik Endüstrisi
Otomotiv Endüstrisi
Su Arıtma, Temin
Tıp, Sağlık Sektörü
İlaç Endüstrisi
Product Index
HEPA & ULPA 필터 테스트
HEPA 필터
가스 필터
공기 필터
다중 필터 시스템
먼지/안개 필터
물 필터
시험 장치
실험실 필터
연료 필터
오일 필터
의료 필터
인라인 필터
조립용 기계 부품
진공 필터
캐빈 에어 필터
컨설팅
흡수 필터
Market Scope
광업
수질 관리, 수자원 공급
에너지, 에너지 공급
여과 및 분리 산업
의료, 보건 산업
자동차 산업
제약 산업
철, 철강 제조
항공우주 산업
화학 산업
Product Index
Consulting
HEPAおよびULPAフィルターテスト
HEPAフィルター
インラインフィルタ
エアフィルター
オイルフィルター
ガスフィルター
キャビン用エアフィルター
ダスト・ミストフィルター
テスト装置
マルチフィルタシステム
ラボ用フィルター
医療用フィルター
吸収フィルター
水フィルター
燃料フィルター
真空フィルター
組立用機械
Market Scope
エネルギー、エネルギー供給
化学工業
医療、ヘルスケア業界
医薬品業界
水処理および関連製品
濾過および分離技術工業
自動車産業
航空宇宙産業
製鉄、製鋼業
鉱業
Press release
The Filter Design Company: Experts in Filtration
Over the last two years, the worldwide pandemic has emphasised to all the importance of filtration. High-quality, effective filtration devices have the ability to save lives, with filters playing an integral role in respiratory protection. But this isn't all – filters touch just about every industry and make a difference to individuals and businesses everywhere. Whether it be something as simple as the filter in your tap to provide people with clean water, or it be the large-scale, industrial filters which help to keep the country's energy systems working efficiently… Filters help to provide all with clean air.
At The Filter Design Company, we specialise in all things 'filtration'. From filter design, testing and manufacturing, to robotics and consultancy. We can find the best filtration solution to suit your needs.
Images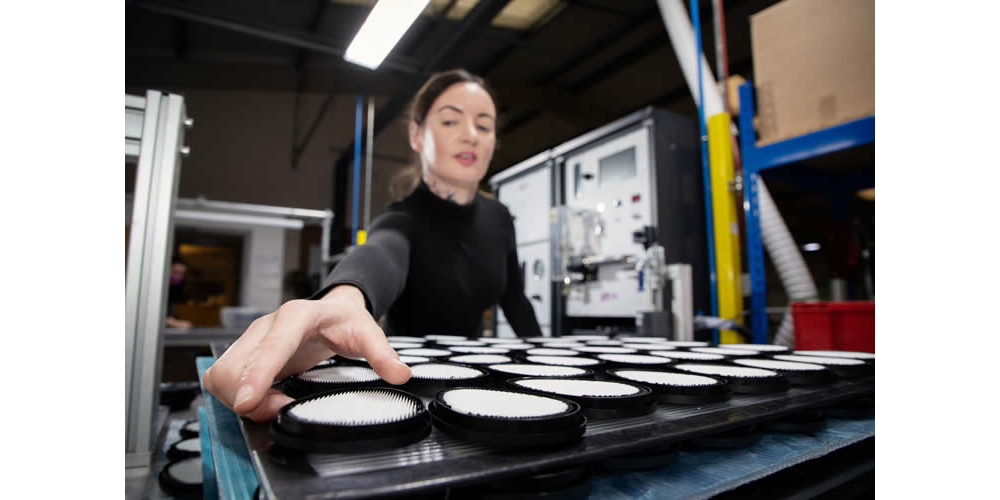 Filter Testing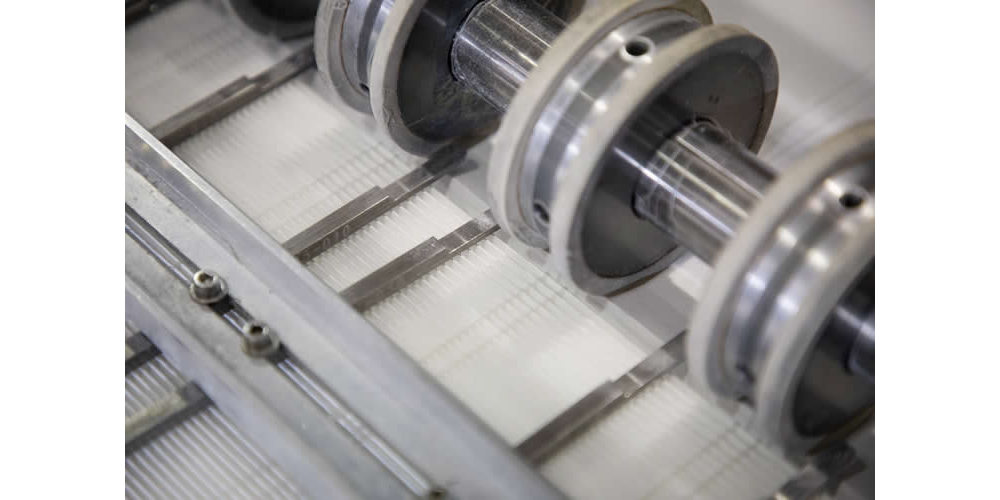 Pleating Capacity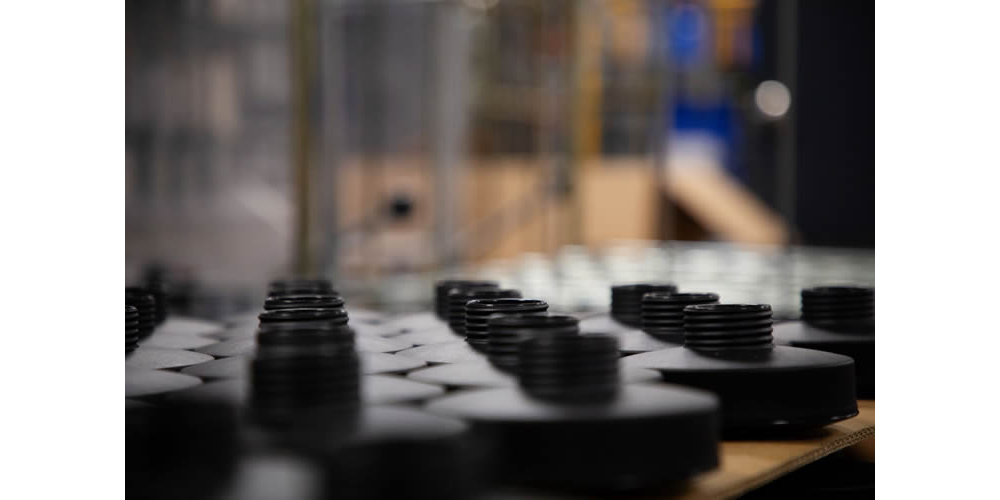 Carbon and Particulate Filter Manufacturing