Imerys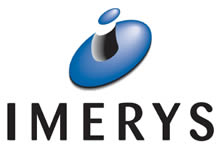 Exhibitor Profile
Imerys is the world leading manufacturer of Perlite and Diatomaceous Earth (DE) filter aids.
With nearly a century of production experience and technical expertise, Imerys filter aids offer unparalleled flexibility and cost effectiveness in a wide range of filtration duties.
Today, Imerys manufactures and supplies over 80 different European perlite and DE grades with permeabilities to meet virtually all filtration requirements in industrial, pharma, and food and beverage applications.
Products / Markets
Product Index
Filterhilfsmittel
Kieselgur
Plasma Behandlung
Poröse Filtermittel
Market Scope
Abfallwirtschaft
Abwasserwirtschaft
Filtrations- und Separationsindustrie
Lebensmittel-,Getränkeindustrie
Metallverarbeitende Industrie
Mineralöl/Öl/Gasproduktion
Pharmazeutische Industrie
Product Index
Diatomite
Filter Aids
Plasma Treatment
Porous Filter Media
Market Scope
Filtration and Separation Industry
Food, Beverage Industry
Metal Processing Industry
Mineral / Oil / Gas Production
Pharmaceutical Industry
Waste Treatment
Waste Water Treatment
Market Scope
制药工业
废水处理
废物处理
矿产/石油/天然气业
过滤与分离工业
金属加工业
食品、饮料工业
Product Index
البلازما المعاملة
دياتوميت
مساعدات الترشيح
مواد تثقيب الفلاتر
Market Scope
إنتاج المعادن والزيوت والغاز
الصناعات الدوائية
الصناعات الغذائية وصناعة المشروبات
صناعات الفلترة وفصل المواد
صناعة معالجة المعادن
معالجة النفايات
معالجة مياه الصرف
Product Index
Auxiliaires de filtrage
Diatomite
Médias de filtres poreux
Traitement plasma
Market Scope
Industrie de filtration et de séparation
Industrie métallurgique
Industrie pharmaceutique
Industries alimentaires et des boissons
Productions minérales / pétrolière / du gaz
Traitement des déchets
Traitement des eaux usées
Product Index
Coadiuvanti di filtrazione
Mezzi filtranti porosi
Polvere diatomeica
Trattamento plasma
Market Scope
Produzioni minerali / petrolio / gas
Settore alimenti e bevande
Settore filtrazione e separazione
Settore lavorazione metallo
Settore parafarmaceutico
Trattamento acque reflue
Trattamento rifiuti
Product Index
Media filtrów porowatych
Obróbka plazmowa
Pomocnicze materiały filtracyjne
Ziemia okrzemkowa
Market Scope
Filtrowanie i separacja
Obróbka metali
Oczyszczanie ścieków
Oczyszczanie ścieków (waste water)
Przemysł farmaceutyczny
Przemysł spożywczy
Wydobycie minerałów, ropy i gazu
Product Index
Adjuvantes de filtração
Diatomito
Meios de filtragem porosa
Plasma Tratamento
Market Scope
Indústria alimentar, de bebidas
Indústria de filtragem e separação
Indústria de processamento de metal
Indústria farmacêutica
Produção mineral / óleo / gás
Tratamento de desperdícios
Tratamento de água de despejo
Product Index
Вспомогательные фильтрующие материалы
Диатомит
Плазменной обработки
Пористый фильтрующий материал
Market Scope
Добыча минералов/ нефти/ газа
Металлообрабатывающая промышленность
Отрасль фильтрации и сепарирования
Очистка сточных вод
Переработка отходов
Производство продуктов питания и напитков
Фармацевтическая промышленность
Product Index
Coayudantes de la filtración
Diatomita
El tratamiento de plasma
Medios de filtros porosos
Market Scope
Industria de la alimentación y las bebidas
Industria de la filtración y la separación
Industria de procesamiento de metales
Industria farmacéutica
Producción de minerales / petróleo / gas
Tratamiento de aguas residuales
Tratamiento del agua
Product Index
Diatomit
Filtre Yardımcıları
Gözenekli Filtre Ortamı
Plazma İşlemi
Market Scope
Atık Arıtma
Atıksu Arıtma
Filtrasyon ve Ayırma Endüstrisi
Gıda, İçecek Endüstrisi
Metal İşleme Endüstrisi
Mineral / Petrol / Gaz Üretimi
İlaç Endüstrisi
Market Scope
광물 / 석유 / 가스 생산
금속 가공 산업
식음료 산업
여과 및 분리 산업
제약 산업
폐기물 처리
폐수 처리
Product Index
フィルターエイド
プラズマ処理
多孔質フィルターメディア
珪藻土
Market Scope
医薬品業界
廃棄物処理
汚水処理
濾過および分離技術工業
金属加工業界
鉱物・石油・ガス生産
食品、飲料業界