Kappa Filter Systems GmbH Hall 8 / B59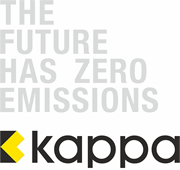 Exhibitor Profile
Kappa is a manufacturer of products and turnkey plants for the capture of airborne emissions and energy recovery. The exhaust air, room air and energy technology from Kappa ensures efficient production processes and optimal air hygiene in buildings. The solutions developed are highly effective in separating emissions and saving energy.
As a research and development company, Kappa deals with the separation of the finest emissions such as aerosols, pathogens and fine dust.
Presented product:
Waveline® filter hose for bag filter systems
The Waveline® filter hose reduces energy consumption and increases the separation capacity of bag filter systems. It can be retrofitted in almost all existing hose filters without any modifications.
Range of services:
Air filtration
In-hall air purification
Energy optimization
Improvement of the air quality in buildings
Service, inspection, air quality measurements
Products / Markets
Product Index
Abscheider - Öl/Dunst
Abscheider – Fest/Flüssig
Beutel-/Taschenfilter
Dunstabscheider
Dunstabscheider
Entstaubungsanlagen
Filteranlagen
Filterbeutel
Filterelemente
Filterpatronen
Filterröhren, Röhrenfilter
Luftfilter
Luftfiltermedien
Nanofiltration
Patronenfilter
Röhrenfilter
Staub-/Tropfenfilter
Staubabscheider
Market Scope
Filtrations- und Separationsindustrie
Umweltschutz
Product Index
Air Filter Media
Air Filters
Bag Filters
Cartridge Filters
Dedusters
Dust Collectors
Dust/Mist Filters
Filter Bags
Filter Cartridges
Filter Elements
Filter Tubes
Filtration Plants
Mist Collectors
Mist Eliminators
Nanofiltration
Separators - Oil/Mist
Separators - Solid/Liquid
Tube Filters
Market Scope
Environmental Protection
Filtration and Separation Industry
Product Index
分离器 固体/液体
分离器 - 油/雾
尘/雾过滤器
滤筒
滤筒
滤管
滤芯
空气过滤器
空气过滤器介质
管式过滤器
纳米过滤
袋式过滤器
过滤袋
过滤设备
除尘器
除雾器
集尘器
集雾器
Product Index
أكياس فلاتر
أكياس فلترة
الفلترة الدقيقة
خراطيش فلتر
فلاتر الغبار / الضباب
فلاتر الكارترج / الخراطيش
فلاتر الهواء
فلاتر انبوبية
فلاتر انبوبية
فواصل الزيت والرذاذ
فواصل المواد الصلبة والسوائل
قطع فلاتر
مانع الضباب /الرذاذ
مجمعات الضباب /الرذاذ
مجمعات الغبار
مصافي الغبار
مواد فلاتر الهواء
وحدات فلترة
Market Scope
صناعات الفلترة وفصل المواد
صناعة الألبان
Product Index
Cartouches de filtres
Cartouches de filtres
Collecteurs de buées
Collecteurs de poussières
Dispositifs antipoussières
Eléments de filtre
Evacuateurs de buées
Filtres à air
Filtres à poussières/buées
Filtres à sacs
Filtres à tubes
Fluides pour filtres à air
Installation de filtration
Nanofiltration
Sacs de filtres
Séparateurs – huile/buées
Séparateurs – solides/liquides
Tubes de filtres
Market Scope
Industrie de filtration et de séparation
Industrie laitière
Product Index
Abbattitori
Cartucce filtri
Collettori di polvere
Elementi filtranti
Eliminatori nebbia
Filtri a tasche
Filtri aria
Filtri cartuccia
Filtri per tubi
Filtri polvere/nebbie
Impianti di filtraggio
Mezzi filtranti aria
Nanofiltrazione
Raccoglitori nebbia
Separatori - olio/nebbia
Separatori - solido/liquido
Tasche filtri
Tubi filtri
Market Scope
Protezione ambientale
Settore filtrazione e separazione
Product Index
Elementy filtra
Eliminatory mgły
Filtry powietrza
Filtry przeciwpyłowe/przeciwmgielne
Filtry rurowe
Filtry workowe
Kolektory mgły
Media filtrów powietrza
Nanofiltracja
Odpylacze
Odpylacze
Rury filtracyjne
Separatory - Ciała stałe/ciecze
Separatory - Olej/mgła
Urządzenia filtracyjne
Wkłady filtra
Wkłady filtracyjne
Worki filtracyjne
Market Scope
Filtrowanie i separacja
Ochrona środowiska
Product Index
Cartuchos filtrantes
Colectores de poeiras (aspiradores)
Colectores de vapores
Despoeiradores
Elementos filtrantes
Eliminadores de vapores
Filtros de ar
Filtros de cartuchos
Filtros de poeiras/vapores
Filtros de saco
Filtros de tubos
Instalações de filtração
Meios de filtro do ar
Nanofiltração
Sacos filtrantes
Separadores - sólidos/líquidos
Separadores - óleo/vapores
Tubos de filtros
Market Scope
Indústria de filtragem e separação
Indústria leiteira
Product Index
Воздушные фильтры
Нанофильтрация
Пылевые / масляные фильтры
Пылеотделители
Пылесборники
Рукавные фильтры
Сборник загрязнений во влажном воздухе
Сепараторы – масло / туман
Сепараторы – твердые вещества / жидкости
Трубные фильтры
Трубные фильтры
Туманоуловитель
Фильтрационные установки
Фильтровальные мешки
Фильтрующие патроны
Фильтрующие элементы
Фильтрующий материал
Фильтры со сменным фильтрующим элементом
Market Scope
Молочная промышленность
Отрасль фильтрации и сепарирования
Product Index
Aspiradores de polvo
Bolsas de filtro
Cartuchos de filtro
Colectores de neblina
Colectores de polvo
Elementos de filtro
Eliminadores de neblina
Filtros de aire
Filtros de bolsa
Filtros de cartucho
Filtros de polvo/neblina
Filtros de tubo
Medios de filtros de aire
Nanofiltración
Plantas de filtración
Separadores - aceite/neblina
Separadores - sólido/líquido
Tubos de filtros
Market Scope
Industria de la filtración y la separación
Industria de los productos lácteos
Product Index
Arıtma İstasyonları
Buğu Gidericiler
Buğu Toplayıcılar
Filtre Boruları
Filtre Elemanları
Filtre Kartuşları
Filtre Torbaları
Hava Filtreleri
Hava Filtresi Ortamı
Kartuşlu Filtreler
Nanofiltrasyon
Separatörler - Katı/Sıvı
Separatörler - Yağ/Buğu
Torba Filtreler
Toz Gidericiler
Toz Toplayıcılar
Toz/Buğu Filtreleri
Tüp Filtreler
Market Scope
Filtrasyon ve Ayırma Endüstrisi
Çevre Koruma
Product Index
공기 여과재
공기 필터
나노 여과
먼지/안개 필터
백 필터
분리기 - 고체/액체
분리기 - 오일/미스트
분진제거기
연무 수집기
연무 제거기
정수 처리장
집진기
카트리지 필터
튜브 필터
필터 백
필터 엘리먼트
필터 카트리지
필터 튜브
Product Index
エアフィルター
エアフィルターメディア
カートリッジ・フィルター
ダスト・ミストフィルター
チューブフィルター
ナノ濾過
バッグフィルター
フィルターエレメント
フィルターカートリッジ
フィルターチューブ
フィルターバッグ
ミストコレクター
ミスト除去機
分離機 - オイル・ミスト
分離機 - 固形・液体
濾過設備
除塵機
集塵機