Magical Film Enterprise Co., Ltd.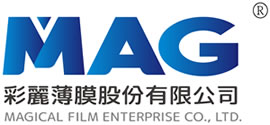 Products / Markets
Product Index
Abwasserfilter
Hepa-Filter
Medizinische Filter
Vliesmaterialien
Vliesmaterialien, Meltblown
Vliesmaterialien, Spunbonded
Vliesmaterialien, Spunlace
Wasserfilter
Ölfilter
Product Index
HEPA Filters
Medical Filters
Nonwovens
Nonwovens, Meltblown
Nonwovens, Spunbonded
Nonwovens, Spunlaced
Oil Filters
Waste Water Filters
Water Filters
Product Index
医用过滤器
废水过滤器
无纺布
水过滤器
滤油器
熔喷无纺布
纺粘型无纺布
非織造布, Spunlaced
高效粒子空气过滤器
Product Index
"فلاتر هواء عالية الفاعلية ""هـيبا"" HEPA"
اللانسيج، تذويب وتنفيش
اللانسيج، غزل ولصق
غير المنسوجات / اللانسيج
فلاتر زيوت
فلاتر طبية
فلاتر ماء
فلاتر ماء التصريف
منسوجات ، Spunlaced
Product Index
Filtres HEPA
Filtres médicaux
Filtres pour eau usées
Filtres à eau
Filtres à huile
Non tissés
Non tissés, Spunlaced
Non tissés, feutres
Non tissés, toiles soufflées à chaud
Product Index
Filtri acque reflue
Filtri hepa
Filtri medicali
Filtri olio
Filtri per acqua
Non tessuti
Non tessuti, meltblown
Non tessuti, spunbonded
Non tessuti, spunlaced
Market Scope
Settore industria tessile
Product Index
Filtry HEPA
Filtry do wody pitnej
Filtry do zastosowań medycznych
Filtry oleju
Filtry ścieków
Materiały nietkane
Materiały nietkane, formowane
Materiały nietkane, wodnoigłowane
Materiały nietkane, zgrzewalne
Product Index
Filtros absolutos (HEPA)
Filtros de água
Filtros de águas residuais
Filtros de óleo
Filtros medicinais
Não-tecidos
Não-tecidos, Spunlaced
Não-tecidos, em forma enrolada
Não-tecidos, fusão
Product Index
Водяные фильтры
Масляные фильтры
Медицинские фильтры
Нетканые материалы
Нетканые материалы, Spunlaced
Нетканые материалы, плавление
Нетканые материалы, формование
Фильтры сточных вод
Фильтры тонкой очистки
Market Scope
Текстильная промышленность
Product Index
Filtros HEPA
Filtros de aceite
Filtros de agua
Filtros de agua residual
Filtros médicos
Non-Wowens
Non-Wowens, Meltblown
Non-Wowens, Spunbonded
Non-Wowens, Spunlaced
Product Index
Atıksu Filtreleri
Dokunmamış Mamuller
Dokunmamış Mamuller, Meltblown
Dokunmamış Mamuller, Spunbond
Dokunmamış Mamuller, Spunlace
HEPA Filtreler
Su Filtreleri
Tıbbi Filtreler
Yağ Filtreleri
Product Index
HEPA 필터
멜트블로운 부직포
물 필터
부직포
스펀레이스 부직포
스펀본드 부직포
오일 필터
의료 필터
폐수 필터
Product Index
HEPAフィルター
オイルフィルター
不織布
不織布, Meltblown
不織布, Spunbonded
不織布, Spunlaced
医療用フィルター
廃水フィルター
水フィルター
Press release
MAG HEPA are certified by Nelson Labs
Nelson Labs is a leading global provider of laboratory testing.
The filter tester used in testing was a TSI® CERTITEST® Model 8130 Automated Filter Tester that is capable of efficiency measurements of up to 99.999%.
Testing was performed in compliance with US FDA good manufacturing practice (GMP) regulations 21 CFR Parts 210, 211 and 820.
MAG HEPA has lower air resistance and higher performance. HEPA can effectively remove at least 99% of aerosols 0.3 micrometers (μm) in diameter.