Maire SA Hall 7 / M21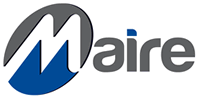 Exhibitor Profile
Conception and manufacturing of plastic overmolded filters and overmolded strainers
MAIRE SA is a specialist of plastic overmolding of metallic and plastic mesh filters.
We are able to take care of
products conception due to our great expérience in plastic injection and mold making
development of the mean of production
prototype and trials
automation of the production with possible 100 % quality checking for any shapes of filters ( cylindrical ,flat,3 dimensions filter ,eg ...) in any kind of of industry ( automotive, swimming pool , veterinary , houseware appliance , water treatment and laboratory )
Checking of the cleanliness is possible due to an in house control equipment.
We have also a major experience in hydrophobic filters for separation of water in diesel.
Quality organization : ISO 9001/ V 2008 and IATF 16949 (december 2019)
Products / Markets
Product Index
Abscheider - Öl/Wasser
Automobilfilter
Beschichtete Filter,antibakteriell
Coalescer
Filterscheiben
Hydraulikfilter
Korbfilter
Kraftstoff-Filter
Laborfilter
Luftfilter
Röhrenfilter
Röhrenfilter
Schmierölfilter
Streckmetal
Trinkwasserfilter
Ultraschallverschweissen
Ölfilter
Market Scope
Agrarwirtschaft
Automobilindustrie
Bauindustrie
Chemische Industrie
Filtrations- und Separationsindustrie
Kunststoffverarbeitende Industrie
Luft- und Raumfahrtindustrie
Medizintechnik, Health Care Industrie
Textilindustrie
Wasserbehandlung, versorgung
Product Index
Air Filters
Automotive Filters
Basket Filters (Strainers)
Coalescers
Coated Filters, antibacterical
Drinking Water Filters
Expanded Metal
Filter Discs
Fuel Filters
Hydraulic Filters
Laboratory Filters
Lubrication Oil Filters
Oil Filters
Separators - Oil/Water
Tube Filters
Tubular Filters
Ultrasonic Welding
Market Scope
Aerospace Industry
Agriculture
Automotive Industry
Building & Construction Services
Chemical Industries
Filtration and Separation Industry
Medical, Health Care Industry
Plastic Industry
Textile Industry
Water Treatment, Supply
Product Index
分离器 油/水
实验室过滤器
汽车过滤器
润滑油过滤器
液压过滤器
滤油器
滤片
燃油过滤器
空气过滤器
管式过滤器
管状过滤器
篮式过滤器
聚结器
超声波焊接
金属网
镀膜滤色镜,抗菌式
饮用水过滤器
Market Scope
 农业
 汽车工业
化学工业
医疗卫生保健业
塑料工业
建筑与施工服务业
水处理、供应
纺织工业
航空航天业
过滤与分离工业
Product Index
أقراص فلاتر
فلاتر الرطوبة
فلاتر السلة
فلاتر السيارات
فلاتر الهواء
فلاتر انبوبية
فلاتر انبوبية
فلاتر تشحيم وتزييت
فلاتر زيوت
فلاتر ماء الشرب
فلاتر مخبرية
فلاتر مغلفة، مضادة للجراثيم
فواصل الزيت والماء
لحام بالموجات فوق الصوتية
معادن التمدد
مواد فلاتر المحروقات
وحدات إلتحام
Market Scope
التغذية بالمياه وتصريفها
الصناعات الطبية والعناية الصحية
الصناعة الكيماوية
الصناعة النسيجية
الهندسة المعمارية
خدمات البناء والإنشاء
صناعات الفلترة وفصل المواد
صناعة البلاستيك
صناعة السيارات
صناعة الفضاء
Product Index
Coalesceurs
Disques de filtres
Filtres automobiles
Filtres de laboratoires
Filtres hydrauliques
Filtres pour eau potable
Filtres tubulaires
Filtres à air
Filtres à bols
Filtres à carburant
Filtres à huile
Filtres à huile de lubrifaction
Filtres à revêtement, antibactérien
Filtres à tubes
Métal expansé
Soudage aux ultrasons
Séparateurs – huile/eau
Market Scope
Agriculture
Industrie automobile
Industrie aérospatiale
Industrie chimique
Industrie de filtration et de séparation
Industrie des matières synthétiques
Industrie du bâtiment et de la construction
Industrie médicale et de la santé
Industrie textile
Traitement d'eau, alimentation
Product Index
Dischi filtro
Filtri a cestello (filtri)
Filtri acqua potabile
Filtri aria
Filtri carburante
Filtri di laboratorio
Filtri idraulici
Filtri olio
Filtri olio lubrificante
Filtri per tubi
Filtri rivestiti, antibatterici
Filtri settore automobilistico
Filtri tubolari
Metallo espanso
Miscelatori
Saldatura a ultrasuoni
Separatori - olio/acqua
Market Scope
Agricoltura
Servizi settore edile
Settore aerospaziale
Settore automobilistico
Settore chimico
Settore filtrazione e separazione
Settore industria tessile
Settore medicale e sanità
Settore plastica
Trattamento approvvigionamento acqua
Product Index
Dyski filtra
Filtry do wody pitnej
Filtry hydrauliczne
Filtry koszowe (sitka)
Filtry laboratoryjne
Filtry oleju
Filtry oleju smarowego
Filtry paliwa
Filtry powietrza
Filtry powlekane, antybakteryjne
Filtry rurowe
Filtry rurowe
Filtry samochodowe
Koagulanty
Metal ekspandowany
Separatory - Olej/woda
Zgrzewanie ultradźwiękowe
Market Scope
Filtrowanie i separacja
Ochrona zdrowia
Przemysł budowlany
Przemysł chemiczny
Przemysł lotniczy
Przemysł samochodowy
Przemysł tekstylny
Przemysł tworzyw sztucznych
Rolnictwo
Uzdatnianie wody i zaopatrzenie w wodę
Product Index
Discos de filtros
Filtros de ar
Filtros de combustível
Filtros de rede
Filtros de tubos
Filtros de água potável
Filtros de óleo
Filtros de óleo lubrificante
Filtros hidráulicos
Filtros para automóveis
Filtros para laboratório
Filtros revestidos, antibacteriano
Filtros tubulares
Metal expandido
Separadores - óleo/água
Separadores de gotas
Soldadura por ultra-sons
Market Scope
Agricultura
Indústria aeroespacial
Indústria automóvel
Indústria de filtragem e separação
Indústria dos plásticos
Indústria médica, cuidados de saúde
Indústria têxtil
Indústrias químicas
Serviços de fabrico & construção
Tratamento de água, abastecimento
Product Index
Автомеханические фильтры
Воздушные фильтры
Гидравлические фильтры
Коагуляторы
Корзинчатые фильтры
Лабораторные фильтры
Масляные фильтры
Металлическая сетка
Сепараторы – масло / вода
Топливные фильтры
Трубные фильтры
Трубные фильтры
Ультразвуковая сварка
Фильтрующие диски
Фильтры питьевой воды
Фильтры с покрытием, антибактериальные
Фильтры смазочного масла
Market Scope
Авиакосмическая промышленность
Автомобильная промышленность
Медицина, здравоохранение
Отрасль фильтрации и сепарирования
Очистка воды, водоснабжение
Производство пластмасс
Сельское хозяйство
Строительство жилых и общественных зданий
Текстильная промышленность
Химическая промышленность
Product Index
Discos de filtro
Filtros de aceite
Filtros de aceite de lubricación
Filtros de agua potable
Filtros de aire
Filtros de automoción
Filtros de cesta
Filtros de combustible
Filtros de laboratorio
Filtros de tubo
Filtros hidráulicos
Filtros revestidos, antibacteriológicos
Filtros tubulares
Metal expandido
Separadores - aceite/agua
Separadores coalescentes
Soldadura ultrasónica
Market Scope
Agricultura
Industria aeroespacial
Industria de la automoción
Industria de la filtración y la separación
Industria de los plásticos
Industria médica, de la atención sanitaria
Industria textil
Industrias químicas
Servicios de edificación y construcción
Tratamiento, suministro de agua
Product Index
Birleştiriciler
Filtre Diskleri
Genleştirilmiş Metal
Hava Filtreleri
Hidrolik Filtreler
Kaplı Filtreler, antibakteriyel
Laboratuvar Filtreleri
Otomobil Filtreleri
Separatörler - Yağ/Su
Sepet Filtreler
Silindirik Filtreler
Tüp Filtreler
Ultrasonik Kaynak
Yakıt Filtreleri
Yağ Filtreleri
Yağlama Yağı Filtreleri
İçme Suyu Filtreleri
Market Scope
Bina ve İnşaat Hizmetleri
Filtrasyon ve Ayırma Endüstrisi
Havacılık Endüstrisi
Kimya Endüstrisi
Otomotiv Endüstrisi
Plastik Endüstrisi
Su Arıtma, Temin
Tarım
Tekstil Endüstrisi
Tıp, Sağlık Sektörü
Product Index
공기 필터
관형 필터
바스켓 필터(스트레이너)
분리기 - 오일/물
식수 필터
실험실 필터
연료 필터
오일 필터
유압 필터
윤활유 필터
익스팬디드메탈
자동차 필터
초음파 용접
코어레서
코팅 필터, 항균성
튜브 필터
필터 디스크
Market Scope
건축 및 건설 용역
농업
섬유 산업
수질 관리, 수자원 공급
여과 및 분리 산업
의료, 보건 산업
자동차 산업
플라스틱 산업
항공우주 산업
화학 산업
Product Index
エアフィルター
エキスパンドメタル
オイルフィルター
コアレッサー
コーティングフィルター
チューブフィルター
バスケットフィルター(ストレーナー)
フィルターディスク
ラボ用フィルター
分離機 - 油・水
油圧フィルター
潤滑油フィルター
燃料フィルター
管状フィルター
自動車用フィルター
超音波溶接
飲料水用フィルター
Market Scope
プラスチック業界
化学工業
医療、ヘルスケア業界
建築・建設業
水処理および関連製品
濾過および分離技術工業
繊維業界
自動車産業
航空宇宙産業
農業