Math2Market GmbH Hall 7 / M28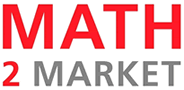 Exhibitor Profile
Math2Market develops the simulation software GeoDict to model and improve complete filters, filter elements, circular pleated filters, and filter media starting from 3D image data of filter media (µCT, FIB/SEM), CAD models of filter elements, or user-defined media parameters. The models of nonwoven, woven, ceramic, foams, cellulose, glass- and steel-fiber, metal wire mesh, membranes, catalyst honeycombs... are geometrically analyzed and their filtration properties are simulated for many fluids (air, oil, water, fuel, blood...). GeoDict characterizes pore size distribution, bubble point, maximum through pore, fluid flow, particle movement and deposition, MPPS, clogging, and cake formation. GeoDict calculates pressure drop, filter efficiency, and filter capacity.
With GeoDict®,
• resolve complicated filtration issues
• interactively modify the filter models to optimize the filtration process
• optimize the location of air purifiers in offices and classrooms
• automate complex parameter studies
• drastically reduce prototyping and cut time and R&D cost
• substantially accelerate the design and production of innovative filters and media
Math2Market's GeoDict is the leader in filtration simulation and efficient computer-aided filter design.
Products / Markets
Market Scope
Automobilindustrie
Biotechnologie/Biopharmazie
Energieerzeugung,-versorgung
Filtrations- und Separationsindustrie
Luft- und Raumfahrtindustrie
Mineralöl/Öl/Gasproduktion
Textilindustrie
Umweltschutz
Zellstoff-, Papierindustrie
Market Scope
Aerospace Industry
Automotive Industry
Biotechnology/Biopharmac. Industry
Energy, Energy Supply
Environmental Protection
Filtration and Separation Industry
Mineral / Oil / Gas Production
Pulp, Paper Industry
Textile Industry
Market Scope
 汽车工业
环境保护
生物技术/生物制药业
矿产/石油/天然气业
纸浆、造纸工业
纺织工业
能源、能源供应
航空航天业
过滤与分离工业
Market Scope
إنتاج المعادن والزيوت والغاز
الصناعة النسيجية
الصناعة الورقية
حماية البيئة
صناعات الفلترة وفصل المواد
صناعة الألبان
صناعة التقنية البيولوجية والبيوصيدلية
صناعة السيارات
صناعة الفضاء
Market Scope
Industrie automobile
Industrie aérospatiale
Industrie biotechnologie/biopharmaceutique
Industrie de filtration et de séparation
Industrie de la pâte de cellulose et du papier
Industrie laitière
Industrie textile
Productions minérales / pétrolière / du gaz
Protection de l'environnement
Market Scope
Biotecnologie/biofarmaceutica
Energia, approvvigionamento energetico
Produzioni minerali / petrolio / gas
Protezione ambientale
Settore aerospaziale
Settore automobilistico
Settore filtrazione e separazione
Settore industria dell carta e della cellulosa
Settore industria tessile
Market Scope
Biotechnologia/biofarmaceutyka
Filtrowanie i separacja
Ochrona środowiska
Przemysł celulozowo-papierniczy
Przemysł energetyczny
Przemysł lotniczy
Przemysł samochodowy
Przemysł tekstylny
Wydobycie minerałów, ropy i gazu
Market Scope
Ind. de biotecnologia/biofarmac.
Indústria aeroespacial
Indústria automóvel
Indústria de filtragem e separação
Indústria leiteira
Indústria têxtil
Pasta, indústria do papel
Produção mineral / óleo / gás
Protecção ambiental
Market Scope
Авиакосмическая промышленность
Автомобильная промышленность
Биотехнология / Биофармацевтическая промышленность
Бумажная промышленность
Добыча минералов/ нефти/ газа
Защита окружающей среды
Молочная промышленность
Отрасль фильтрации и сепарирования
Текстильная промышленность
Market Scope
Industria aeroespacial
Industria de la automoción
Industria de la biotecnología/biofarmacéutica
Industria de la filtración y la separación
Industria de la pasta de madera, el papel
Industria de los productos lácteos
Industria textil
Producción de minerales / petróleo / gas
Protección del medio ambiente
Market Scope
Biyoteknoloji/Biyoeczacılık Endüstrisi
Enerji, Enerji İkmali
Filtrasyon ve Ayırma Endüstrisi
Havacılık Endüstrisi
Mineral / Petrol / Gaz Üretimi
Otomotiv Endüstrisi
Selüloz, Kağıt Endüstrisi
Tekstil Endüstrisi
Çevre Koruma
Market Scope
광물 / 석유 / 가스 생산
생명공학/생물 약제학 산업
섬유 산업
에너지, 에너지 공급
여과 및 분리 산업
자동차 산업
제지, 종이 산업
항공우주 산업
환경 보호
Market Scope
エネルギー、エネルギー供給
バイオテクノロジー・バイオ医薬品産業
パルプ、製紙業界
濾過および分離技術工業
環境保護
繊維業界
自動車産業
航空宇宙産業
鉱物・石油・ガス生産
Press release
Digital design and virtual switching of cartridges to increase filter performance – the new GeoDict software feature
Computer-Aided-Design (CAD) is of keen interest to simulate flow and filtration on filters with cartridges. However, performing systematic simulations on different geometrical setups requires the generation of these structures as CAD individually and the import of each sample separately.
A new feature in the GeoDict software allows to generate a variety of cartridges with changing pleat count, pleat thickness, and number of porous layers, and digitally switch them inside the housing. Starting now, it is easy and quick to find the ideal configuration between filter area and pleat count for cartridges and their housing, regarding their local minimum pressure drop and many filtration relevant parameters.
This digital test of the performance of filter prototypes circumvents the need for expensive, trial-and-error manufacturing and testing phases, since only promising prototypes undergo measurements at the testbench. These systematic simulations with varying geometries or flow rates may be run simultaneously in cloud applications to further increase the productivity, fit customers requests, and decrease time-to-market.
Press release
GeoDict in ASTM E3278-21 International Standard
The simulation software GeoDict is presented in the ASTM E3278-21 international standard to digitally perform bubble point pressure testing of woven wire filter cloth.
Traditionally, the pore diameter is calculated using the measured pressure based on the Young-Laplace equation for the equilibrium of the gas pressure and surface tension forces. However, this equation is only for the perfect model (cylindrical pore, thin film with contact angle of 0°, isopropanol wetting liquid) and must be corrected by either the actual contact angle or a tortuosity factor for the filter cloth.
Alternatively, according to ASTM E3278-21, the software-based calculations of the PoroDict module of GeoDict are obtained through the non-circular cross-section of the bottle neck through-path of the filter cloth. This improves correlation and is able to generate a specific correction factor for each different filter cloth specification.
The ASTM E3278-21 standardizes software-based calculations of pore size through bubble point computations performed with the PoroDict module.
PoroDict quantitatively characterizes pore size, percolation path, tortuosity, bubble point pressure, and other parameters of the pore space, such as Pore Size Distribution (Granulometry and Porosimetry), Chord Length Distribution, open and closed porosity, and geodesic tortuosity.
Math2Market software products are a worthwhile new technological strategy, used by internationally renowned manufacturers in the filtration industry to optimize processes, to cut prototyping and R&D costs, to accelerate the design of filter and filter media greatly, and to boost their competitive edge.
Press release
Modeling, simulation, and optimization of filter media for protective face masks
In answering the global demand for safe personal protective equipment and the need for faster development and optimization of face masks, we demonstrate in a short video how GeoDict software is applied to design, model, simulate, analyze and optimize the filter media to improve the filter characteristics of face masks.
This unique digital workflow with GeoDict represents an efficient, sustainable and state-of-the-art methodology for digital R&D material design for porous media, explicitly shown here for a filter medium as an example.
These reliable quantitative simulations are the way to a time and cost saving approach for the development of new filter materials and filters with superior lifetime and performance. Development phases can be significantly accelerated thanks to shortened development times. The innovations can be developed much more easily by obtaining digitally unique insights and rich information about material prototypes and their properties, even before manufacturing them.
Press release
The GeoDict simulation software of Math2Market is part of the ASTM E2814-18 international standard
MATH2MARKET GmbH is a leader in providing software and consulting solutions for the design of innovative filter media, and for the improvement of filtration processes from its location in Kaiserslautern, Germany, near Frankfurt. Math2Market's team, with an extensive research background, develops and supplies the GeoDict® software for R&D in numerous industries. For the filtration industry, Math2Market supports pioneering digital filter development and design to improve pressure drop, efficiency, and lifetime of filters, while at the same time greatly reducing, or even eliminating, expensive and time-consuming experimental testing.
Math2Market's software GeoDict® only needs user-defined specifications, micro-CT and FIB/SEM images of filter media, or CAD models of filter elements to produce structural models of filter elements, pleats, and media (nonwoven, woven, metal and plastic meshes, synthetic media and papers, ceramics, open-cell foams, membranes, gradient materials…). Then, it analyzes pore size distribution, bubble point, fluid flow, pressure drop, particle capture, MPPS, depth filtration, clogging, dust holding capacity, and cake formation in the digital models. Gas filtration (air: DPF, HVAC) or liquid filtration (oil filter, hydraulic filters, sludge filtration, water, blood…) processes are simulated taking into account fluid density and viscosity, Brownian motion, inertial impaction, electrostatic forces, adhesion forces, and particle size and mass distribution. The possibilities of digital non-destructive testing are virtually boundless.
Math2Market software products are a worthwhile new technological strategy, used by internationally renowned manufacturers in the filtration industry to optimize processes, to cut prototyping and R&D costs, to accelerate the design of filters and filter media greatly, and to boost their competitive edge.
Conference Presentation/s
Three dimensional AI-Segmentation of synthetic filter media
P. Eichheimer, A. Grießer*, Math2Market GmbH; K.M. Höss, F. Hahn, C. Schulz, MANN+HUMMEL GmbH, Germany; A. PS, MANN+HUMMEL, India
Conference Session: F02 - Smart Filter Element Development and Production - 2023-02-15 - 13:00
In recent years the usage of artificial intelligence (AI) tools in image processing and analysis has gained significant interest and undergone major improvements. Several techniques, including neural networks, have been used to manipulate and analyze fiber-based images, which in the past required intensive usage of image filters. MANN+HUMMEL has gained significant expertise in the microstructure characterization of fiber-based filter media within the last years [1]. Mainly manual and OTSU-based threshold methods are being used nowadays to segment the µCT scans into voxel meshes suitable for microstructure characterization and microstructure simulation. Often, these µCT scans pose additional challenges. For example: for filter media with multiple fiber materials, the lower-density fiber material is often harder to distinguish from background noise than the higher-density fiber material, represented by higher brightness values. In addition, high-resolution µCT scans (resolution < 2 µm/Vox) frequently exhibit artifacts where the fiber core is represented with lower brightness values than the fiber surface. This effect is particularly pronounced for so-called shots in meltblown fiber media (Figure 1), i.e., irregular and clumped material accumulations formed by fibers melting together in the manufacturing process. The resulting segmentation leads to hollow fibers and shots that make the voxel mesh unsuitable for microstructure characterization and simulation. Following the segmentation, it is possible to close the hollow fiber structure with image processing algorithms for standard hollow fibers with round cross-sections. However, these image processing algorithms reach their limits and lead to strongly deviating material distributions for more complex microstructures with hollow shots, hollow fibers with irregular cross-sections, or filter media with multiple fiber types.
A solution for these problems may lie in the promising AI-segmentation [2]. In the context of method development and innovative material analysis, the potential of this still relatively young technology, to segment problematic µCT-scans of complex fiber structures realistically, was tested and assessed on various use cases. First, parts of the µCT-scan are sparsely labeled manually. This labeled data is then used to train a 3D-UNET [3] in the simulation software GeoDict. 3D-UNET is a fully convolutional deep neural network, offering advantages over 2D-UNET approaches by incorporating the 3D context of the image. Finally, the trained neural network is applied to the full µCT-scan to obtain the final segmentation.
This presentation compares the results of AI-Segmentation on different microstructures with the segmentation based on OTSU thresholding and morphological operations. Visual comparison of the resulting voxel meshes of both methods with the µCT scan, as well as validation of the resulting microstructure characterization and microstructure simulation by material testing and simulation using the FlowDict module of GeoDict, are discussed and used to make the applicability of the new method comprehensible.
Learn More at FILTECH 2023 Conference - Register Now!
A digital framework for pleat optimization
A. Wiegmann*, L. Cheng, E. Glatt, D. Mosbach, S. Linden, P. Eichheimer, M. Azimian, Math2Market GmbH, Germany
Conference Session: F04 - Innovative Media Development and Optimization - 2023-02-16 - 09:00
Computer-Aided-Design (CAD) is used by filter makers to speed up manufacturing of filters and filter elements. In this context, modelling pleats with multilayered materials and varying pleat counts can be so tedious that very few designs are manufactured and tested.
CAD data may also be used as input to simulations to predict the pressure drop, filter efficiency and filter lifetime. We present a simulation framework that starts with the CAD data but then permits automatic parameter studies on the pleats. Compared to other methodologies, our 3d image-based approach works completely automatic and requires no manual meshing steps before the simulations can run.
As example, we simulate a filter with different pleat counts and volumetric flow rates to find the local minimum of the pressure drop. The approach finds the right balance for the pleat count between lowering the pressure drop by providing more filter area and raising the pressure drop through capillary forces in the inflow and outflow channels between the pleats. This allows...
Learn More at FILTECH 2023 Conference - Register Now!
Improved computer modeling of charges in electret filter media
L. Cheng*, J. Becker, A. Wiegmann, Math2Market GmbH, Germany; K. Lee, FITI Testing & Research Institute; J. Kim, Seoul National University, South Korea
Conference Session: G04 - Particle-Collector-Interaction - 2023-02-14 - 16:45
Electrical charges in fibrous filter media can lead to non-monotonic penetration curves because the dominant effect of filtration changes over time. The two orange curves in Figure 1 show how the penetration is low at the beginning of the experiment, then increases and finally decreases again. At first, the charges are so high that most particles get trapped. Over time, as more mass deposits, the charges weaken, and fewer particles are trapped. Later still, as enough mass was deposited, captured particles contribute increasingly to the capture efficiency and more particles are trapped again.
Our earlier attempts to simulate this behavior could not reproduce this behavior, as illustrated by the simulation results on the left of Figure 1. They were not taking decreasing charges into account. By making the electrical charges depend on the deposited dust, the digital filtration experiments reproduce the general behavior of the physical experiments as illustrated on the right of Figure 1.
As there are many unknowns regarding how exactly the charge reduction depends on the deposited mass, we developed and present a general modeling framework that allows the detailed modelling of electrical charges, both depending on the deposited mass but also on properties of individual fibers, in order to improve the agreement of digital filter experiments with physical filter experiments...
Learn More at FILTECH 2023 Conference - Register Now!
Images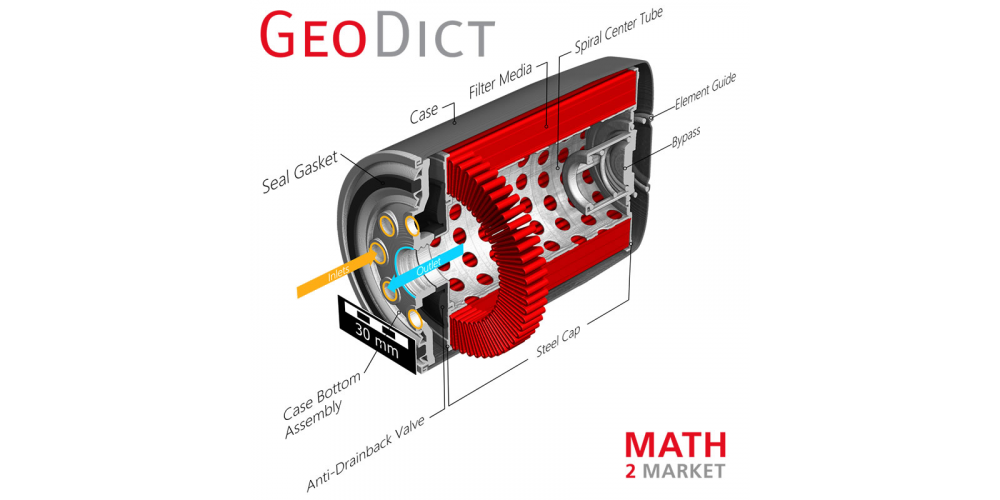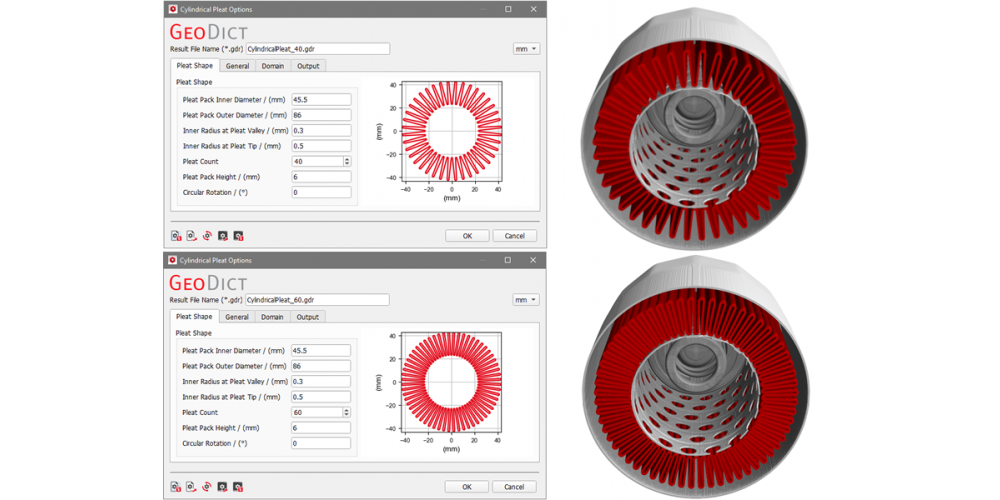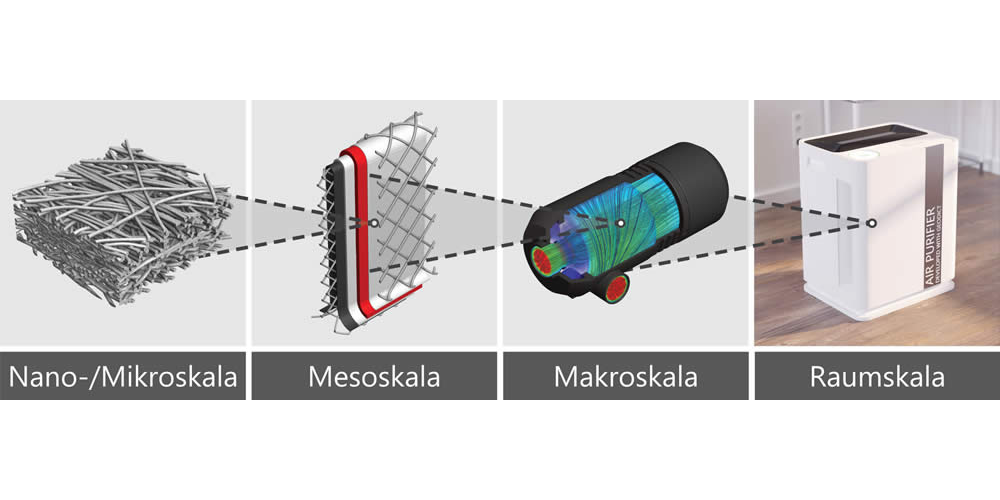 Multiscale filtration simulation: micro, meso, macro, and room scale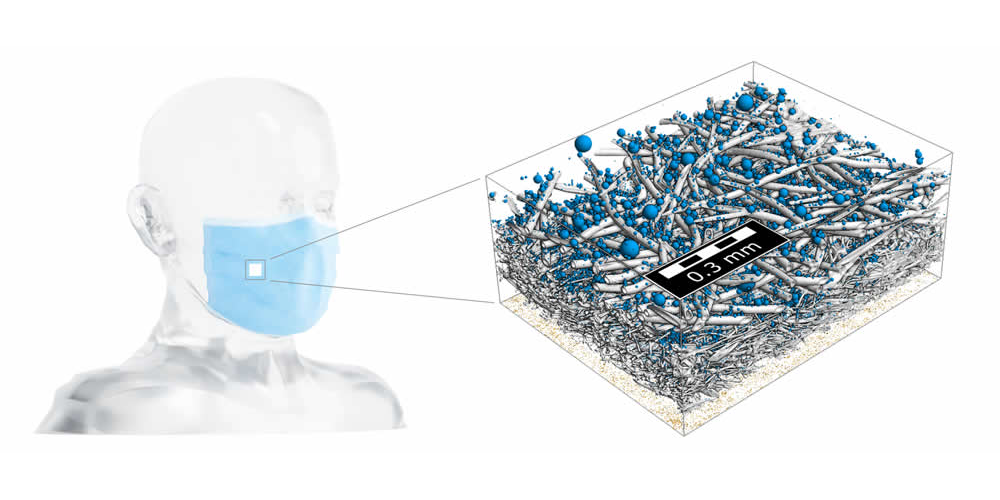 Simulation of filtration of protective face masks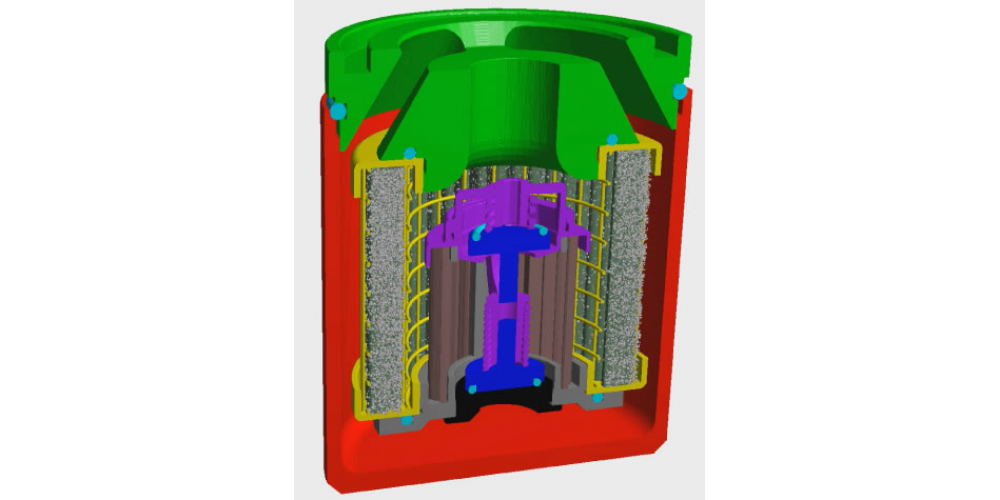 Simulation of filtration of particles in oil filter