MIF Filtersystems Ltd Hall 8 / F29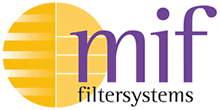 Exhibitor Profile
For over 35 years MIF Filtersystems have been at the forefront of filter manufacture, producing bespoke filters for the medical, industrial and domestic appliance markets. Established in 1979, we pride ourselves in our versatility and innovative approach to process and media development that enables MIF to produce a wide array of technical solutions for customer needs.
Our clients are supplied worldwide from either the facility in Cradley Heath, United Kingdom or from the facility in Dongguan City, China.
Our filters can be made to many designs and provide performance up to ULPA levels. They include pleated filters, die cut parts, pre-filters, and reusable filter bags. These filters can incorporate high efficiency particle filtration for dust removal as well as activated carbons for removing odour.
Our product range include:
Domestic appliances filters
Fume extraction filters
Cabin air filtration
Respiratory
Medical filtration
Room air purifiers
HVAC filtration
Products / Markets
Product Index
Filterbeutel aus Metallvlies
Filterelemente
Filterfilze
Filtergehäuse
Filtergewebe
Filterkissen
Filtermedien
Filtermedien f. Flüssigkeiten
Filtermedienprüfung
Filterpatronen
Filterschaum
Filterscheiben
Filtertücher
Vliesmaterialien, Meltblown
Market Scope
Filtrations- und Separationsindustrie
Product Index
Filter Bags from Metal Felt
Filter Cartridges
Filter Cloth
Filter Discs
Filter Elements
Filter Fabrics
Filter Felts
Filter Foam
Filter Housings
Filter Media
Filter Media Testing
Filter Media for Liquids
Filter Pads
Nonwovens, Meltblown
Market Scope
Filtration and Separation Industry
Product Index
液体过滤器介质
滤壳
滤布
滤布
滤板
滤泡棉
滤片
滤筒
滤芯
熔喷无纺布
袋式过滤器金属毡
过滤介质
过滤媒介测试
过滤毡
Product Index
Filter Foam
أقراص فلاتر
أقراص فلترة
أقمشة فلاتر
أكياس فلاتر من شعيرات معدنية
اختبار تصفية وسائل الاعلام
اللانسيج، تذويب وتنفيش
تصفية العلب
خراطيش فلتر
فلاتر شعرية
فلاتر نسيجية
قطع فلاتر
مواد فلترة
مواد فلترة الغازات
Market Scope
صناعات الفلترة وفصل المواد
Product Index
Cartouches de filtres
Disques de filtres
Eléments de filtre
Feutres de filtres
Les boîtiers de filtre
Mousse de filtre
Médias de filtre
Médias de filtre pour liquides
Non tissés, toiles soufflées à chaud
Patins de filtres
Sacs de filtres en feutre métallique
Test de médias filtrants
Tissus de filtre
Tissus de filtres
Market Scope
Industrie de filtration et de séparation
Product Index
Alloggiamenti filtro
Cartucce filtri
Cuscinetti per filtri
Dischi filtro
Elementi filtranti
Feltri filtro
Mezzi filtranti
Mezzi filtranti per liquidi
Non tessuti, meltblown
Panno filtrante
Schiuma per filtro
Tasche filtri in feltro metallico
Tessuti filtro
Verifica mezzi filtranti
Market Scope
Settore filtrazione e separazione
Product Index
Dyski filtra
Elementy filtra
Filtruj piankę
Materiały nietkane, zgrzewalne
Media filtrów
Media filtrów cieczy
Obudowy filtrów
Podkładki pod filtry
Testowanie mediów filtrów
Tkanina filtracyjna
Tkaniny filcowe
Tkaniny filtracyjne
Wkłady filtra
Worki filtracyjne z włókien metalowych
Product Index
Carcaças de Filtro
Cartuchos filtrantes
Discos de filtros
Elementos filtrantes
Espuma de filtro
Feltros de filtros
Meios de filtragem
Meios de filtragem para líquidos
Não-tecidos, fusão
Sacos filtrantes de feltros de metal
Tampões de filtros
Tecidos filtrantes
Tela filtrante
Testes de meios filtrantes
Market Scope
Indústria de filtragem e separação
Product Index
Корпуса фильтров
Нетканые материалы, плавление
Тестирование Фильтрующие материалы
Фильтр Пена
Фильтровальные мешки из металлического войлока
Фильтровальные ткани
Фильтровальный войлок
Фильтрующая ткань
Фильтрующие диски
Фильтрующие патроны
Фильтрующие прокладки
Фильтрующие элементы
Фильтрующий материал
Фильтрующий материал для жидкостей
Market Scope
Отрасль фильтрации и сепарирования
Product Index
Bolsas de filtro para fieltro metal
Cartuchos de filtro
Discos de filtro
Elementos de filtro
Fieltros de filtro
Filtro de Viviendas
Filtro de espuma
Medios de filtro
Medios de filtros para líquidos
Non-Wowens, Meltblown
Pastillas de filtro
Pruebas de medios filtrantes
Tejidos de filtro
Tela de filtro
Market Scope
Industria de la filtración y la separación
Product Index
Dokunmamış Mamuller, Meltblown
Filtre Bezleri
Filtre Diskleri
Filtre Elemanları
Filtre Gövdeleri
Filtre Kartuşları
Filtre Keçeleri
Filtre Kumaşı
Filtre Köpüğü
Filtre Ortamı
Filtre Pedi
Filtre ortamı test
Metal Keçeden Filtre Torbaları
Sıvılar için Filtre Ortamı
Market Scope
Filtrasyon ve Ayırma Endüstrisi
Product Index
금속 펠트로부터 필터 백
멜트블로운 부직포
액체용 여과재
여과재
여과재 테스트
여과천
필터 디스크
필터 엘리먼트
필터 카트리지
필터 패드
필터 패브릭
필터 펠트
필터 폼
필터 하우징
Product Index
Filter Foam
フィルターエレメント
フィルターカートリッジ
フィルターディスク
フィルターハウジング
フィルターパッド
フィルターフェルト
フィルターメディア
フィルター布
メタルフェルトのフィルターバッグ
不織布, Meltblown
液体用濾過材
濾過布
濾過材試験