National Bridge Co. Ltd. Hall 8 / F3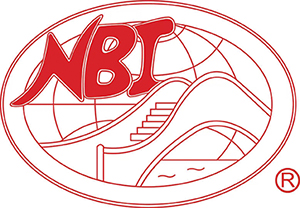 Exhibitor Profile
Jiangxi National Bridge IndustrialCo., Ltd belongs to National Bridge Industrial (Group) Co. Ltd., being Hong Kong owned enterprises.
It has introduced several high-tech PET spunbonded thermobonded and needle-punched non-woven production lines,impregnated production line and multifunctional composite production line. Many kinds of non-woven finishing equipment complete, advanced technology, is one of the national largest PET spunbonded non-woven production enterprises.
The main products:
PET spunbonded thermobonded nonwovens;PET spunbonded needled nonwovens;geotextile nonwovens, civil building waterproof leather carpet nonwovens; industrial environmental protection nonwovens; automotive interior nonwovens;agriculture and forestry and green nonwovens;soft foundation, beach marsh drainage belt nonwovens; medical protection material and PA spunbond non-wovens and PLA spunbond degradation nonwovens.
The products have high strength, high elongation, low shrinkage, heat resistance, good stability, breathable, permeable, shading, acid&alkali resistance, mothproof, non-toxic and high performance characteristics. Product quality in line with the Germany DIN and Japan JIS quality standards. Many products have won national and provincial excellent new products, is a national high-tech enterprises and key enterprises for national industrial nonwovens, national environmental protection filters,and national civil construction waterproof materials.
Products / Markets
Product Index
Filtergewebe
Filtermedien
Filtermedien f. Flüssigkeiten
Filtermedien f. Gase
Filterpatronen
Filtertextilien
Filtertücher
Gasfilter
Hepa-Filter
Luftfiltermedien
Patronenfilter
Staubabscheider
Vliesmaterialien, Meltblown
Vliesmaterialien, Spunbonded
Wasserfilter
Ölfiltermedien
Market Scope
Agrarwirtschaft
Bauindustrie
Druckindustrie
Filtrations- und Separationsindustrie
Lebensmittel-,Getränkeindustrie
Milchindustrie / Molkerei
Schwerindustrie
Textilindustrie
Umweltschutz
Product Index
Air Filter Media
Cartridge Filters
Dust Collectors
Filter Cartridges
Filter Cloth
Filter Fabrics
Filter Media
Filter Media for Gases
Filter Media for Liquids
Filter Textiles
Gas Filters
HEPA Filters
Nonwovens, Meltblown
Nonwovens, Spunbonded
Oil Filter Media
Water Filters
Market Scope
Agriculture
Building & Construction Services
Dairy Industry
Environmental Protection
Filtration and Separation Industry
Food, Beverage Industry
Heavy Industry
Printing Industry
Textile Industry
Product Index
气体过滤器
气体过滤器介质
水过滤器
液体过滤器介质
滤布
滤布
滤油器介质
滤筒
滤筒
熔喷无纺布
空气过滤器介质
纺粘型无纺布
过滤介质
过滤织物
集尘器
高效粒子空气过滤器
Market Scope
 农业
乳品加工业
印刷业
建筑与施工服务业
环境保护
纺织工业
过滤与分离工业
重工业
食品、饮料工业
Product Index
"فلاتر هواء عالية الفاعلية ""هـيبا"" HEPA"
أقمشة فلاتر
اللانسيج، تذويب وتنفيش
اللانسيج، غزل ولصق
خراطيش فلتر
فلاتر الكارترج / الخراطيش
فلاتر غازات
فلاتر ماء
فلاتر نسيجية
مجمعات الغبار
مواد فلاتر الزيوت
مواد فلاتر الهواء
مواد فلترة
مواد فلترة السوائل
مواد فلترة الغازات
نسيج فلاتر
Market Scope
الصناعات الثقيلة
الصناعات الغذائية وصناعة المشروبات
الصناعة الإلكترونية والإلكترونيات الدقيقة
الصناعة النسيجية
الطباعة
الهندسة المعمارية
خدمات البناء والإنشاء
صناعات الفلترة وفصل المواد
صناعة الألبان
Product Index
Cartouches de filtres
Cartouches de filtres
Collecteurs de poussières
Filtres HEPA
Filtres à eau
Filtres à gaz
Fluides pour filtres à air
Médias de filtre
Médias de filtre pour gaz
Médias de filtre pour liquides
Médias pour filtres à huile
Non tissés, feutres
Non tissés, toiles soufflées à chaud
Textiles pour filtres
Tissus de filtre
Tissus de filtres
Market Scope
Agriculture
Industrie de filtration et de séparation
Industrie du bâtiment et de la construction
Industrie laitière
Industrie lourde
Industrie textile
Industrie typographique
Industrie électronique et microélectrique
Industries alimentaires et des boissons
Product Index
Cartucce filtri
Collettori di polvere
Filtri cartuccia
Filtri gas
Filtri hepa
Filtri per acqua
Mezzi filtranti
Mezzi filtranti aria
Mezzi filtranti per gas
Mezzi filtranti per liquidi
Mezzi filtro olio
Non tessuti, meltblown
Non tessuti, spunbonded
Panno filtrante
Tessuti filtro
Tessuti per filtri
Market Scope
Agricoltura
Protezione ambientale
Servizi settore edile
Settore alimenti e bevande
Settore caseario
Settore filtrazione e separazione
Settore industria pesante
Settore industria stampaggio
Settore industria tessile
Product Index
Filtry HEPA
Filtry do wody pitnej
Filtry gazu
Materiały nietkane, formowane
Materiały nietkane, zgrzewalne
Media filtrów
Media filtrów cieczy
Media filtrów gazu
Media filtrów oleju
Media filtrów powietrza
Odpylacze
Tkanina filtracyjna
Tkaniny filtracyjne
Tkaniny filtracyjne
Wkłady filtra
Wkłady filtracyjne
Market Scope
Filtrowanie i separacja
Ochrona środowiska
Przemysł budowlany
Przemysł ciężki
Przemysł drukarski
Przemysł mleczarski
Przemysł spożywczy
Przemysł tekstylny
Rolnictwo
Product Index
Cartuchos filtrantes
Colectores de poeiras (aspiradores)
Filtros absolutos (HEPA)
Filtros de cartuchos
Filtros de gases
Filtros de água
Meios de filtragem
Meios de filtragem de óleo
Meios de filtragem para gases
Meios de filtragem para líquidos
Meios de filtro do ar
Não-tecidos, em forma enrolada
Não-tecidos, fusão
Tecidos filtrantes
Tela filtrante
Têxteis de filtros
Market Scope
Agricultura
Electrónica, indústria microelectrónica
Indústria alimentar, de bebidas
Indústria da impressão
Indústria de filtragem e separação
Indústria leiteira
Indústria pesada
Indústria têxtil
Serviços de fabrico & construção
Product Index
Водяные фильтры
Газовые фильтры
Нетканые материалы, плавление
Нетканые материалы, формование
Пылесборники
Фильтровальные ткани
Фильтровальный текстиль
Фильтрующая ткань
Фильтрующие патроны
Фильтрующий материал
Фильтрующий материал
Фильтрующий материал для газов
Фильтрующий материал для жидкостей
Фильтрующий элемент масляного фильтра
Фильтры со сменным фильтрующим элементом
Фильтры тонкой очистки
Market Scope
Молочная промышленность
Отрасль фильтрации и сепарирования
Полиграфическая промышленность
Производство продуктов питания и напитков
Сельское хозяйство
Строительство жилых и общественных зданий
Текстильная промышленность
Тяжёлая промышленность
Электроника, микроэлектроника
Product Index
Cartuchos de filtro
Colectores de polvo
Filtros HEPA
Filtros de agua
Filtros de cartucho
Filtros de gas
Medios de filtro
Medios de filtros de aceite
Medios de filtros de aire
Medios de filtros para gases
Medios de filtros para líquidos
Non-Wowens, Meltblown
Non-Wowens, Spunbonded
Tejidos de filtro
Tejidos de filtros
Tela de filtro
Market Scope
Agricultura
Industria de la alimentación y las bebidas
Industria de la electrónica, microelectrónica
Industria de la filtración y la separación
Industria de la impresión
Industria de los productos lácteos
Industria pesada
Industria textil
Servicios de edificación y construcción
Product Index
Dokunmamış Mamuller, Meltblown
Dokunmamış Mamuller, Spunbond
Filtre Bezleri
Filtre Kartuşları
Filtre Kumaşı
Filtre Ortamı
Filtre Tekstilleri
Gaz Filtreleri
Gazlar için Filtre Ortamı
HEPA Filtreler
Hava Filtresi Ortamı
Kartuşlu Filtreler
Su Filtreleri
Sıvılar için Filtre Ortamı
Toz Toplayıcılar
Yağ Filtresi Ortamı
Market Scope
Ağır Sanayi
Basın Endüstrisi
Bina ve İnşaat Hizmetleri
Filtrasyon ve Ayırma Endüstrisi
Gıda, İçecek Endüstrisi
Süt Endüstrisi
Tarım
Tekstil Endüstrisi
Çevre Koruma
Product Index
HEPA 필터
가스 필터
가스용 여과재
공기 여과재
멜트블로운 부직포
물 필터
스펀본드 부직포
액체용 여과재
여과재
여과천
오일 여과재
집진기
카트리지 필터
필터 직물
필터 카트리지
필터 패브릭
Market Scope
건축 및 건설 용역
농업
섬유 산업
식음료 산업
여과 및 분리 산업
유제품 산업
인쇄 산업
중공업
환경 보호
Product Index
HEPAフィルター
エアフィルターメディア
オイルフィルターメディア
カートリッジ・フィルター
ガスフィルター
ガス用濾過材
フィルターカートリッジ
フィルターメディア
フィルター布
フィルター繊維
不織布, Meltblown
不織布, Spunbonded
水フィルター
液体用濾過材
濾過布
集塵機
Market Scope
印刷業界
建築・建設業
濾過および分離技術工業
環境保護
繊維業界
農業
酪農産業
重工業
食品、飲料業界