Ream-RTI LLC Hall 7 / M33

Exhibitor Profile
REAM-RTI LLC designs and produces backwashable wire mesh filters with hydro-, oleo-phobic and hydro-, oleo- philic coatings and provides solutions for filtration, separation, vibration damping and IR burners for oil & gas, automotive, water treatment, aviation and space industries.
REAM-RTI introduces innovative design of filters based on Permeable Matrix (PM) technology which provides:
multiple regeneration (at least 50 backwash cycles);
vary filtration fineness by preliminary deformation;
high resistance to corrosion and erosion;
operation at wide temperature range up to 900°С and in chemically active environments pH 0…13;
the effect of the pre-filter (filter cake) formation on filter surface
special coatings could be applied to achieve anti-adhesive and other necessary properties
Filters and filter elements are available in variety of shapes and sizes with required filtration fineness.
Products / Markets
Product Index
Beschichtete Filter,antibakteriell
Edelstahlfilter
Filtermedien f. Flüssigkeiten
Filtermedien f. Gase
Filterpatronen
Poröse Metalle
Rückspülfilter
Ölfilter
Market Scope
Abfallwirtschaft
Abwasserwirtschaft
Automobilindustrie
Chemische Industrie
Farben-, Pigment-, Beschichtungsindustrie
Filtrations- und Separationsindustrie
Lebensmittel-,Getränkeindustrie
Luft- und Raumfahrtindustrie
Medizintechnik, Health Care Industrie
Mineralöl/Öl/Gasproduktion
Product Index
Back Flush Filters
Coated Filters, antibacterical
Filter Cartridges
Filter Media for Gases
Filter Media for Liquids
Oil Filters
Porous Metals
Stainless Steel Filters
Market Scope
Aerospace Industry
Automotive Industry
Chemical Industries
Filtration and Separation Industry
Food, Beverage Industry
Medical, Health Care Industry
Mineral / Oil / Gas Production
Paint, Pigments, Coatings Industry
Waste Treatment
Waste Water Treatment
Product Index
不锈钢过滤器
多孔金属
气体过滤器介质
液体过滤器介质
滤油器
滤筒
袋式平槽过滤器
镀膜滤色镜,抗菌式
Market Scope
 汽车工业
化学工业
医疗卫生保健业
废水处理
废物处理
油漆、颜料、涂料工业
矿产/石油/天然气业
航空航天业
过滤与分离工业
食品、饮料工业
Product Index
أكياس فلترة للدفق العالي
تثقيب المعادن
خراطيش فلتر
فلاتر زيوت
فلاتر مغلفة، مضادة للجراثيم
فلاتر من معادن مقاومة للصدأ
مواد فلترة السوائل
مواد فلترة الغازات
Market Scope
إنتاج المعادن والزيوت والغاز
الصناعات الطبية والعناية الصحية
الصناعات الغذائية وصناعة المشروبات
الصناعة الكيماوية
صناعات الفلترة وفصل المواد
صناعة الدهانات والصبغات والتلبيس
صناعة السيارات
صناعة الفضاء
معالجة النفايات
معالجة مياه الصرف
Product Index
Cartouches de filtres
Filtres en acier inoxydable
Filtres à huile
Filtres à revêtement, antibactérien
Médias de filtre pour gaz
Médias de filtre pour liquides
Métaux poreux
Sacs de filtres de décolmatage
Market Scope
Industrie automobile
Industrie aérospatiale
Industrie chimique
Industrie de filtration et de séparation
Industrie de peintures, pigments et revêtements
Industrie médicale et de la santé
Industries alimentaires et des boissons
Productions minérales / pétrolière / du gaz
Traitement des déchets
Traitement des eaux usées
Product Index
Cartucce filtri
Filtri di risciacquo
Filtri in acciaio inossidabile
Filtri olio
Filtri rivestiti, antibatterici
Metalli porosi
Mezzi filtranti per gas
Mezzi filtranti per liquidi
Market Scope
Produzioni minerali / petrolio / gas
Settore aerospaziale
Settore alimenti e bevande
Settore automobilistico
Settore chimico
Settore filtrazione e separazione
Settore medicale e sanità
Settore pitture, pigmenti e rivestimenti
Trattamento acque reflue
Trattamento rifiuti
Product Index
Filtry ciśnieniowe
Filtry oleju
Filtry powlekane, antybakteryjne
Filtry ze stali nierdzewnej
Media filtrów cieczy
Media filtrów gazu
Metale porowate
Wkłady filtra
Market Scope
Filtrowanie i separacja
Ochrona zdrowia
Oczyszczanie ścieków
Oczyszczanie ścieków (waste water)
Produkcja farb i lakierów
Przemysł chemiczny
Przemysł lotniczy
Przemysł samochodowy
Przemysł spożywczy
Wydobycie minerałów, ropy i gazu
Product Index
Cartuchos filtrantes
Filtros de aço inoxidável
Filtros de saco de águas residuais
Filtros de óleo
Filtros revestidos, antibacteriano
Meios de filtragem para gases
Meios de filtragem para líquidos
Metais porosos
Market Scope
Indústria aeroespacial
Indústria alimentar, de bebidas
Indústria automóvel
Indústria de filtragem e separação
Indústria médica, cuidados de saúde
Indústrias químicas
Pintura, pigmentos, indústria de revestimentos
Produção mineral / óleo / gás
Tratamento de desperdícios
Tratamento de água de despejo
Product Index
Масляные фильтры
Пористые металлы
Рукавные проточные фильтры
Фильтрующие патроны
Фильтрующий материал для газов
Фильтрующий материал для жидкостей
Фильтры из нержавеющей стали
Фильтры с покрытием, антибактериальные
Market Scope
Авиакосмическая промышленность
Автомобильная промышленность
Добыча минералов/ нефти/ газа
Лакокрасочная промышленность
Медицина, здравоохранение
Отрасль фильтрации и сепарирования
Очистка сточных вод
Переработка отходов
Производство продуктов питания и напитков
Химическая промышленность
Product Index
Cartuchos de filtro
Filtros de aceite
Filtros de acero inoxidable
Filtros de descarga de bolsa
Filtros revestidos, antibacteriológicos
Medios de filtros para gases
Medios de filtros para líquidos
Metales porosos
Market Scope
Industria aeroespacial
Industria de la alimentación y las bebidas
Industria de la automoción
Industria de la filtración y la separación
Industria de las pinturas, pigmentos, revestimientos
Industria médica, de la atención sanitaria
Industrias químicas
Producción de minerales / petróleo / gas
Tratamiento de aguas residuales
Tratamiento del agua
Product Index
Filtre Kartuşları
Gazlar için Filtre Ortamı
Gözenekli Metaller
Kaplı Filtreler, antibakteriyel
Paslanmaz Çelik Filtreler
Sıvılar için Filtre Ortamı
Ters Yıkamalı Filtreler
Yağ Filtreleri
Market Scope
Atık Arıtma
Atıksu Arıtma
Boya, Pigment, Kaplama Endüstrisi
Filtrasyon ve Ayırma Endüstrisi
Gıda, İçecek Endüstrisi
Havacılık Endüstrisi
Kimya Endüstrisi
Mineral / Petrol / Gaz Üretimi
Otomotiv Endüstrisi
Tıp, Sağlık Sektörü
Product Index
가스용 여과재
다공질 금속
백 플러시 필터
스텐레스 스틸 필터
액체용 여과재
오일 필터
코팅 필터, 항균성
필터 카트리지
Market Scope
광물 / 석유 / 가스 생산
식음료 산업
여과 및 분리 산업
의료, 보건 산업
자동차 산업
페인트, 안료, 도장 산업
폐기물 처리
폐수 처리
항공우주 산업
화학 산업
Product Index
オイルフィルター
ガス用濾過材
コーティングフィルター
ステンレス鋼フィルター
バックフラッシュフィルター
フィルターカートリッジ
多孔質メタル
液体用濾過材
Market Scope
化学工業
医療、ヘルスケア業界
塗料、顔料、コーティング産業
廃棄物処理
汚水処理
濾過および分離技術工業
自動車産業
航空宇宙産業
鉱物・石油・ガス生産
食品、飲料業界
Conference Presentation/s
Filter screen from permeable matrix of pressed metal wire and its properties
A. Shindyalov * I.S. Pyatov, L.V. Vorobeva, A.N. Korchagin, I.V. Kirpichev, K.N. Petrunina, REAM-RTI, LLC; V.N. Ivanovsky, A.V. Bulat, Gubkin National University of Oil and Gas, Russia
Presentation at FILTECH 2022 Conference
REAM-RTI, LLC introduces an innovative permeable matrix of pressed metal wire (PM), products from which are patented and used for filtration of liquids and gases. The manufacturing technology complies with modern ISO: 9001 standards and allows the manufacture of filter elements with a filtration rating up 5 to 500 microns with various geometry and sizes. The material is a wire structure that, as a result of cold pressing, forms an openly porous and elastic system permeable in all directions.
Key advantages:
The elastic system of filter allows:
providing multiple regeneration (at least 50 times) with an efficiency of up to 90% recovery of initial properties without dismantling the equipment;
change in filtration rating by axial compression, which allows it to be adaptive to changes in filtration fineness requirements;
provides durability and high impact resistance of the filtering system;
resistance to destruction in a hydrogen sulfide and hydrogen environment (SSK).
2. Low hydraulic resistance due to the use of round wire provides:
- high erosion resistance;
- high ratio of the area of ​​the slots channels passing the filtered medium to the total area of ​​the filter surface.
3. The possibility of manufacturing a filtering screen from various materials allows....
Images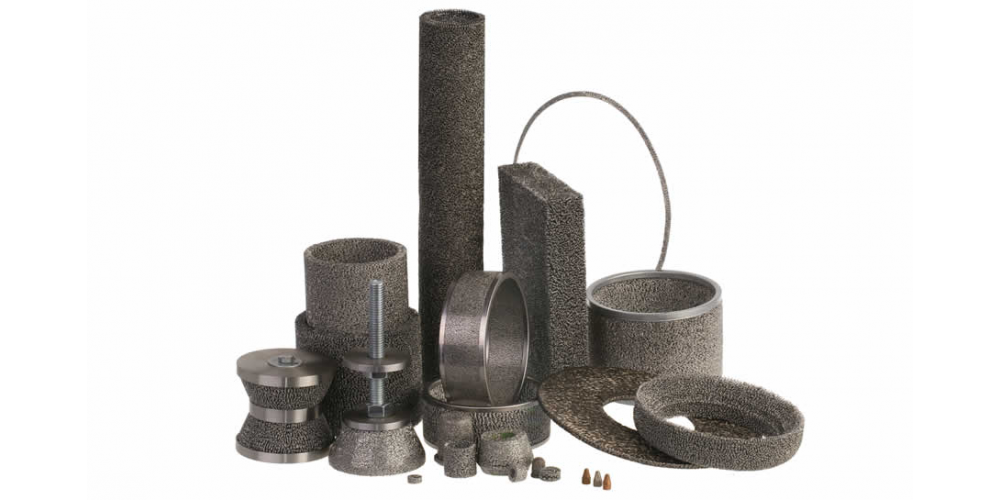 Production range