Reifenhäuser Heinsberg GmbH Hall 7 / M36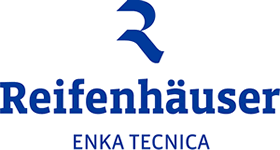 Exhibitor Profile
We are one of the world's leading manufacturers of spinnerets for nonwovens, melt spinning, wet and dry spinning.
Rely on the highest precision of our products for spunbond and meltblown technologies, including spinnerets and spin packs, distributor and perforated plates, coat hangers, meltblown spinning beams, and premium HE jet strips.
Our extra plus for more sustainability: the efficient Enka Tecnica Refresh Service for restoring your spinnerets.
Products / Markets
Product Index
Vliesmaterialien, Meltblown
Vliesmaterialien, Spunbonded
Vliesmaterialien, Spunlace
Market Scope
Agrarwirtschaft
Automobilindustrie
Chemische Industrie
Filtrations- und Separationsindustrie
Medizintechnik, Health Care Industrie
Product Index
Nonwovens, Meltblown
Nonwovens, Spunbonded
Nonwovens, Spunlaced
Market Scope
Agriculture
Automotive Industry
Chemical Industries
Filtration and Separation Industry
Medical, Health Care Industry
Product Index
熔喷无纺布
纺粘型无纺布
非織造布, Spunlaced
Market Scope
 农业
 汽车工业
化学工业
医疗卫生保健业
过滤与分离工业
Product Index
اللانسيج، تذويب وتنفيش
اللانسيج، غزل ولصق
منسوجات ، Spunlaced
Market Scope
الصناعات الطبية والعناية الصحية
الصناعة الكيماوية
الهندسة المعمارية
صناعات الفلترة وفصل المواد
صناعة السيارات
Product Index
Non tissés, Spunlaced
Non tissés, feutres
Non tissés, toiles soufflées à chaud
Market Scope
Agriculture
Industrie automobile
Industrie chimique
Industrie de filtration et de séparation
Industrie médicale et de la santé
Product Index
Non tessuti, meltblown
Non tessuti, spunbonded
Non tessuti, spunlaced
Market Scope
Agricoltura
Settore automobilistico
Settore chimico
Settore filtrazione e separazione
Settore medicale e sanità
Product Index
Materiały nietkane, formowane
Materiały nietkane, wodnoigłowane
Materiały nietkane, zgrzewalne
Market Scope
Filtrowanie i separacja
Ochrona zdrowia
Przemysł chemiczny
Przemysł samochodowy
Rolnictwo
Product Index
Não-tecidos, Spunlaced
Não-tecidos, em forma enrolada
Não-tecidos, fusão
Market Scope
Agricultura
Indústria automóvel
Indústria de filtragem e separação
Indústria médica, cuidados de saúde
Indústrias químicas
Product Index
Нетканые материалы, Spunlaced
Нетканые материалы, плавление
Нетканые материалы, формование
Market Scope
Автомобильная промышленность
Медицина, здравоохранение
Отрасль фильтрации и сепарирования
Сельское хозяйство
Химическая промышленность
Product Index
Non-Wowens, Meltblown
Non-Wowens, Spunbonded
Non-Wowens, Spunlaced
Market Scope
Agricultura
Industria de la automoción
Industria de la filtración y la separación
Industria médica, de la atención sanitaria
Industrias químicas
Product Index
Dokunmamış Mamuller, Meltblown
Dokunmamış Mamuller, Spunbond
Dokunmamış Mamuller, Spunlace
Market Scope
Filtrasyon ve Ayırma Endüstrisi
Kimya Endüstrisi
Otomotiv Endüstrisi
Tarım
Tıp, Sağlık Sektörü
Product Index
멜트블로운 부직포
스펀레이스 부직포
스펀본드 부직포
Market Scope
농업
여과 및 분리 산업
의료, 보건 산업
자동차 산업
화학 산업
Product Index
不織布, Meltblown
不織布, Spunbonded
不織布, Spunlaced
Market Scope
化学工業
医療、ヘルスケア業界
濾過および分離技術工業
自動車産業
農業