Shrinath Adhesive Products Pvt. Ltd. Hall 8 / IND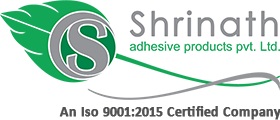 Exhibitor Profile
At Shrinath Adhesive Products Pvt. Ltd, we manufacture many kinds of technical textiles, having experience of more than 45 years in the field of weaving different types of Industrial fabrics with fiberglass being a core importance.
Once a small fiberglass weaving unit has now taken over the market and has become a renowned name because of its quality products & top notch customer service. Shrinath Group sprang tall just like a Hyperion tree resulting into various branches till now.
Shrinath is spread over 4000 Sq. Meter Area at Changodar, a major industrial Hub which is connected via 8 Lane National Highway and is just 15 Kms from Ahmedabad City.
Shrinath has a workforce of 50+ motivated & technically sound employees who work together as a team with the aim to create the best in class products.
Currently Shrinath holds the expertise in several types of products like,
1) PTFE Coated Fiberglass Fabrics; PTFE Coated Fiberglass Adhesive Tape & PTFE Coated Fiberglass Conveyor Belts
2) Fiberglass Filter Media for Dust Collection Bags for Air Filtration
3) Technical Fabric for thermal & Acoustic Insulation
4) Woven Fiberglass & Carbon Fabrics for Composites
5) Pressure Sensitive Adhesive Tape
Products / Markets
Product Index
Beutel-/Taschenfilter
Filterbeutel
Filterfilze
Filtergewebe
Filtermedien
Filtermedien f. Gase
Filtertextilien
Filtertücher
Garne / Technische Garne
Glasfaserfilter
Glasfasermedien
Glasfaserschläuche
Heißgasfilter
Luftfilter
Luftfiltermedien
Membranen
Staubabscheider
Technische Textilien
Market Scope
Automobilindustrie
Filtrations- und Separationsindustrie
Keramik-, Glasindustrie
Kunststoffverarbeitende Industrie
Lebensmittel-,Getränkeindustrie
Luft- und Raumfahrtindustrie
Milchindustrie / Molkerei
Mineralöl/Öl/Gasproduktion
Textilindustrie
Umweltschutz
Product Index
Air Filter Media
Air Filters
Bag Filters
Dust Collectors
Filter Bags
Filter Cloth
Filter Fabrics
Filter Felts
Filter Media
Filter Media for Gases
Filter Textiles
Glass Fibre Filter
Glass Fibre Media
Glass Filter Bags
Hot-Gas Filters
Membranes
Technical Textiles
Yarns / Technical Yarns
Market Scope
Aerospace Industry
Automotive Industry
Ceramic, Glass Industry
Dairy Industry
Environmental Protection
Filtration and Separation Industry
Food, Beverage Industry
Mineral / Oil / Gas Production
Plastic Industry
Textile Industry
Product Index
工业用纺织品
工業絲
气体过滤器介质
滤布
滤布
热气过滤器
玻璃纤维介质
玻璃纤维过滤器
玻璃过滤袋
空气过滤器
空气过滤器介质
袋式过滤器
过滤介质
过滤毡
过滤织物
过滤袋
隔膜
集尘器
Market Scope
 汽车工业
乳品加工业
塑料工业
环境保护
矿产/石油/天然气业
纺织工业
航空航天业
过滤与分离工业
陶瓷、玻璃工业
食品、饮料工业
Product Index
أقمشة تقنية
أقمشة فلاتر
أكياس زجاج تصفية
أكياس فلاتر
أكياس فلترة
اسطوانات
خيوط التقنية
فلاتر الغازات الحارة
فلاتر الهواء
فلاتر شعرية
فلاتر نسيجية
فلتر صوف زجاجي
مجمعات الغبار
مواد الصوف الزجاجي
مواد فلاتر الهواء
مواد فلترة
مواد فلترة السوائل
نسيج فلاتر
Market Scope
إنتاج المعادن والزيوت والغاز
الصناعات الغذائية وصناعة المشروبات
الصناعة الإلكترونية والإلكترونيات الدقيقة
الصناعة النسيجية
صناعات الفلترة وفصل المواد
صناعة الألبان
صناعة البلاستيك
صناعة الزجاج والفخار / السيراميك
صناعة السيارات
صناعة الفضاء
Product Index
Collecteurs de poussières
Feutres de filtres
Filtres en fibres de verre
Filtres à air
Filtres à gaz chaud
Filtres à sacs
Fluides pour filtres à air
Membranes
Médias de filtre
Médias de filtre pour gaz
Médias en fibres de verre
Sacs de filtre en verre
Sacs de filtres
Textiles pour filtres
Textiles techniques
Tissus de filtre
Tissus de filtres
Yarns Techniques
Market Scope
Industrie automobile
Industrie aérospatiale
Industrie de filtration et de séparation
Industrie de la céramique et du verre
Industrie des matières synthétiques
Industrie laitière
Industrie textile
Industrie électronique et microélectrique
Industries alimentaires et des boissons
Productions minérales / pétrolière / du gaz
Product Index
Collettori di polvere
Feltri filtro
Filati tecnici
Filtri a tasche
Filtri aria
Filtri gas caldi
Filtro fibra di vetro
Membrane
Mezzi filtranti
Mezzi filtranti aria
Mezzi filtranti per gas
Mezzi in fibra di vetro
Panno filtrante
Tasche filtri
Tasche in fibra di vetro
Tessuti filtro
Tessuti per filtri
Tessuti tecnici
Market Scope
Produzioni minerali / petrolio / gas
Protezione ambientale
Settore aerospaziale
Settore alimenti e bevande
Settore automobilistico
Settore caseario
Settore ceramica e vetro
Settore filtrazione e separazione
Settore industria tessile
Settore plastica
Product Index
Filtry do oczyszczania gorącego gazu
Filtry powietrza
Filtry workowe
Filtry workowe z włókna szklanego
Filtry z włókna szklanego
Media filtrów
Media filtrów gazu
Media filtrów powietrza
Media włókna szklanego
Membrany
Odpylacze
Przędze techniczne
Tekstylia techniczne
Tkanina filtracyjna
Tkaniny filcowe
Tkaniny filtracyjne
Tkaniny filtracyjne
Worki filtracyjne
Market Scope
Filtrowanie i separacja
Ochrona środowiska
Produkcja szkła i ceramiki
Przemysł lotniczy
Przemysł mleczarski
Przemysł samochodowy
Przemysł spożywczy
Przemysł tekstylny
Przemysł tworzyw sztucznych
Wydobycie minerałów, ropy i gazu
Product Index
Colectores de poeiras (aspiradores)
Feltros de filtros
Filtro de fibra de vidro
Filtros de ar
Filtros de gases quentes
Filtros de saco
Filtros de saco de vidro
Fios Técnicos
Meios de fibra de vidro
Meios de filtragem
Meios de filtragem para gases
Meios de filtro do ar
Membranas
Sacos filtrantes
Tecidos filtrantes
Tela filtrante
Têxteis de filtros
Têxteis para usos técnicos
Market Scope
Cerâmica, indústria vidreira
Electrónica, indústria microelectrónica
Indústria aeroespacial
Indústria alimentar, de bebidas
Indústria automóvel
Indústria de filtragem e separação
Indústria dos plásticos
Indústria leiteira
Indústria têxtil
Produção mineral / óleo / gás
Product Index
Воздушные фильтры
Мембраны
Пылесборники
Рабочий элемент стекловолоконного фильтра
Рукавные фильтры
Стекловолоконный фильтр
Сумки стеклянный фильтр
Технический текстиль
Фильтровальные мешки
Фильтровальные ткани
Фильтровальный войлок
Фильтровальный текстиль
Фильтрующая ткань
Фильтрующий материал
Фильтрующий материал
Фильтрующий материал для газов
Фильтры горячих газов
пряжи / Технические пряжи
Market Scope
Авиакосмическая промышленность
Автомобильная промышленность
Добыча минералов/ нефти/ газа
Керамическая, стекольная промышленность
Молочная промышленность
Отрасль фильтрации и сепарирования
Производство пластмасс
Производство продуктов питания и напитков
Текстильная промышленность
Электроника, микроэлектроника
Product Index
Bolsas de filtro
Colectores de polvo
Fieltros de filtro
Filtro de fibra de vidrio
Filtro de vidrio Bolsas
Filtros de aire
Filtros de bolsa
Filtros de gas caliente
Hilos Técnicos
Medios de fibra de vidrio
Medios de filtro
Medios de filtros de aire
Medios de filtros para gases
Membranas
Tejidos de filtro
Tejidos de filtros
Tejidos técnicos
Tela de filtro
Market Scope
Industria aeroespacial
Industria de la alimentación y las bebidas
Industria de la automoción
Industria de la cerámica y el cristal
Industria de la electrónica, microelectrónica
Industria de la filtración y la separación
Industria de los plásticos
Industria de los productos lácteos
Industria textil
Producción de minerales / petróleo / gas
Product Index
Cam Elyaf Filtre
Cam Elyaf Ortam
Cam Elyaf Torbalar
Filtre Bezleri
Filtre Keçeleri
Filtre Kumaşı
Filtre Ortamı
Filtre Tekstilleri
Filtre Torbaları
Gazlar için Filtre Ortamı
Hava Filtreleri
Hava Filtresi Ortamı
Membranlar
Sıcak Gaz Filtreleri
Teknik Tekstiller
Torba Filtreler
Toz Toplayıcılar
İplikler / Teknik İplikler
Market Scope
Filtrasyon ve Ayırma Endüstrisi
Gıda, İçecek Endüstrisi
Havacılık Endüstrisi
Mineral / Petrol / Gaz Üretimi
Otomotiv Endüstrisi
Plastik Endüstrisi
Seramik, Cam Endüstrisi
Süt Endüstrisi
Tekstil Endüstrisi
Çevre Koruma
Product Index
가스용 여과재
고압 가스 필터
공기 여과재
공기 필터
기능성 섬유
기능성 실
백 필터
분리막
여과재
여과천
유리 섬유 매체
유리 섬유 필터
유리 필터 백
집진기
필터 백
필터 직물
필터 패브릭
필터 펠트
Market Scope
광물 / 석유 / 가스 생산
섬유 산업
세라믹, 유리 산업
식음료 산업
여과 및 분리 산업
유제품 산업
자동차 산업
플라스틱 산업
항공우주 산업
환경 보호
Product Index
エアフィルター
エアフィルターメディア
ガス用濾過材
ガラス繊維フィルター
ガラス繊維フィルターバッグ
ガラス繊維メディア
テクニカル糸
テクニカル繊維
バッグフィルター
フィルターバッグ
フィルターフェルト
フィルターメディア
フィルター布
フィルター繊維
濾過布
膜
集塵機
高温ガスフィルター
Market Scope
セラミック、ガラス産業
プラスチック業界
濾過および分離技術工業
環境保護
繊維業界
自動車産業
航空宇宙産業
酪農産業
鉱物・石油・ガス生産
食品、飲料業界