Vihan Filtration Systems Hall 8 / B55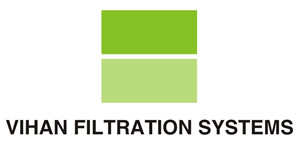 Exhibitor Profile
As one of the Country's swiftly emerging industrial filtration company, Vihan not only offers a distinctive range of products, but also innovative and customized purification solutions to its global clientele.
The company was established by a Textile Technocrat and is well complemented in its progressive strides by experts in the field of Production, Processing, Marketing and Client Servicing. Vihan utilizes its profound understanding of various applications of its fabrics to offer its customers complete optimization in their industrial processes.
The company's legacy is balanced by its state-of-the-art manufacturing facility that is powered by advanced fabric looming technology. Vihan's fabrics are manufactured on specialized looms to produce specific grades of fabrics that meet the stringent Global Quality standards for maintaining Solid-Liquid separation.
Core competence:
Manufacturers of Needle felts and woven fabrics for dust collection and solid-liquid separation
Durable Filter media for longer life
Inhouse Laboratory Testing facility available for Analysis
Product Range:
Vihan Filtration System has designed advanced fabrics for applications ranging from:
High pressure filtration fabrics
Fibreless fabrics
Dust collector bags
Monofilament fabrics
Filter Fabrics in Rolled Form
Tailor made Filter Bags
Butterfly panels for Filter Presses
Products / Markets
Product Index
Abwasserfilter
Beutel-/Taschenfilter
Filterbeutel
Filtergewebe
Filterkissen
Filtermedien
Filtermedien f. Flüssigkeiten
Filtertextilien
Filtertücher
Filterzentrifugen
Glasfaserschläuche
Scheibenfilter
Staubabscheider
Vliesmaterialien
Zentrifugen
Market Scope
Abfallwirtschaft
Abwasserwirtschaft
Bergbauindustrie
Chemische Industrie
Eisen-, Stahlherstellung
Farben-, Pigment-, Beschichtungsindustrie
Filtrations- und Separationsindustrie
Metallverarbeitende Industrie
Pharmazeutische Industrie
Umweltschutz
Product Index
Bag Filters
Centrifuges
Disc Filters
Dust Collectors
Filter Bags
Filter Centrifuges
Filter Cloth
Filter Fabrics
Filter Media
Filter Media for Liquids
Filter Pads
Filter Textiles
Glass Filter Bags
Nonwovens
Waste Water Filters
Market Scope
Chemical Industries
Environmental Protection
Filtration and Separation Industry
Iron, Steel Manufacturing
Metal Processing Industry
Mining Industry
Paint, Pigments, Coatings Industry
Pharmaceutical Industry
Waste Treatment
Waste Water Treatment
Product Index
废水过滤器
无纺布
液体过滤器介质
滤布
滤布
滤板
玻璃过滤袋
盘式过滤器
离心式过滤器
离心机
袋式过滤器
过滤介质
过滤织物
过滤袋
集尘器
Market Scope
制药工业
化学工业
废水处理
废物处理
油漆、颜料、涂料工业
环境保护
过滤与分离工业
采矿业
金属加工业
钢铁制造业
Product Index
أقراص فلترة
أقمشة فلاتر
أكياس زجاج تصفية
أكياس فلاتر
أكياس فلترة
غير المنسوجات / اللانسيج
فلاتر قرصية
فلاتر ماء التصريف
فلاتر نسيجية
قلاتر الطرد المركزي
مجمعات الغبار
مواد فلترة
مواد فلترة الغازات
نسيج فلاتر
وحدات الطرد المركزي
Market Scope
الصناعات الدوائية
الصناعة الكيماوية
صناعات الفلترة وفصل المواد
صناعة الألبان
صناعة التعدين
صناعة الحديد والصلب
صناعة الدهانات والصبغات والتلبيس
صناعة معالجة المعادن
معالجة النفايات
معالجة مياه الصرف
Product Index
Centrifugeuses
Centrifugeuses à filtre
Collecteurs de poussières
Filtres pour eau usées
Filtres à disques
Filtres à sacs
Médias de filtre
Médias de filtre pour liquides
Non tissés
Patins de filtres
Sacs de filtre en verre
Sacs de filtres
Textiles pour filtres
Tissus de filtre
Tissus de filtres
Market Scope
Industrie chimique
Industrie de filtration et de séparation
Industrie de peintures, pigments et revêtements
Industrie laitière
Industrie minière
Industrie métallurgique
Industrie pharmaceutique
Sidérurgie
Traitement des déchets
Traitement des eaux usées
Product Index
Centrifughe
Centrifughe filtri
Collettori di polvere
Cuscinetti per filtri
Filtri a disco
Filtri a tasche
Filtri acque reflue
Mezzi filtranti
Mezzi filtranti per liquidi
Non tessuti
Panno filtrante
Tasche filtri
Tasche in fibra di vetro
Tessuti filtro
Tessuti per filtri
Market Scope
Produzione ferro e acciaio
Protezione ambientale
Settore chimico
Settore filtrazione e separazione
Settore lavorazione metallo
Settore minerario
Settore parafarmaceutico
Settore pitture, pigmenti e rivestimenti
Trattamento acque reflue
Trattamento rifiuti
Product Index
Filtry tarczowe
Filtry workowe
Filtry workowe z włókna szklanego
Filtry ścieków
Materiały nietkane
Media filtrów
Media filtrów cieczy
Odpylacze
Podkładki pod filtry
Tkanina filtracyjna
Tkaniny filtracyjne
Tkaniny filtracyjne
Wirówki
Wirówki filtracyjne
Worki filtracyjne
Market Scope
Filtrowanie i separacja
Obróbka metali
Ochrona środowiska
Oczyszczanie ścieków
Oczyszczanie ścieków (waste water)
Produkcja farb i lakierów
Przemysł chemiczny
Przemysł farmaceutyczny
Przemysł hutniczy
Przemysł wydobywczy
Product Index
Centrifugadores
Centrifugadores de filtros
Colectores de poeiras (aspiradores)
Filtros de discos
Filtros de saco
Filtros de saco de vidro
Filtros de águas residuais
Meios de filtragem
Meios de filtragem para líquidos
Não-tecidos
Sacos filtrantes
Tampões de filtros
Tecidos filtrantes
Tela filtrante
Têxteis de filtros
Market Scope
Fabrico de ferro, aço
Indústria de filtragem e separação
Indústria de processamento de metal
Indústria farmacêutica
Indústria leiteira
Indústria mineira
Indústrias químicas
Pintura, pigmentos, indústria de revestimentos
Tratamento de desperdícios
Tratamento de água de despejo
Product Index
Дисковые фильтры
Нетканые материалы
Пылесборники
Рукавные фильтры
Сумки стеклянный фильтр
Фильтровальные мешки
Фильтровальные ткани
Фильтровальный текстиль
Фильтрующая ткань
Фильтрующие прокладки
Фильтрующие центрифуги
Фильтрующий материал
Фильтрующий материал для жидкостей
Фильтры сточных вод
Центрифуги
Market Scope
Горнодобывающая промышленность
Лакокрасочная промышленность
Металлообрабатывающая промышленность
Молочная промышленность
Отрасль фильтрации и сепарирования
Очистка сточных вод
Переработка отходов
Производство железа, стали
Фармацевтическая промышленность
Химическая промышленность
Product Index
Bolsas de filtro
Centrífugas
Centrífugas de filtro
Colectores de polvo
Filtro de vidrio Bolsas
Filtros de agua residual
Filtros de bolsa
Filtros de disco
Medios de filtro
Medios de filtros para líquidos
Non-Wowens
Pastillas de filtro
Tejidos de filtro
Tejidos de filtros
Tela de filtro
Market Scope
Fabricación de hierro, acero
Industria de la filtración y la separación
Industria de la minería
Industria de las pinturas, pigmentos, revestimientos
Industria de los productos lácteos
Industria de procesamiento de metales
Industria farmacéutica
Industrias químicas
Tratamiento de aguas residuales
Tratamiento del agua
Product Index
Atıksu Filtreleri
Cam Elyaf Torbalar
Disk Filtreler
Dokunmamış Mamuller
Filtre Bezleri
Filtre Kumaşı
Filtre Ortamı
Filtre Pedi
Filtre Santrifüjleri
Filtre Tekstilleri
Filtre Torbaları
Santrifüjler
Sıvılar için Filtre Ortamı
Torba Filtreler
Toz Toplayıcılar
Market Scope
Atık Arıtma
Atıksu Arıtma
Boya, Pigment, Kaplama Endüstrisi
Demir, Çelik Üretimi
Filtrasyon ve Ayırma Endüstrisi
Kimya Endüstrisi
Madencilik Endüstrisi
Metal İşleme Endüstrisi
Çevre Koruma
İlaç Endüstrisi
Product Index
디스크 필터
백 필터
부직포
분리기
액체용 여과재
여과재
여과천
유리 필터 백
집진기
폐수 필터
필터 백
필터 원심분리기
필터 직물
필터 패드
필터 패브릭
Market Scope
광업
금속 가공 산업
여과 및 분리 산업
제약 산업
철, 철강 제조
페인트, 안료, 도장 산업
폐기물 처리
폐수 처리
화학 산업
환경 보호
Product Index
ガラス繊維フィルターバッグ
ディスクフィルター
バッグフィルター
フィルターバッグ
フィルターパッド
フィルターメディア
フィルター布
フィルター繊維
フィルター遠心機
不織布
廃水フィルター
液体用濾過材
濾過布
遠心分離機
集塵機
Market Scope
化学工業
医薬品業界
塗料、顔料、コーティング産業
廃棄物処理
汚水処理
濾過および分離技術工業
環境保護
製鉄、製鋼業
金属加工業界
鉱業
Press release
Vihan Filtration Systems
HIGH PRESSURE FILTRATION FABRICS
Vihan Filtration System provides tough strong fabrics for high-pressure filtration to reduce moisture content in the cake thus saving expensive energy. The Company also provides fabrics for up to 20 bar pressure as per the requirement.
FIBRELESS FABRICS / MONOFILAMENT FABRICS
The Company offers Fibreless Finished Fabrics, which have critical applications and are used for drugs, pharma and other sensitive industries to ensure nil contamination. Moreover, additional finishes like, Chemical Treatment, Water Repellent Treatment etc. for instant cake discharge are also available.
DUST COLLECTOR BAGS
Pollution control and emission control being critical in high growth areas of steel and cement, Vihan Filtration System has developed dust collection non-woven filter bags for these industries. These non-woven filter bags meet the required pollution control norms and are available in factory lengths or as made-ups
ANTI-STATIC FABRICS
Anti-static fabrics are designed to eliminate danger from static charge in explosive conditions. The Company also offers fabrics as per international standards and these fabrics can be ordered in factory length or in stitched made-ups.